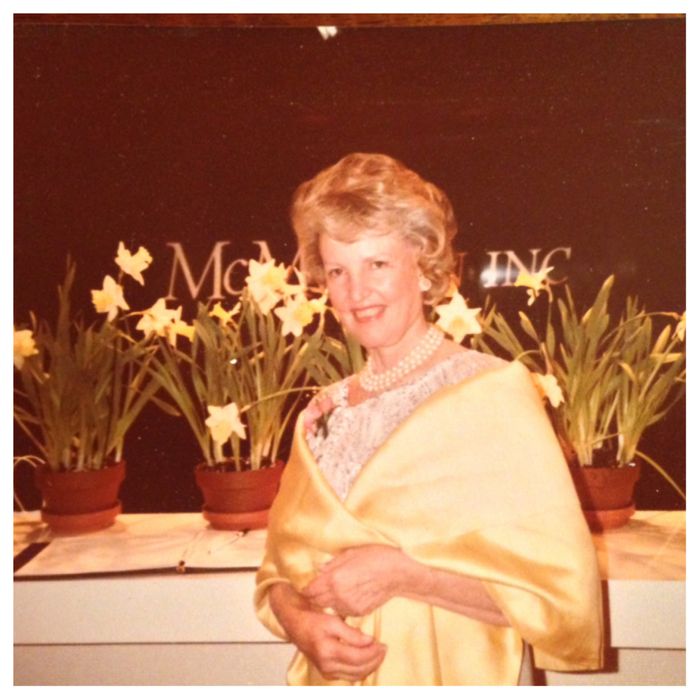 Betty Sherrill, who passed away on Monday at the age of 91, was a highly admired design professional who lived, and loved, the life of her patrician clients. As the president of McMillen, Inc. for 30 years, Sherrill became known as one of the most influential American designers of the last half-century.
She certainly leaves behind a hefty design legacy: Her daughter, Ann Pyne, who is now the president of McMillen, and her granddaughter, Elizabeth Pyne, who helms McMillen Plus, have gamely inherited Sherrill's mantle.
Sherrill joined McMillen fresh out of Parsons in 1951, and became the president in 1972, after Eleanor McMillen Brown — who founded the company in 1924 — ceded administrative duties. With strong leadership skills and an irrepressible spirit, Sherrill engaged a cross section of the New York crème de la crème in society, politics, and business. Think: Babe and Bill Paley, President Ford and Betty Ford, Charles Revson. And though her work was more often than not seen in grand-scale rooms and palatial spaces, Sherrill was not one to stand on ceremony. "Life was what she cared about," Ann Pyne told me by phone. "She had a practical, no-nonsense attitude and grew impatient if people couldn't adapt their views. If something didn't work in a room, she was quick to move on."
Sherrill also instilled the requisite that a room be comfortable and provide for engaging conversation. "She was about pulling up a slipper chair to the arm of a sofa," Pyne said. "She couldn't stand what she called the big O — those formal seating arrangements where people end up in a circle. She liked things to be intimate and flexible."
Pyne admits that she is a bit more intellectual than her mother in her approach to design — but feels that working with her daughter, Elizabeth, balances their famously high-end firm.
And it looks like Sherrill's legacy will exist for a long time to come: Elizabeth, 33, and her co-founder, Christine Grace, have already begun to cater to a younger crowd with McMillen Plus, a modern, edgier offshoot of the company at more accessible prices. "I was totally inspired by my grandmother's openness to people and to ideas," Elizabeth said by phone, from Sherrill's apartment at 1 Sutton Place South. "She was always looking ahead. She was always positive in her approach to people and to the challenges of work. She never got caught up in competition, and that is a great lesson for me to learn."