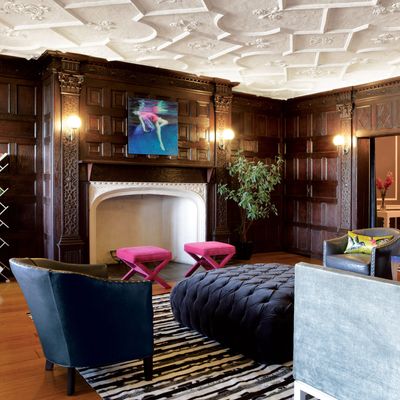 Firm: Shadow Architects
Completed: 2013
Mandate: Give a traditional space a contemporary update
Specialty: Modernism engaging history
For Jonathan Keehner and Sabrina Gleizer, relocating to Brooklyn was more like coming home. Both grew up there and wanted a place with more character than their cookie-cutter Upper East Side one-bedroom provided. An historic, 1860s penthouse apartment in Brooklyn Heights proved irresistible.
The couple approached RJ Millard and Larry Cohn of Shadow Architects to transform the classic space into something more suited to their lifestyle. "They wanted to insert some young blood, and encouraged us to be bold with our intervention," says Millard. "We're big party people, and like to entertain a lot," says Gleizer.
Shadow kept the existing shell largely intact. "We wanted to preserve the beautiful bones and spectacular proportions," says Cohn. Those bones included a grand oval entryway and a great room with dark-stained, hand-scraped oak paneling, ornate plaster ceilings, and a glass-enclosed nook.
Furnishings were chosen for their contrast and punch, playing rich textures of the past off modern high-gloss finishes and bright saturated colors. Velvet and tufted cushions balance the somewhat masculine ambience. "We needed to find a way to make it not feel like a dingy old apartment," says Millard. Gleizer's Kathleen Wilke photograph, which hangs over the mantel, inspired the palette of pinks and cobalt blue, while the varied seating options ensure ample space for guests.
"The lighting was also quite fuddy-duddy, and insufficient for the space. We introduced globes for overall illumination, and some Ingo Maurer and other fixtures," adds Millard. The couple is planning to further modify the space to better serve the new family structure, which now includes a child. "We just had the guys over to talk about next steps, and we view them as a critical part of the process," says Keehner.
*This article appeared in the Summer 2014 issue of New York Design Hunting.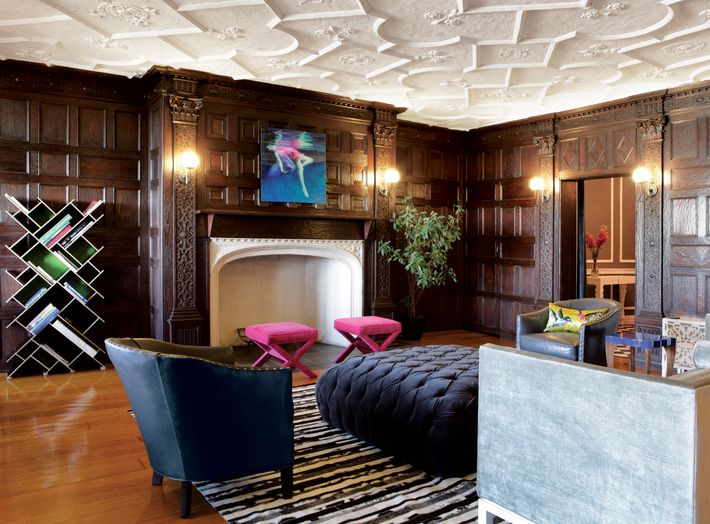 The renovation preserved the original ornate plaster ceilings. A pair of Jonathan Adler footstools echo the color of the photograph over the mantel. The large tufted ottoman is from the now-closed Brocade Home. The cowhide rug was designed by RJ Millard and made by Shine Rugs. The shelving is by Nauris Kalinauskas for the Lithuanian company ContraForma.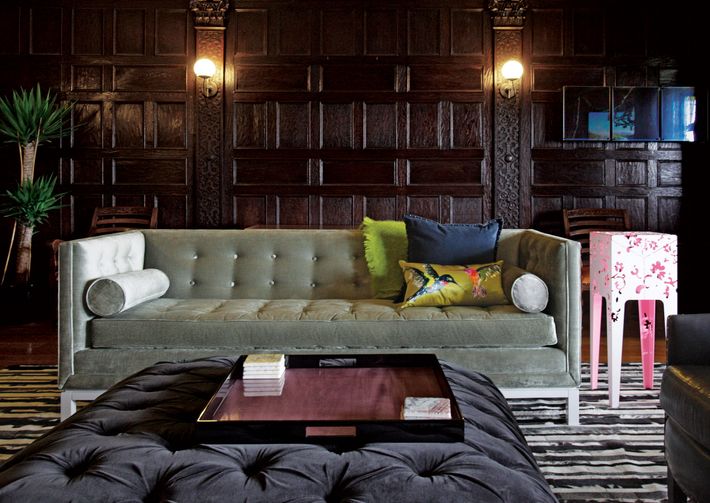 The laser-cut end table in white and hot pink is from ContraForma; the sofa is by Jonathan Adler.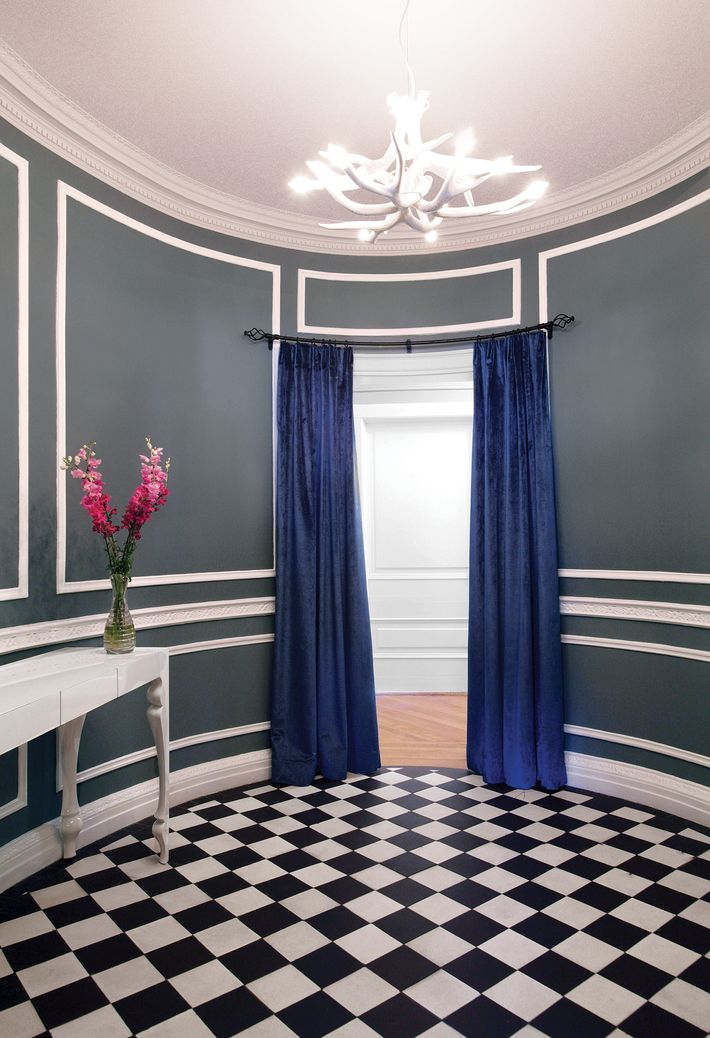 The oval entryway was originally painted an unappealing red, which Shadow replaced with deep blue-gray and white. They added a Roll & Hill antler chandelier and a Jonathan Reed console table to further update it. Velvet drapes mute a prominent echo.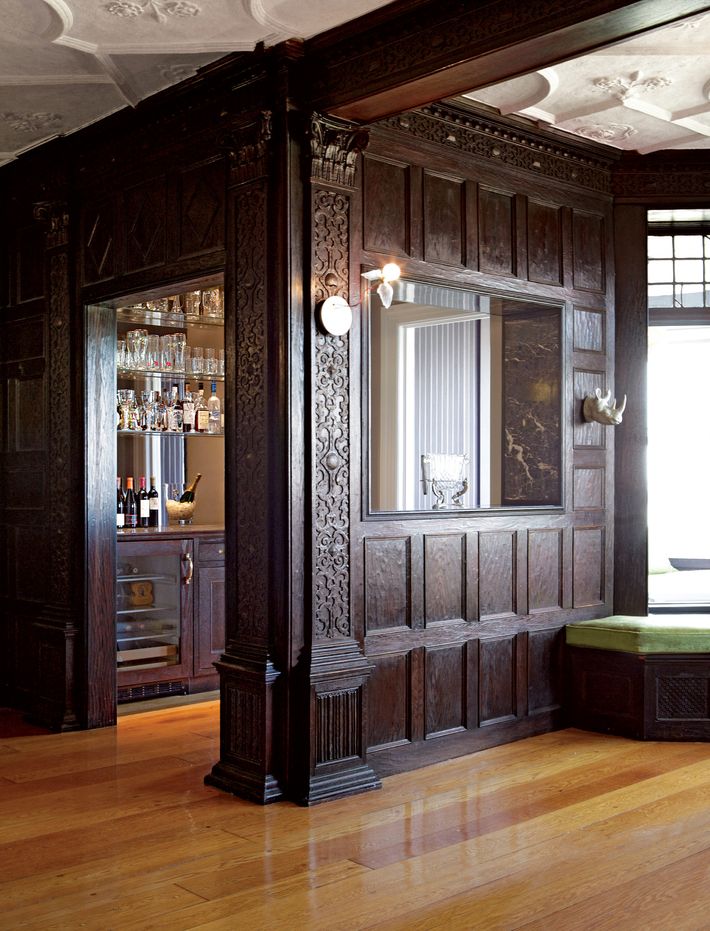 What looked like a closet enclosed with drywall turned out to be a defunct elevator shaft. That space was converted into a full-service bar, with shelving to display Keehner's bourbon collection. Chris Packard, of JCP Cabinetry, restored and re-created the millwork. An Ingo Maurer Lucellino light is a modern contrast to the elaborate woodwork.