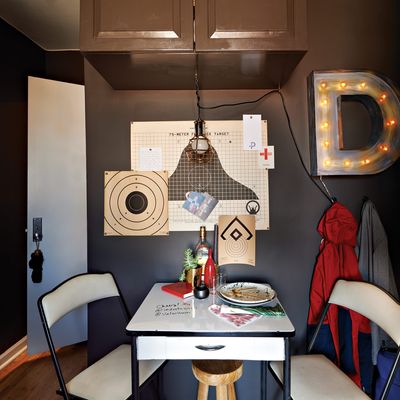 Photo: Annie Schlechter/New York Magazine
Roommates Dustin O'Neal and Valerie Nguyen met two years ago, and the friendship was instantaneous: Both hail from Austin, attended the same creative-advertising program at the University of Texas, and are passionate new New Yorkers. The pair now rent a 300-square-foot walk-up on Orchard Street — just two small bedrooms and a tiny kitchen — mere blocks from where they were first introduced by mutual friends.
As creative director of Strohl & Co. — a PR firm that represents many designers and architects — O'Neal was able to prevail on his contacts and clients to make the most of his and Nguyen's tight budget and transform the petite, all-white space into a home that reflects the lively energy of the neighborhood and their own Texan spirits.
The two did more than just call in favors, though; O'Neal and Nguyen stayed within their budget by shopping thoughtfully, modifying pieces they already owned, and doing a lot of the work themselves. The kitchen got its makeover with help from interior designer Elizabeth Bolognino, who recommended deep-gray paint for the oak cabinets and walls; the pair painstakingly taped and painted (using Behr's Dark Cavern) themselves.
"I was so hesitant about it when Dustin showed me the swatch. You'd think it would make things smaller," says Nguyen, who now agrees that the kitchen's dark walls actually expand the space. "When the light is on, it has this lovely, dark, barn look," O'Neal says. A fixture from Schoolhouse Electric & Supply Co. illuminates colorful Mexican serape rugs brought back from El Paso and the kitchen's two seats: folding chairs O'Neal scored at a 2013 Design on a Dime event, which can be easily taken up one flight to their private rooftop space for cocktails and city views.
Interior designer Neal Beckstedt pitched in to help with Nguyen's room, suggesting a faux-bois wallpaper from Innovations on all four walls and the ceiling accentuated by metal décor and playful art, to give it the vibe of a sophisticated bourbon lounge. Nguyen admits she never would have thought to choose the masculine wallpaper, but thinks Beckstedt has helped unlock new aspects of her own style with the decoration and created a comfortable space where she can work and feel at home.
For his room, O'Neal sought advice from one of his favorite interior designers, Robert Passal. "My instinct is to go crazy, over the top, and he has been scaling me back," says O'Neal. Lavender walls provide the backdrop for an antique mirror, a glowing neon dream catcher, and framed line-drawn portraits of O'Neal by his friend, the illustrator Bruno Grizzo. A custom geometric wall covering by Black Crow Studios on the ceiling and a Roman shade made of a scrap of Belgian linen from the furniture-­design studio Dmitriy & Co. complete the space. Working with 20-somethings' budgets, O'Neal and Nguyen arrived at a surprisingly mature design. "This moment isn't just about feeling at home in New York," says O'Neal, "but moving closer to being at home with myself."  
*This article appears in the Winter 2015 issue of New York Magazine.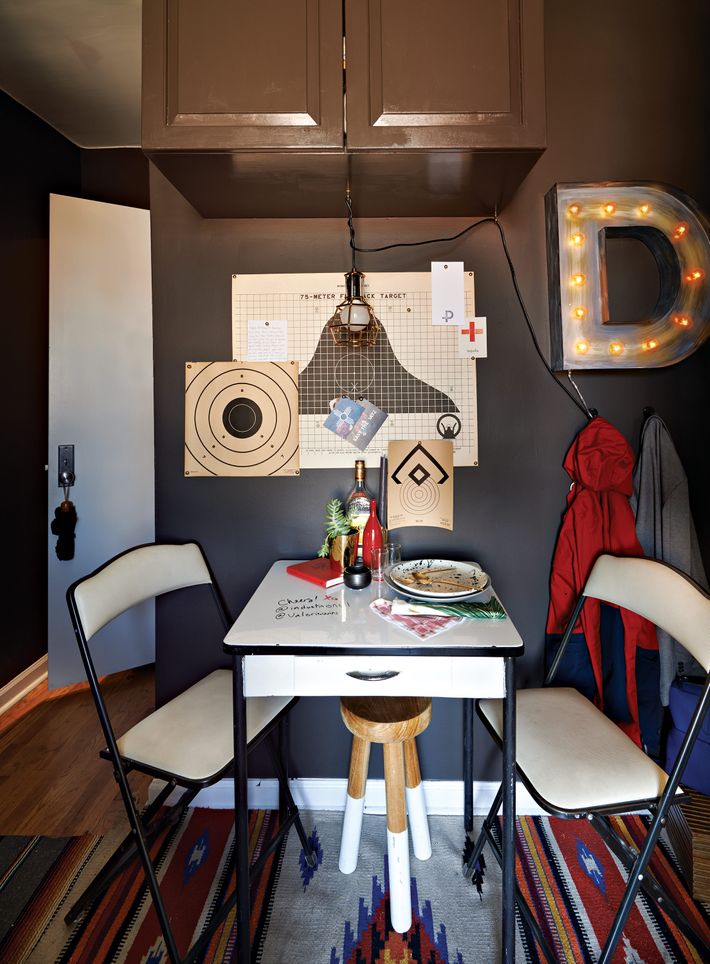 The table was a gift to Nguyen; the D is from Restoration Hardware. Designer Elizabeth Bolognino found the three vintage FBI shooting targets on the wall; they were $2 for the set.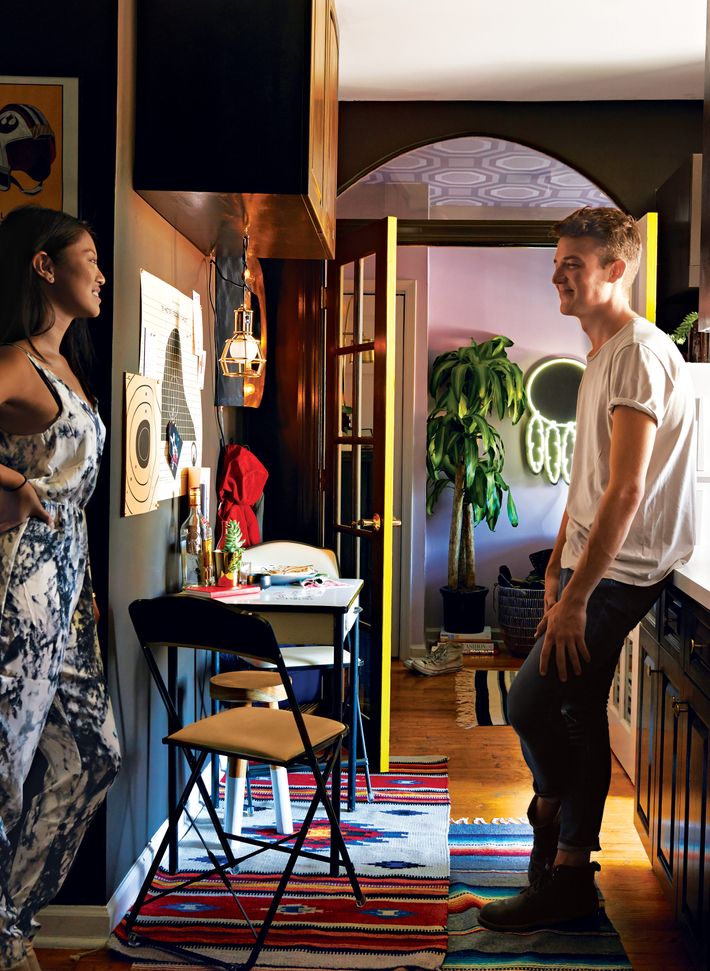 Nguyen and O'Neal in a truly multiuse space: combination foyer, home office, and dining area. The stool and folding chairs were found at Housing Works' Design on a Dime event. The serapes are from El Paso Saddle Blanket; O'Neal had the bottom blanket cut to rug size at his local dry cleaner.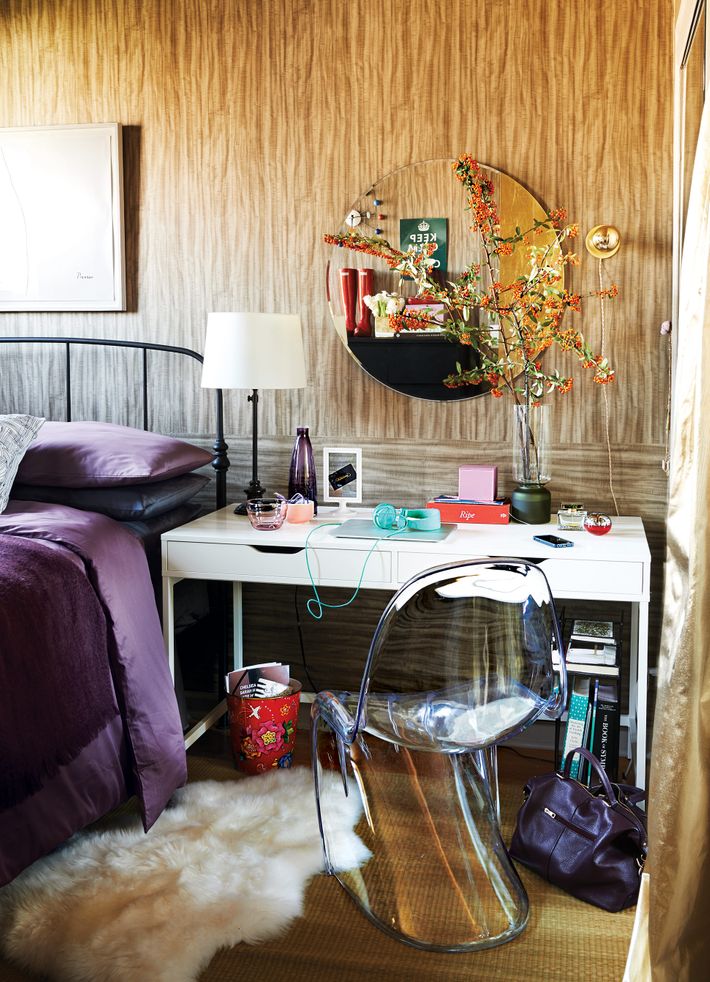 In Nguyen's room, the faux-bois wallpaper is by Innovations. The desk chair is from LexMod; the desk, lamp, and bedding are all from Ikea. The sheepskin rug was found at Sam's Club.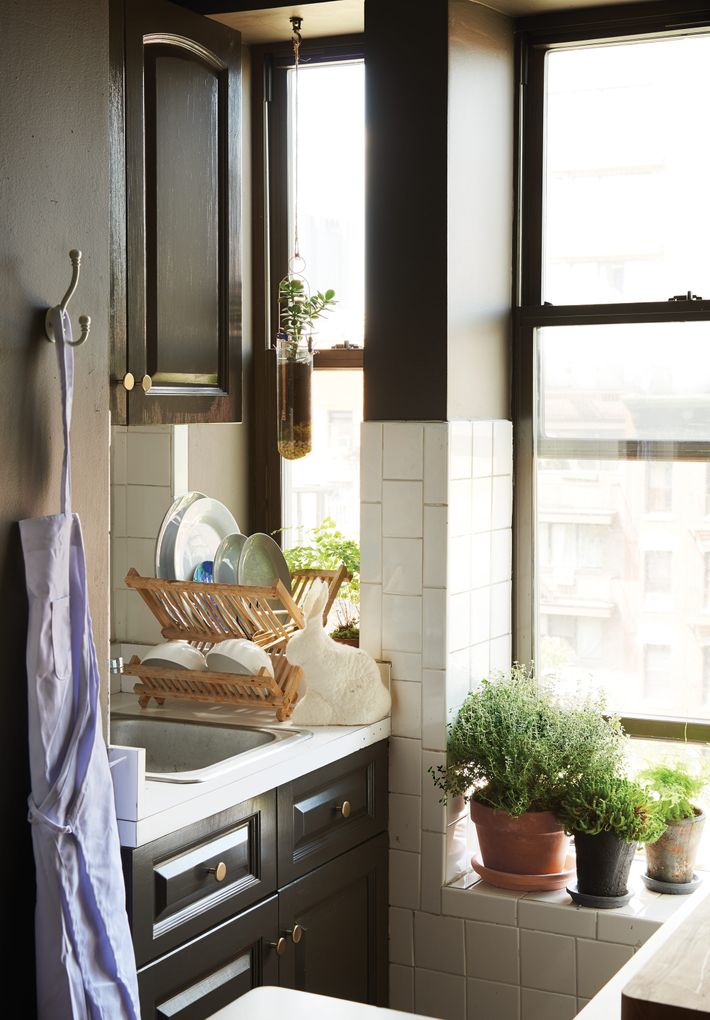 It was Bolognino's idea to paint the kitchen cabinetry dark; O'Neal and Nguyen did the work themselves, using Behr paint.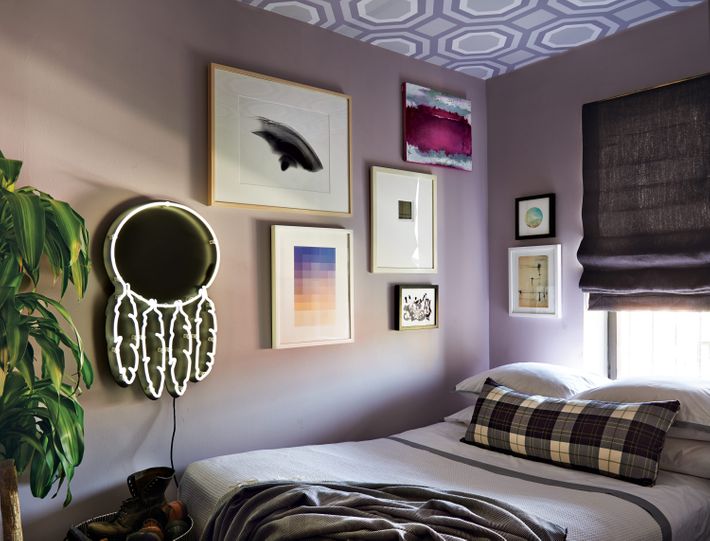 A custom wall covering from Black Crow Studios is on the ceiling in O'Neal's bedroom. The art includes works from friends and an illuminated dream catcher. "I've always been drawn to the gritty but urbane quality of neon signs," O'Neal says. "The dream catcher feels like a nod to my mother, who was raised in Arizona."