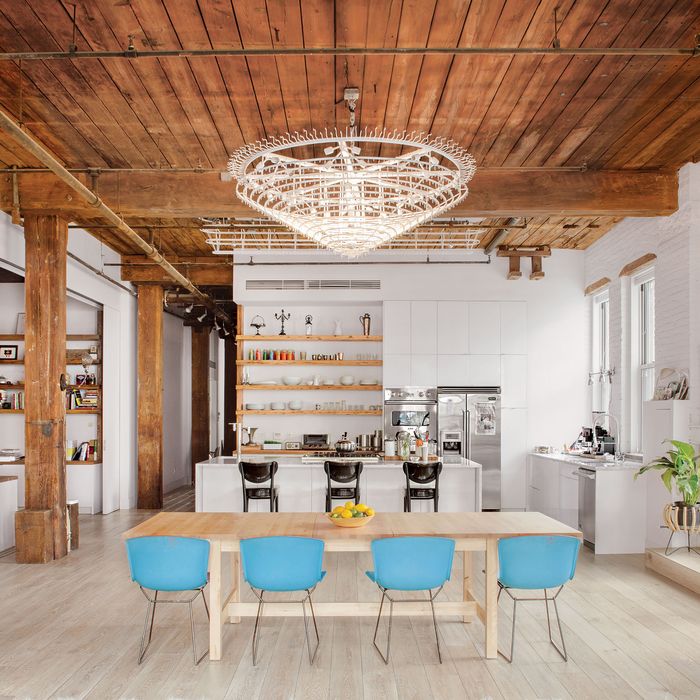 For E.V. Day and Ted Lee, the "work" aspect of their live-work space requires more than desks. Day is a visual artist and often creates on a big scale, while Lee is a food writer and cookbook author, a profession that requires a kitchen.
Prior to buying this Brooklyn home, the couple had simply made do. Day lived and worked in a series of raw, industrial lofts; Lee plied his trade in what he remembers as "a bunch of crappy kitchens in rental apartments." This time around, they turned to Elizabeth Roberts and her firm, Ensemble Architecture, to tailor the open space into a place just for them.
The couple needed a flexible layout for art installations, book-launch parties, and other social and work events. Roberts's solution was to halve the 3,300 square feet, yet avoid a standard double-shotgun configuration. The work zones are on one side, the kitchen, living area, and bedroom on the other. Pocket doors create sometimes-there walls between her studio and the living room; his office, just off the kitchen, can similarly be concealed. The doors weigh about 150 pounds each but are designed to support up to 200 pounds of art. "The hardware needed to be beefy," says Roberts, "but it's not an effort to move them."
Even when the doors are closed, the space has an expansive feel, with kitchen blending into dining area, as Lee had hoped. "I wanted to have the cooktop so I could be facing company, whether it's E.V. sitting at the counter or a whole roomful of people," he says.
They used the least expensive marble they could find for the central island and the glossiest Ikea cabinets available. "Everything we put in was very clean—new and crisply detailed, to contrast with the industrial materials," says Roberts. "The best features of the existing space were the unpainted wood ceiling and columns."
The home so perfectly addresses their needs that the couple know they're there to stay. During their co-op interview, the two were asked if they intended to flip the apartment. Far from it. "We're thinking long term," says Lee. "We're on the ground floor. We can be in wheelchairs. We can have our caskets rolled out."
*This article appears in the Winter 2015 issue of New York Design Hunting.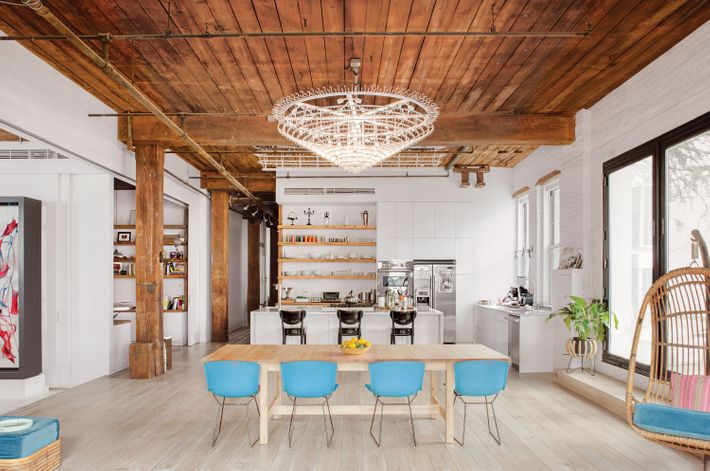 Ted Lee's office is off the kitchen; E.V. Day's studio is off the living room. Massive sliding doors can conceal both. Day initially had misgivings about the partitions. "I'm usually the one knocking down walls, trying to make a big space," she says. "Psychologically, knowing that I can open the doors is huge." The dining table is from Ikea, the chairs are Knoll, and the bar stools were found at Vintage Thrift Shop. The chandelier frames, which had been stripped of their crystals and painted white, were found in a vintage-housewares shop. The kitchen is well stocked but not overstuffed. "I'm really into having nothing extraneous," says Lee. "Two knives instead of eight knives." The shelves are reclaimed wood.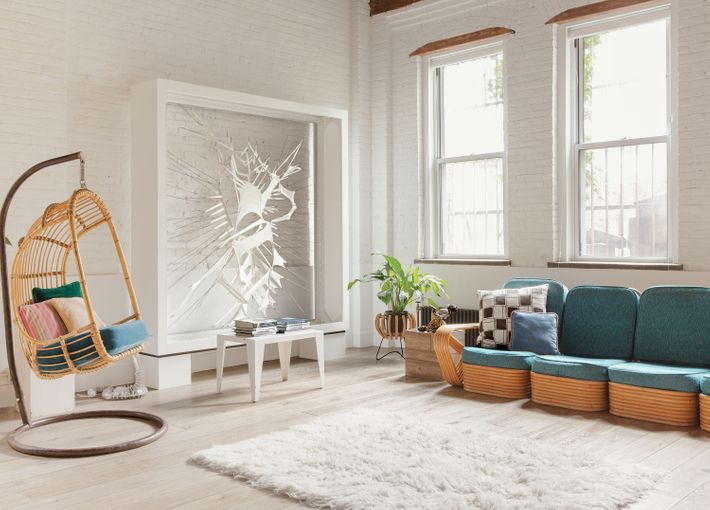 Day's sculpture White Bandage Dress With Chains (an iconic Hervé Léger bandage dress, deconstructed at the seams and suspended in a frame) is on display in the living room. "A white bandage dress looks almost like mummification," says Day. "I wanted to release the constriction." The rug is from Ikea, and the white table was found on the street and painted. "I grew up in Charleston, South Carolina," says Lee. "That instinct toward preservation is part of my DNA." A Mickalene Thomas sculpture sits beside a Paul Frankl sofa, found on eBay.