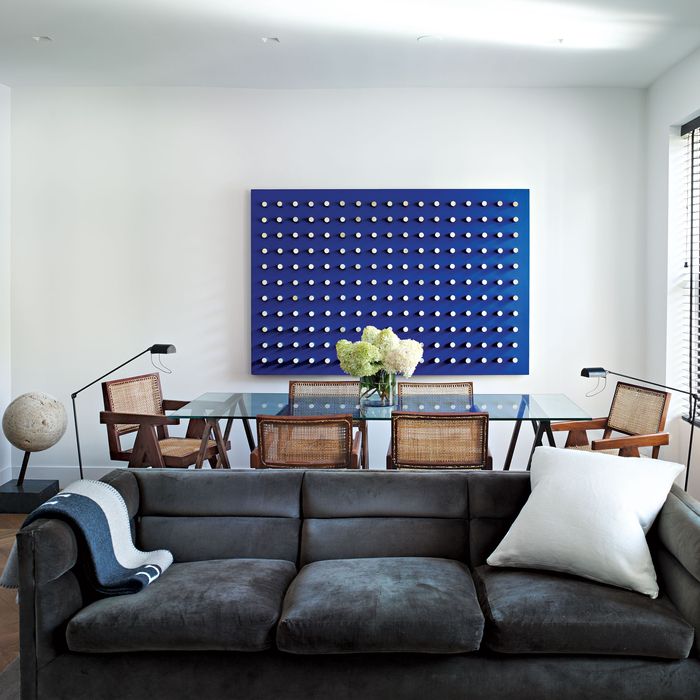 Photo: Annie Schlechter/New York Magazine
"On a daily basis, I am inundated with spaces, projects, design, and décor," says Ari Heckman. He's one of the founding partners of ASH NYC, a design and real-estate-development firm, and given what his workdays involve, it's not unreasonable that he would want his own home to represent a retreat from all that. "I was inspired to have something simple and clean and white," says Heckman. Indeed, the one-bedroom apartment he shares with his partner, Ethan Feirstein, is immaculate and feels more like an art gallery than a living space. It's still very much an exercise in design—the scheme owes a debt to contemporary Belgian and French interior designers—but the sparse, monastic aesthetic makes the home a refuge.
When Heckman began his hunt, he wasn't looking for calm: Like any real-estate insider, he was looking for location. The apartment, perched over one of the West Village's most desirable corners, certainly has that—but it represented a serious renovation project. The space, just shy of 700 square feet, had not been updated in the six decades that the previous tenant lived in it. But where most would have been put off by an awkward layout, unsightly ceiling tiles, and actual mold growing in the bathroom, Heckman saw possibility. "When I walked in, I knew I wanted it," he says.
Heckman began by reimagining the layout, relocating the kitchen and bath to create a corridor of repeating portals leading from the main living space to the bedroom at the apartment's rear. He envisioned an interior inspired by the minimalist architects Vincent Van Duysen and John Pawson. With more than ten ASH NYC projects in development, including the Dean, a hotel in Providence, Rhode Island, he figured adding a little residential renovation to his to-do list wouldn't be a big deal. "I was optimistic about how quickly it would be completed," he says.
The clean box Heckman dreamt of proved to be trickier to create than he had imagined. To save money, Heckman enlisted Will Cooper, ASH NYC's creative director, to assist with some of the design decisions. That helped with the budget, but Heckman still faced the logistical hurdles of gut-renovating a fourth-floor walk-up in a building where the stairwell measures just 24 inches across in some places. This is to say nothing of the cosmetic challenges posed by the space's unforgiving angles and imperfections, which would normally have been hidden behind molding.
After almost nine months, the renovation was complete. The furnishings from his previous apartment had made their way into ASH NYC's inventory of staging props, so Heckman pulled new furniture from its storerooms to fill his space, including top-tier pieces from the 1940s through the '60s that he'd sourced on his international travels. And since Heckman has ASH NYC's vast collections at his disposal, he's already rotated all the art in the apartment in the handful of months he's lived there. "Part of why I wanted this clean, John Pawson–inspired white box was so I could cycle my collection," he says. While the space may look minimalist to some, it's really more a love letter to beautiful things.
*This article appears in the Winter 2015 issue of New York Design Hunting.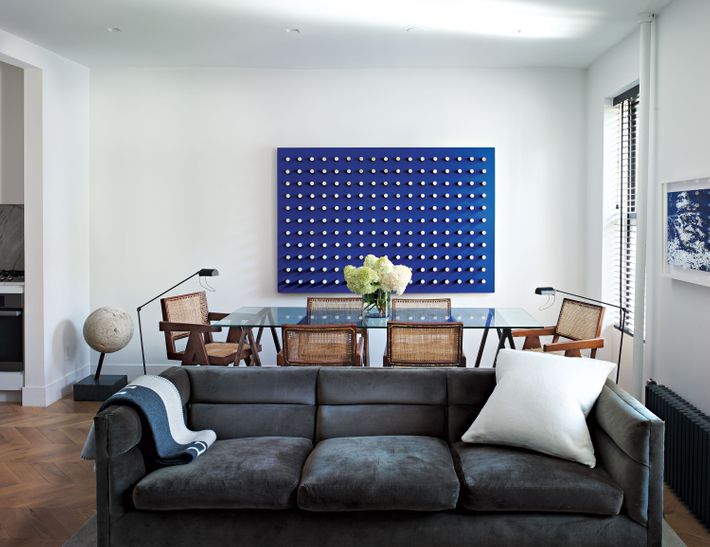 The travertine sculpture was found in a Rhode Island antiques shop. Hanging above the dining table is Peg Work, Blue Shadow, by Bradley William Duncan, a Los Angeles–based artist. Heckman says he was drawn to the work "because of its changing composition depending on the time of day." A set of six Pierre Jeanneret chairs surrounds a glass tabletop that rests on a pair of vintage sawhorses. The sofa is by Edward Wormley. The throw is by Hermès.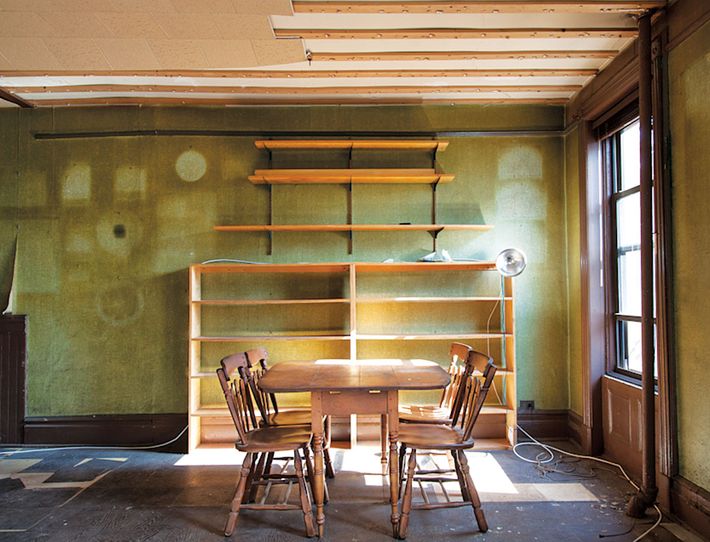 The same view of the living room, prior to renovation.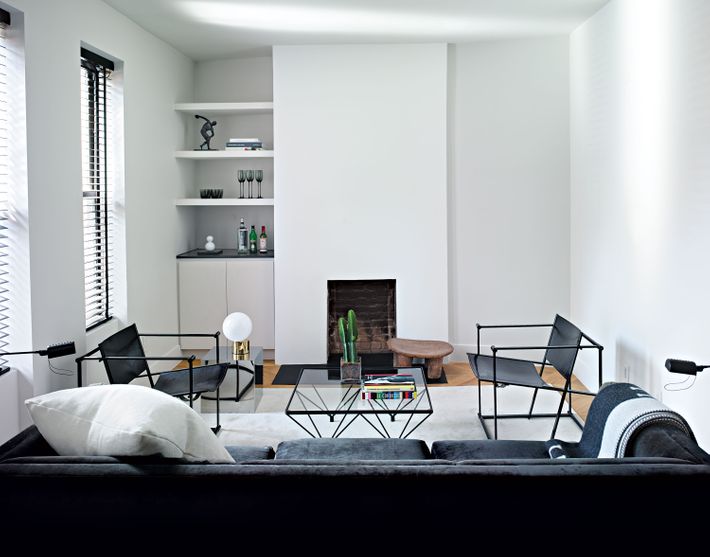 The cube chairs are by Radboud van Beekum, and the pyramid cocktail table is by Paolo Piva. Heckman replaced an awkward closet with built-in cabinetry and shelving, which double as a bar.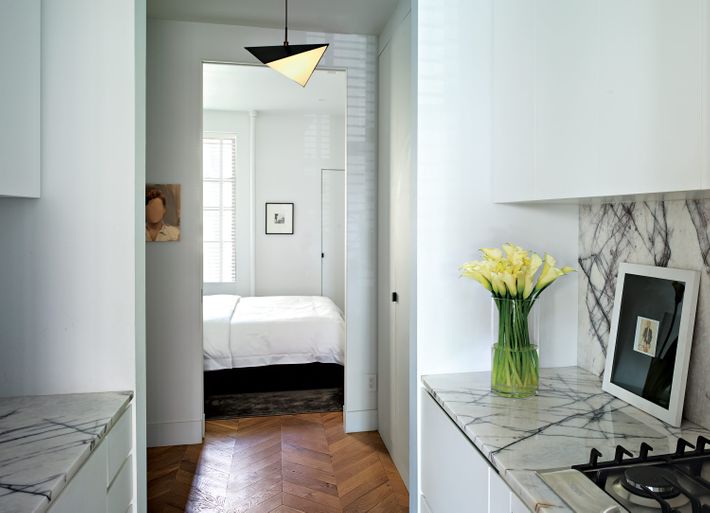 Inside the alcover outside the bedroom, used as a dressing room, the ceiling lamp is by Svend Aage and Holm Sørensen. Determined to leave the space free of ornamentation, Heckman designed kitchen cabinetry that is without visible hardware. He had to fight another designer for this particular slab of Milas lilac marble. Says Heckman, "I wanted something that felt like part of the architecture, that didn't feel like artifice." A Terry Richardson Polaroid of Lady Gaga rests on the counter.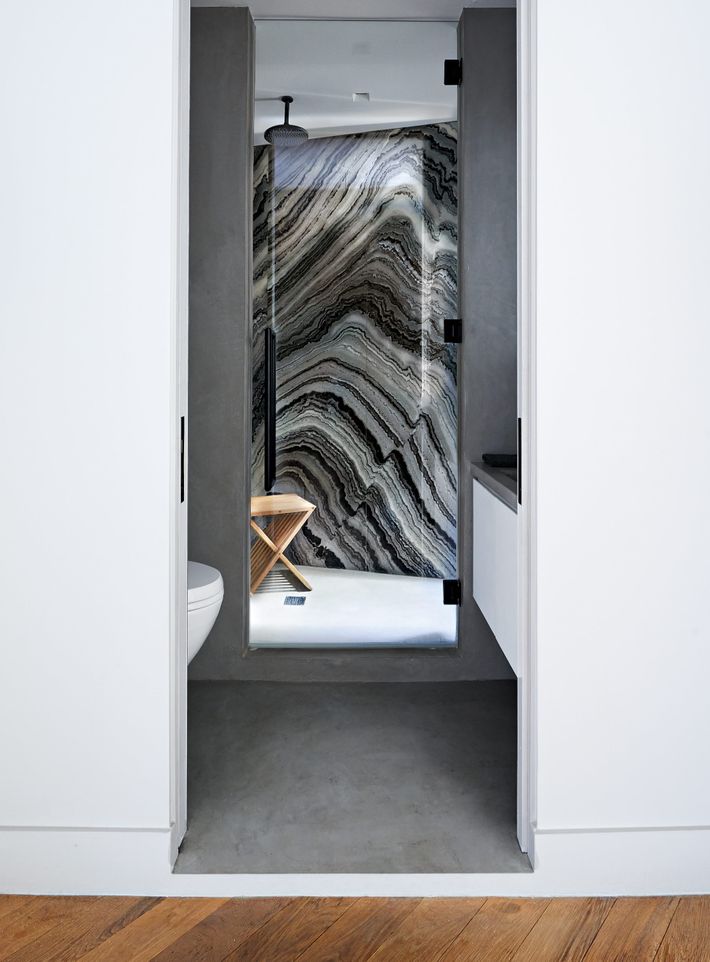 The Mercury black-marble slab that lines the shower stall was one of the first things Heckman purchased for the apartment—at the time he didn't know what he'd do with it, just that he had to have it. The other bathroom walls are covered in a finish inspired by Axel ­Vervoordt's use of concrete in Belgium.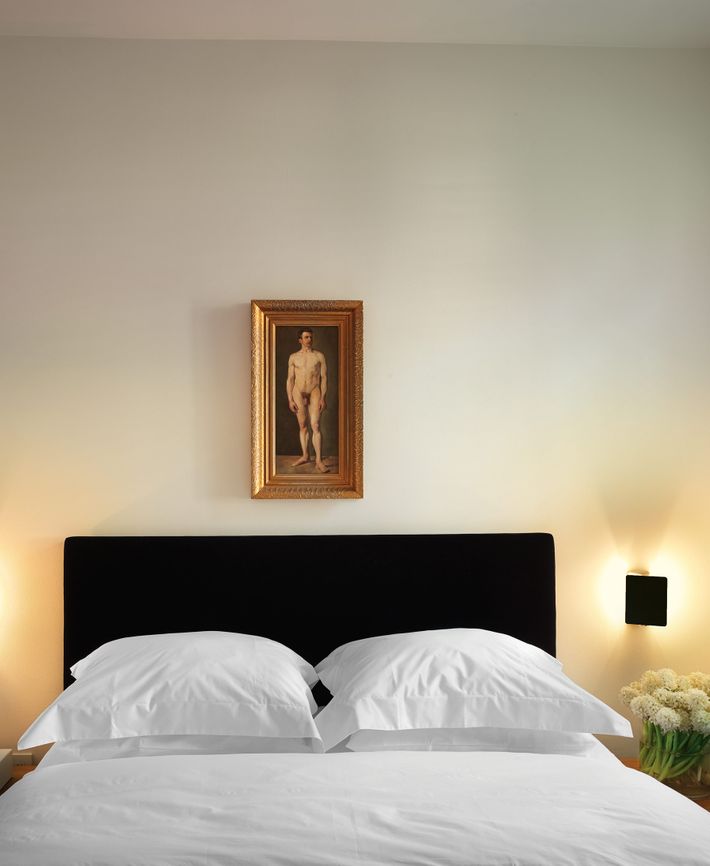 Upholstered in Holland & Sherry velvet, the bed is a custom piece by ASH NYC. Charlotte Perriand sconces found at a flea market in Paris hang above a pair of Milo Baughman nightstands.