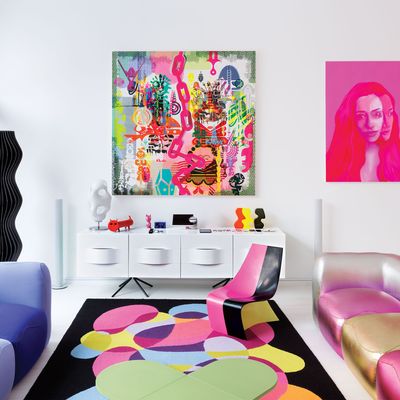 The Cairo-born designer Karim Rashid is as famous for his pink-or-white wardrobe as he is for his iconoclastic designs. Rashid started his own brand in 1993—the calling, though, came much earlier. As he writes in his most recent book, Karim Rashid: From the Beginning, "I realized my life's mission at the age of 5." Now his client list includes Umbra, Issey Miyake, Samsung, Hyundai, Bobble, BoConcept, Christofle, and many more.
Given Rashid's discerning eye, it's no surprise that house-hunting with his wife, Ivana, on the eve of the birth of their daughter, Kiva, turned into a mission. "We looked at 63 places," Rashid says. "There were three things I always wanted in a space: high ceilings, daylight, and a different level for our child to sleep on." The home he pictured was inspired by memories of the suburban Montreal home where he'd spent a slice of his childhood.
Rashid and his family found a three-story townhouse, set into the street level of a Smith-Miller + Hawkinson–designed building in Hell's Kitchen's rapidly changing landscape, with its own ample outdoor space.
The 2,800-square-foot home has undergone some cosmetic changes, including the addition of white wood floors and a green-mirrored backsplash in the open kitchen. For Rashid, the space is a living lab, a place where his newest designs mix with the existing inventory of furniture and objects from over the years. "It's a way for me to experience what I just did and test it out," he says, surrounded by the high color and pop of what is also supremely functional.
Rashid mentions a particular memory from childhood, when, sketching a cathedral with his artist father, he took poetic license, drawing windows of his own design instead of replicating the ones in front of him. As Rashid has spent his career reimagining what we think of as generic objects, this seems like a defining moment.
"When I moved here, I had $1,500 in my pocket," Rashid says, sitting in the upper level of his sprawling design office, which is located in the same building as his townhouse. Since then, he's created a universe of his very own. "Living with all my stuff gets me into my own world," he says. "I can find the soul of my work."
*This article appears in the Winter 2015 issue of New York Design Hunting.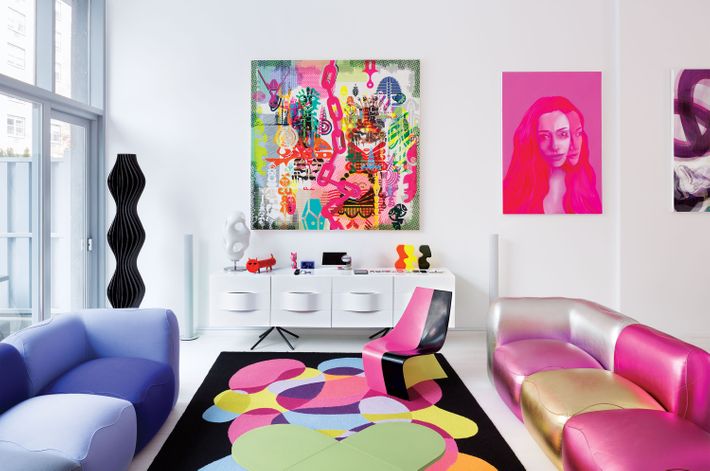 The Vapor floor lamp is by Studio Italia. The sofas are Karim Rashid's design for Valdichienti, and the Ottawa console is his design for BoConcept. The rug is a custom Rashid design, made by Oriental Weavers. The living room features paintings by (from left to right) Ryan McGinness, Jen Mann, and Rashid. The Sparkle Chair is Rashid's design, a collaboration with LG Hausys.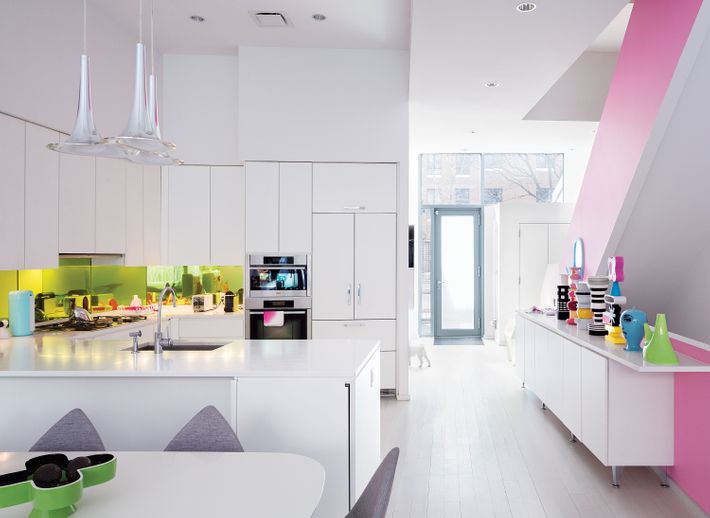 The pendants overhead, by AXO, are Rashid's design. The white kitchen features a green-glass backsplash. The dining table and chairs are Rashid's design for BoConcept. The console displays ceramic objects from Rashid, Fornasetti, and Ettore Sottsass.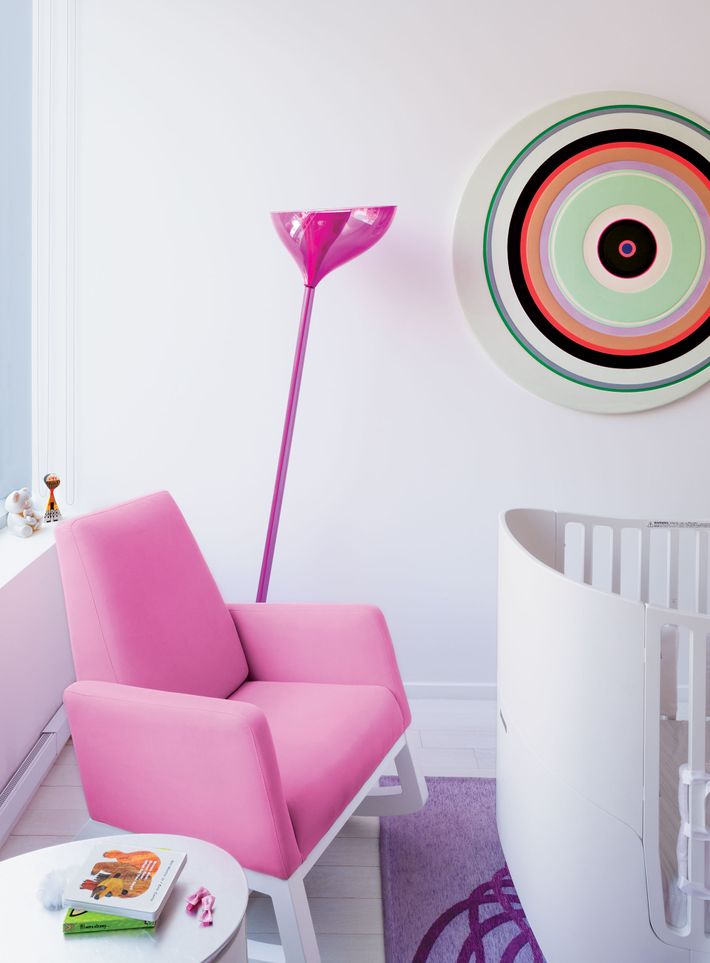 The Floob lamp is Rashid's design for Foscarini. The rocking chair is by Bailey Rocker. The bull's-eye painting is by Gabriel Delponte. The Tulip crib is by Leander.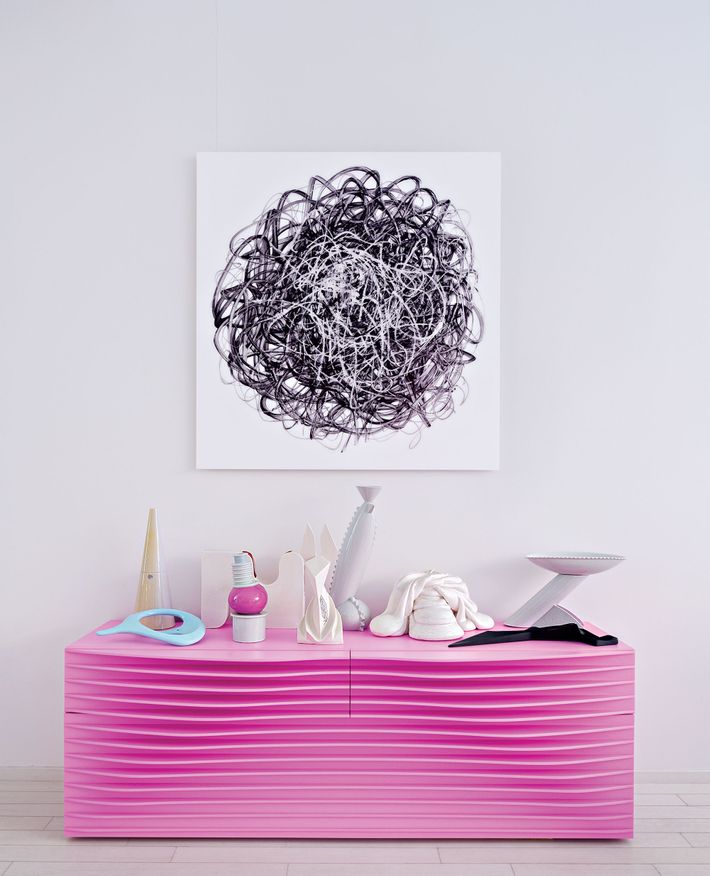 In the living room, a painting by George Whiteside hangs over the Tide console, Rashid's design for Horm, which displays objects by Zaha Hadid, Roxy Paine, and others.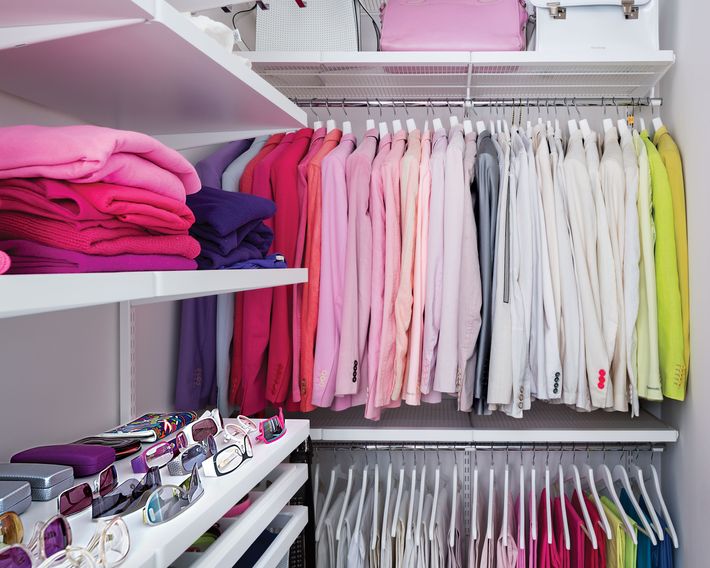 Rashid's fastidiously organized closet is a testament to his signature style.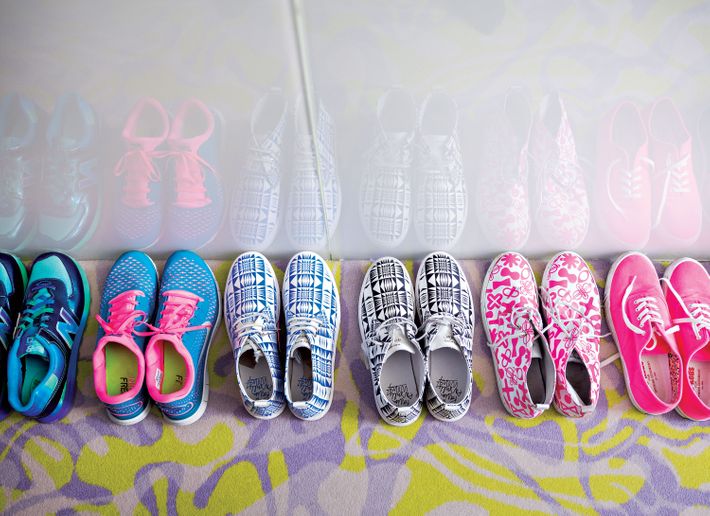 Rashid designed the patterned shoes for Sully Wong.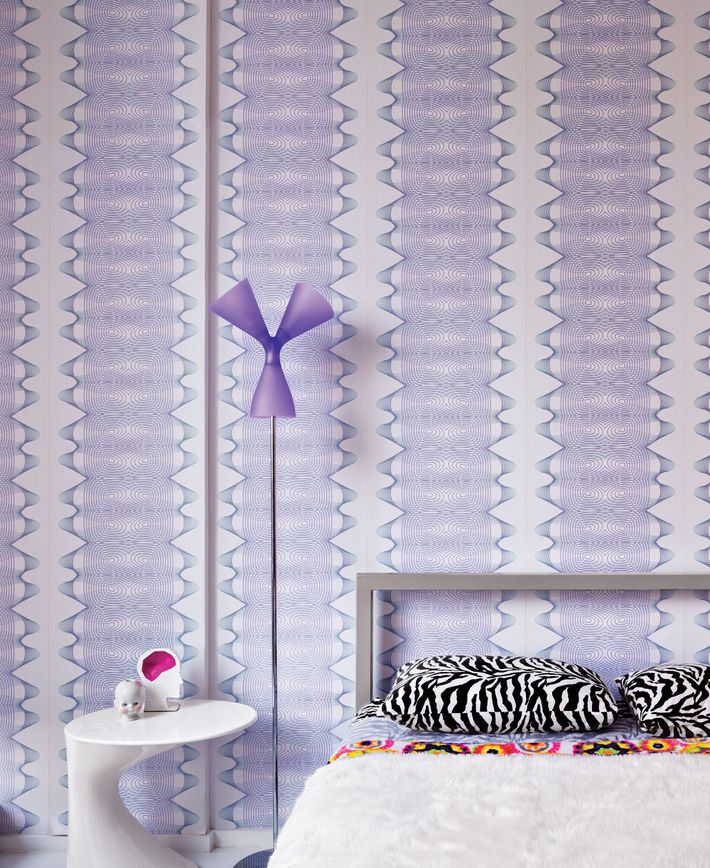 The bedside table is by Zanotta; it displays a bookend by Rashid and a candleholder from the Czech studio Qubus. The Triptik lamp is Rashid's design for George Kovacs. The wallpaper is his design for Marburg Wallcoverings. The guest bed, from Room & Board, is dressed in Marimekko bedding.