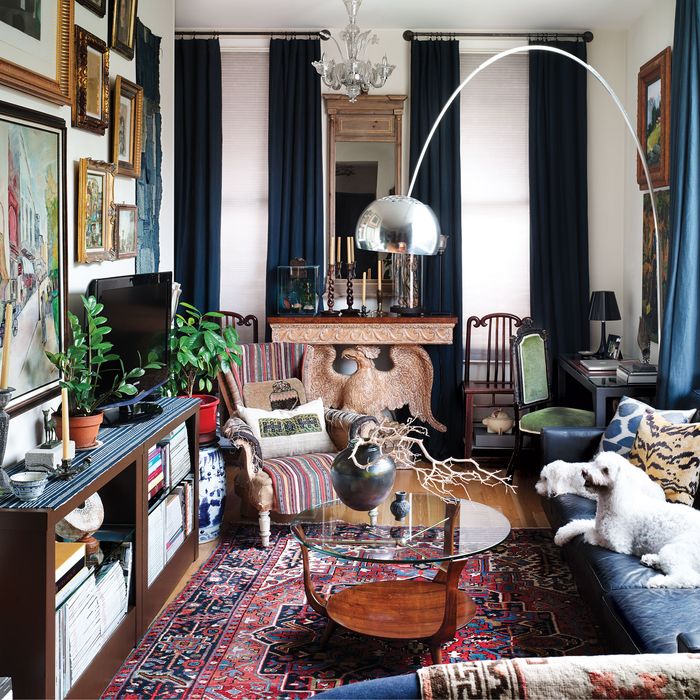 Photo: Annie Schlechter/New York Magazine
The East Harlem home Jeffrey Ventura Morell shares with his partner, Lyndel Urbano, is an 850-square-foot, loftlike apartment inside a recently renovated former warehouse. But the space is considerably different from what you'd expect to find behind the building's glass façade: a slice of old-world grandeur and a celebration of the antiques that have long been both Morell's passion and his occupation. Morell currently manages the Upper East Side outpost of de Vera, Federico de Vera's idiosyncratic gallery-inspired shop of jewelry and distinctive antique objects; though Morell has his own unique style, it's one that's clearly informed by the eclecticism of his current work environment.
"I'm equally inspired by maximalist décor and the concept of wabi-sabi," says Morell, referring to the quiet, modest aesthetic espoused by designer Axel Vervoordt, whom he cites as an inspiration. Though these two approaches seem at odds, the result is a home that strikes a balance between elegance and everyday comfort. "I like to combine opposites in a way that creates just the right amount of tension," Morell says.
The main living area's furnishings embody an easy, industrial modern sensibility, from the oversize leather Room & Board sofa, an updated take on a chesterfield, to the navy-blue linen draperies on the rear wall, hung to emphasize the 12-foot-high ceilings. The gallery wall is an elegant counterpoint to this, showcasing some of the couple's extensive collection.
Clearly, there's a lot here, but it all has a purpose. "Even though I have a lot of collections and objects," Morell says, "I display them with the principles of minimalism very much in mind. The positioning of every object is meant to enhance the way you experience it, and nothing is there just to fill space."
On prominent display is a Taíno water jug from Morell's grandmother's porch in the Dominican Republic. ("When I took it, she said, 'Why are you taking that piece of garbage?' " Morell says.) There are also stones scattered throughout the apartment, from smooth to irregular, alone or gathered in bowls. "Lyndel brings me a stone whenever he comes back from a business trip," Morell says of his partner. "It's become a little tradition."
Urbano functions as a buffer against Morell's more manic design moments. "I get bored of things always looking the same," says Morell. "What's good about him is that he holds me back. I have a habit of walking into a space and saying, 'I don't like this anymore! Everything has to go now, everything needs to be new.' He mostly talks me out of that."  
*This article appears in the Winter 2015 issue of New York Design Hunting.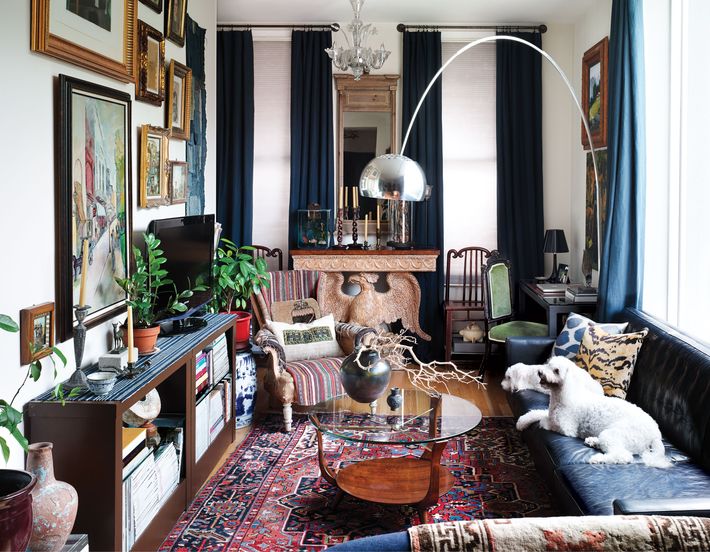 The bleached-mahogany carved-eagle table is by Maitland-Smith. "It took four delivery guys to bring it up," says Morell. A pair of 19th-century Chinese chairs sit before the windows. The '50s-era coffee table is attributed to Giò Ponti. The rug was found on eBay.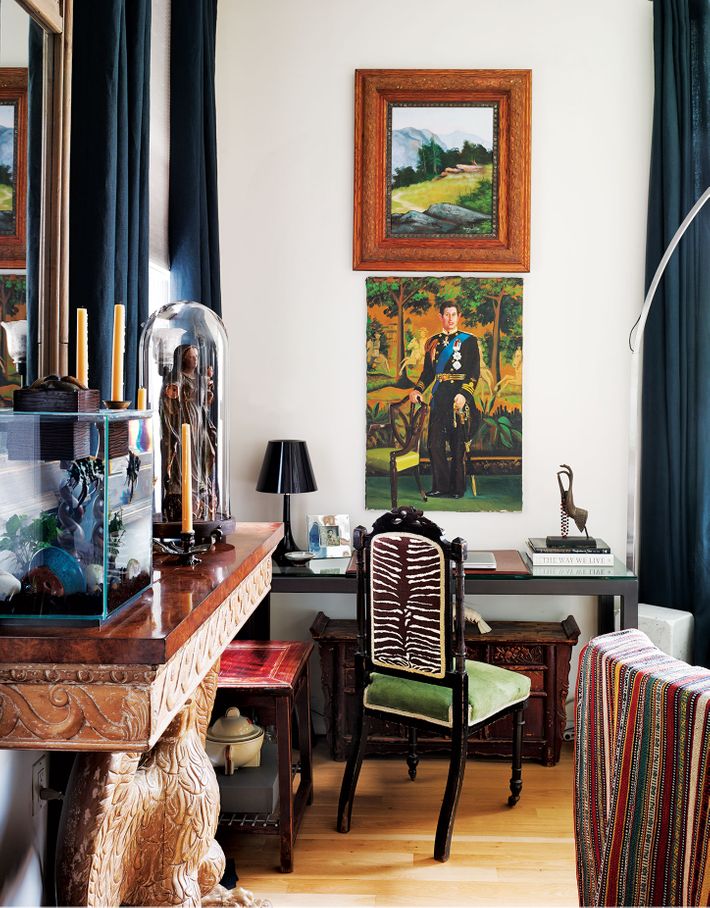 The 1930s Jansen chair is clad in moss-green velvet and a zebra linen print. "To me, chairs are the most beautiful pieces of furniture," says Morell. "I've been called a chair hoarder before."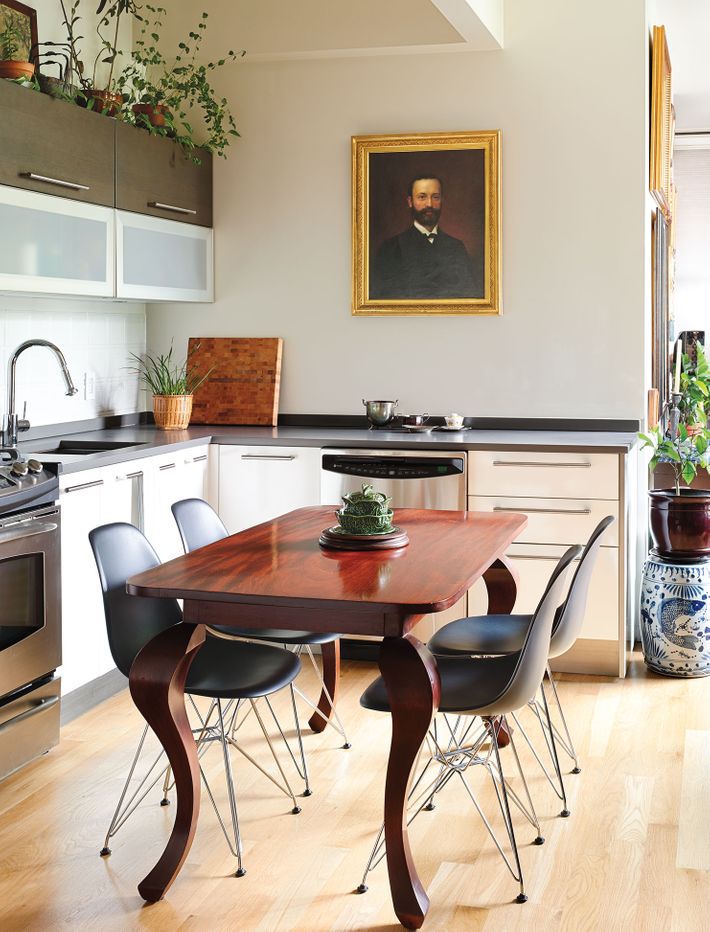 The kitchen cabinetry is from Maistri. The countertops are a quartz composite. "I was just attracted to the kind look in his eyes," says Morell of the 1860 portrait, still in its original frame. "I hung it in the kitchen to add warmth and patina to what would otherwise be a very stark and minimalist room." The custom tropical-mahogany table is from Costa Rica; the dining chairs are Eames.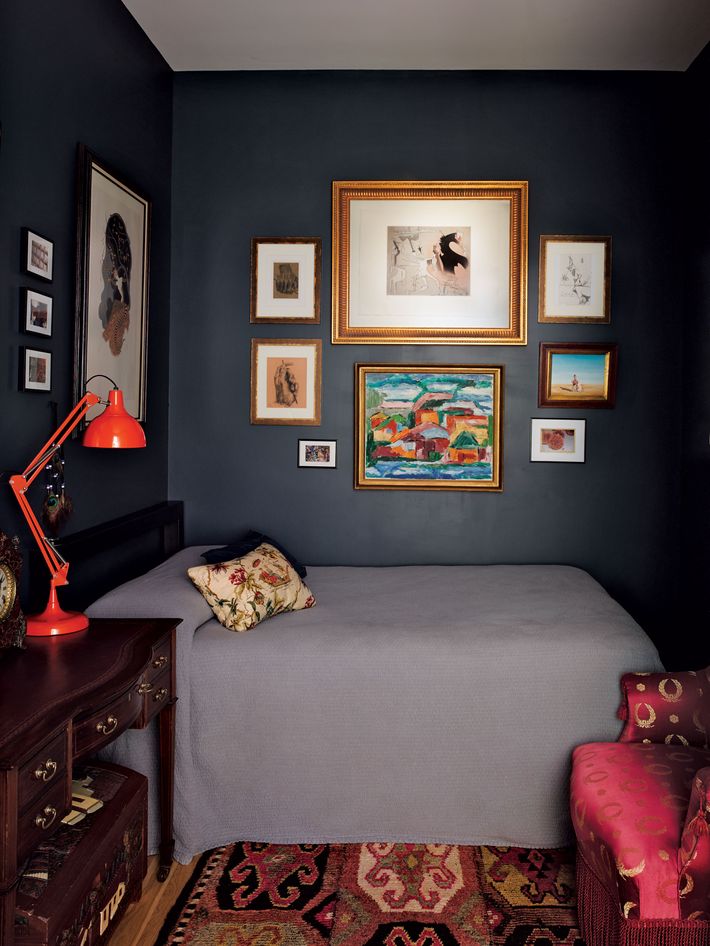 Inside the jewel-box bedroom, dark walls in Benjamin Moore's Blue Note highlight the art. The steel bed is from Room & Board. The Georgian Revival desk is from the 1920s; the hand-carved chest beneath is from Honduras, where Urbano was posted with the Peace Corps.