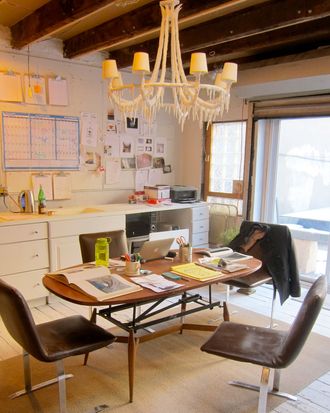 Artist Stephen Antonson is the city's go-to plaster artisan. With his bold handmade furniture and lighting, Antonson has taken up where 1930s plaster artists Serge Roche, Alberto Giacometti, and Jean-Michel Frank left off. When I learned he had set up shop in a new Gowanus studio right next door to his old one, I went to pay a visit.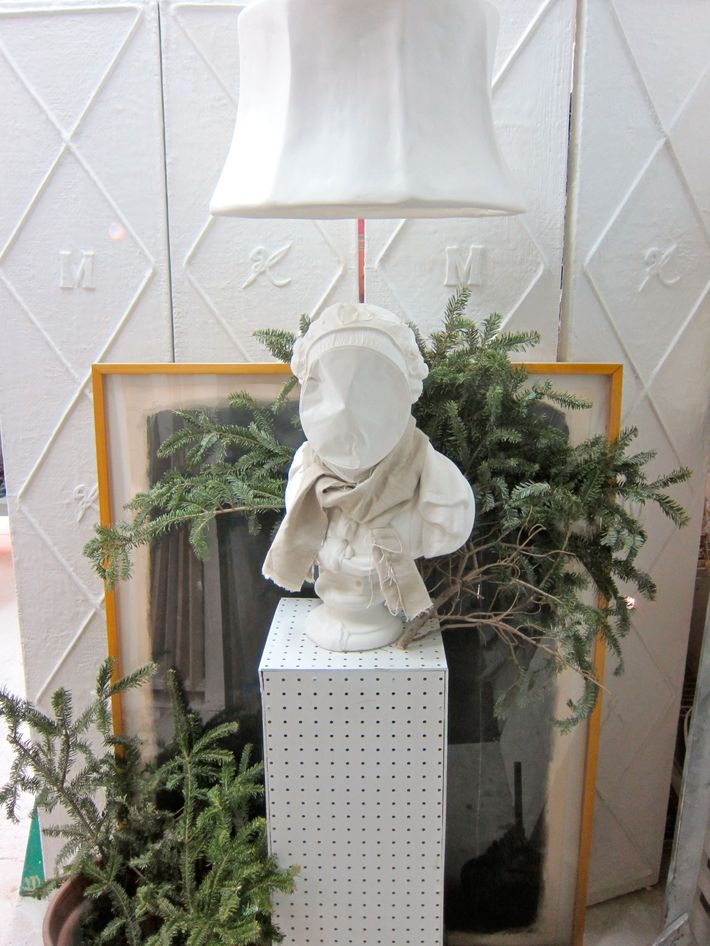 Shakespeare with a pie in his face is the first thing you see as you enter the studio, and he had me at hello. This guy (one in a series of pie-faced busts) is called As You Like It. Antonson made the screen in back for his wife, the book editor and author Kathleen Hackett. The plaster, hanging lamp sheds light when needed. The scarf and evergreen are season-optional.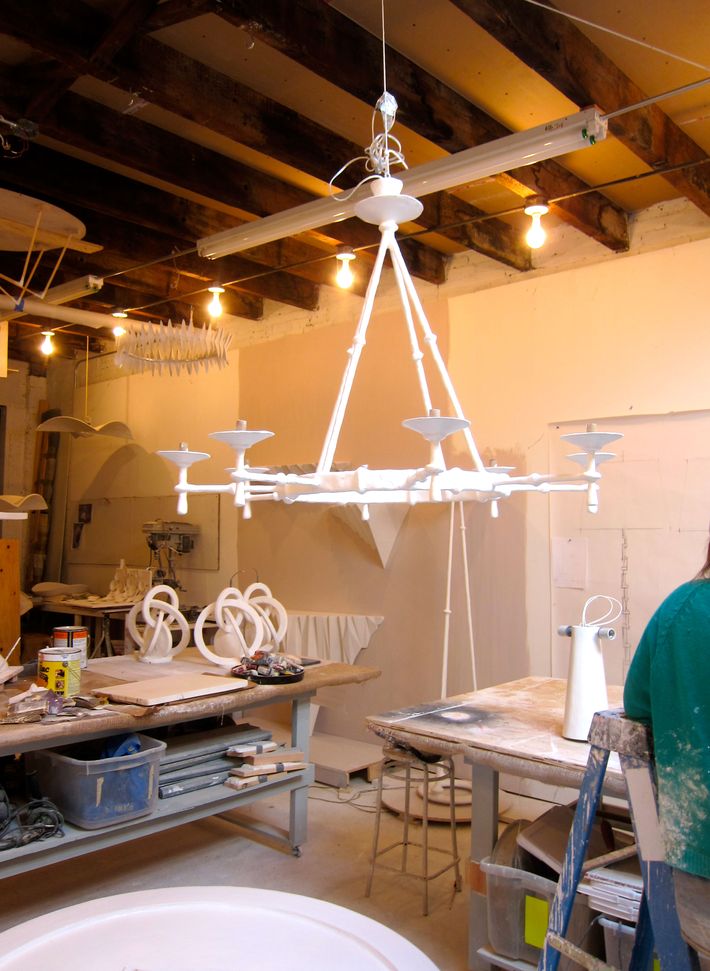 My idea of heaven: The studio was filled with pieces in progress or ready to be shipped to clients like Daniel Romualdez, Miles Redd, Victoria Hagan, and a roster of A-list design pros. The Charles chandelier is center, and to the left are bases being prepared for his Ring lamps. "The old studio had great light but was small, 500 square feet; we were constantly banging our heads on hanging chandeliers," Antonson says. His new studio is roughly twice that size and has two skylights and outdoor space.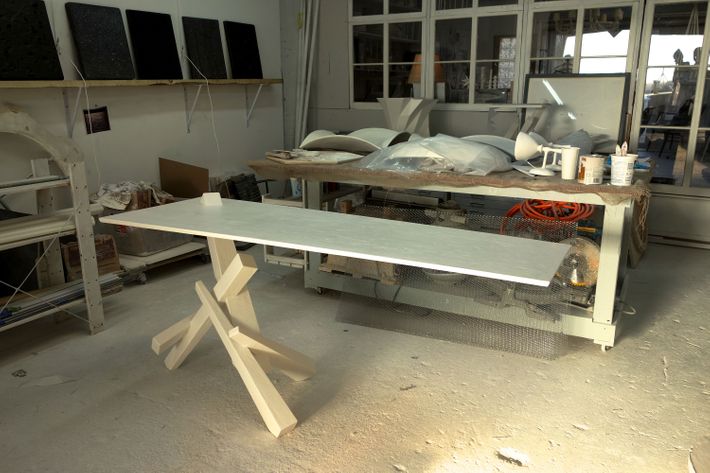 A Shard table was in the works. Behind it are recycled window sashes that Antonson used to make the wall that separates the studio workspace from his office. Antonson is one of those ingenious industrial artists who can make, and do, anything. Back in 2010, he and his wife collaborated on a book, Home From the Hardware Store. "I made; she wrote," he says. "She almost killed me on several occasions." He has done major overhauls of two of their Brooklyn homes, so far.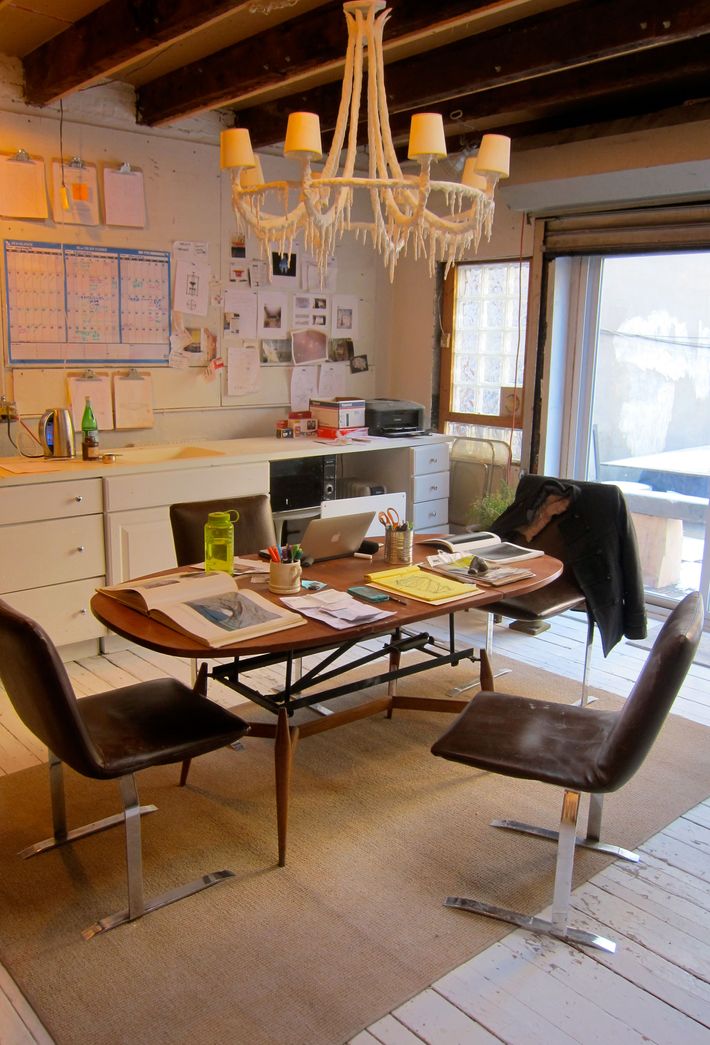 The new office has a French metamorphic table (it adjusts to dining- or coffee-table height) that Antonson bought in Maine. The Italian leather and chrome chairs were found on the street the day he moved into the new space. "The Icicle chandelier is the first chandelier I made years ago," Antonson says of the overhead plaster light fixture.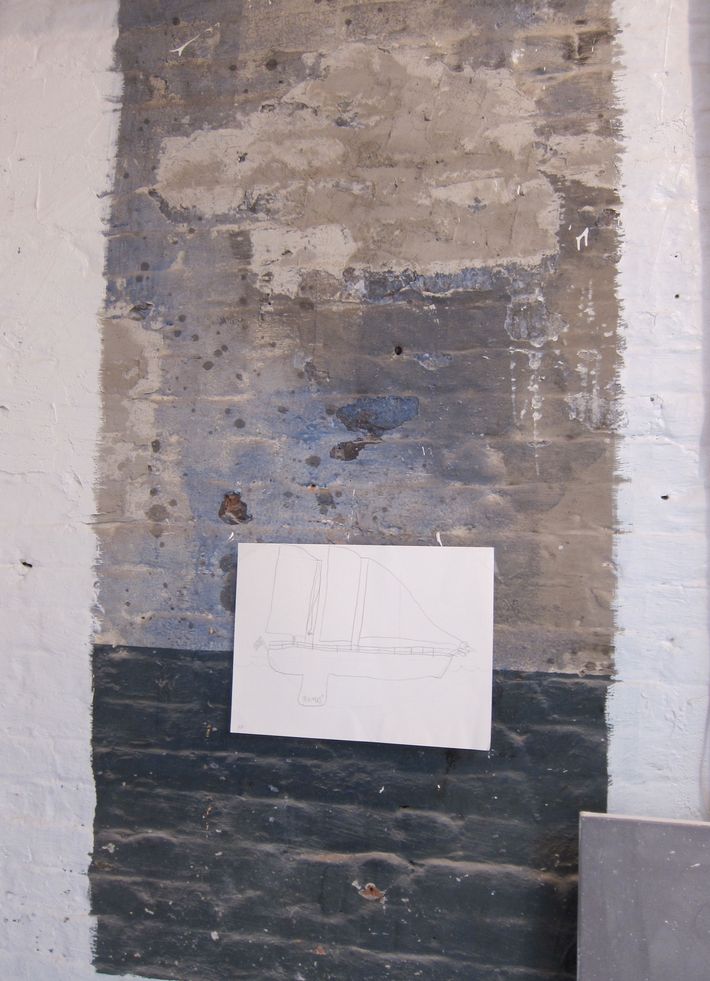 "We painted the entire new space white," Antonson says. "Kathleen suggested we save a sliver of the original wall finish. We chose to keep this area because it looked like a horizon — a seascape with a cloud overhead. I asked my 8-year-old son, James, to draw a ship, which we taped to the wall."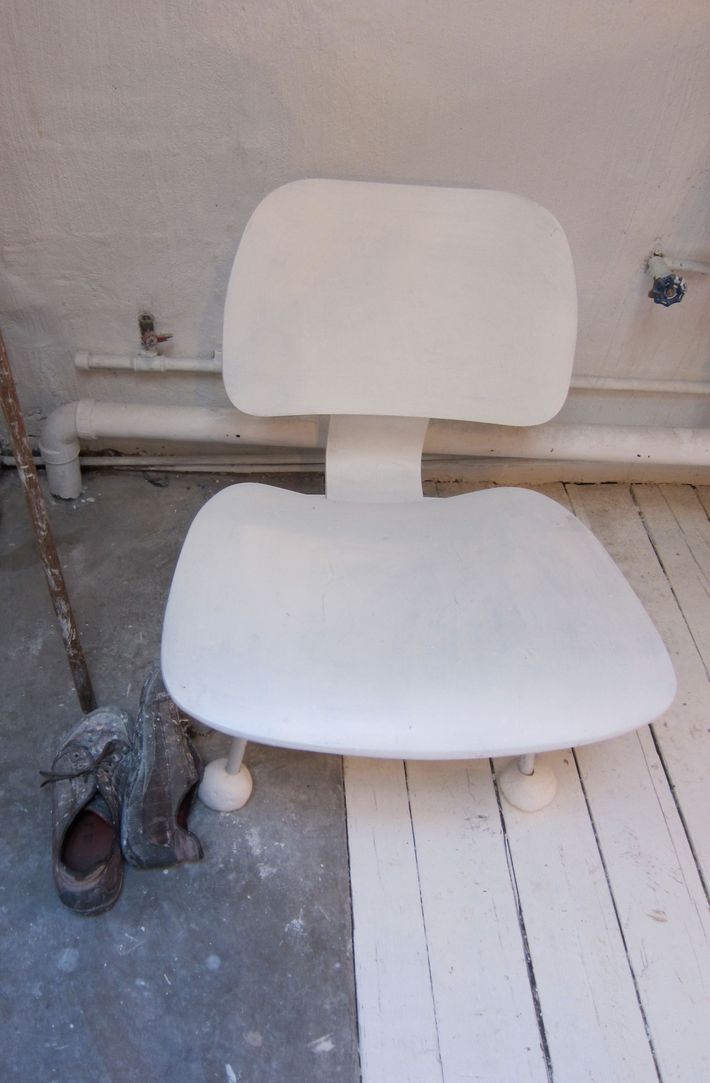 I noticed an Eames chair in the corner of the office that had had a little footwork alteration done, as well as a paint job.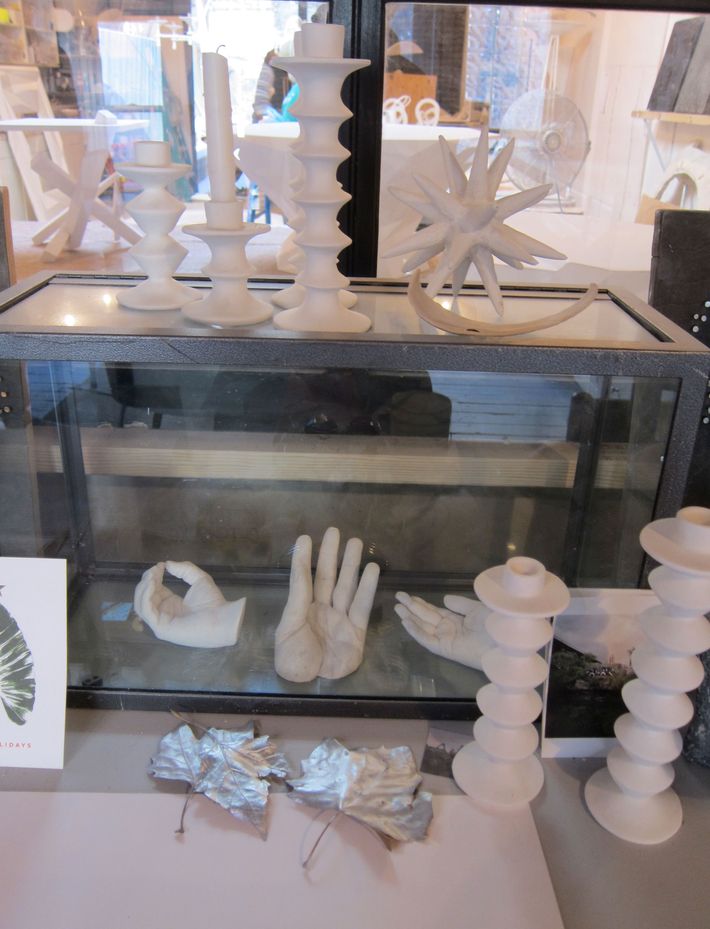 Antonson's office desk has a tablescape that includes his candlesticks and casts of hands (his two sons' and his own). "The boys love coming to the studio and using power tools to make things," he says.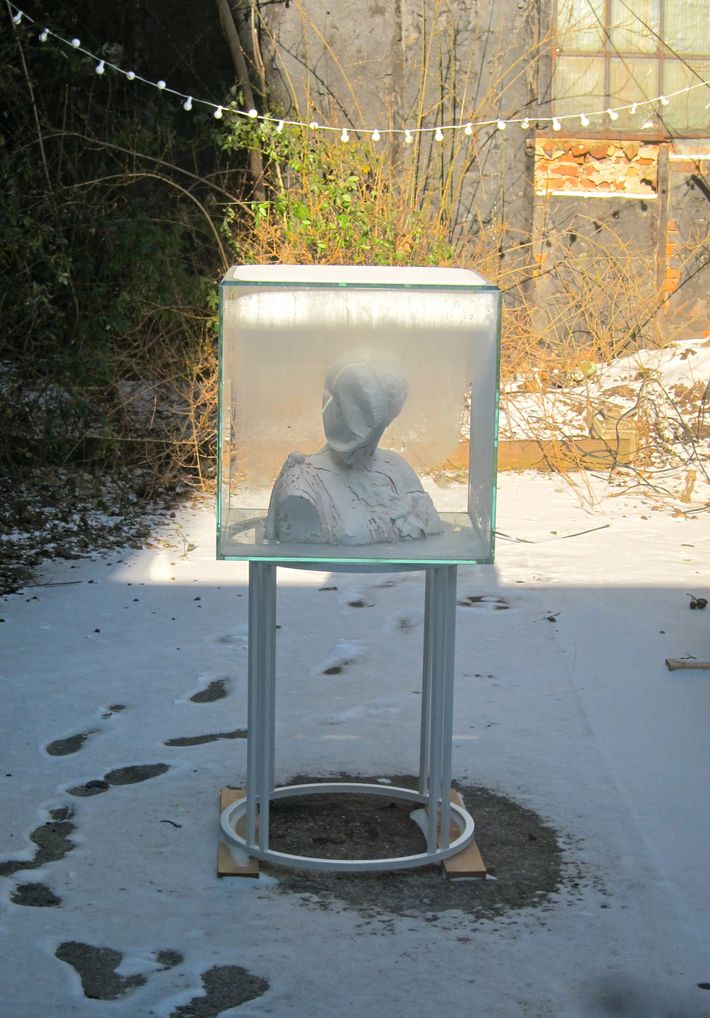 The yard in the back of the studio, Antonson explains, "is where we will host cocktail parties in the spring." One of the pie'd sculptures is keeping warm until then.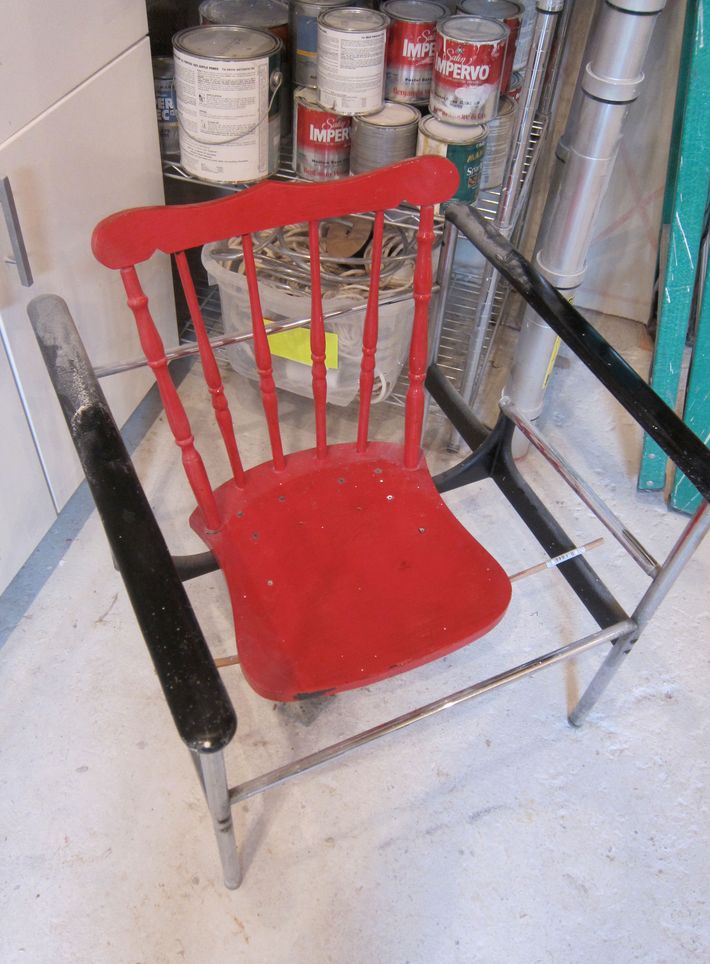 On my way out, I noticed another chair folly. "This Pollock chair is a street find I combined with a red-chair street find," Antonson explains. "When I find a stray chair, I still have that improv impulse to bring it home and attend to its needs."