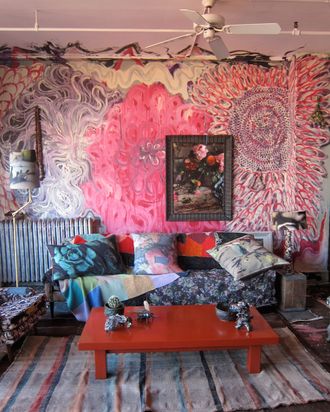 Photographer Martyn Thompson's Soho loft.
Photo: Wendy Goodman
Photographer Martyn Thompson's live-work loft is where he and his partner, artist Dove Drury-Hornbuckle, have created their own wonderland for work and play. I was happy to fall down their rabbit hole.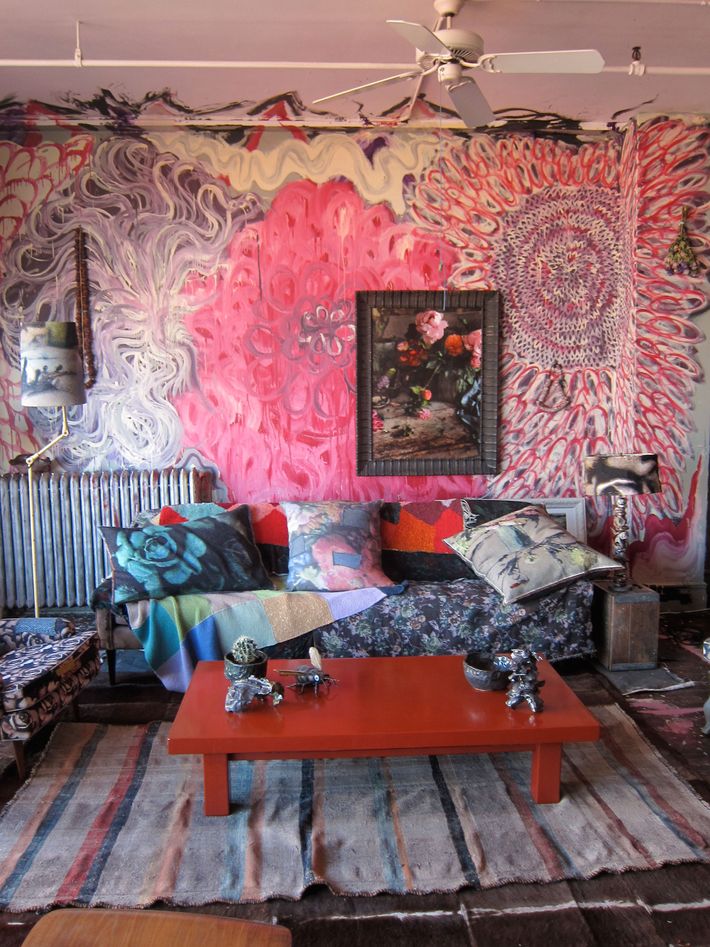 When the door opens into Martyn Thompson and Dove Drury-Hornbuckle's Soho loft, the northern light pours in to illuminate a festival of hot, juicy colors. It's very Age of Aquarius. The walls were painted by Drury-Hornbuckle.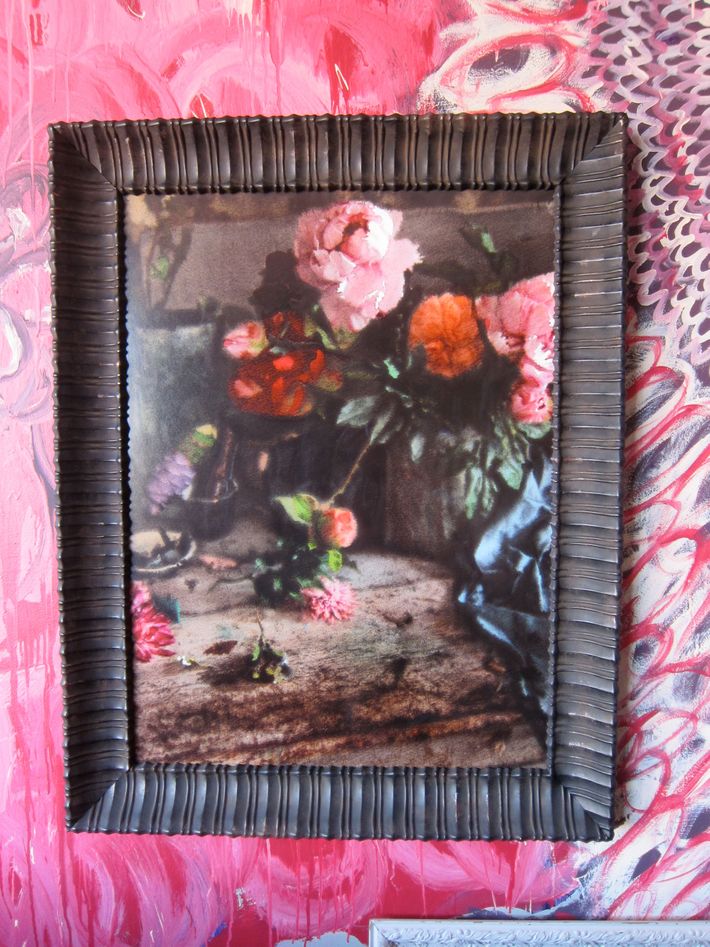 Thompson's photographs have always had their own marvelous painterly quality, as seen here with this floral still life. Recently, he has found a way to capitalize on that aspect of his work, creating textiles and wallpaper from prints of his photographs.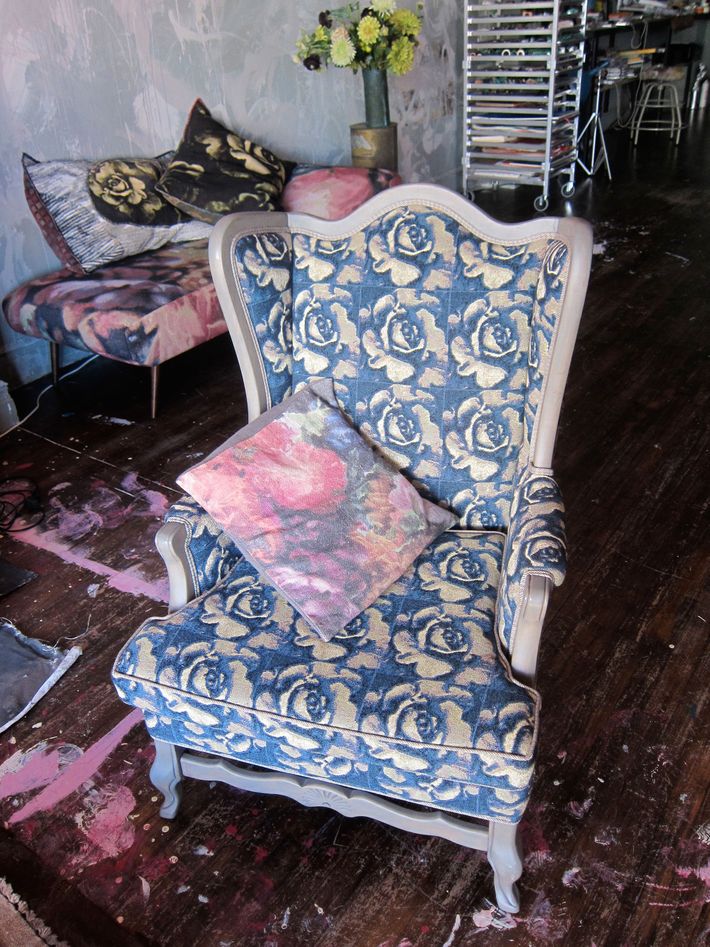 I spied this gorgeous wingback chair upholstered in Thompson's fabric from his "Melting" series. This cabbage-rose colorway is called "melting blue sea," printed on a jacquard tapestry fabric. When I asked how this new chapter of his work came about, he told me: "I was a commercial photographer for over 30 years, so when it came to doing more personal work, I tried to take it to another level."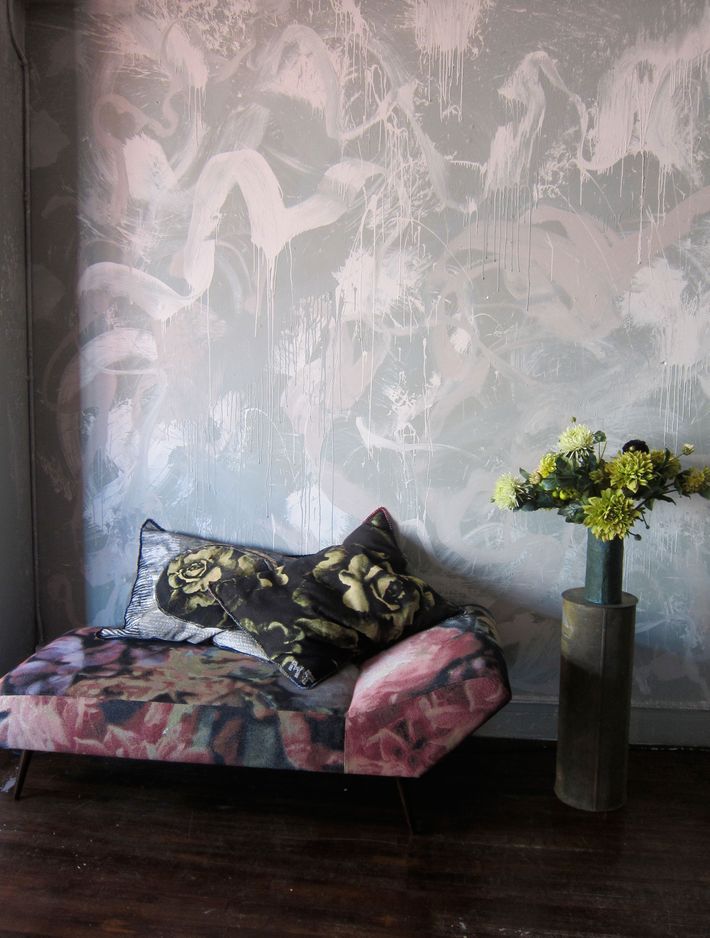 This chaise, set against a wall painted by Drury-Hornbuckle, is covered in various prints from Thompson's first floral-fabric collection, "Cézanne's Shadow," and makes the perfect fainting couch.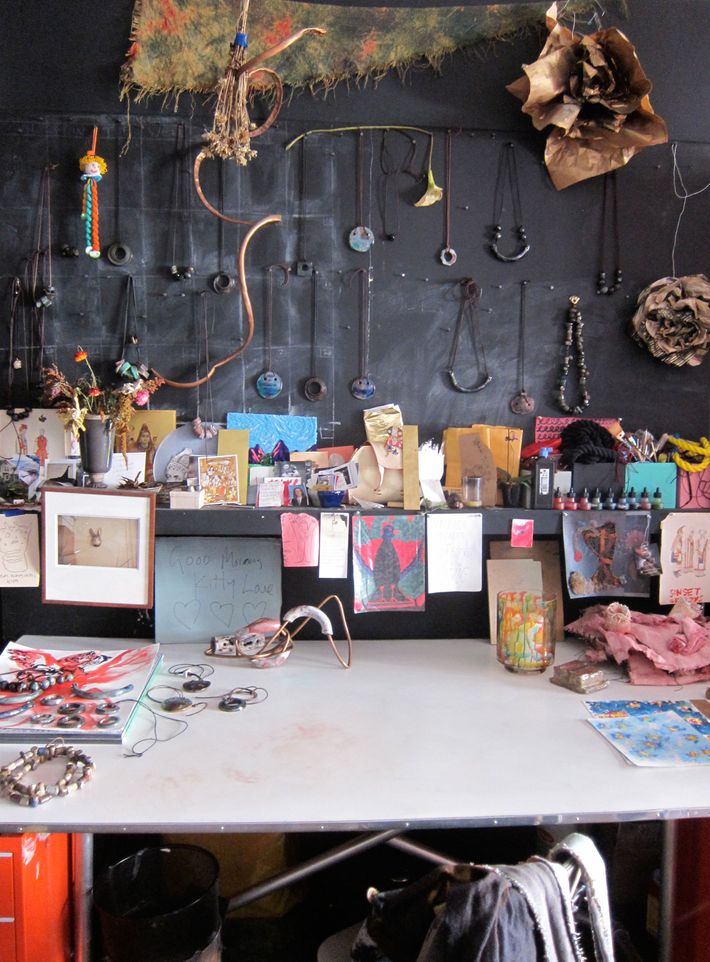 The workspace in this 2,350-square-foot loft is an open playing field; Thompson uses the front space for his photography, and Drury-Hornbuckle carved out an area in the middle where he has a table filled with his ceramic jewelry and objects. The back portion of the loft is designated for personal living space. Drury-Hornbuckle also works out of a studio in Brooklyn.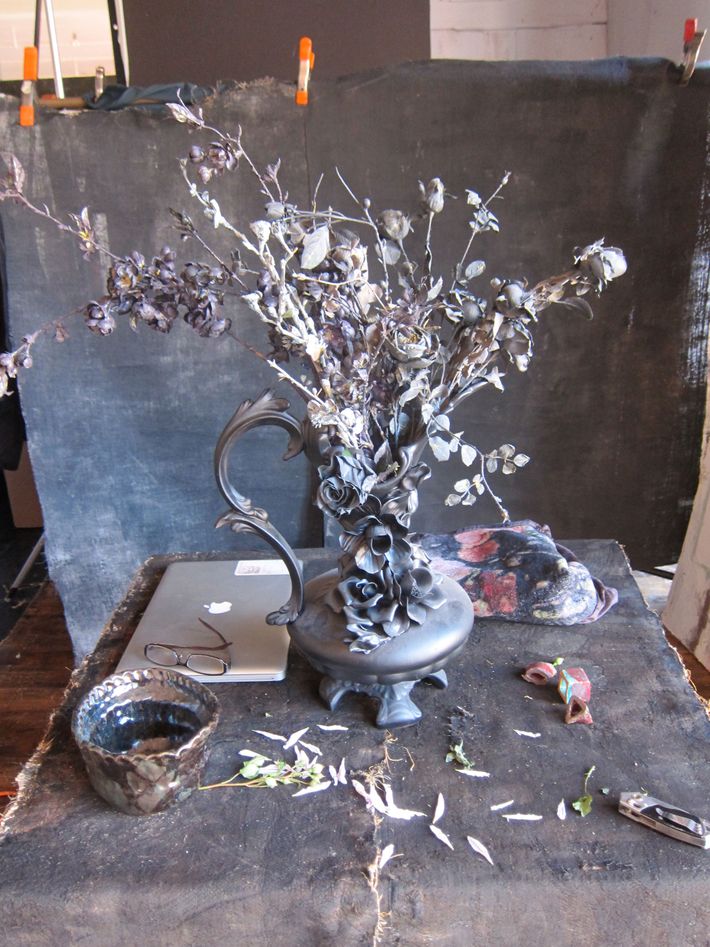 Thompson set up a still life of black flowers for a series he is working on. He's done two books: Interiors (2011) and Working Space (2013).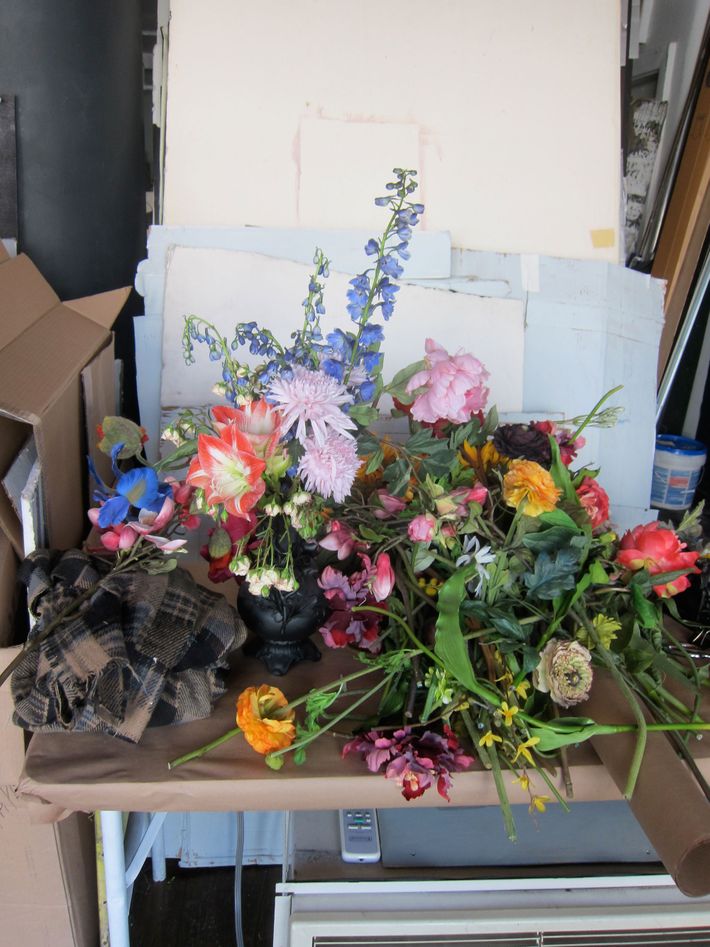 Here, in another area of the studio, Thompson has set up a pile of colorful blooms, mostly fake, that he likes to mix with real flowers for still-life photographs.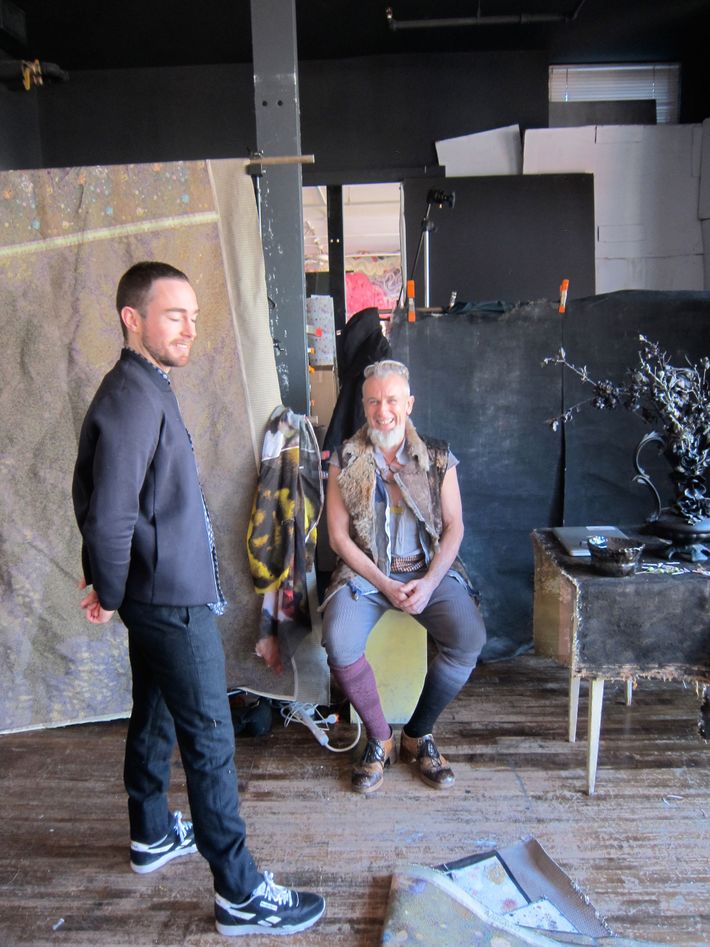 Pictured here is Thompson, seated, with his brand manager, Conor Burke. Born in Australia, Thompson moved to New York in 1999 after living in Paris and London, where he worked as a fashion designer before he started shooting interiors, fashion, and portraits.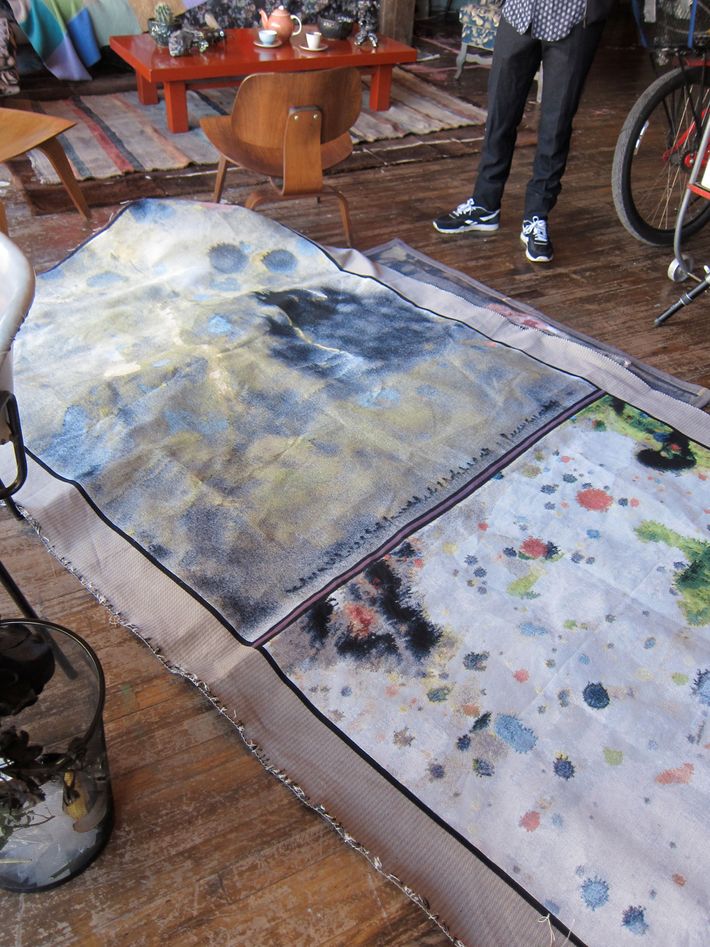 Thompson showed me samples from his new textile collection based on abstract designs.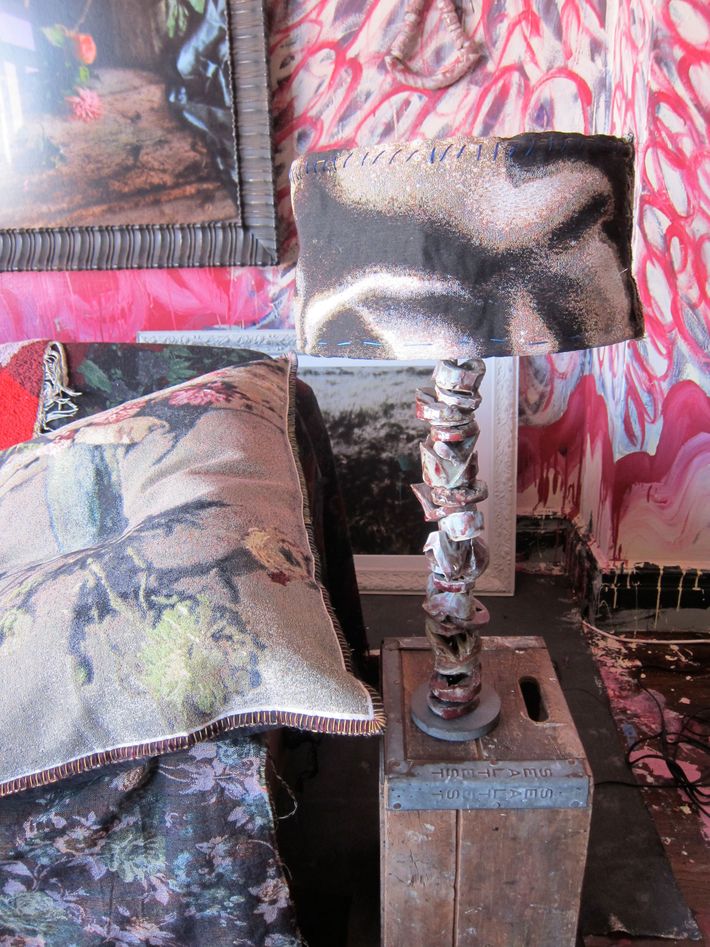 Here, a lamp in the living room, with a base made of Drury-Hornbuckle's ceramic pieces and a hand-stitched shade of Thompson's fabric. It looks like it came straight out of artists Duncan Grant and Vanessa Bell's legendary East Sussex house, Charleston. In fact, the Bloomsbury set would have felt perfectly at home here.