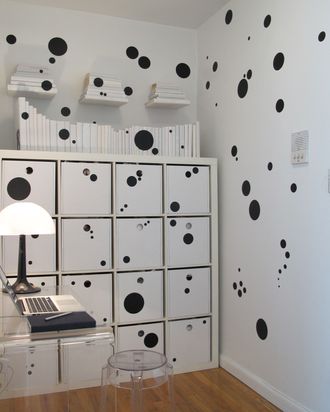 Fiona Byrne's renovated office.
Photo: Courtesy of Fiona Byrne
Fiona Byrne's fashion-and-culture website the Byrne Notice was a warm-up for her new online design hub, Roomers, which she launched to help first-time apartment dwellers and college-dormers create spaces that wouldn't look prefab. See some of Byrne's projects in the slideshow below.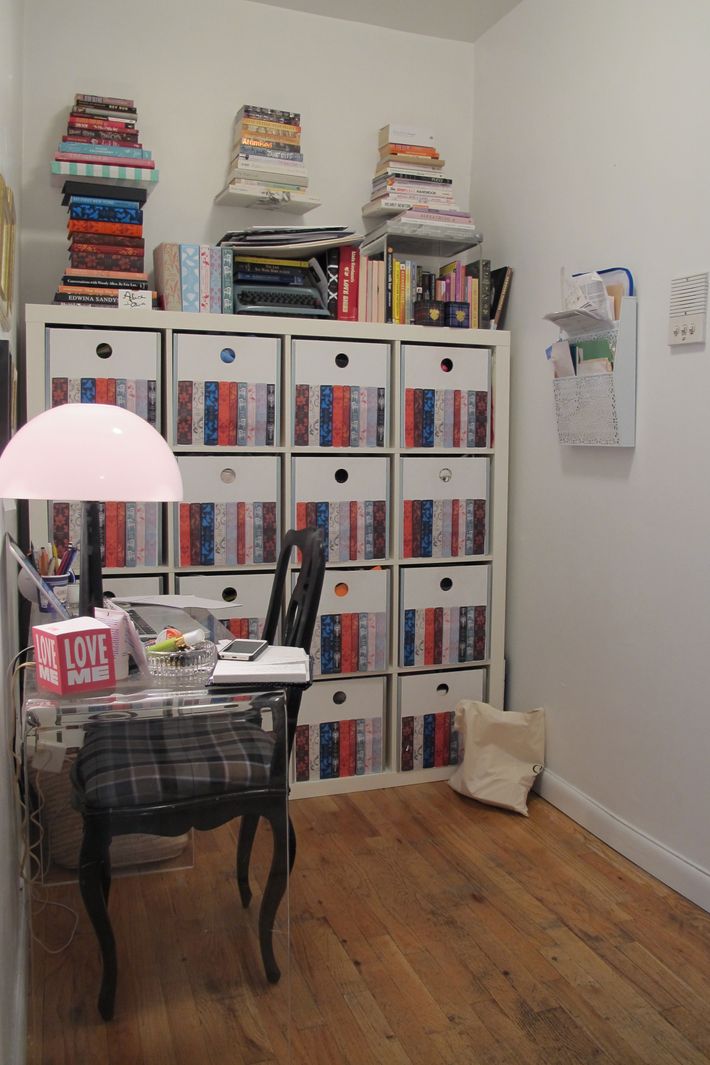 Byrne had been using her tiny one-bedroom apartment on the Lower East Side as a lab to test out her design ideas ever since her roommate moved out about four years ago. Her friends loved what she was doing, and she ended up redecorating their apartments as well. Two weeks ago, she launched Roomers to share her DIY savvy. One project I really love is the redo of her office — "my alcove," she says — pictured here, before she went to town.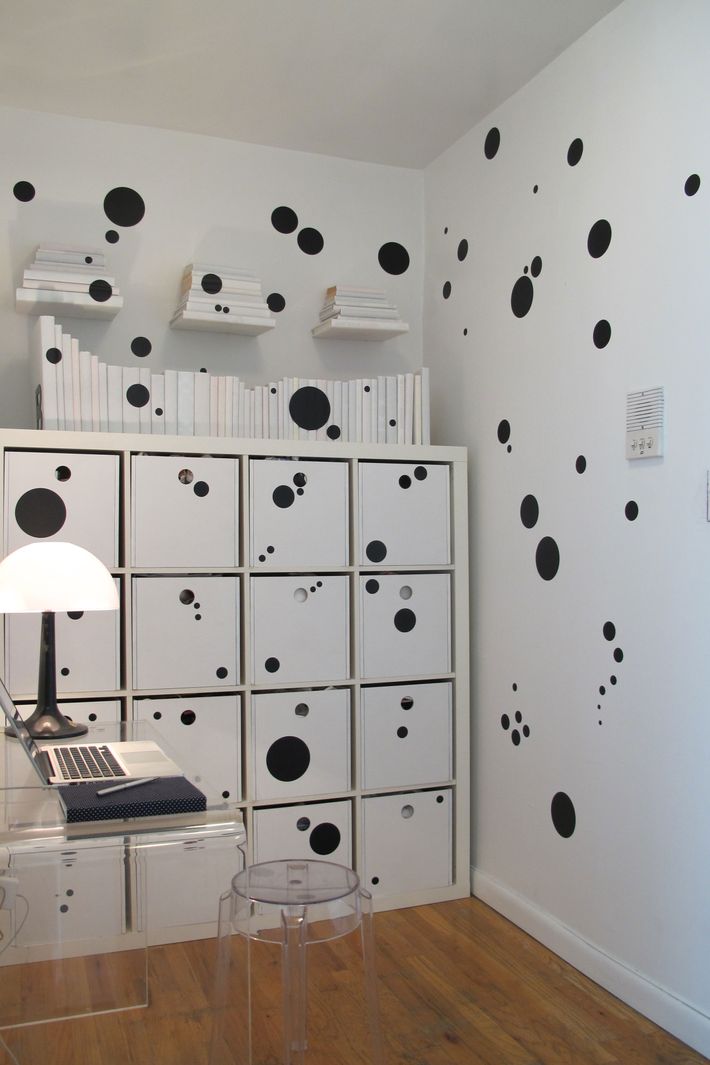 The result is playful and pared down. The desk still faces east, per feng shui dicta. The dark wood side chair has been replaced by a Ghost stool that makes a huge difference in the tiny but meticulously organized space. "It feels like I am sitting in a giant Dalmatian," Byrne says. "This area is right by the front door, so it kind of looks like a reception area. It's hilarious."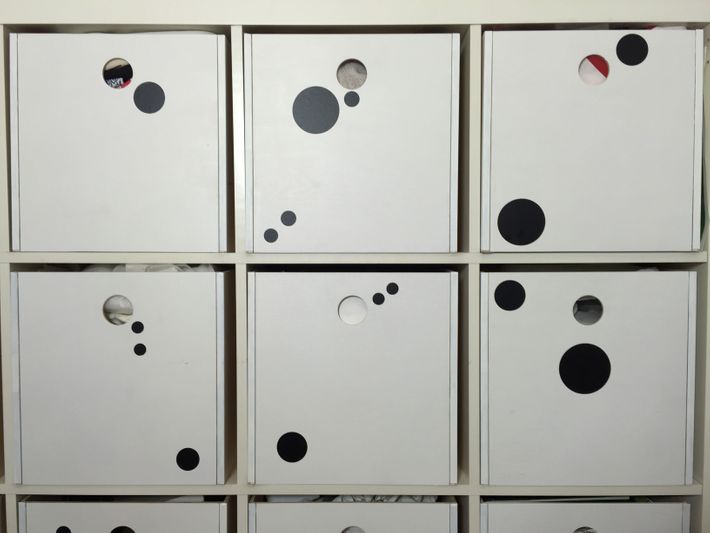 "I felt like it was closing in on top of me," Byrne says of the tiny alcove. One of the first things she did was to remove the faux book paper from the front of the storage boxes she found at Ikea and recover them with inexpensive contact paper. The clean surface was then covered with various sizes of black-circle decals found on Etsy, inspired by the holes in the boxes.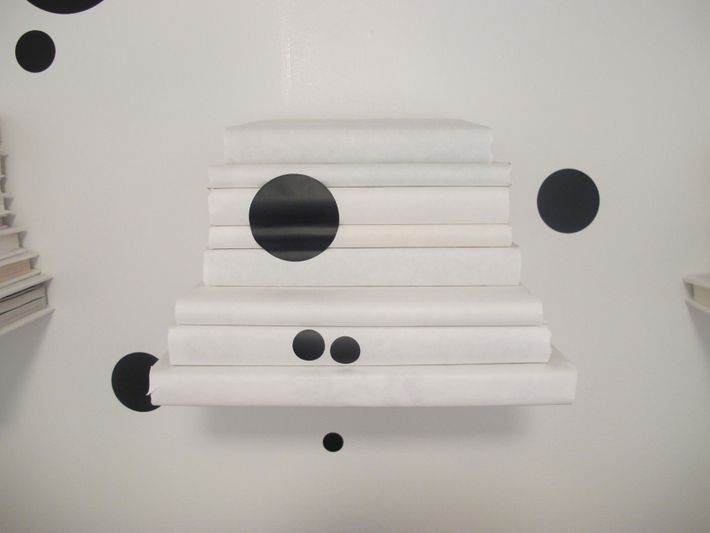 The floating shelves above the storage containers are filled with books that she wrapped in contact paper and then gave the Etsy-decal treatment.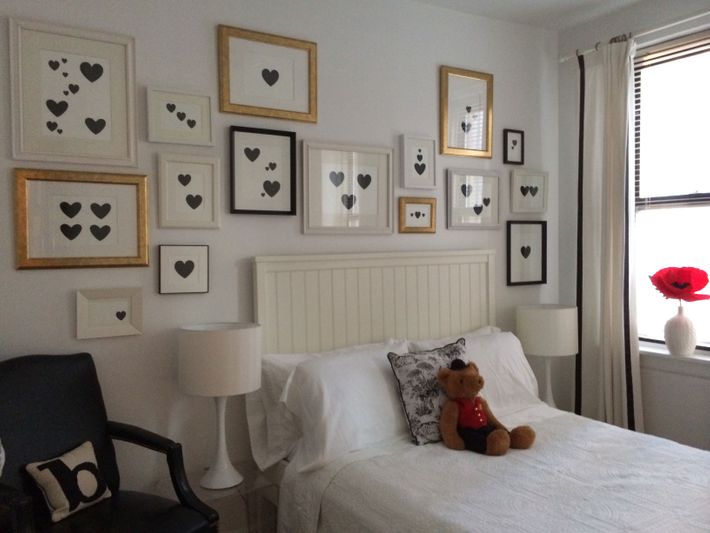 She recently redesigned this bedroom, inspired by a teenage girl, which was "just a lot of black and white and gold frames — it was nice, but I think color is always good."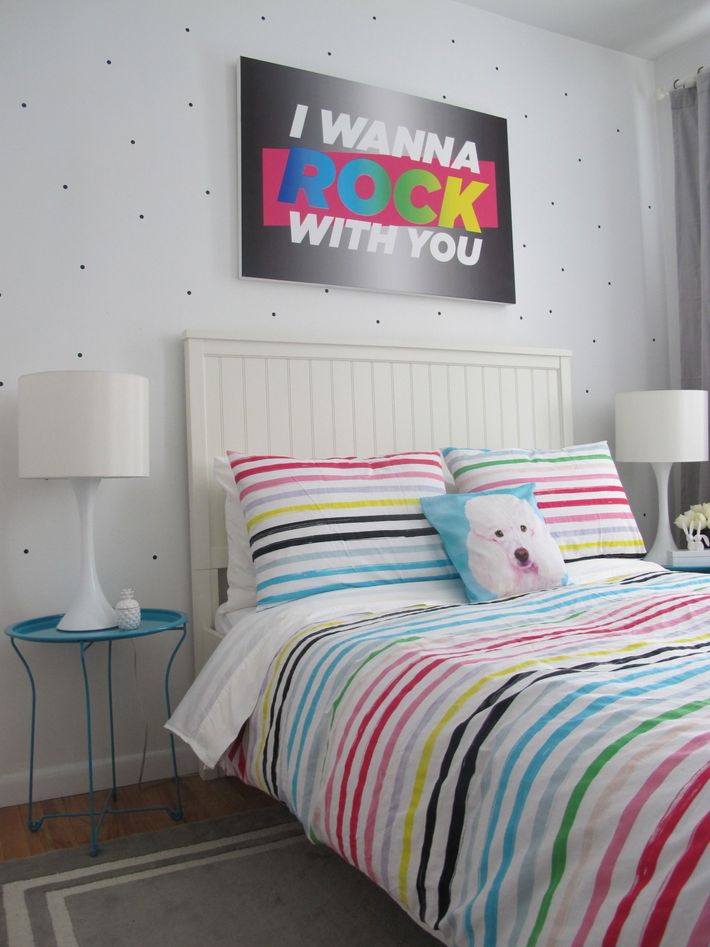 The ta-da moment: a fresh palette accomplished mostly by the striped duvet-and-pillow set from H&M. The painted wood headboard is from PBteen, as is the area rug. The poodle pillow and the white pineapple candle are also from H&M. "The room kind of looks like a rainbow," Byrne says.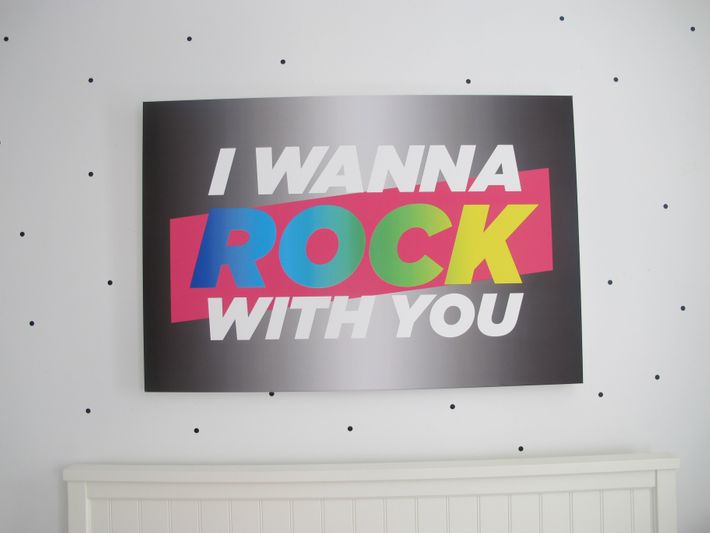 The first thing she did was replace all the smaller pieces of art on the wall with this one large canvas by artist Deborah Kass, who had originally written this on the front of a chair factory in the Bowery. Kass then worked with the Art Production Fund to make it available online. "I just love it. It's so bright, and I love Michael Jackson," says Byrne. The mini-dot stickers on the wall are from Etsy.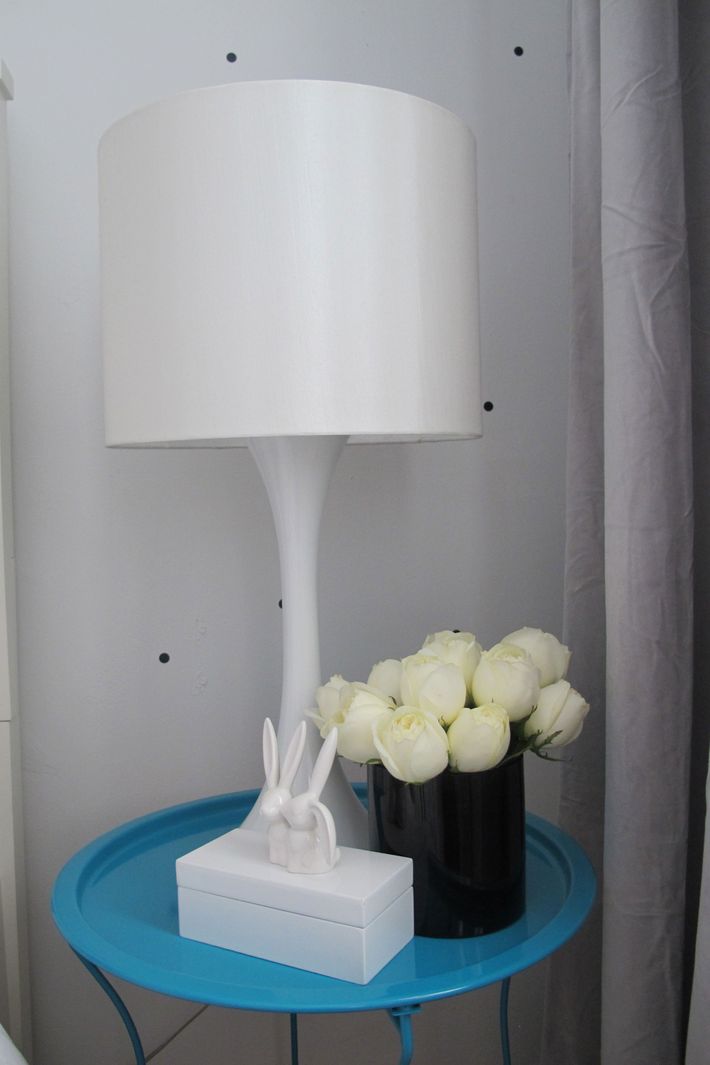 Byrne found a pair of Dar metal accent tables at Target and topped them with Ada lamps from CB2 for a more pulled-together look. She is a firm believer in perking up a room with inexpensive deli flowers (these white roses were $5). The bunny ring-holder from ModCloth sits on top of a white lacquer box from The Container Store.