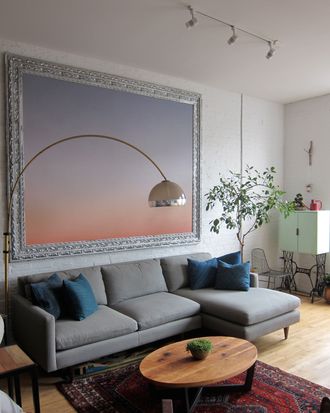 Here, the couple framed wallpaper for wall art.
Photo: Wendy Goodman
The design studio Uhuru will open its first retail showroom on May 16 in Tribeca, at 74 Franklin Street, with updated versions of its current collections: leather and bronze chairs made from reclaimed horse fencing, walnut-slab tables, and powder-coated end tables in an assortment of customized colors. Uhuru will also be launching a collection of men's and women's jewelry made with metal, wood, and black diamonds. In addition, the showroom will be home to a bar and rotating art installations, plus a table made from Berlin Wall scraps. On the occasion of Uhuru's new store, I visited the Red Hook home that co-founder Bill Hilgendorf shares with his wife, Maria Cristina Rueda, and two children.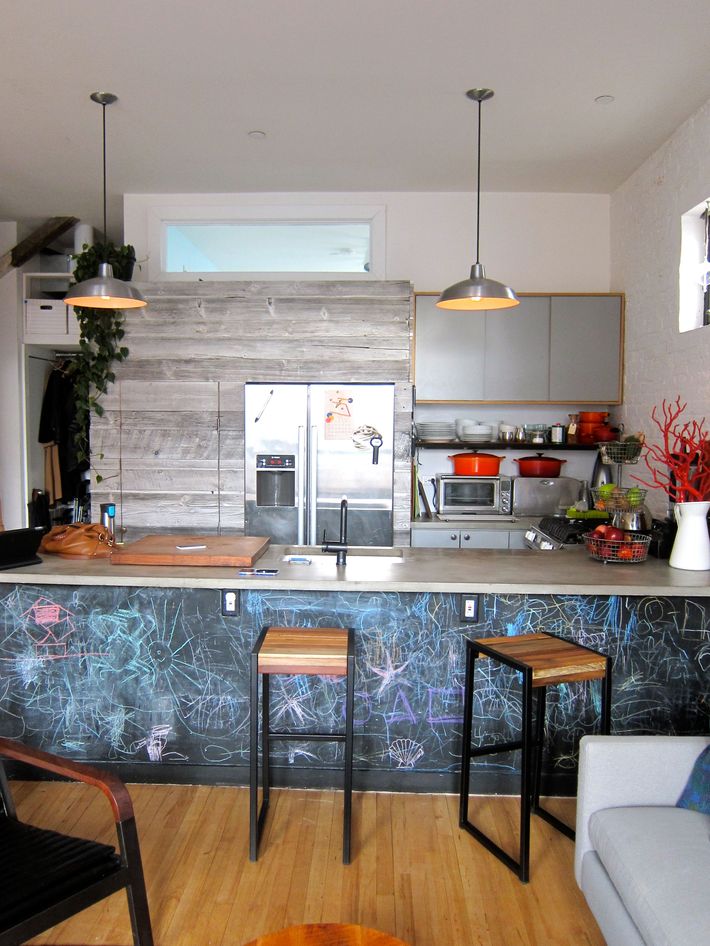 RISD grads Bill Hilgendorf and Jason Horvath founded their design studio, Uhuru, in 2004 in a Red Hook workshop right around the corner from where Hilgendorf now lives with his wife, Maria Cristina Rueda, who also works at the firm. In 2011, the couple moved to Red Hook from Carroll Gardens, even though Rueda was hesitant: "I wasn't ready; it just seemed so far away." But that was one baby — and one baby on the way — ago, and while Rueda was digging in her heels, Hilgendorf had his eye on an old converted factory building that he passed every day on his way to the Uhuru shop. Here, their kitchen, open to the living room, offers an eye-level blackboard for the kids to go wild on while their parents cook and entertain friends who perch on Uhuru's Churchill bar stools from the Aellon line.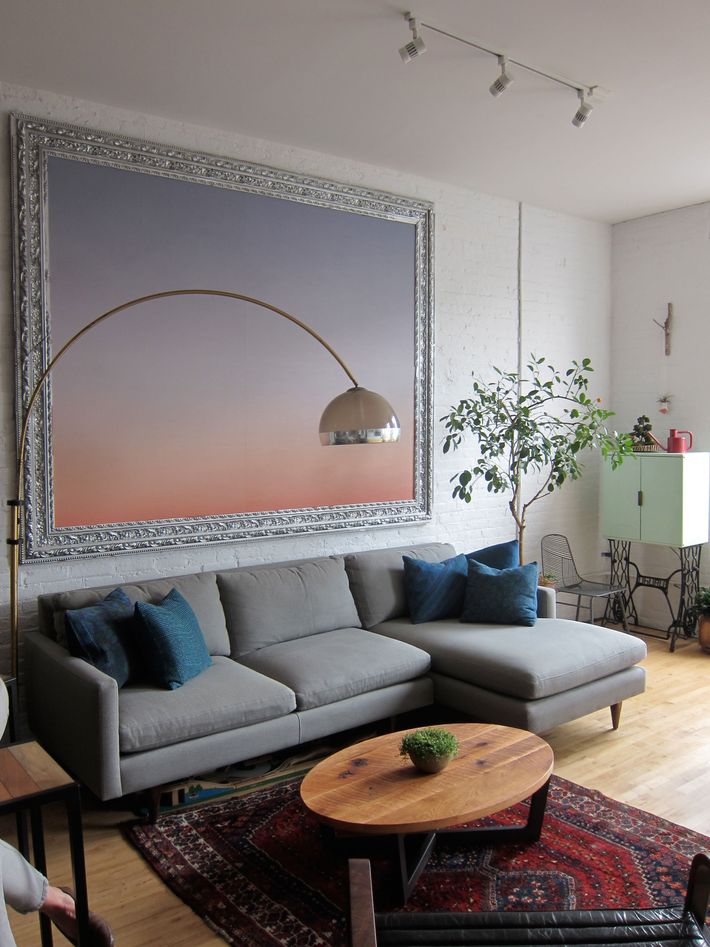 "Over the course of the year and a half the house was being done," Hilgendorf says, "I would sneak in and check out the progress." Since 2011, they have been fine-tuning their own design aesthetic, which includes the Essentials oval coffee table in the living room. The wall art above the sofa is actually framed wallpaper from Calico.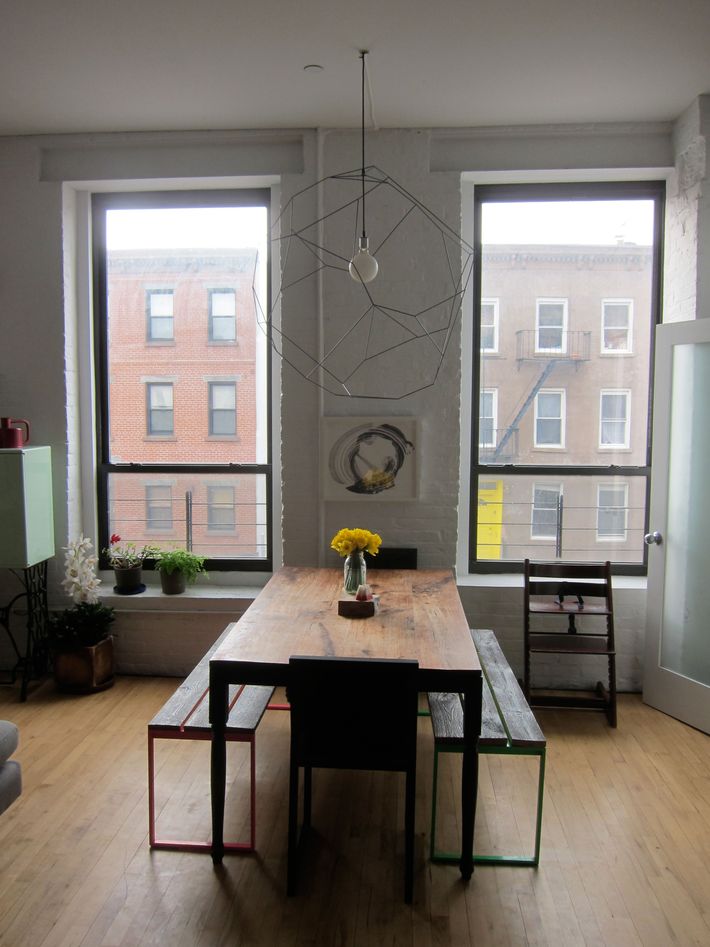 Family meals take place by the window on Uhuru's Country Mod table, flanked by benches from the Summer Snow line, where silvery, weatherworn wood from a reclaimed snow fence is supported by powder-coated neon metal bases.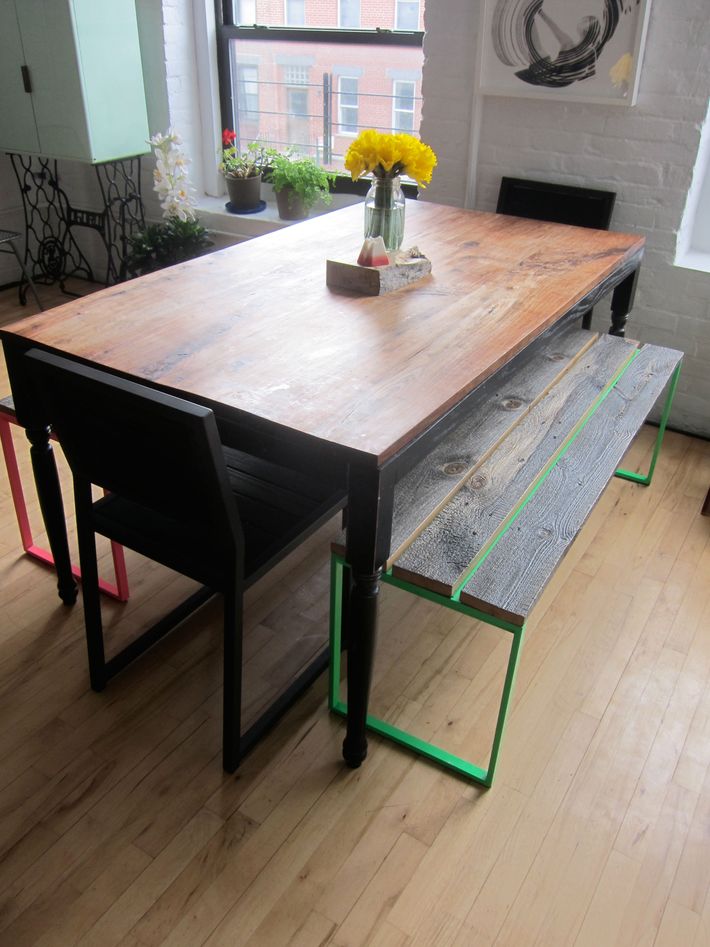 Uhuru first made a name for itself when the designers took reclaimed wood from the Coney Island boardwalk and turned it into the Cyclone Lounger in 2010. The Smithsonian and Brooklyn museums have Uhuru pieces in their permanent collections. Uhuru's designs are known for melding old and new; the mod colors of the snow-fence benches add a modern jolt to the weathered wood.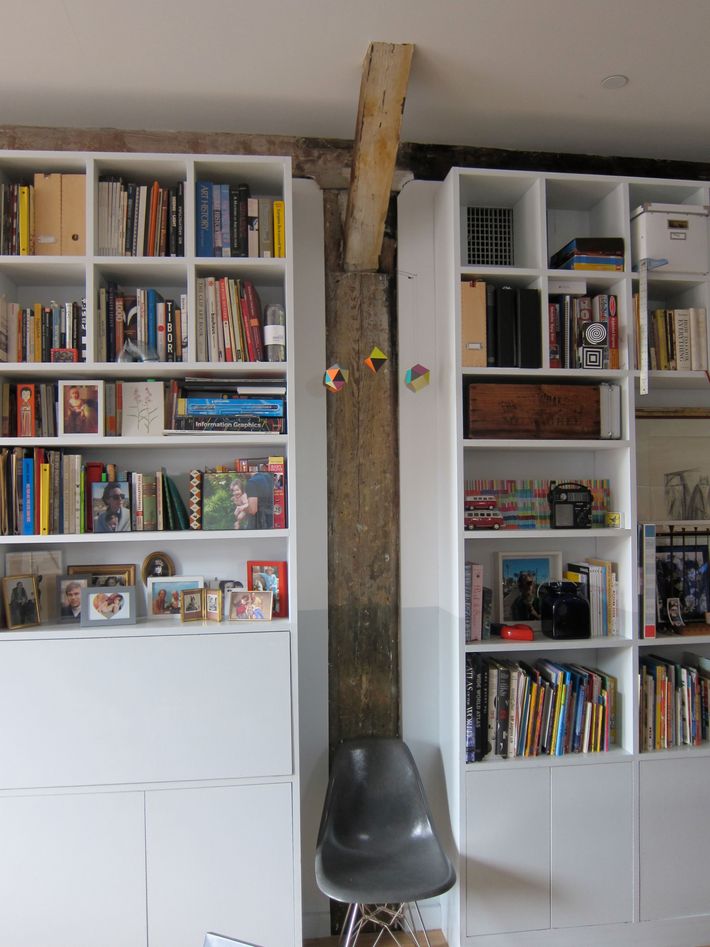 No surprise that the couple kept the original wood beams exposed. When building these bookcases, Hilgendorf decided not to include door handles on the storage cabinets below (an ingenious move). "Even though we really like minimal design," Rueda says, laughing, "this actually doesn't have handles because we don't want the kids opening the doors." But, Hilgendorf says, "they've figured out how to open them."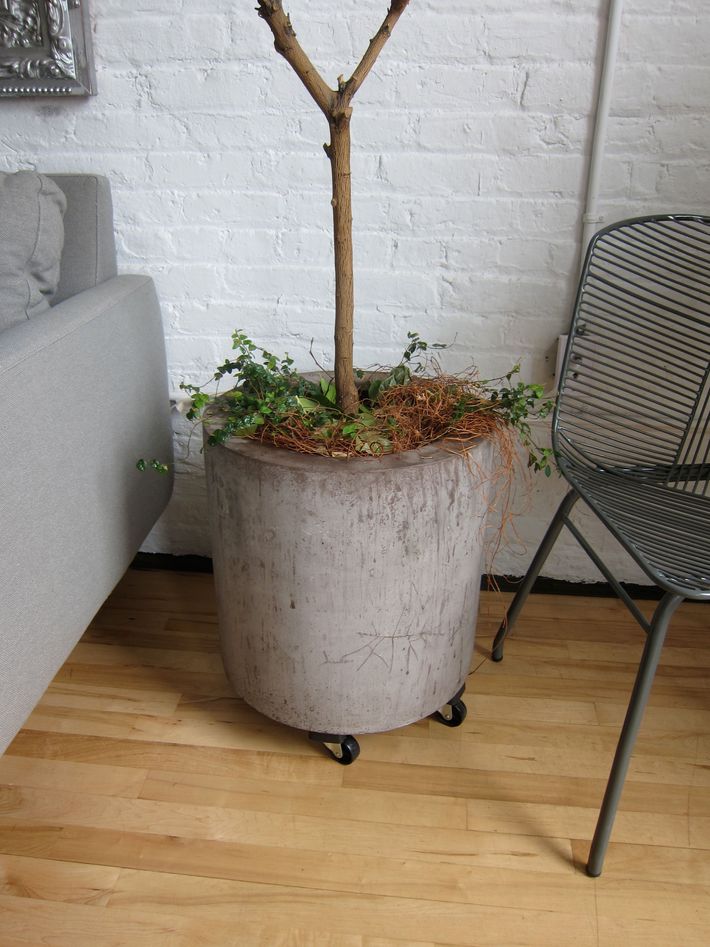 If you are going to have a large citrus tree in the apartment, it helps to have a planter on wheels, which Hilgendorf found at the local Gowanus Nursery.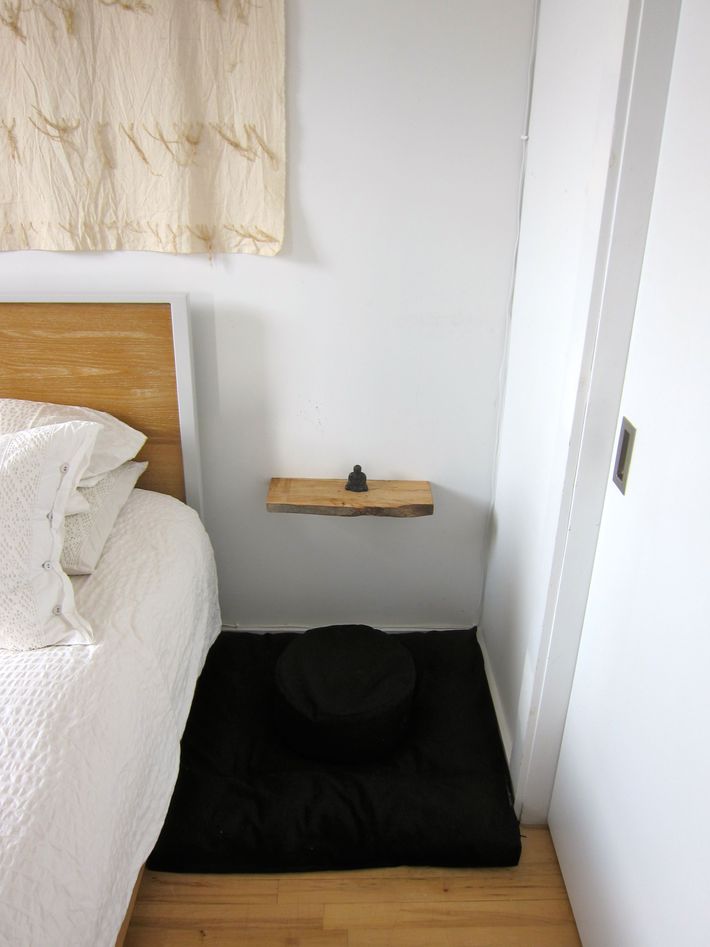 "We have a two-bedroom apartment," Rueda says, "so we have the two kids in one bedroom in the back. The place is starting to feel smaller, but we are making it as efficient and as practical as possible." Here in the master bedroom, instead of a bedside table, Hilgendorf crafted a simple sliver of cantilevered wood.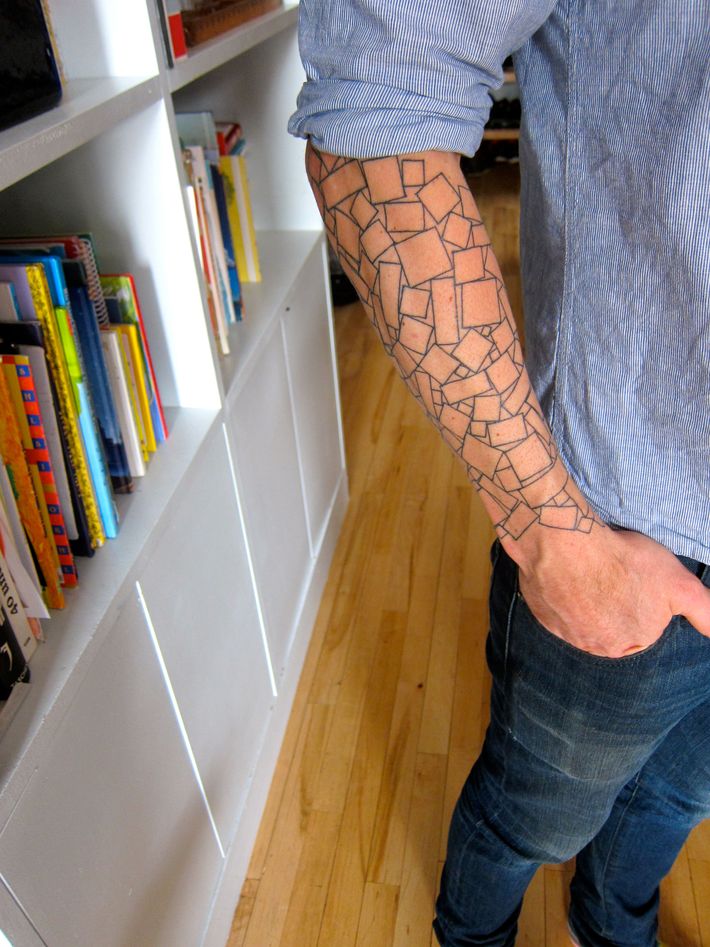 Hilgendorf's tattoo is taken from a design he did for Uhuru's Stoolen, a stool made of wood and metal, his first project for Uhuru.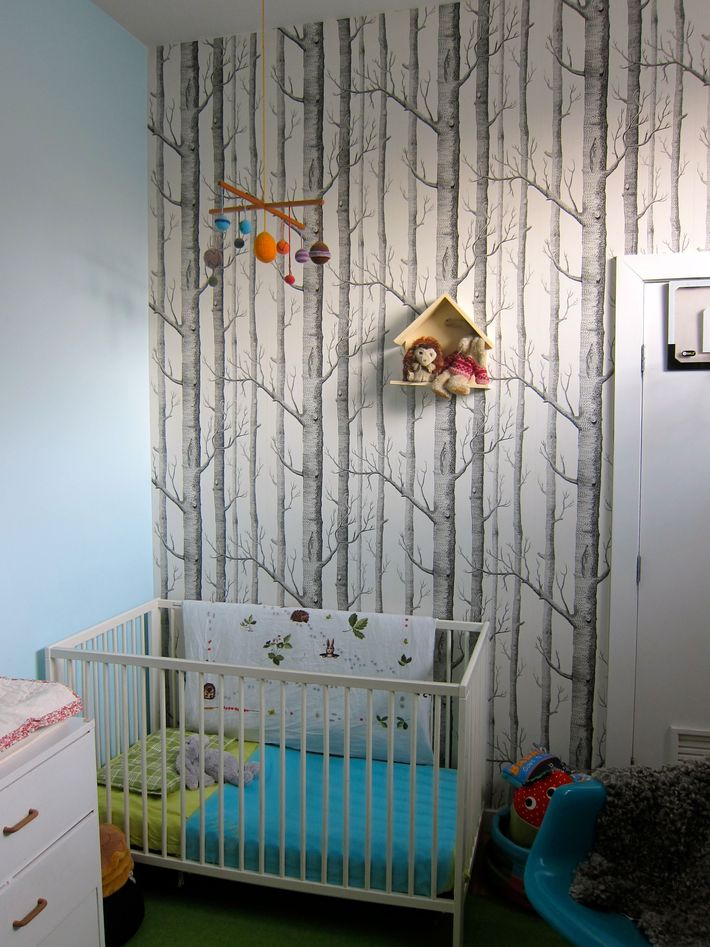 One side of the kids' room is covered in Cole & Son's wallpaper for an Into the Woods–like experience.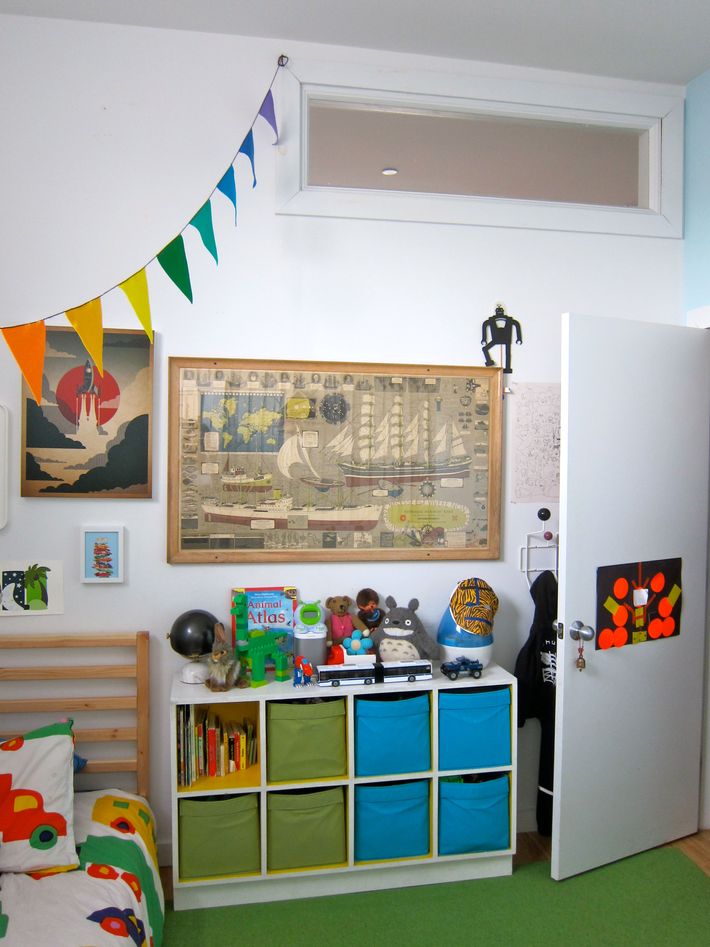 The other side of the room is more grown-up, with shelving to hold teddy bears, a stuffed Totoro, books, and a model bus.