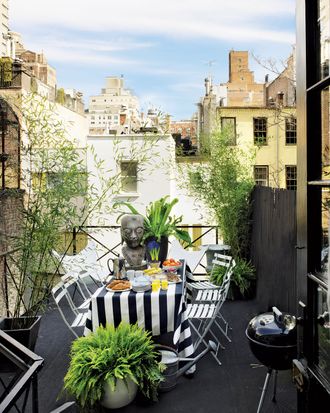 The terrace of Patrick Mele's one-bedroom Upper East Side apartment.
Photo: Annie Schlechter
"This is the first place that I have lived on my own," Patrick Mele, 31, says of his one-bedroom apartment in the East 60s, where he moved in 2013 after years of roommates. Mele spent his childhood longing to end up in this elegant neighborhood; he'd make trips with his family to the Upper East Side from Greenwich, Connecticut, where they lived in what he describes as a "kooky farmhouse that was like a big chicken coop." As a young boy, he took it upon himself to rearrange all of his parents' furniture — apparently to their delight. "I even convinced them to paint our dining room fire-engine red."
When he was 14, he started doing window design for local shops, and after graduating from NYU, worked with Kate and Andy Spade, Ralph Lauren, and Richard Lambertson before starting his own firm in 2012. In between projects (he plans to open a store in the next two years), there was his own apartment to attend to. Initially, he was overwhelmed by the options. "I couldn't quite zone in on what I wanted my own home to say about me," he says. In the end, his trial-and-error approach ("I tried kilims, Noguchi tables, big swags on the windows, nothing on the windows") led to a space that is "idiosyncratic and irreverent — a purist I am not."
He opted to make the small room off the living room his office, while the larger room is a flexible open space that converts to a bedroom once the daybed is turned down. The apartment's ink-colored walls accented with crisp white moldings are intercepted by bursts of color from his collection of design books, bird-themed art, and small pieces of furniture; the original floors have been painted a high-gloss milk white. Usually renters don't take such liberties, but Mele doesn't plan on leaving anytime soon. And he's not done tinkering: "I'm restless when it comes to my surroundings," he says. "They're always in motion."
*This article appears in the May 18, 2015 issue of New York Magazine.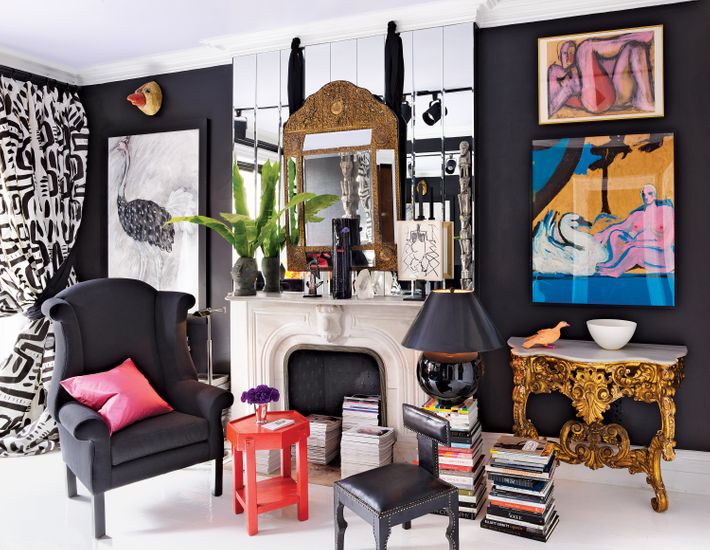 Living Room
Mele's black-and-white apartment has pops of neon, like this raspberry silk pillow. The ostrich painting is by Marianne Stikas. Mele designed the hand-painted curtains with Peter Fasano; they're available at John Rosselli. The Italian Baroque gilt wood console with marble top is from Hamptons Antique Galleries and the antique Persian mirror over the fireplace is from the Antique and Artisan Gallery. The wing chair was found at a flea market and covered in quilted chintz. "I ripped the skirt off, painted the legs black and reupholstered it in Knoll Luxe black wool. It instantly became modern and more about shape and line." Mele designed the black Ball Lamp on the stack of books, and the two paintings to the right of the fireplace are by Alexander Rutsch, who studied under Josef Hoffmann in Vienna.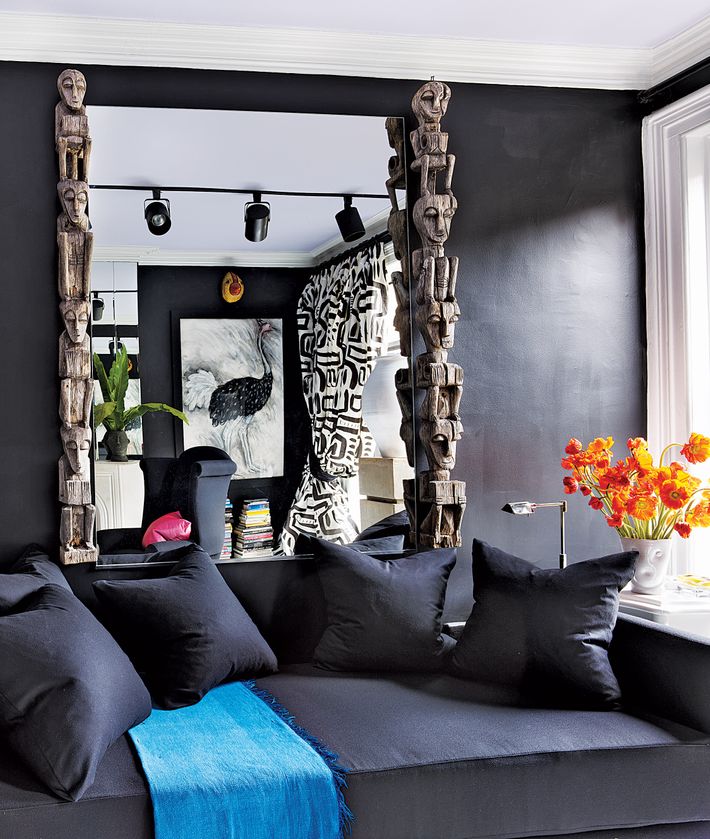 Living-Room View Toward the Mirrored Wall
The African totems above the daybed are from Beau Maas Antiques. Mele installed the track lighting, reflected in the mirror. "I always loved the energy that track lighting gives off, I feel like I'm in a gallery. These older heads from the 70s and 80s make the space feel like perhaps it had always been that way, which I like."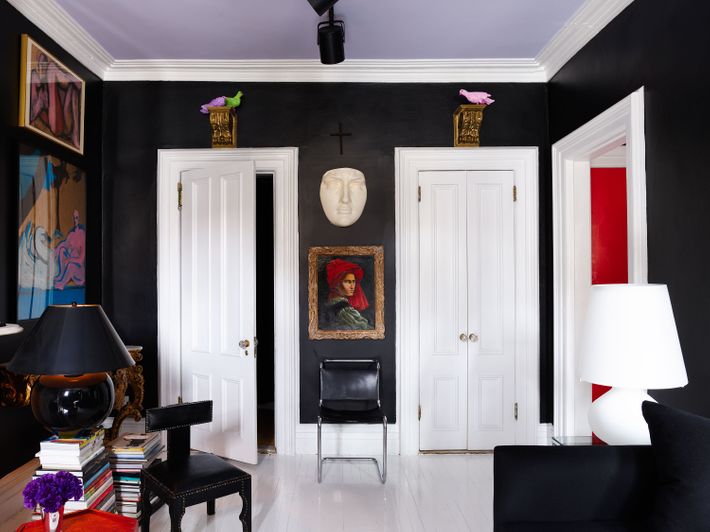 View Toward the Kitchen and Bathroom Doors
Marianne Stikas painted the man in a red turban — a copy of a van Eyck. The Breuer desk chair is from Mele's father's office, and the painted birds are by Nancy Lee Carter. "I painted the back of my entry door high gloss vermillion — like a big exclamation point in the space. I love getting glimpses of it throughout the day!"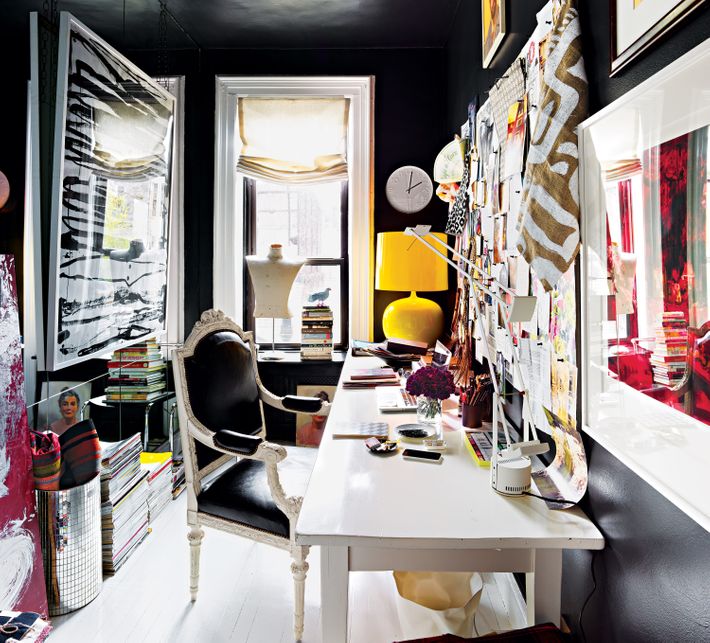 Office
"I decided to use this room as my office as it wasn't conducive to creating a luxurious bedroom," Mele says. "I could barely squeeze my bed in. I also liked that I could contain all my madness into one space and enjoy the larger room day and night." The pine farm table, which he painted white, is from decorator Matthew Tyrrell and the Kentshire-syle chair was purchased at auction and reupholstered in black leather. Mele designed the yellow ceramic ball lamp on the table, and the white desk lamp is by Tizio. The near painting on the right, by Jeremiah Goodman, is of Diana Vreeland's red living room.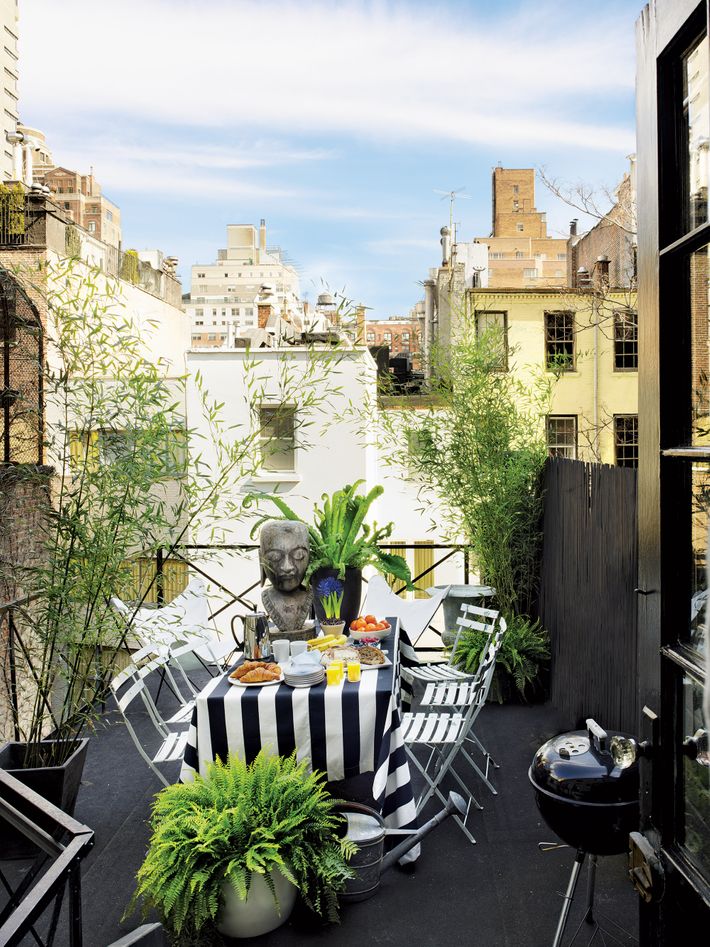 Terrace
Mele took down the original fencing that obstructed views of the neighborhood's back gardens. The striped tablecloth is from Sunbrella.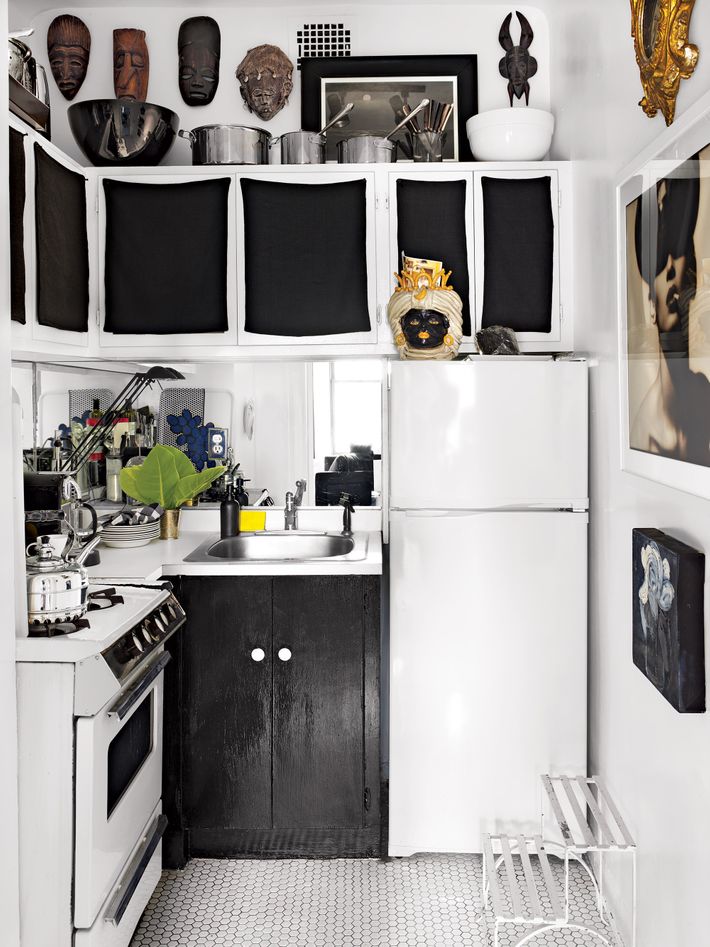 Kitchen
The African masks are from Corey Grant Tippin, the cabinet covers were made with black linen found at B&J Fabrics, and the black-and-white photograph on the right wall is an edition from photographer Tim Carter.