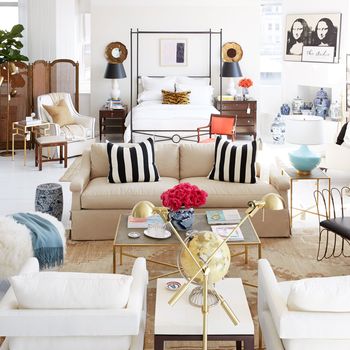 At One Kings Lane's showroom the Studio, visits and consultations are complimentary.
I recently took a stroll with One Kings Lane co-founder Susan Feldman through the Studio (205 Hudson St.), a showroom where buyers can shop and get design advice free of charge, which opens today.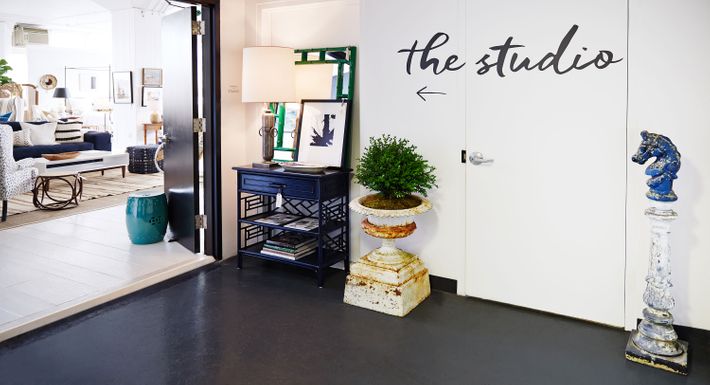 As I toured what seemed like endless studio space with Susan Feldman, who, along with Alison Pincus, founded One Kings Lane in 2009, staffers were busy doing everything from meticulously ironing sheets and making beds to painting walls and setting tables for tabletop shoots. Then we took an elevator to the Studio, new on the eighth floor: six room vignettes curated by Feldman and OKL's head designer, Alexander Reid. To book an appointment at the Studio, click here.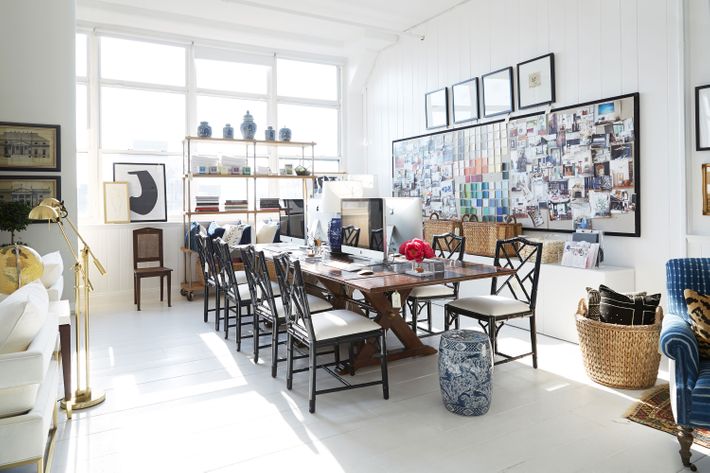 A long harvest table is set up in one corner for OKL staffers who will offer consulting services and help you shop. Feldman says she was inspired to start the hands-on service "after hearing from people that they loved One Kings Lane, but they were overwhelmed by decorating and understanding how to put everything together."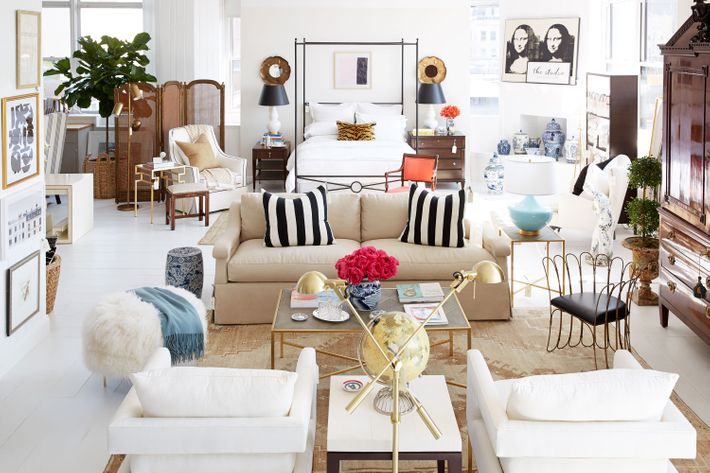 "I wasn't interested in opening a traditional retail store," Feldman says. "I wanted to create a space that would allow people to feel our brand and at the same time give people guidance in their design journey." Visits and consultations are complimentary and shoppers receive free shipping on all pieces ordered at the Studio.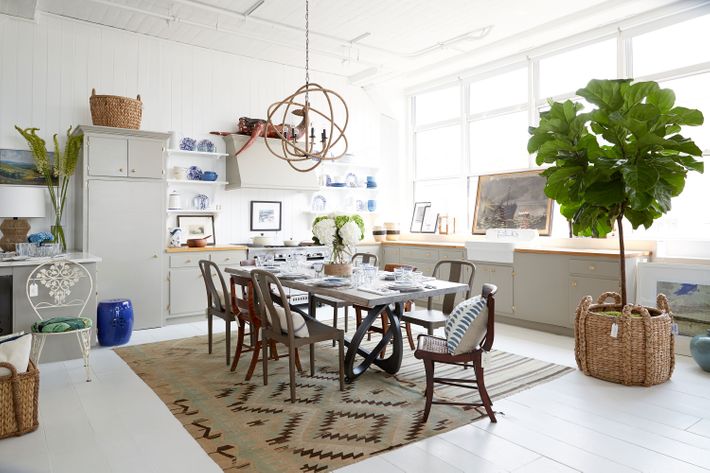 I was especially drawn to the kitchen area, where a mermaid presided over the space from atop the oven hood and a long table anchored the perfect eat-in scenario. It's a working kitchen, by the way, and company events have already taken place here. I also had dreams of taking home the gorgeous 1901 framed poster of a nighttime scene of the SS La Touraine pulling out of New York Harbor, with the Statue of Liberty twinkling in the distance, by artist Abel Brun, leaning against the window.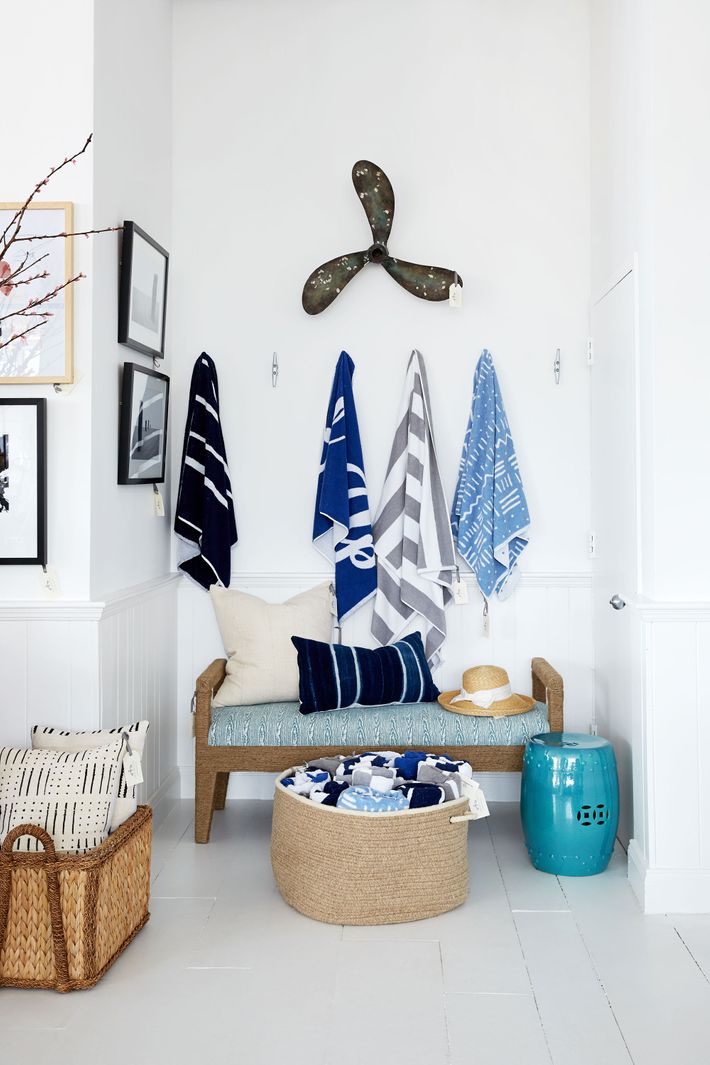 There are smaller vignettes throughout the space, like this corner of hanging beach towels and a boat propeller evoking a blissful summer day.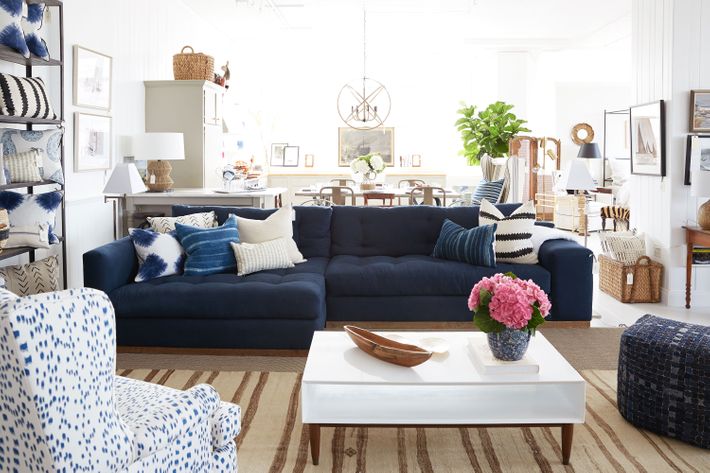 I kept returning to this deep, inviting sectional sofa, fantasizing I had a space big enough for it. Not. "Forty percent of the items in the studio are proprietary, 30 percent are vintage, and 30 percent are from the brands and artisans with whom we work with on the site," Feldman says.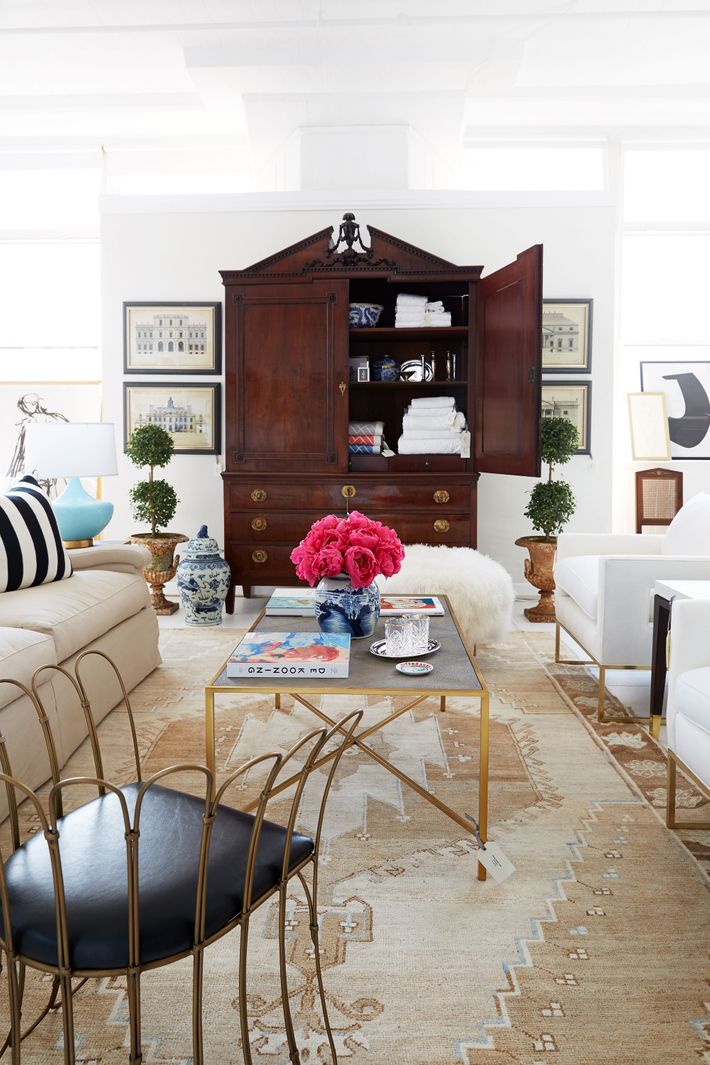 This vignette had me reconsidering my bias against big, dark — albeit, elegant — pieces like this 18th-century Dutch linen press. "The Studio is the next wave of our evolution," Feldman says, "connecting the promise of everything we offer to a tactile environment."