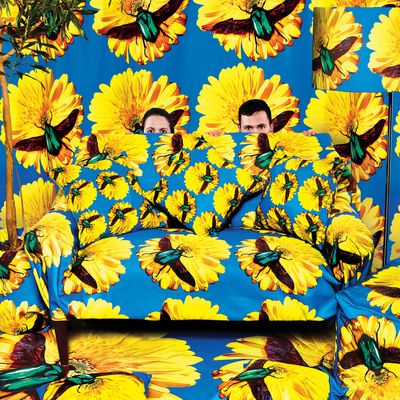 Siblings Jesse and Meredith Finkelstein created the custom-upholstery website Print All Over Me.
Photo: Bobby Doherty
Wild prints were everywhere at the Milan Furniture Fair and NYCxDesign. But one company took pattern-making to the next level — and to the masses. The idea behind New York siblings Jesse and Meredith Finkelstein's one-year-old website, Print All Over Me, is simple: Upload your own design (a doodle, a photo of your cat) or pick one out (there are close to a million uploaded prints), and for $38 to $250, they'll plaster it over a sweatshirt, hat, scarf, dress — and now curtains, pillows, and beanbag chairs. The room shown here is strewn with fabric made from a photograph by New York's Bobby Doherty. The siblings are at center: "Next," Jesse says, "we want to be able to print all over everything."
*This article appears in the June 1, 2015 issue of New York Magazine.