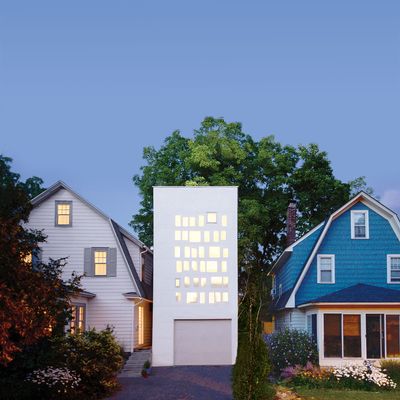 Haffenden House was designed by Jon Lott, a principal of the Brooklyn-based firm Para Project.
Photo: Courtesy of Jon Lott/Para Project
When poets Bruce Smith and Jules Gibbs first approached architect Jon Lott about transforming their semi-attached Syracuse garage into a studio, one of their initial requests, Lott recalls, "was for a very big bathtub — a bathtub they could write in." With this rather unusual directive, Lott knew his clients might be up for something slightly off-kilter, so he created the award-winning and blog-stirring Haffenden House, an almost-Seussian three-story structure that looks like a hand-drawn rectangle dropped in the middle of a suburban neighborhood of clapboard Dutch Colonials. Lott, a principal of the Brooklyn-based firm Para Project and a design critic in architecture at Harvard, cites the 1972 Ice House, by Gianni Pettena, one of his professors, as inspiration: "Pettena's Ice House was kind of a comfortably resting misfit," he says, "a great blend of foreign and familiar." Lott carved out irregularly shaped windows and covered all but two windows of the front façade in three-millimeter-thick Atex fabric — fiberglass mixed with silicone — that allows light in but blocks the view out, so the bards could feel secluded but not smothered. The ground floor is a carport, the second is the tub room surrounded by wall-to-wall poetry books and a window facing the backyard, and the top floor is a curved, felt-lined reading room. As to whether this is Lott's most radical project to date, he pauses before answering: "Well, yes, certainly — at least so far."
*This article appears in the August 10, 2015 issue of New York Magazine.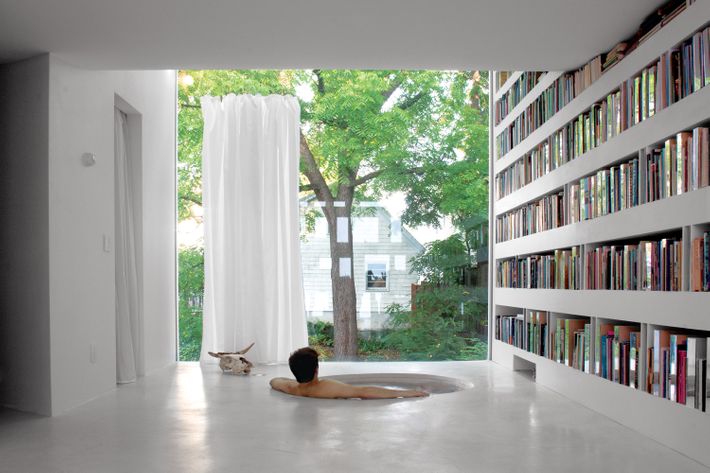 The Second Floor
The library is filled with poetry books; the custom-cast tub blends seamlessly into the polished concrete floor. Both have radiant heating.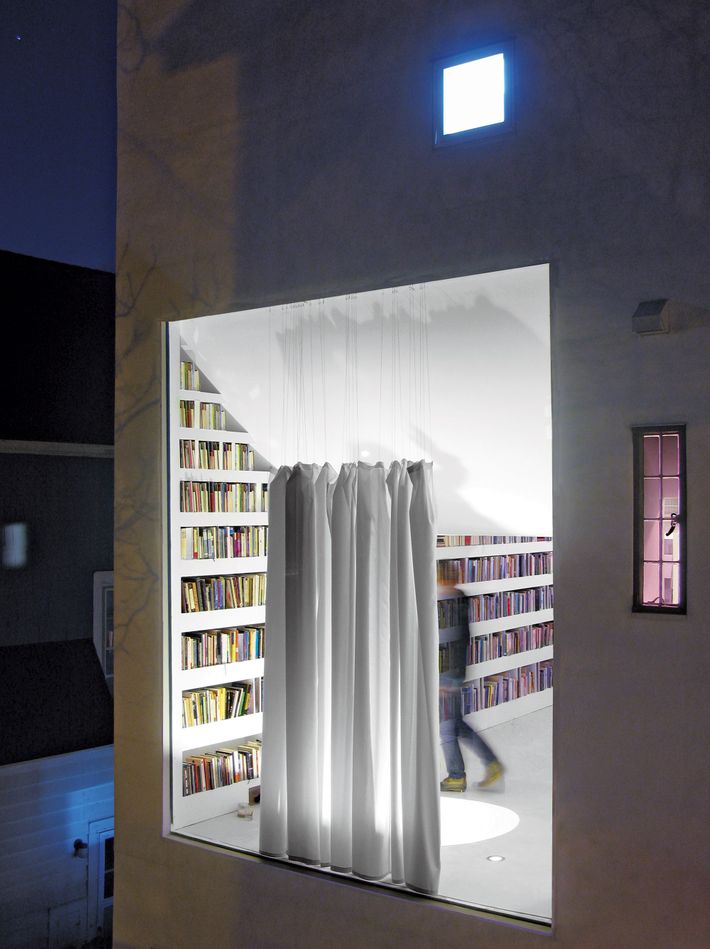 Rear Exterior, Looking In
The curtain can be drawn for privacy and is made from material similar to the façade's.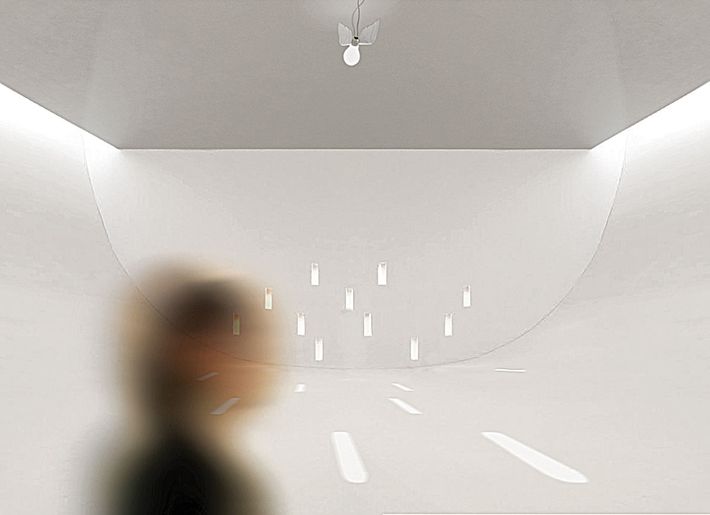 The Reading Room
The curved, bowl-shaped reading room is lined in a soft, thick felt over padding, so it feels like sitting in a cloud. The gold-leaf ceiling, Lott explains, is "semi-reflective, so it creates the impression of a spherical volume above." The room also has pillows: "It's basically a giant bed."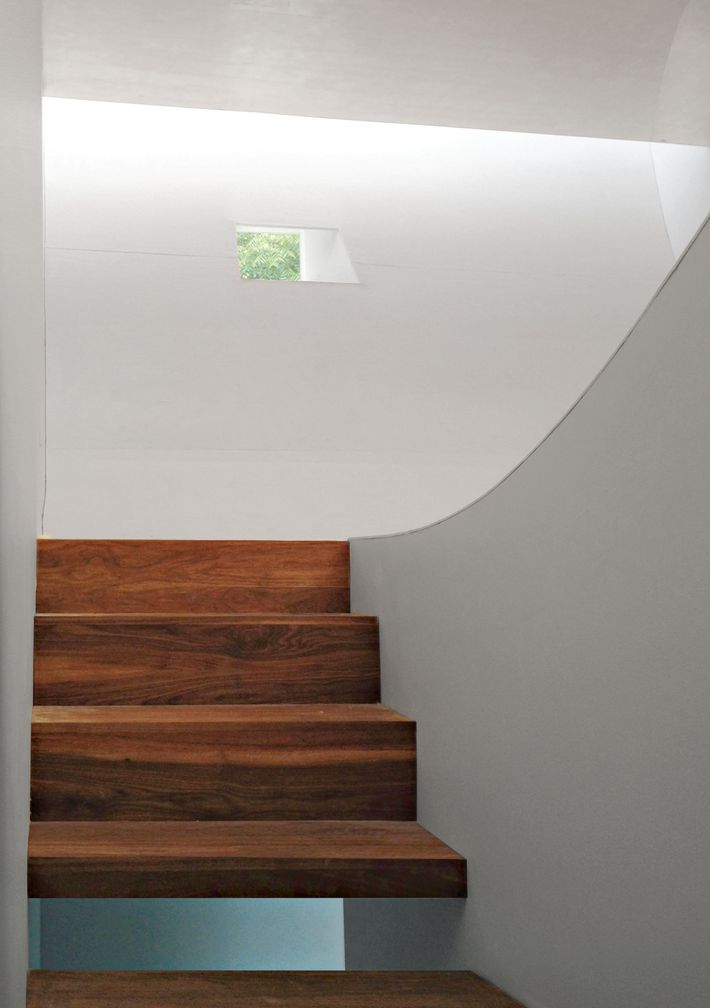 The Stairs
Lott created a gap in the staircase leading to the reading room to mark the separation between the two floors. "You also get a little view to the outside," he says.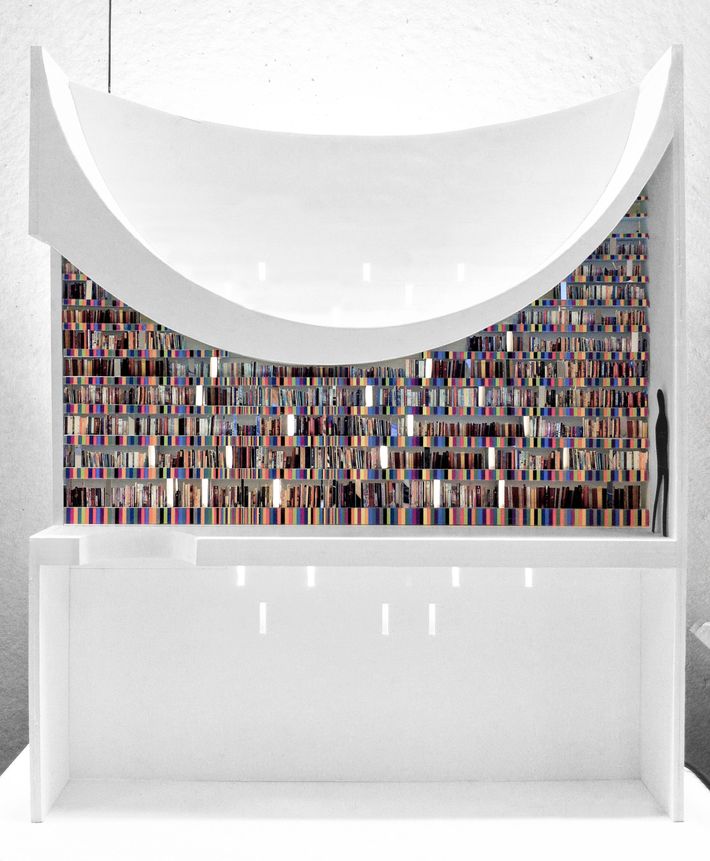 The Section Model
Shows all three stories of the house: the carport, the library on the second floor, and the curved reading room on the third floor.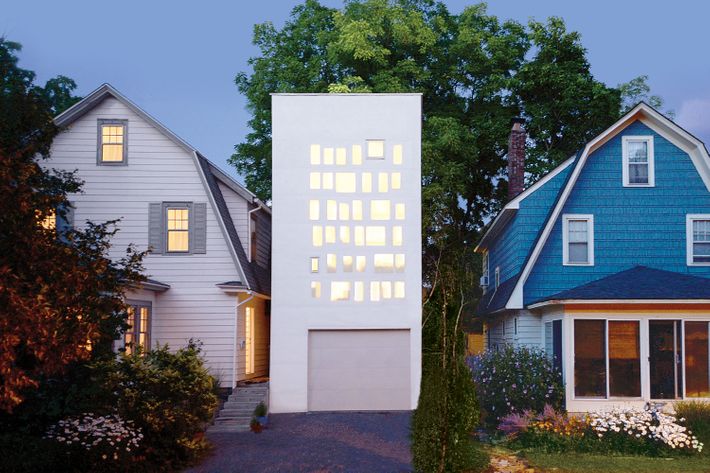 View From the Sidewalk
The writing studio is adjacent to the owners' house.