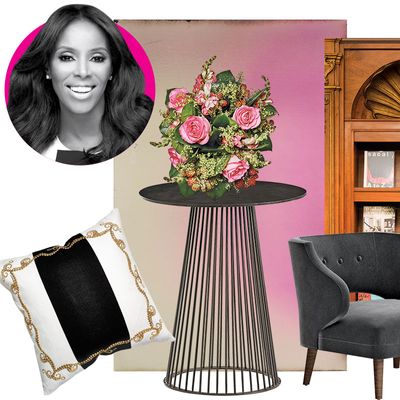 Who sells the best table linens? What's your go-to hostess gift? Who's the best upholsterer, cleaner, florist? Five New Yorkers with discerning eyes give their (forceful) opinions.
Above: June Ambrose, celebrity stylist and designer
Paul Kasmin Gallery has both established artists and mid-­career ones like Nir Hod [pictured, Life and Death of a Star, 2015] and Erik Parker. I go quarterly or when they have something new. And Eleven Rivington has been able to offer the work of emerging artists like Jackie Saccoccio and Lisa Ruyter at excellent prices. Paul Kasmin Gallery, 293 Tenth Ave., nr. 27th St.; 212-563-4474; Eleven Rivington, 11 Rivington St., nr. Chrystie St.; 212-982-1930
Flowers? John Goodman does all my birthday soirées! Even if you don't have a theme, he can help you invoke one. And then I like the variety at Spruce — I can run in and get a dozen of something beautiful that I love. JL Goodman, jlgoodmandesign.tumblr.com; Spruce, 222 Eighth Ave., nr. 21st St.; 212-414-0588
I love a plush bed, and Ankasa has beautiful hand-­embroidered linens and pillows that ­remind me of my childhood — my grandmother used to crochet and doneedlepoint. 424 Broome St., nr. Crosby St.; 212-226-8002
All of Rain Africa's soaps are sustainable and use African botanicals. You can smell the purity, and they're really great on extremely dry skin. 59 W. 49th St., nr. Sixth Ave.; 212-239-3070
I used to spend hours in Rizzoli looking at fashion books as if it were a library. The wood walls and architecture were simply calming. 1133 Broadway, nr. 26th St.; 212-759-2424
My last big purchase was a Lillian August bar dining table. Not only do my kids get a kick out of it; it's great when I'm ­getting into hair and makeup at home. We do everything there. 12 W. 20th St., nr. Fifth Ave.; 212-206-1883
DwellStudio has rich-looking, well-crafted pieces with a modern, contemporary twist at an approachable price. They have some beautiful end tables. 77 Wooster St., nr. Spring St.; 646-442-6000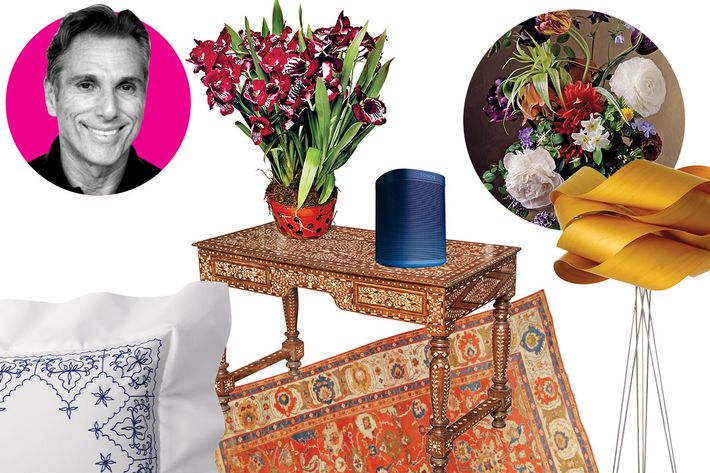 Vicente Wolf, interior designer and owner, VW Home
Once a year, I'll go to Anichini's sample sale for sheets for the house or the beach. The sateen is really cool in summer. 979 Third Ave., nr. 58th St., Ste. 923; 888-522-0146
I buy a lot at Christie's house sale — recently, an English library chair, 18th century. christies.com
I love The Nanz Company's hardware: When you pick up a doorknob, it has weight to it, as something you're touching all the time should. 20 Vandam St., nr. Sixth Ave., fifth fl.; 212-367-7000
Doris Leslie Blau has the most amazing antique rugs. They're like poems — pieces of art, on the floor. 306 E. 61st St., nr. ­Second Ave., seventh fl.; 212-586-5511
I just redid my house and bought a Sonos system. From a keypad, you get to set the music you want to play, dim the lights, control the sound. It's a great luxury. sonos.com
I've worked with the floor finisher Michael Savino for 18 years. He's a master — show him a picture of what you want, and he'll re-create it. J Rapaport Wood Flooring, 158 Linwood Plz., Ste. 201, Fort Lee, N.J.; 201-363-6500
At [my own store] VW Home, we have things from all over the world. There are things that are one-of-a-kind, things that have a very individual point of view. 333 W. 39th St., nr. Eighth Ave., tenth fl.; 212-244-5008
I just bought some wonderful Sharon Core photographs at Yancey Richardson Gallery. It's a place I always go whether I'm looking for clients or for myself. 525 W. 22nd St., nr. Tenth Ave.; 646-230-9610
MSK Illumination has such a broad collection of contemporary lighting — if they don't have whatever you're looking for in inventory, they'll order it. 235 E. 57th St., nr. Second Ave.; 212-888-6474
Foliage Garden has beautiful orchids — something that's luxurious and has a life of its own. 120 W. 28th St., nr. Sixth Ave.; 212-989-3089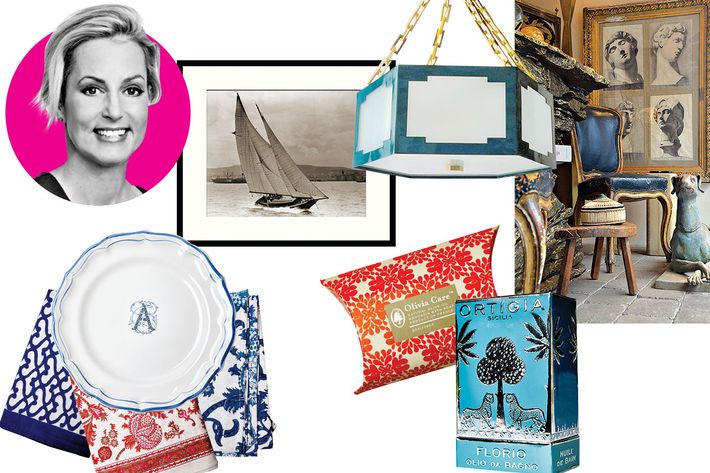 Ali Wentworth, actress and author of Happily Ali After
My splurge florists are Plaza Flowers. They can do anything from a small desktop bouquet to something lavish. They just have the best eye. For every day, I do them myself. I just go to Whole Foods and see what looks fresh. Plaza Flowers, 944 Lexington Ave., nr. 69th St.; 212-472-7565; Whole Foods Market, locations at wholefoodsmarket.com
I don't like a super-formal table — I like bright block table linens — so I get a lot at Roberta Roller Rabbit. 176 Duane St., nr. Hudson St.; 212-966-0076
I bought some standing lamps a year ago from the Vaughan Designs sample sale, and they get complimented all the time. And then I like Coleen & Company — I have the Taylor semi-flush-mount in bright yellow in my kids' homework room.  Vaughan, 979 Third Ave., nr. 58th St., Ste. 1511; 212-319-7070; Coleen & Company, coleenandcompany.com
I go to Mecox Gardens for one-of-a-kind furniture — I bought a banquette that I love that's all white and has lion's feet. Or they'll have a unique thing like a big glass dachshund. 962 Lexington Ave., nr. 70th St.; 212-249-5301
I buy my soaps at Blue Tree. Phoebe Cates Kline, who owns the store, hand-selects them. And I really like Olivia Care's olive-oil-based hand soaps and shower soaps — they're floral but very fresh and clean. Blue Tree, 1283 Madison Ave., nr. 91st St.; 212-369-2583; Olivia Care, oliviacare.com
My favorite online vendor is One Kings Lane. I've bought so many things — vintage sailboat paintings, linens when they have a Frette sale, a table lamp. And for art, I start with 1stdibs to lead me to specific galleries in New York and L.A. onekingslane.com; 1stdibs.com
A good hostess gift you can get at the Monogram Shop in East Hampton: They have really funny cocktail napkins that say things like "If you're not gracious, I'll give your kids espresso." But my favorite hostess gift is homemade chocolate-chip-cookie dough, frozen and wrapped with cute paper. 7 Newtown Ln., nr. Main St., East Hampton; 631-329-3379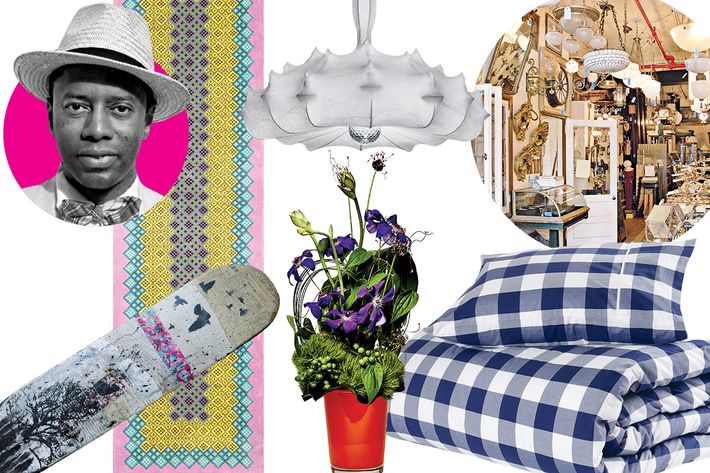 Nigel Pembroke-Sloan, co-owner and director, MINT Management
The Rug Company has an abundance of designers who are bringing their aesthetic and narrative into a carpet, which I think is brilliant. And Safavieh has these sea-glass colors: moss green, plush grays. There's beautiful patina in their rugs. The Rug Company, 223 E. 59th St., nr. Third Ave.; 212-644-9200; Safavieh, 238 E. 59th St., nr. Second Ave.; 212-888-0626
The Demolition Depot: It's a massive place. Salvaged artifacts, doors, vintage plumbing, windows, railing, gates, and mantels, anything you can imagine, all unique. I don't like mass-produced pieces. 216 E. 125th St., nr. Third Ave.; 212-860-1138
For bedding, Hästens has these big blue-and-white-check sheets. They're good for winter or summer — in the summer, the check reminds me of a gingham shirt. If it's good enough for the king of Sweden, it's good enough for me. 75 Grand St., nr. Wooster St.; 212-219-8022
Heath Gallery is family owned, and their pieces tend to be super-dynamic. They had one piece for which the artists painted on skateboards, and these decks have become art pieces — most recently I bought a Kehinde Wiley skateboard deck at the Jewish Museum. 24 W. 120th St., nr. Fifth Ave.; 646-801-3172
I was home working and eating, and somehow I knocked over a bowl of chocolate ice cream onto my laptop. Cavalier Technical Services managed to clean it, fix it, and get it working. 580 Eighth Ave., nr. 38th St., 18th fl.; 212-682-1780
Harlem Flo does these extraordinary modern arrangements — architectural, with interesting textures. They'll bend, angle, and wrap palm fronds to where it looks like origami. 2276 Frederick Douglass Blvd., at 122nd St.; 212-316-3031
Some of the coolest, most innovative lighting fixtures come from Flos. They go from the extreme of a lamp designed by Philippe Starck that looks like a gold-and-black AK-47 to typical chandelier lighting — but then it's multiple bulbs strung together to make a chandelier. 152 Greene St., nr. Houston St.; 212-941-4760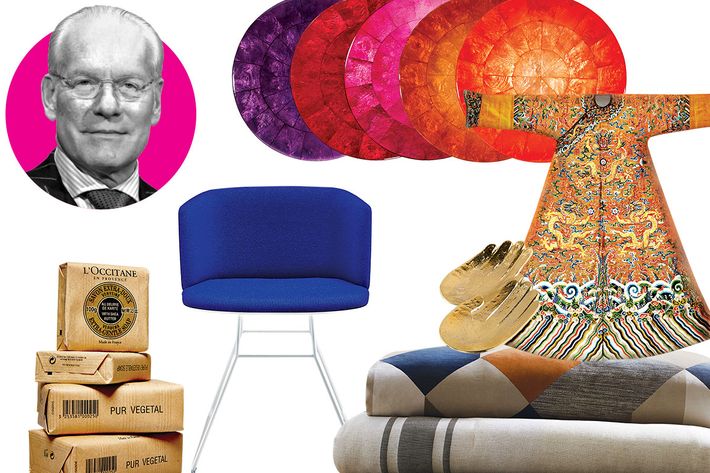 Tim Gunn, author, teacher, Project Runway mentor
I'm a bookaholic, and I frequent several stores on the Upper West Side: the Barnes & Noble on Broadway, and Book Culture, an independent store, for special-interest items. Barnes & Noble, bn.com; Book Culture, three locations, bookculture.com.
For furniture and rugs, ABC Carpet & Home. They have variety and quality and can be affordable if you shop thoughtfully. 888 Broadway, at 19th St.; 212-473-3000
I bring a bottle of Veuve Clicquot rosé Champagne as a hostess gift — at room temperature, to signify that I have no expectation that it will be opened. I buy it at Gotham Wines & Liquors. 2517 Broadway, at 94th St.; 212-932-0990.
Pears, from Duane Reade, is my daily soap, but I also love the verbena variety from L'Occitane. The fragrance is seductive, and a single bar lasts for weeks. pearsinternational.com; usa.loccitane.com
The Upper West Side Gracious Home is best for tableware (but don't mention the East Side store to me). Pricey, but the quality is good. 1992 Broadway, at 67th St.; 212-231-7800
I've had great success with Bloomingdale's Home Cleaning. They're very direct about how successful the results will or won't be. I've never been anything but pleased. 866-767-0342; bloomingdalescleaning.com
For linens, Bed Bath & Beyond. They have variety and quantity and competitive prices, and I know I can find what I want, today. Locations at bedbathandbeyond.com
I'm a One Kings Lane addict. Be forewarned: It's online-shopping crack. I need a daily fix, if only to browse. I've purchased everything from furniture (recently, a 19th-century English chinoiserie wardrobe) to paintings and prints. onekingslane.com
For flowers, I go to PlantShed. Easy, convenient, affordable. 209 W. 96th St., nr. Broadway; 212-662-4400
And I visit the Metropolitan Museum of Art as often as I can. It's simultaneously inspiring, restorative, purging, and cathartic. I want my ashes to be entombed there. 1000 Fifth Ave., at 82nd St.; 212-535-7710
*This article appears in the Winter 2016 issue of New York Design Hunting.