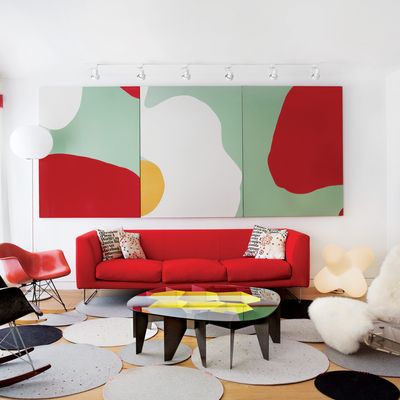 "We were designing from day to day right up until the end — how you are not supposed to do things."
Photo: Floto+Warner
The East Village one-bedroom that Dan Wood and Amale Andraos, who run the architecture firm WORKac, bought in 2004 was comfortable in their pre-parenting days, and adequate after the birth of their daughter, Ayah, in 2010. But when their son, Kamil, came along two years later, it was crunch time.  (Among other things: The apartment had one bathroom.) They loved their neighborhood, and hated to leave a place so close to their office on Rivington Street, but Andraos was also teaching at Columbia (where she is now the dean of the architecture school), requiring a long commute. Fate decided for them: Just after Kamil was born, the duplex apartment overhead became available.
"It was the perfect challenge," Andraos says, explaining that the floor plans didn't mate well. The couple had also just put in a new kitchen. But who'd argue with timing like that? The renovation was on.
Complicated projects don't scare the duo, who opened their office in 2003 and have masterminded Diane von Furstenberg's flagship and the 50,000-square-foot headquarters of Wieden + Kennedy,  where a spectacular circular staircase through the three-story workplace doubles as bleacher seating. But on their own job? "We were terrible architects, and we were terrible clients," Andraos says. "Mostly because we didn't protect our clients." It took them a month just to figure out where to cut the staircase through. Their drawings were vague, "but the contractors were fantastic, so they weren't looking at them. But it just meant that we were designing from day to day right up until the end — how you are not supposed to do things."
That meant they could make unreasonable last-minute demands on their architect selves, such as the Good Night window. "The wall had already been painted," explains Wood. "Then, as we were going down the stairs one night, it felt like you wanted to see through to the kids' room. Also, there was a lot of design downstairs, some on our master-bedroom level, and then not so much on the top floor, so we thought, It needs a little bit of pizzazz." A porthole, cut through the already-finished wall, was the solution. It's enabled a ritual ("Good night!" "Good night!") as the parents head downstairs after bedtime stories have been read.
Andraos was decisive about the furnishings: She didn't want the usual mid-century coffee table, so she sleuthed out a prototype. She designed an area rug to go with the Jasper Morrison couch, and Elodie Blanchard, one of the artisans she has worked with on other projects, sewed the pieces together. The art is from friends or, in some cases, was bartered for work. Best of all, says Andraos with a smile, "It is amazing to have our own bathroom."
Designer: Amale Andraos and Dan Wood
First built: 2000
Before: A one-bedroom floor-through.
After: Three floors with a peekaboo window in the stairwell and, blessedly, two more bathrooms.
*This article appears in the Winter 2016 issue of New York Design Hunting.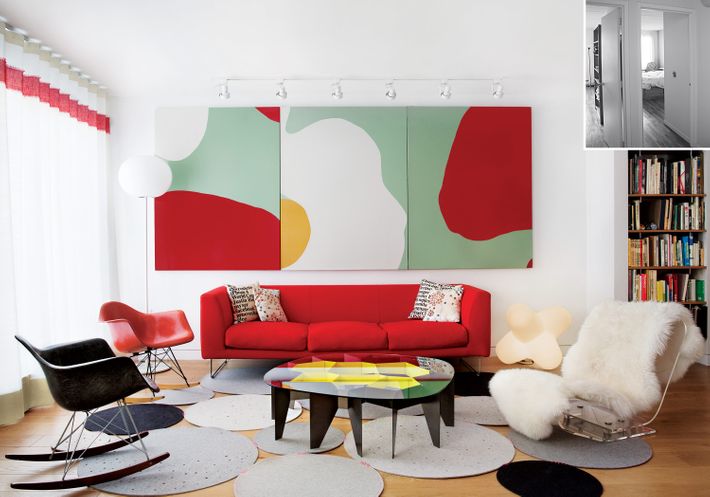 Two small bedrooms lost their walls and became the living-room space. The triptych panels are the work of another great architect couple: They were salvaged from a building by Robert Venturi and Denise Scott Brown. Never mind that "they don't match," says Wood, "and they're turned 90 degrees." The lamp is Tom Dixon's Jack Light. Elodie Blanchard, who made the rug, also designed and fabricated all the window treatments. The couch is by Jasper Morrison; the coffee table is a one-off by the Swedish-German architects Andreas Hopf and Axel Nordin.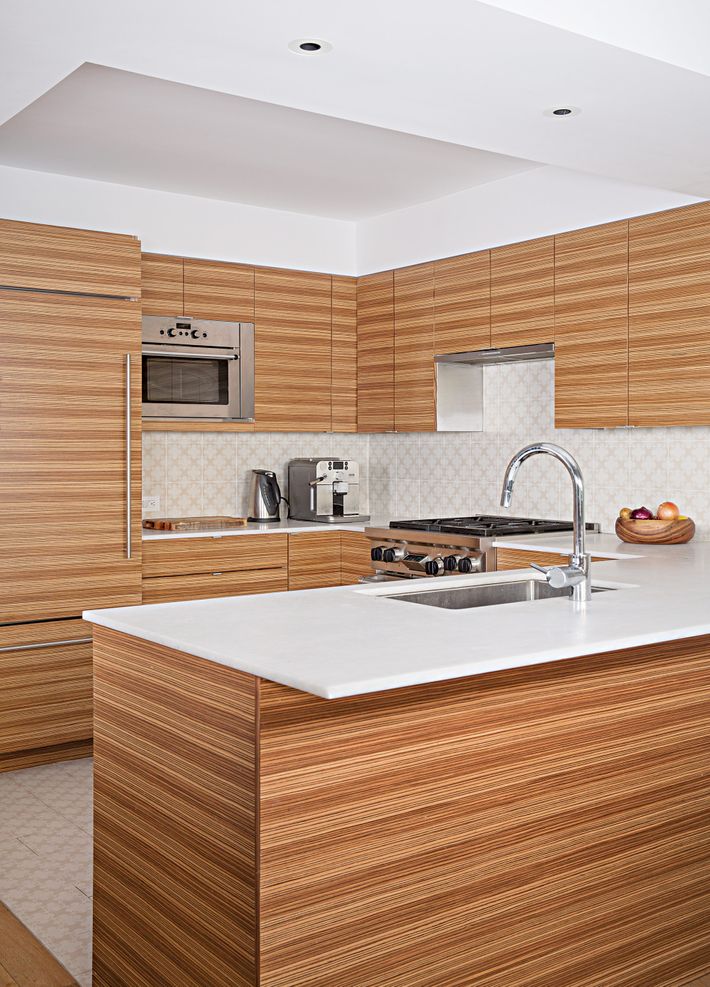 Those are Ikea cabinets, chosen when the budget got tight, then dressed up with marble countertops and zebrawood fronts from Modern Crafts. The backsplash and floor tiles, a relative splurge, are by Patricia Urquiola.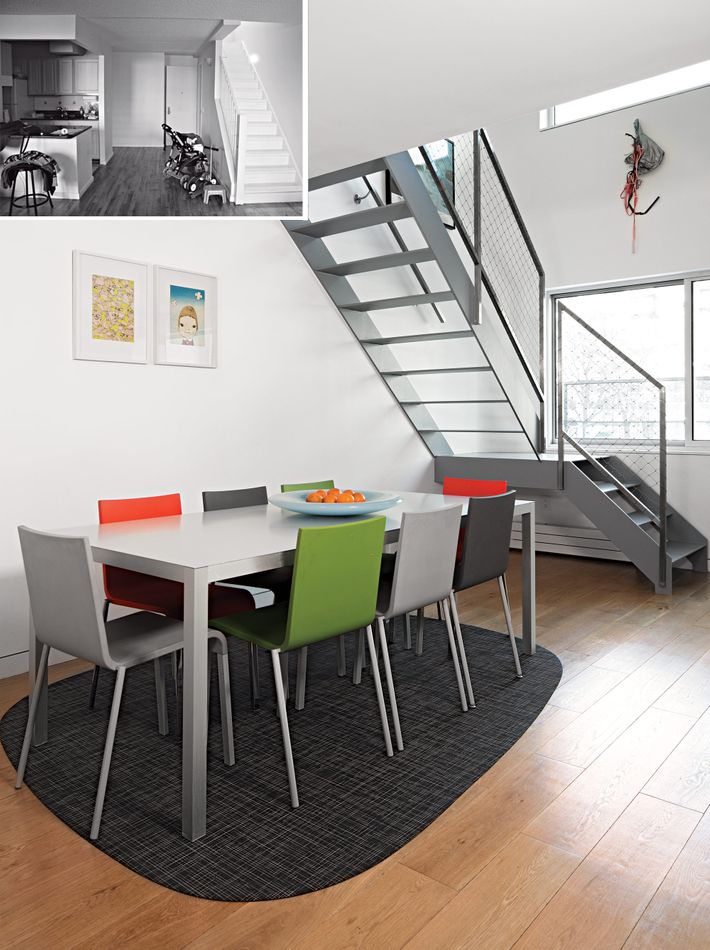 The staircase connecting the upper two floors necessarily became a focal point. "We knew that we had to open up one spot where you would feel the two stories," Andraos says. The dining chairs are by Maarten Van Severen for Vitra. The table was picked up more than a decade ago, when the couple was living in Rotterdam.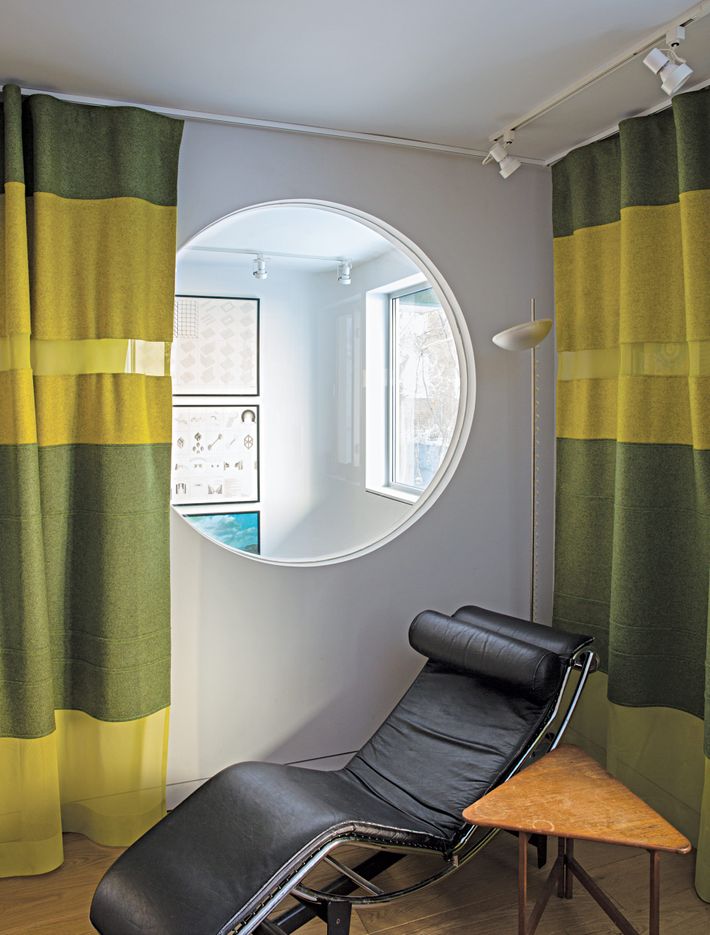 The circular window in the second-floor master bedroom has another set of curtains by Blanchard, which can be drawn for privacy. The chaise is a 1928 design by Le Corbusier, Charlotte Perriand, and Pierre Jeanneret.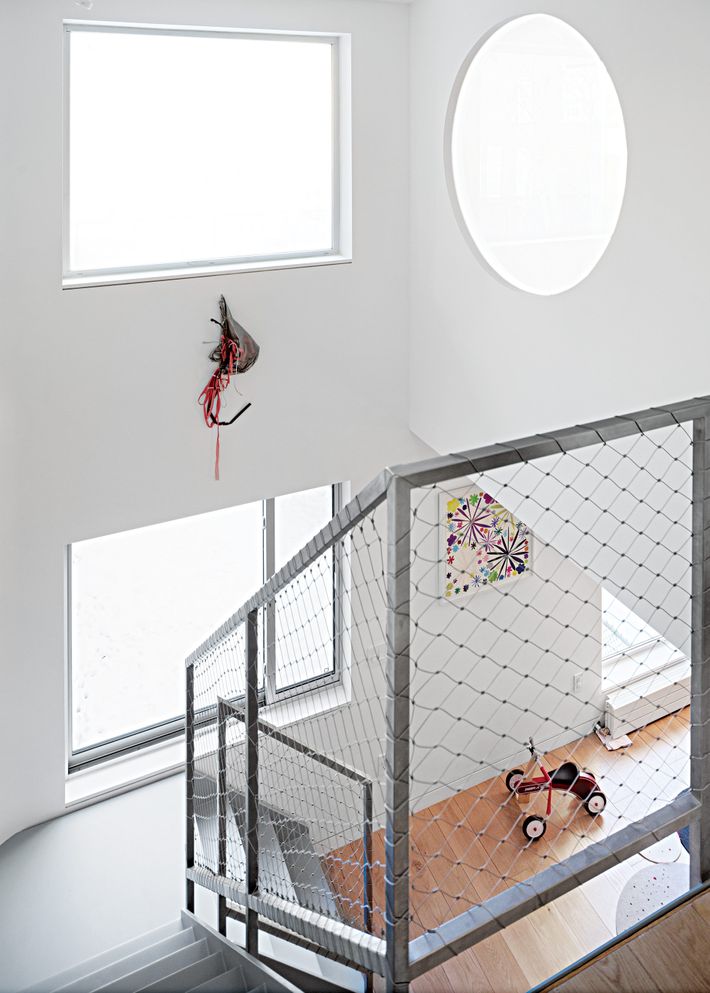 The Good Night window looks out over the stairway to the third floor, allowing for extended bedtime farewells.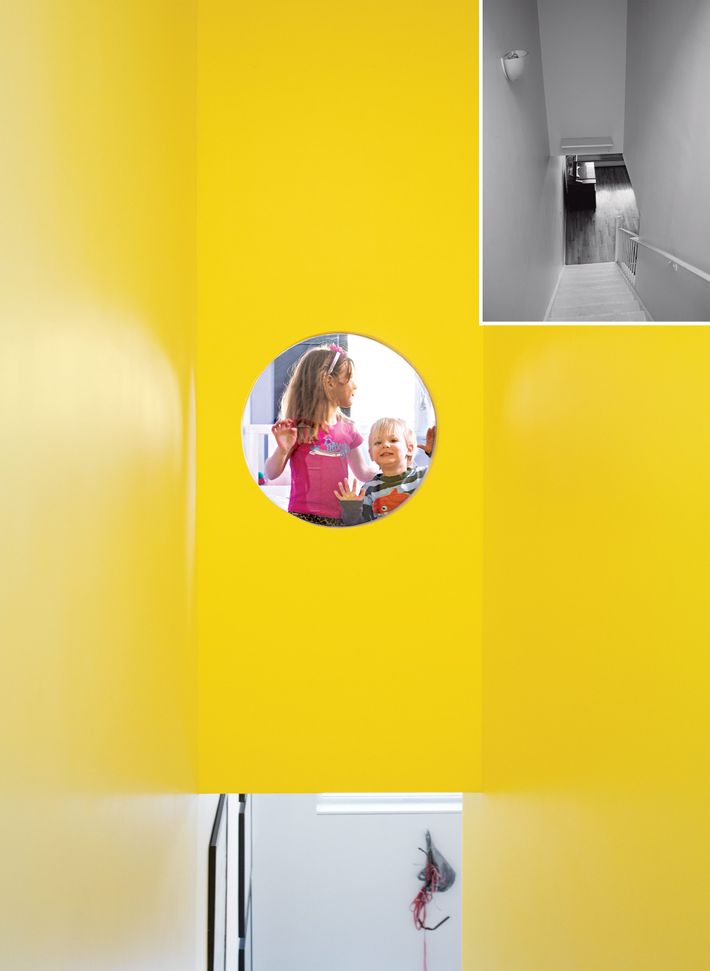 The paint is Benjamin Moore's cheery Banana yellow 2022-40.