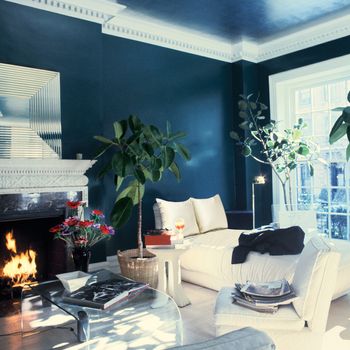 The designer's townhouse was his personal lab, full of experiments with fabric, furnishings, and comfort.
Photo: Courtesy of the Donghia Archives
Throughout the 1970s and early '80s, the designer Angelo Donghia was as glamorous as his clients, at a moment when New York was in glitz overdrive. And quite a list of clients it was: Ralph Lauren, Mary Tyler Moore, Barbara Walters, Liza Minnelli. Donghia was a best-dressed-list regular, a formidable party-thrower. He was to décor what Halston was to fashion — in fact, the two men were good friends — but Donghia was better at keeping his personal and professional lives distinct. He even tried to turn down Ralph and Ricky Lauren as clients because they'd become good friends, until Ricky told him, "There just isn't anybody else to accomplish what we want in our personal life, in the way we live." He remains influential today: His soft, relaxed "fat furniture" and use of gray flannel upholstery still resonate, even 30 years after his death.
A comprehensive retrospective of his career, opening at the New York School of Interior Design on September 17, will be the first to feature the extraordinary range of his talent. Chuck Chewning, the current creative director of Donghia and the show's curator, cites the designer's innate ability to suss out others' desires before they themselves did. "I think that is what they recognized in Angelo — that he knew exactly what his client wanted."
He also knew exactly what he wanted, including the townhouse on the Upper East Side that you see here. Donghia bought it in 1968 for $200,000, after coveting it for years. He kept the garden level and parlor floor for himself and created separate apartments upstairs where friends stayed. "I lived in the townhouse in 1977," the film producer Joel Schu­macher recalls, "because I was doing the costumes and sets for Woody ­Allen for Interiors, and also wrote The Wiz for Sidney Lumet. Angelo had an empty floor above him — it was sort of a showroom, but it had a bed and it was all decorated with his upholstered furniture and his beautiful sheeting and plaids." Schumacher stayed for a year: "We were very close; we were like brothers."
Donghia had grown up far from the scene, the son of a hardworking Italian-immigrant tailor in Vandergrift, Pennsylvania. When he graduated from Parsons in 1959, he got a job at the design firm Yale Burge, becoming a partner there in 1966. The interior-design world then was a single-lane affair, one in which designers decorated rooms and stopped there, but Donghia understood that longevity in his field would require more breadth. While still at Yale Burge, he launched a fabric company, Vice Versa; later on, he designed sheets for J.P. Stevens and furniture for a company called Interior Crafts. He understood the idea of personal branding early, changing the business forever.
The house "was his playground; it was his laboratory; it was his workshop," says Chewning. Photos of the house through the decades, up to Donghia's death in 1985, show that its furnishings never stopped evolving. "He knew the power of a dream," Chewning says. "He loved rearranging rooms and moving things around, and in the wintertime he would throw small dinner parties in the bedroom. He pushed the bed aside, and he would set up a dining table in front of the fireplace, and he just created this warm, cozy environment. He knew theater. He knew drama."
*This article appears in the Winter 2016 issue of New York Design Hunting.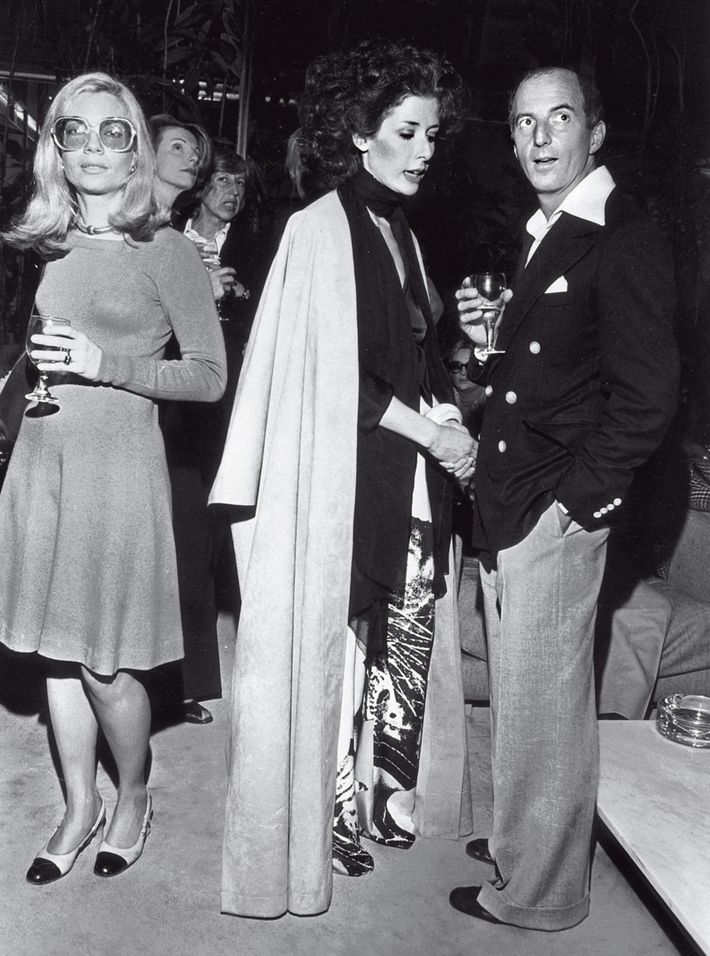 Donghia (right) at a '70s party, snapped by Bill Cunningham.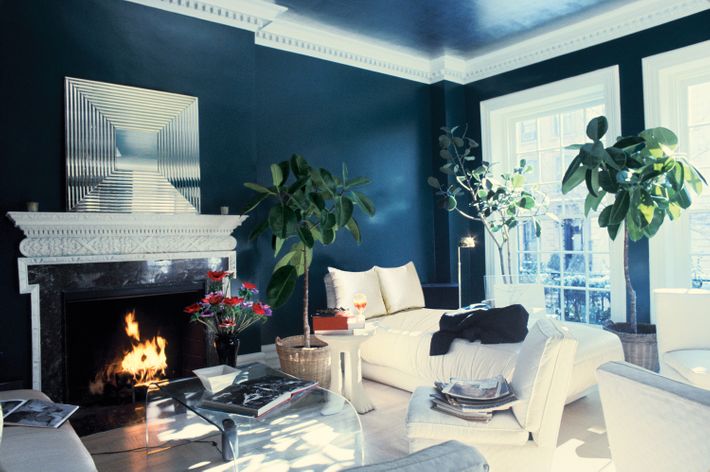 The Living Room in 1973
No stuffy sofas here! You can see Donghia's relaxed, informal elegance in his own furniture designs, upholstered in white satin and duck, and in that whimsical John Dickinson table. The mirror over the fireplace is a Donghia design.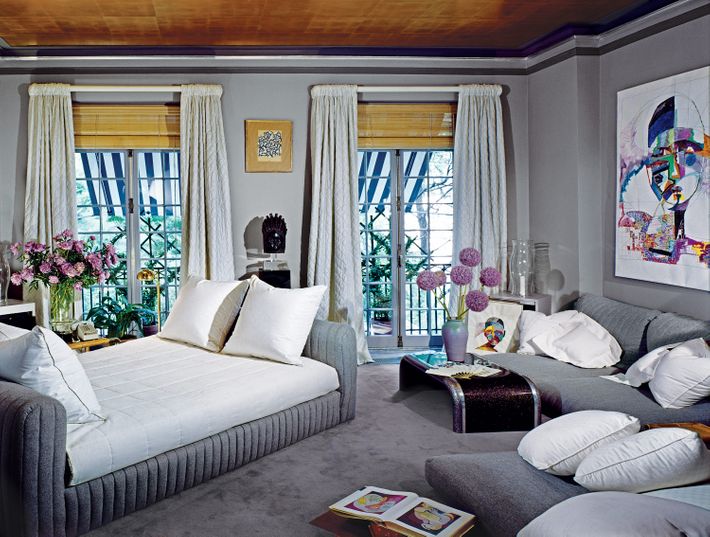 He'd use his cozy bedroom for small dinner parties during the winter, pushing the bed aside to make space. Wall-to-wall carpeting, white pillows, a tea-papered ceiling, and gray walls and upholstery turned it into a plush cocoon.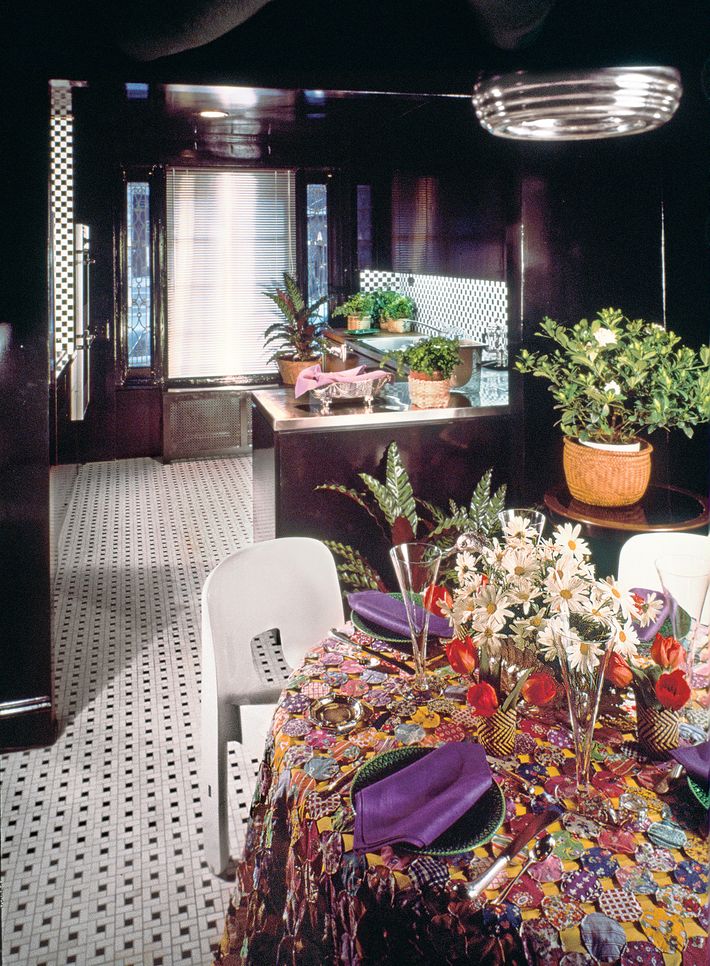 Donghia loved cooking for his guests in the black lacquered kitchen.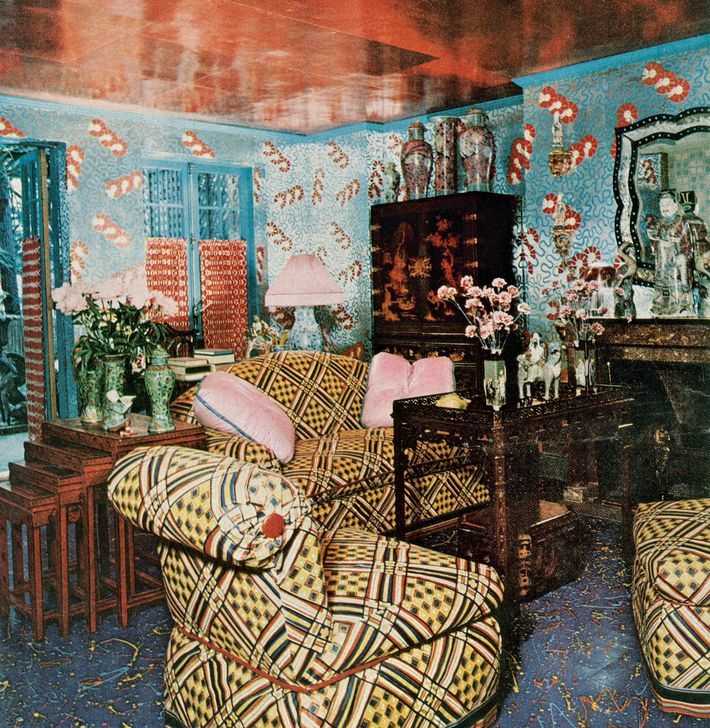 The Garden Room in 1971
Design theater! A mêlée of pattern and color, topped with a ceiling covered in tangerine foil to reflect warm light. The wallpaper was by Zandra Rhodes; the fabrics were from Donghia's own company, Vice Versa.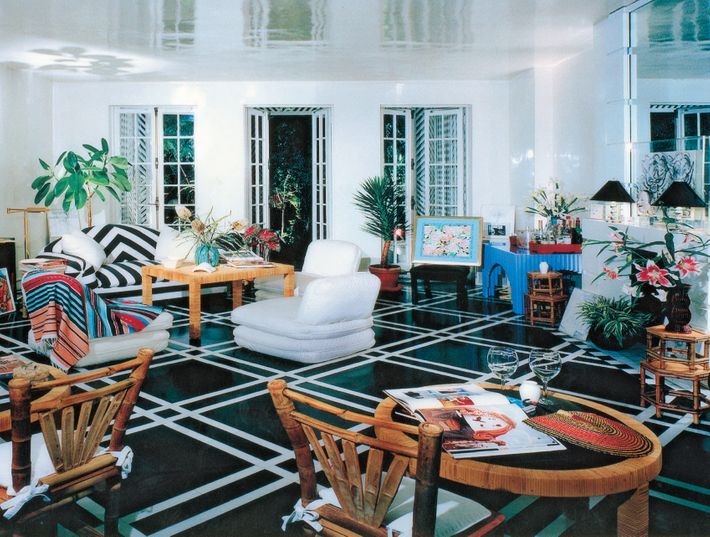 The Garden Room in the late '70s
The room became more architectural and less denlike, with an emphasis on plush seating and a high-gloss ceiling and a geometric-pattern floor.