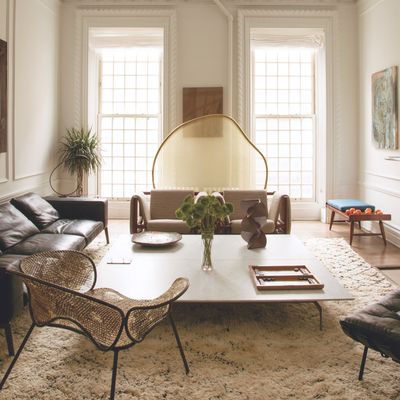 The living room of Rashid Johnson's Kips Bay townhouse.
Photo: Oberto Gili
A new book from Abrams, Artists Living With Art, by Stacey Goergen and Amanda Benchley, gives a rare peek into the homes of the city's art stars.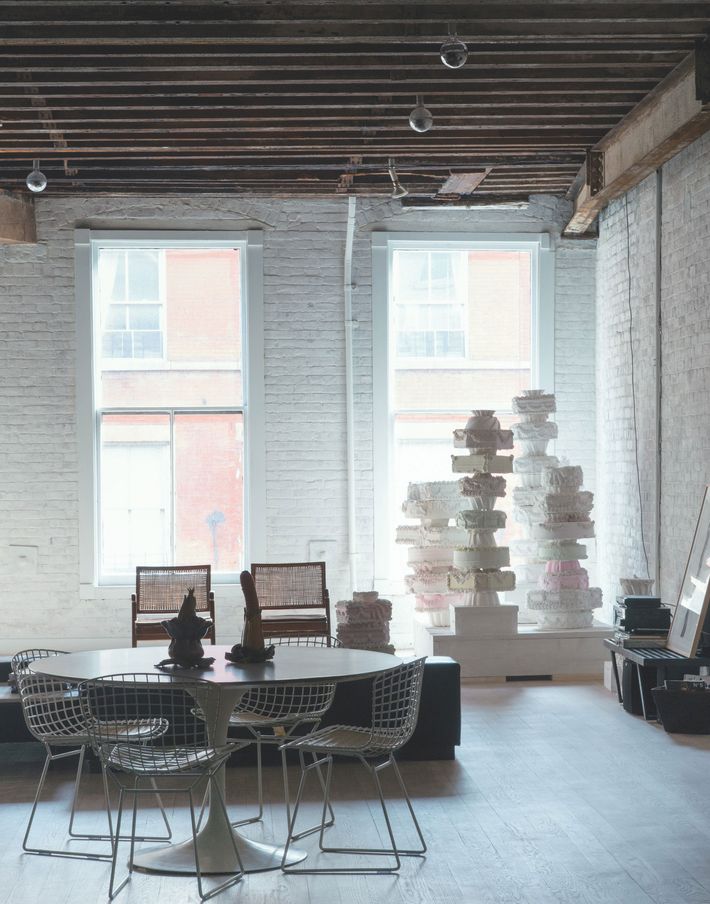 It should come as no surprise that lots of artists live with lots of art. But to actually see these pieces displayed in so many beautiful and inventive homes — 25, to be exact — in this tome, photographed by Oberto Gili, filled me with both art and house envy. If any of these artists would like to Airbnb their homes, I'd gladly sign up. First, I'd pay a call to Will Cotton, whose Tribeca loft is pictured here. His 2012 large plaster cake sculpture Against Nature greets visitors when they enter.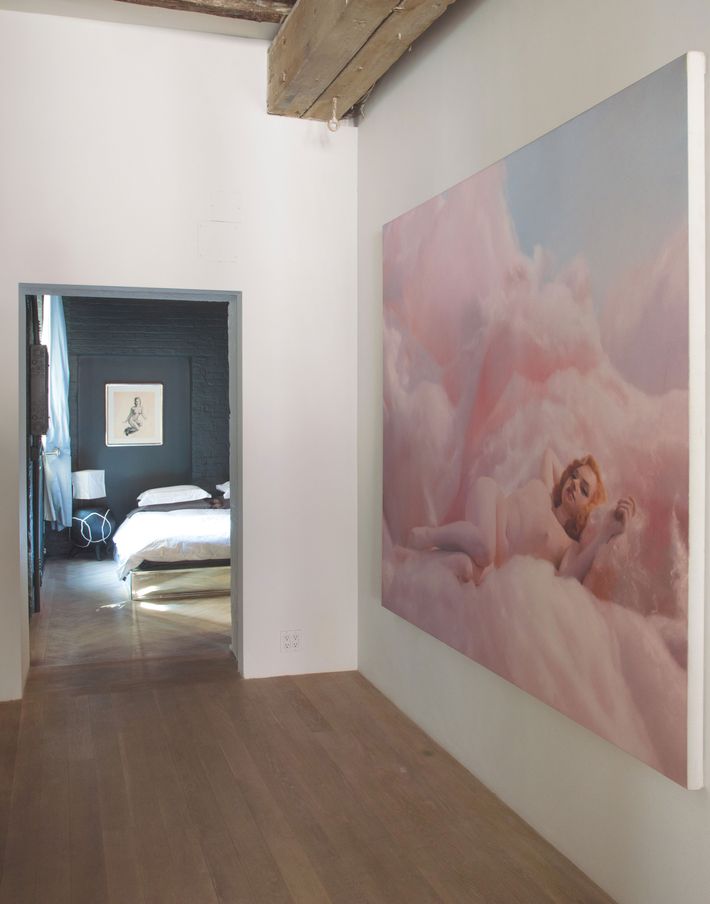 Cotton's bedroom features a Gil Elvgren drawing above the bed. His own painting Cotton Candy Sky (Mona), from 2006, hangs in the hallway.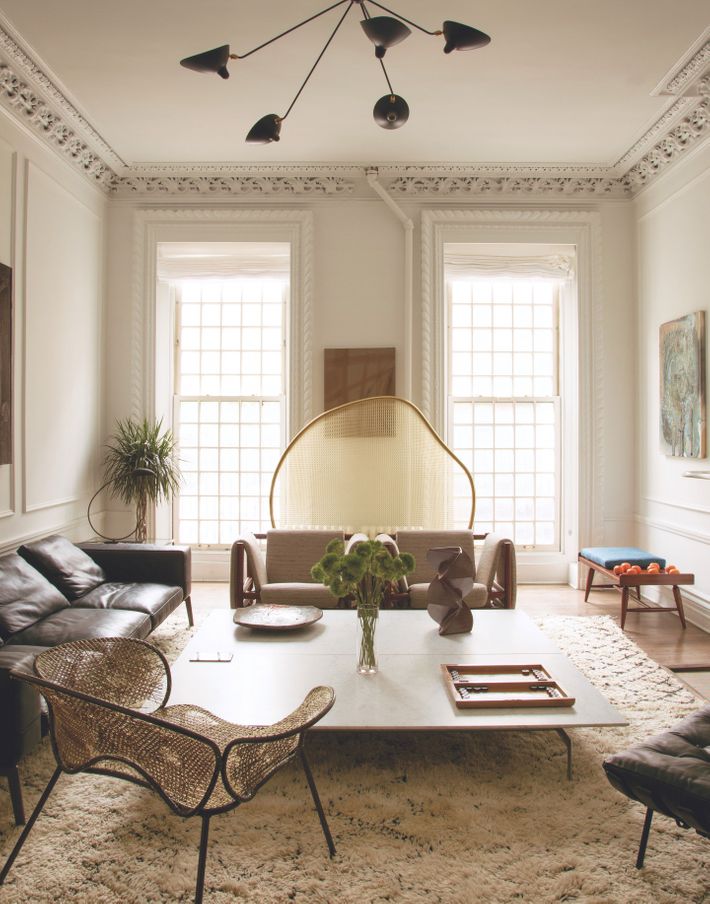 The living room of Rashid Johnson's Kips Bay townhouse has all its magnificent original architectural details intact. Equally resplendent is the Racket Screen 1 sculpture by Brazilian designers Fernando and Humberto Campana, who also designed the wicker chair in the foreground. Peter Voulkos's ceramic plate and John Mason's Small Triangular Torque, Red (1997) sculpture sit on the coffee table.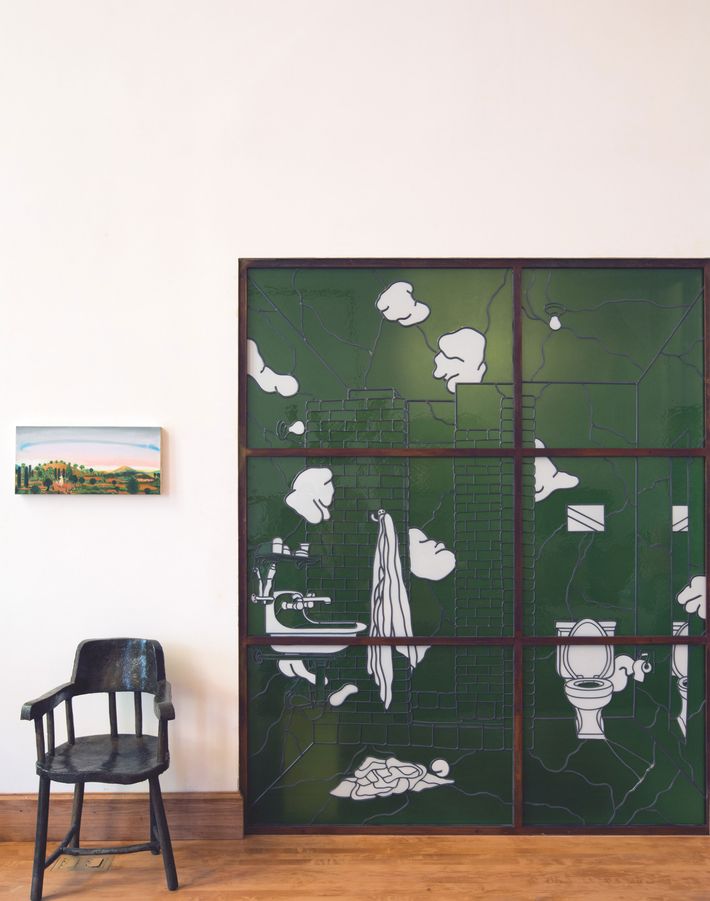 Amanda Benchley says that she and Stacey Goergen have been friends since college and that working on the book together came naturally. "We talk 20 times a day and we laugh a lot," she says. The most challenging part of the project was "scheduling around these artists' busy and demanding lives." Here, a stained-glass window designed by Urs Fischer in 2001 separates the living room from the bathroom in Ugo Rondinone's Harlem apartment.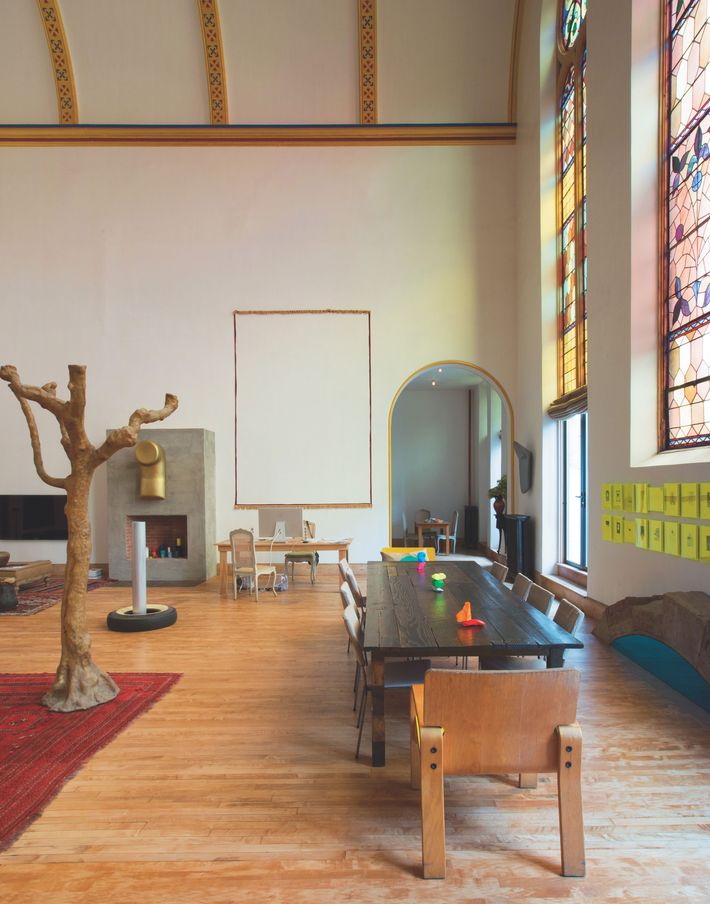 Rondinone bought and restored a 15,500-square-foot Baptist church in Harlem in 2011. As seen here, he fashioned his studio in the former congregational space. On the far wall above Rondinone's desk, Latifa Echakhch's cutout rug frame dominates the view. Painted rocks, models for larger sculptures, sit on the dining table. The first olive tree that Rondinone cast sits on a rug in the foreground. "Convincing artists to let us into their private environments was a very personal request," Benchley says, adding, "Many said it was a nice change not to be talking about their work for once."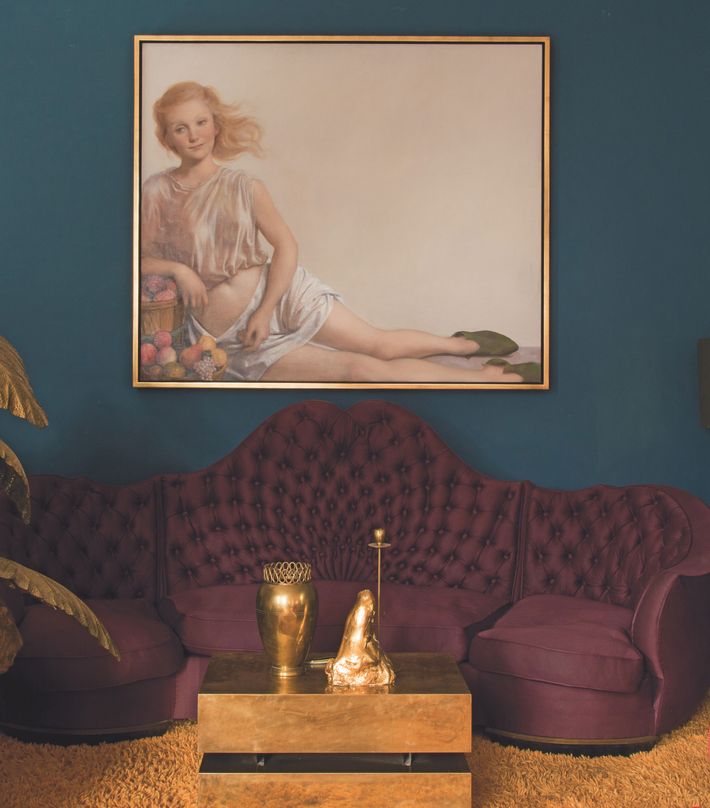 "I had the idea for the book while picking up my son years ago from a playdate at Rachel Feinstein and John Currin's home," Goergen says. "John was showing me their art when I noticed that on a red lacquered wall they had hung a late Francis Picabia of a pinup girl and an old-master drawing by Ludovico Carracci. I thought the combination of these works provided an interesting window into John's own painting." Here, a 2010 Currin painting titled Flora hangs above the couch.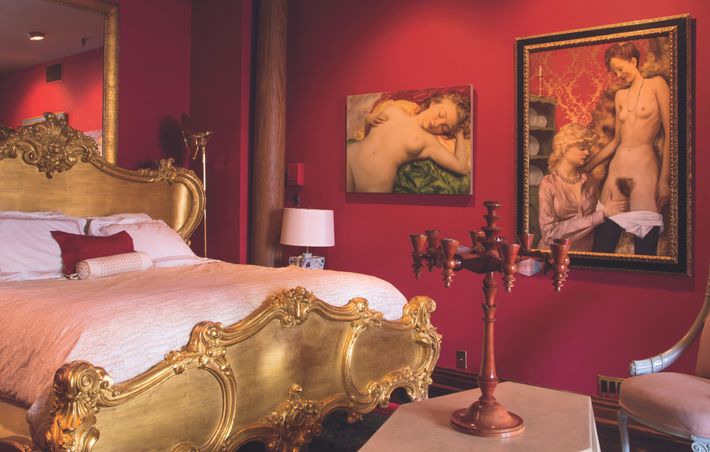 The bedroom in Currin and Feinstein's Soho loft is ornate and sexy with its gold Baroque-style bed along with Currin's paintings: on the left: Rachel Asleep (2012); on the right: The Dane (2006).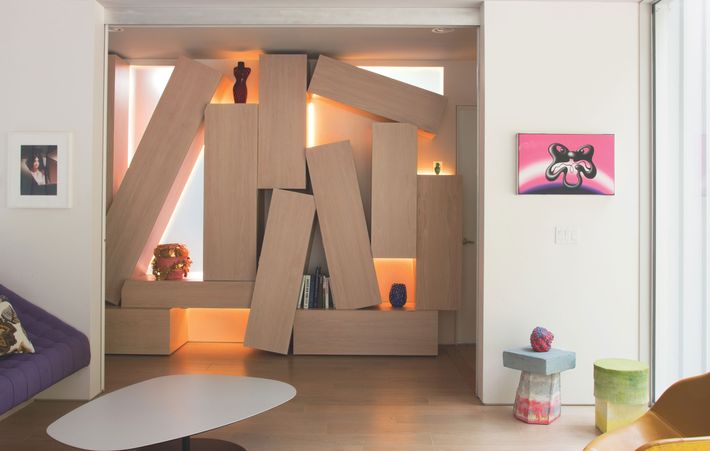 Marilyn Minter's contemporary home in Putnam County is the result of a renovation that connected her freestanding studio to the existing house that she and her husband, Bill Miller, live in. "The whole house is a trapezoid; there are no squares in it," Minter says in the book. Here, an architectural bookshelf holds two ceramic works by Takuro Kuwata on bottom shelves, a Murano-glass vase, and Candy Nolan's Grenade Embedment from 1986. Above the purple sofa on the left is Laurie Simmons's 2010 photograph Love Doll Day 1/Day 27 (New in Box). A painting by Kenny Scharf hangs right above two Kueng Caputo stools from 2012.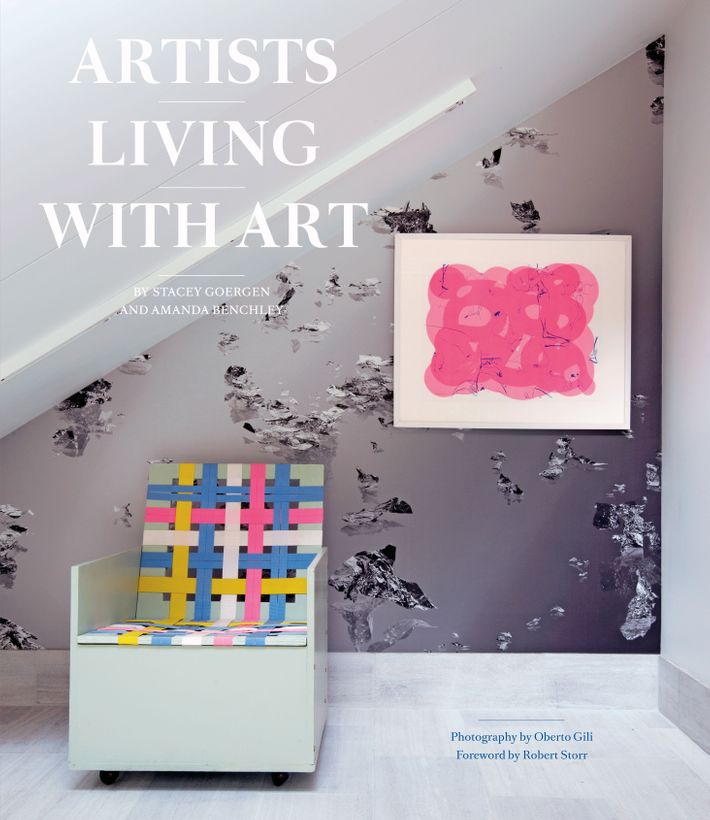 The cover of the book features a photograph of Minter's front hall with one of Mary Heilmann's first club chairs from 2004. Bing Wright's 2012 wallpaper Silver on Mirror (For Ron) provides the perfect backdrop for the 2005 pink screen print by Sue Williams, and the perfect invitation into this wonderful book.