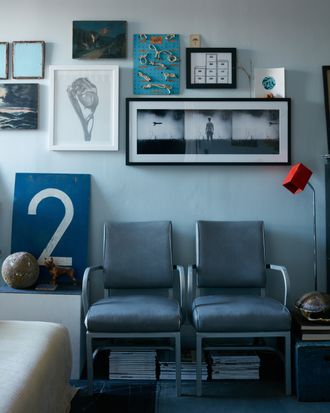 "It's like a square with one side chopped at a diagonal with a microscopic hallway and bathroom tacked onto the top." Photo: Stephen Kent Johnson
I recently stopped by photographer Stephen Kent Johnson's gemlike apartment, where I learned that even the most awkward of spaces can be completely transformed  — if you've got an eye — with just a few coats of blue paint and some yogurt-maker jars from eBay.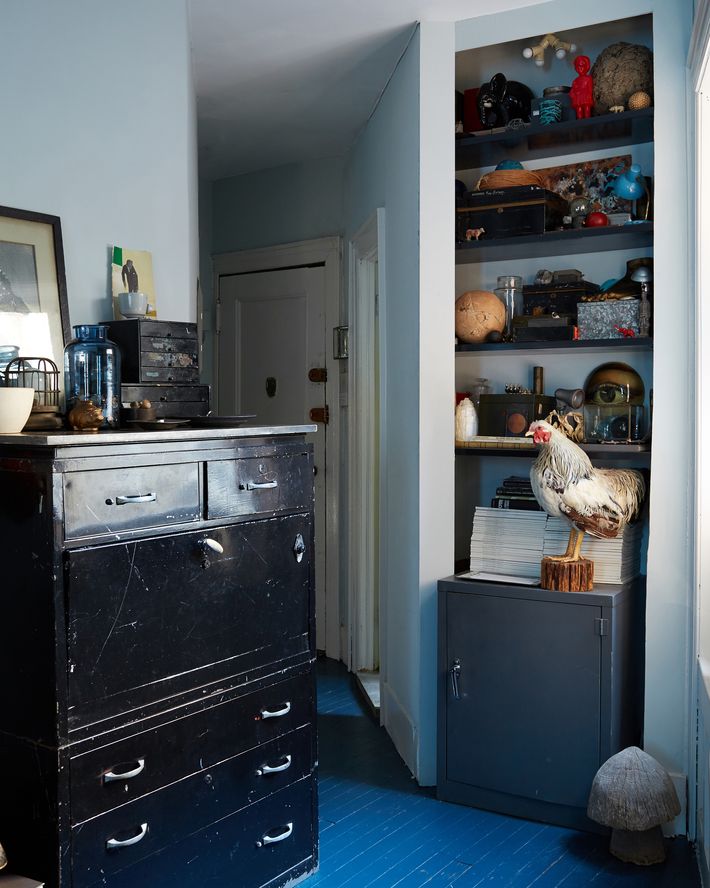 "I looked at so many apartments and almost didn't move because everything in my budget was so terrifyingly small, or dark, or cramped, or ugly," photographer Stephen Kent Johnson recalls. What sold him on this West Village 400-square-foot rental was the light and that it actually was a lot bigger than the other apartments he'd seen. Though the shape was odd, he went for it: "It's like a square with one side chopped at a diagonal with a microscopic hallway and bathroom tacked onto the top."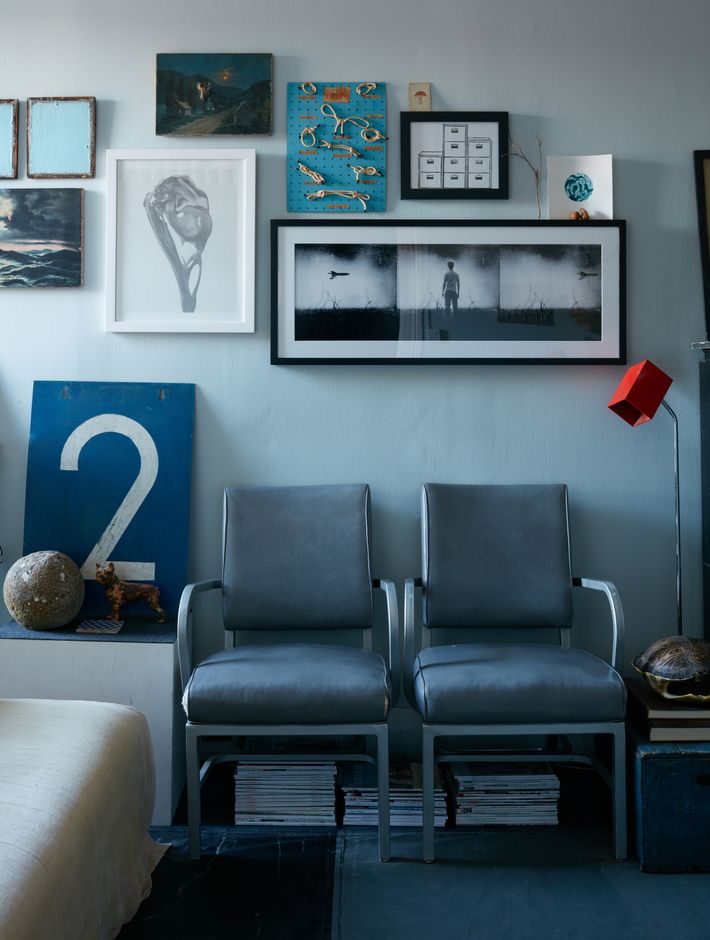 Johnson painted the walls and floors his favorite color: "I just don't think you can go wrong mixing all kinds of blues," he says. "Everything was wood, like bad wood everywhere; I'm not a big wood-furniture person." The chairs were found at the Chelsea Flea Market, the triptych is by Ann Cutting, and the No. 2 sign is from Paula Rubenstein. "I saw it at the Pier Antique Show and couldn't stop thinking about it — the shape is so swanlike."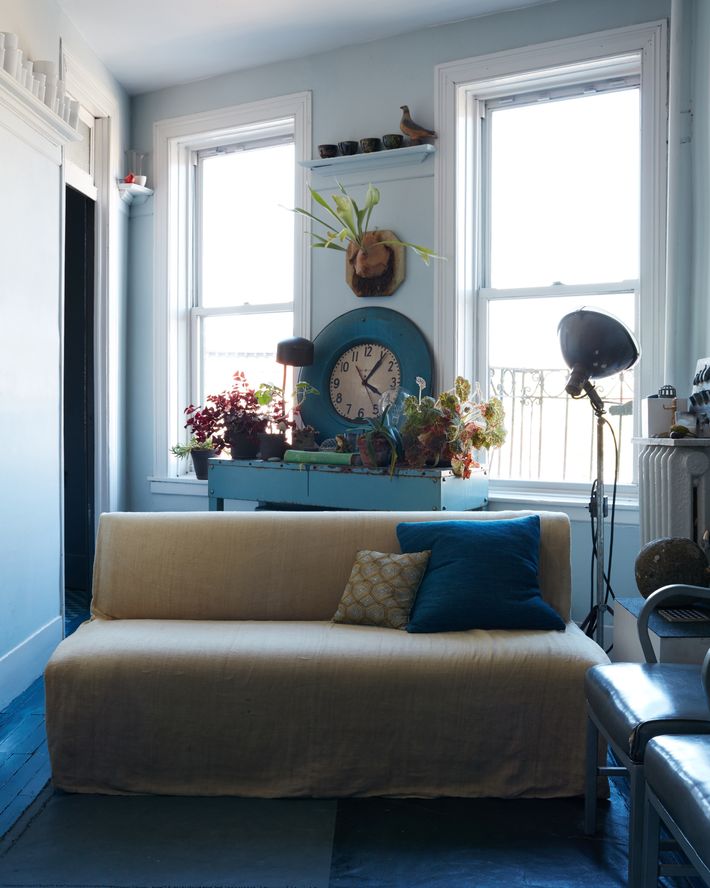 He covered the John Derian couch "with an old sheet from the flea market and dyed it because the original color was a little too pink." Here, you can see that the room is almost the shape of a parallelogram. "You get used to it," he says. "I experimented with putting furniture in different places, which helped me spatially to try new things that I wouldn't have, like putting that little narrow table with all the plants in back of the couch against the wall."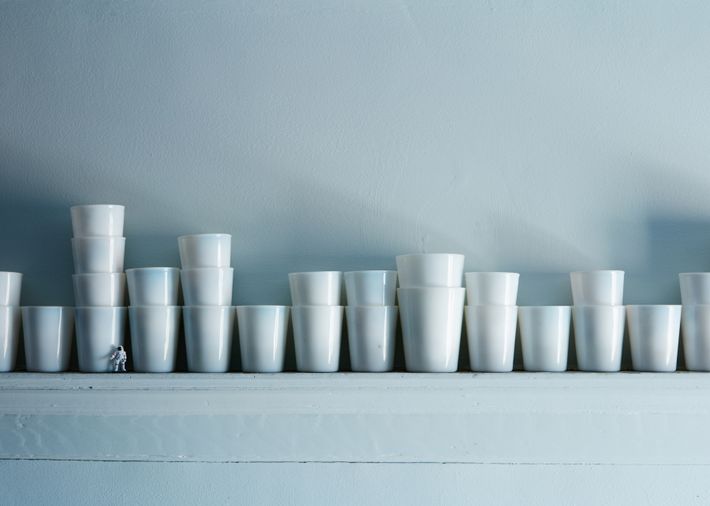 Did you notice this collection of what I thought was Dutch porcelain on the shelf in the previous photo? They're actually milk-glass yogurt-maker jars from the '70s. "I bought them on eBay," Johnson says. "Just ordered the yogurt-maker and chucked the electronic part. They are great votives; the light that comes through them is all blues and oranges."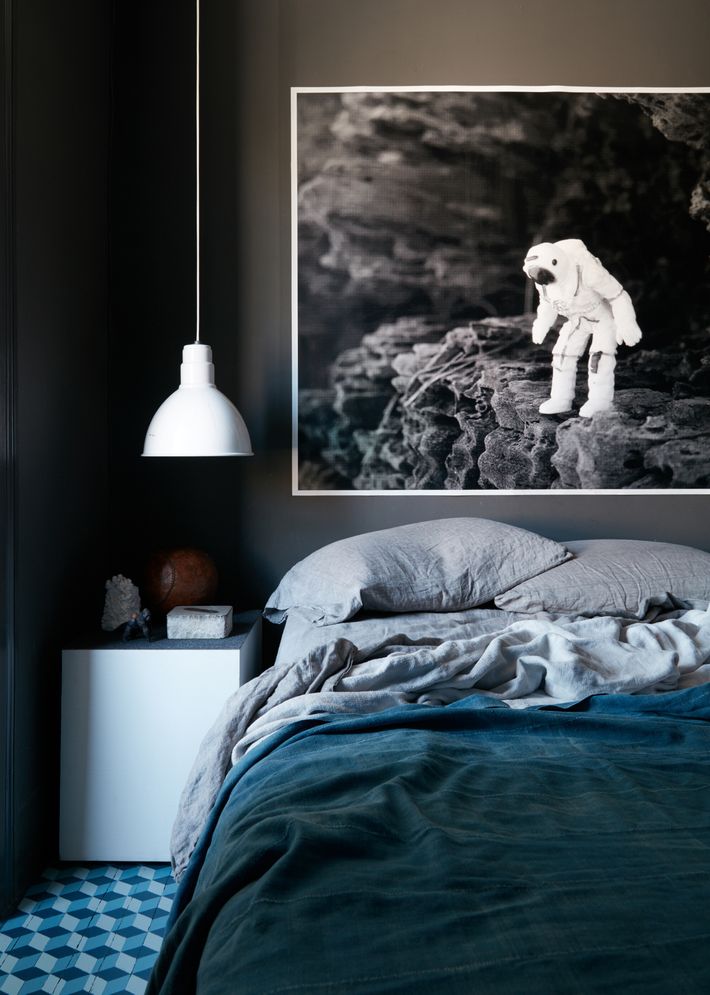 Johnson's bedroom is just big enough for his bed and the cube side table. He took the photo on the wall and says he half-toned it in order to blow it up to that size. "I have an obsession with taking pictures of this little plastic figurine of an astronaut," Johnson says. "You can find him on Instagram: @moonmandotcom." Johnson's previous position as an art director at Martha Stewart Living (where he worked before becoming a photographer) is clear here, I think.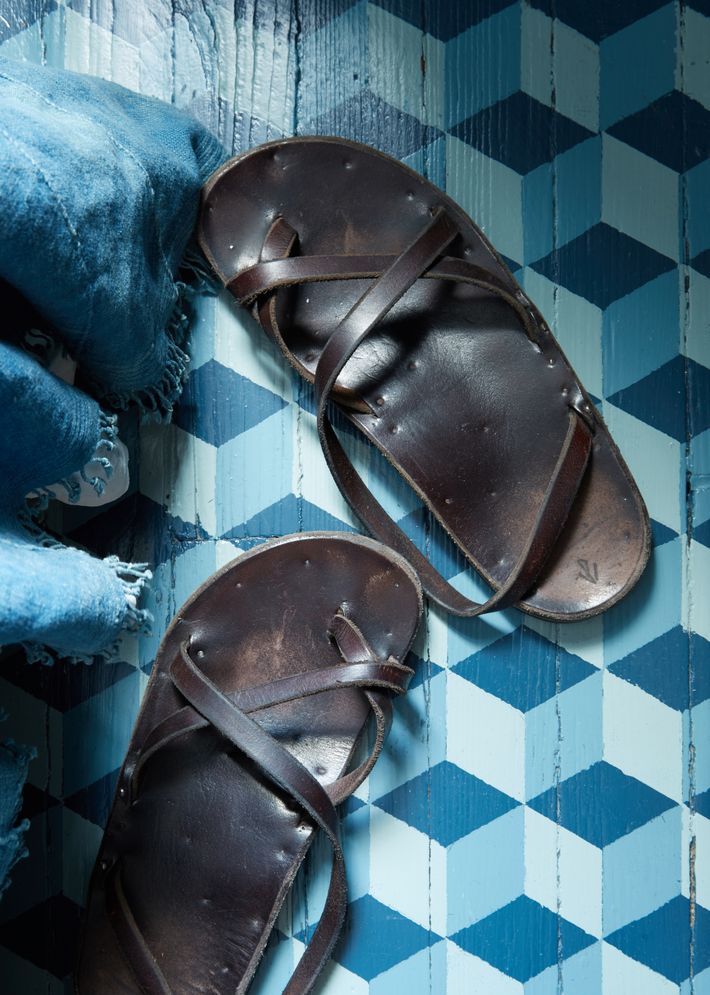 Johnson painted the pattern on the bedroom floor in different shades of Farrow & Ball blues. "I love that tumbling-block pattern," he says. "I just made a stencil; I had already painted the floor the base color of the dark blue, so I only had to do two rounds of stencils. It was a weekend project."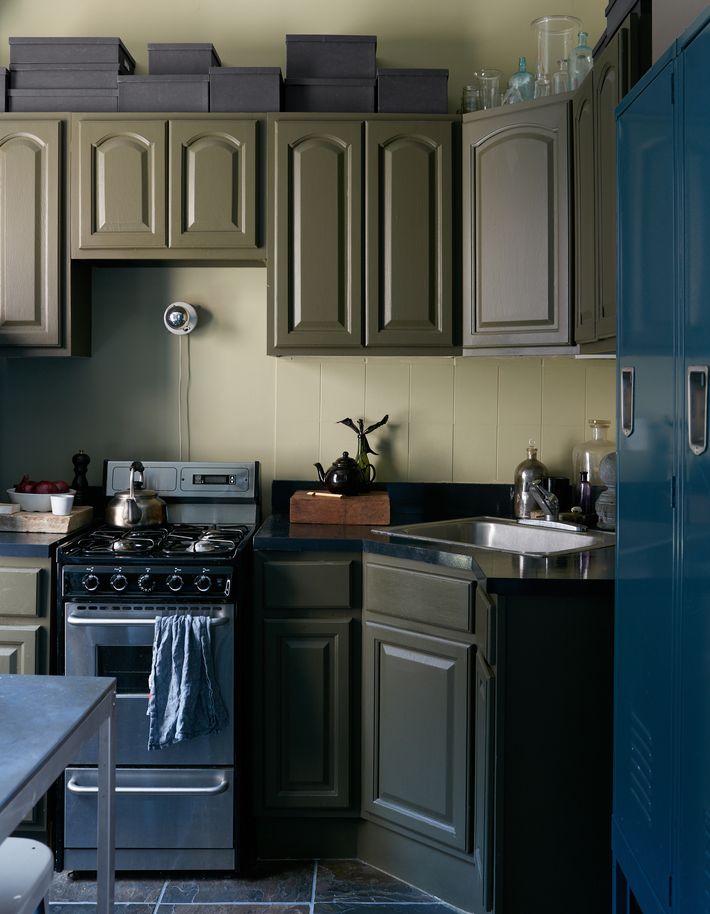 The kitchen is surprisingly large, with a window, no less. Again, no sign of the wood cabinets, as they have been glossed over with paint. "That is the other reason I got the apartment," Johnson says, "because it has a legitimate kitchen, and I do like to cook a lot."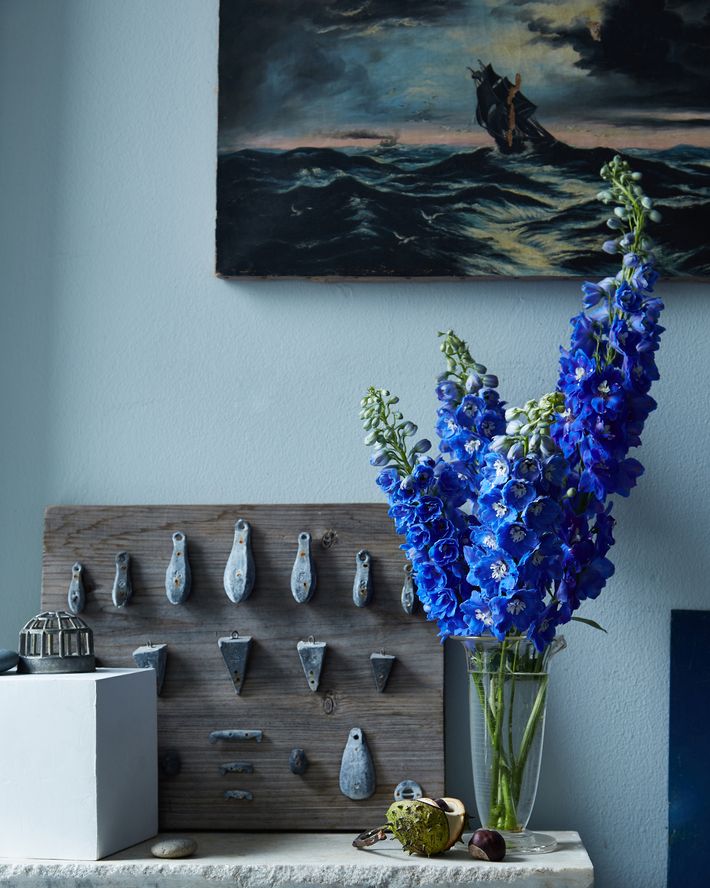 When Johnson entertains, he pulls out a table that fits perfectly underneath his bed, and he can have a seated dinner for eight, where guests can enjoy his living Cornell box with its gorgeous vignettes everywhere you look.