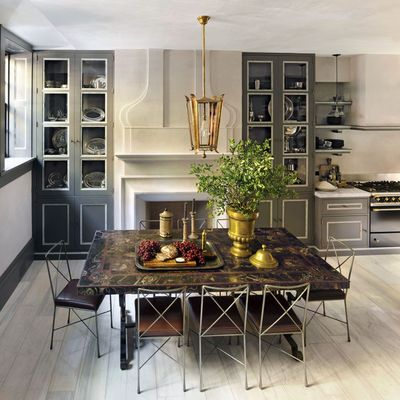 The dining area.
Photo: Annie Schlechter
"It was torrentially difficult," the interior designer Steven Gambrel says about putting a new kitchen in the townhouse he bought four years ago and shares with his partner, James Anderson. And although everyone finds renovation stressful, he has a point. To get some headroom in the new space, Gambrel had to drop the lower level of the house by three and a half feet. That in turn left the basement stunted and unusable — so he had that floor dug out as well, right into the Manhattan earth. A lot of rough work can go into making such a serene space.
In Stanford White's time, architects would crate up and import entire rooms from the great houses they saw in Europe, reinstalling their finds in the residences they were building for their mogul clients. Today, Gambrel does his importing with a sketch pad and pencil. On a trip to Ireland, he saw an impeccable Georgian mantelpiece; at home, he called on the craftsman Peter Mucek to reinterpret it, a process that involved working out the scale and proportion via full-size models made in plaster-covered Styrofoam. As for the furnishings, he does import those. "Somewhere between a mix of refined apothecary and updated London townhouse" is how he describes the room's aesthetic: "I like the idea of vitrines. Lots of reflective glass because I wanted to keep it as light and chalky as possible." With a few feet of extra room below.
Pictured above: The marble dining table is two pieces: The top came from Italy, the bottom from France, Gambrel says, "and they happened to fit together." The floor planks, also marble, were cut from the façade blocks of the long-demolished Henry Phipps mansion on Fifth Avenue. Paint colors were custom-mixed by Steve Mark of SMI Construction Management. The glass-paned cabinets, custom-made for  Gambrel, display his collection of hotel and ocean-liner silver. The lantern over the table is an original by Adolf Loos, from the Vienna Secession period. The oven is from Lacanche. The Darrell Landrum dining chairs, dating from the '50s, got new seats of dark- brown leather.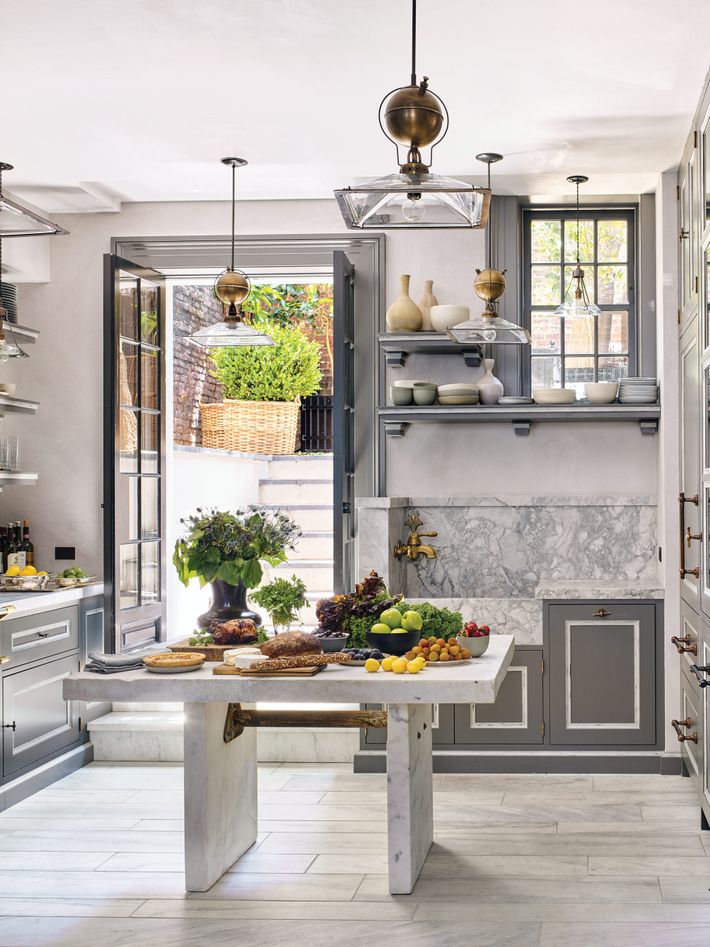 The worktable is from the 19th century. "I have seen a few of them — I believe it is Imperial Danby marble, quarried in Vermont," Gambrel says. The overhead lights are from Balsamo. The door is Gambrel's addition, replacing a window. Before it went in, the only access to the garden was from the floor above. The tap was purchased at a flea market in France. Gambrel retrofitted it with knobs from a Waterworks faucet.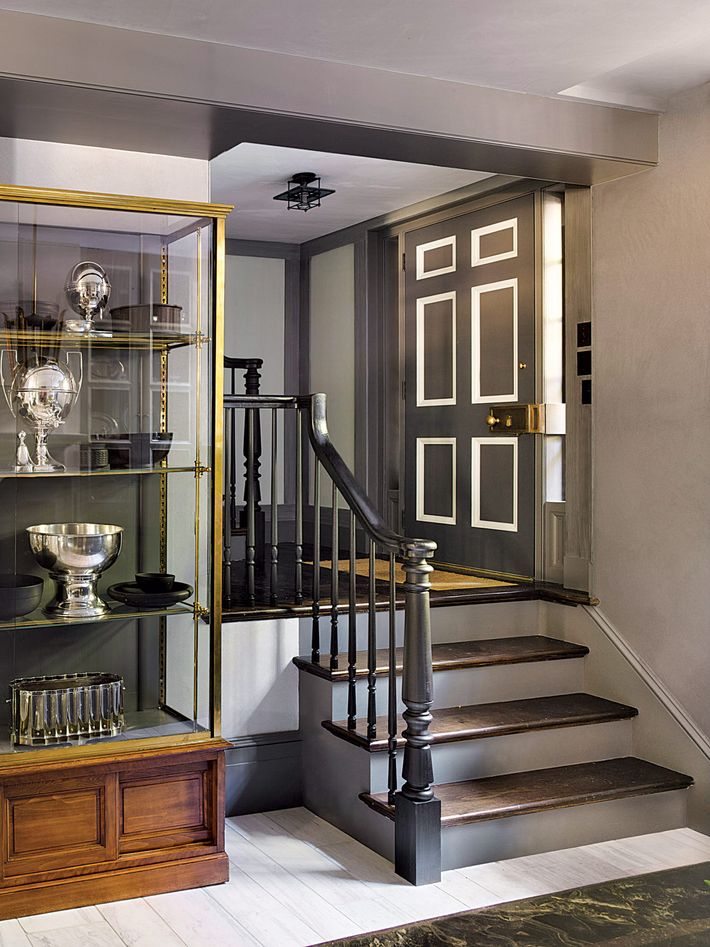 A 19th-century French store vitrine is filled with more of Gambrel's silver collection. The entrance is already below street level, and the stairs show just how far the floor had to be lowered.
*This article appears in the Winter 2016 issue of New York Design Hunting.