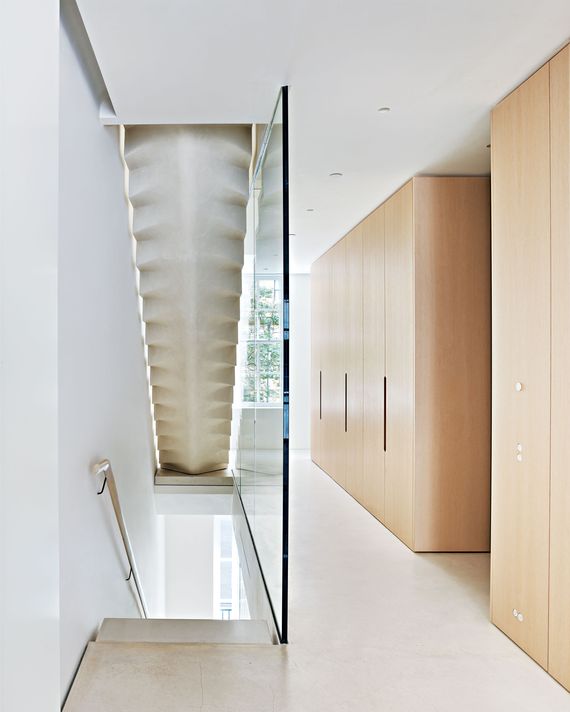 It's at midday when the West Village townhouse is at its most luminous. "At lunchtime, the whole back garden becomes almost like a light shaft," explains Annie Lo, who, along with her Haute Architecture partner Torsten Schlauersbach, redid the interior architecture and design of the Robert A.M. Stern–built home. It's also when the staircase is at its most striking.
Made from precast concrete treads and fiberglass and anchored by steel, it looks like a spine and serves as the building's centerpiece, "spanning like a bridge between floors," Lo says. (There's an elevator, too.) They worked out the geometry through some complicated math, which they liken to a three-dimensional puzzle, then designed models and two large-scale mock-ups (including one using the actual materials). Lo and Schlauersbach's clients have two dogs, a baby, and another child on the way, and their directive was to a create as super-minimal a space as possible that could still house their growing family. "We wanted to build a versatile home that was open and light but one that could also be made private," Schlauersbach says as he slides out a wall partition from the client's garden-level office. Almost all the wood paneling opens for storage space, and there are dozens of closets throughout the five floors.
The clients were intent on making the structure as ecofriendly as possible, with "wellness" aspects incorporated into the design — like electromagnetic shielding to buffer radiation from wires and biophilic plantings to filter the air. There are radiant-heat concrete floors, and the living room is covered with a Carini Lang–designed silk carpet. Lo and Schlauersbach, who started their firm in 2013 after both working for Norman Foster, are known for their attention to intricate, precise detailing — and for combing the globe for the best design talent: The cabinetry was made in Switzerland, the two-ton piece of stone for the master-bath vanity was found in Portugal (it had to be hoisted through the window), and the handcrafted dinnerware was brought over from Korea. If it all seems just a little too perfect, right after the family moved in, Schlauersbach says, "they discovered that their dogs had chewed up their beautiful Loro Piana cushions." He adds: "They were not so happy about that. But what can you do?"
*This article appears in the September 7, 2015 issue of New York Magazine.