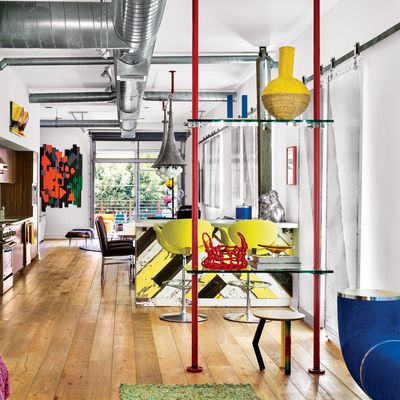 The kitchen and dining room.
Photo: Annie Schlechter
When interior decorator Jessica Ayromloo's clients, a Manhattan couple with a duplex on the Upper East Side, first visited this Santa Monica loft one block from the beach, it was hard for them to get beyond the stuffy décor. "There were overbearing, floor-to-ceiling drapes everywhere. And so much beige," Ayromloo says. The owners, who come to L.A. about once every six weeks or so, were going for an industrial, youthful vibe. So Ayromloo commissioned local artists to make installations out of perforated metal and a kitchen island of reclaimed wood. "Because we hired people in the neighborhood, the owners were actually able to meet every person behind their artwork and custom pieces," Ayromloo says. She installed neon lights for the kitchen and a chandelier made of discarded speakers, and kept the exposed metal piping in the ceilings to create an industrial feel. "Yes, everything feels graphic and cool, but the space is comfortable at heart," Ayromloo explains. "The couple's grandkids needed to be able to run across the dining-room banquette. Nothing is too precious."
The kitchen and dining room (above): Ayromloo sourced the wood for the kitchen bar from E&K Vintage Wood and banded the edges in stainless steel. The Pierre Paulin bar stools were upholstered in neon-yellow vinyl. The chandelier over the dining table is made of vintage speakers.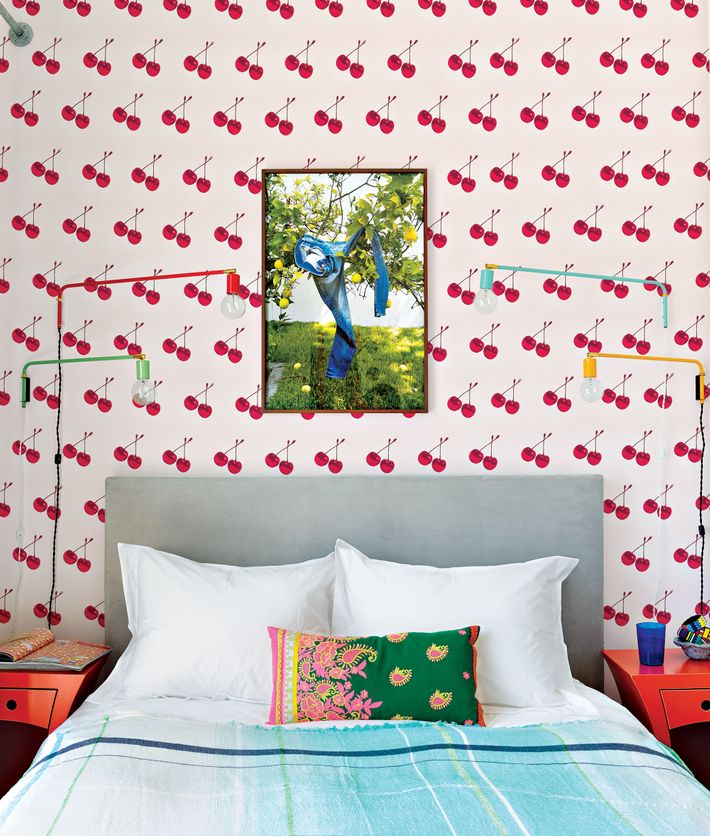 The guest bedroom: Ayromloo installed wall-mounted lighting fixtures by onefortythree to free up space on the nightstands. The print is by artist Mateo Tannatt, and the cherry wallpaper is by Flavor Paper.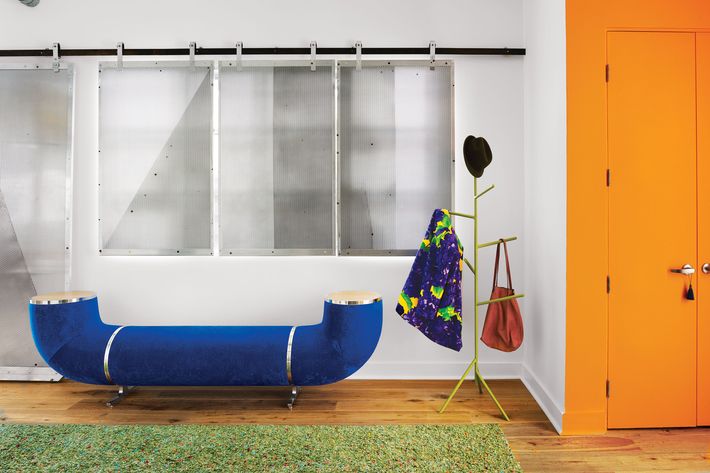 The foyer: Curtains made of perforated metal* by artsist Jason Meadows let the sun creep in.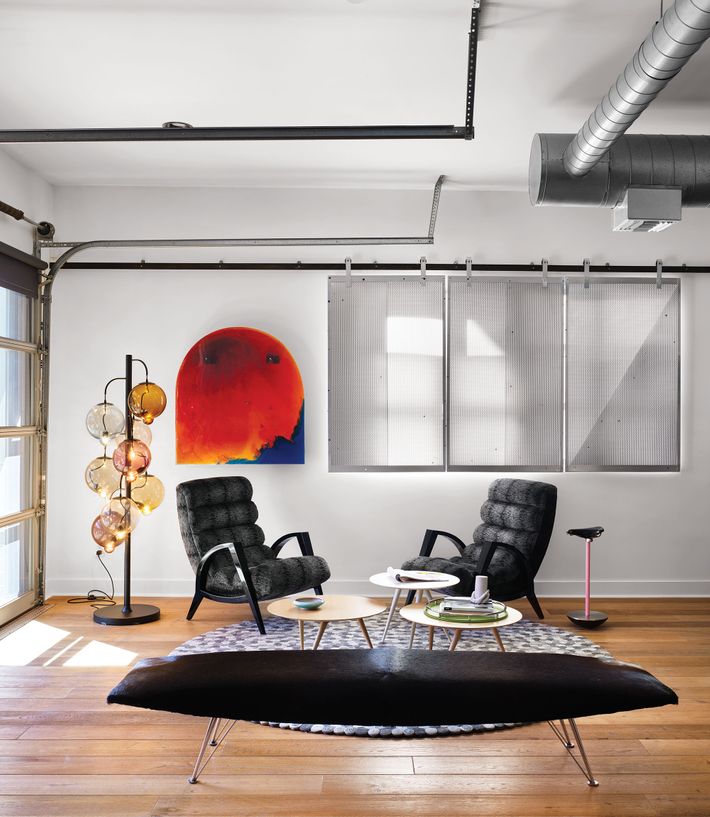 The living room: Ayromloo and the owners found these Caterpillar chairs by Quillian in West Hollywood on a shopping trip. The bicycle seat, by the Castiglioni Brothers, is a nod to nearby Venice Beach. The Cappellini floor lamp is made of handblown glass. The resin wall sculpture is by Tanya Brodsky. "A round coffee table felt too expected on a round rug," Ayromloo says, "so we broke it up with three small tables to maintain some informality."
*An earlier version of this article misstated that the foyer curtains were made of plumbing pipe. They are made of perforated metal.
*This article appears in the October 5, 2015 issue of New York Magazine.