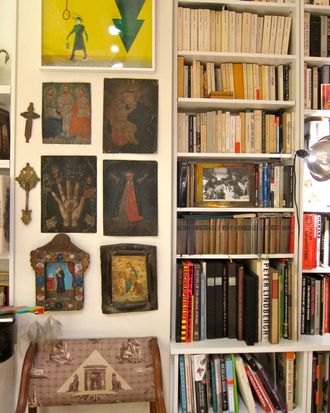 The space is filled with floor-to-ceiling books, as you might expect. Photo: Wendy Goodman
After four years spent writing her memoir (and barely receiving visitors at her Hell's Kitchen loft), Joan Juliet Buck finally took my calling card.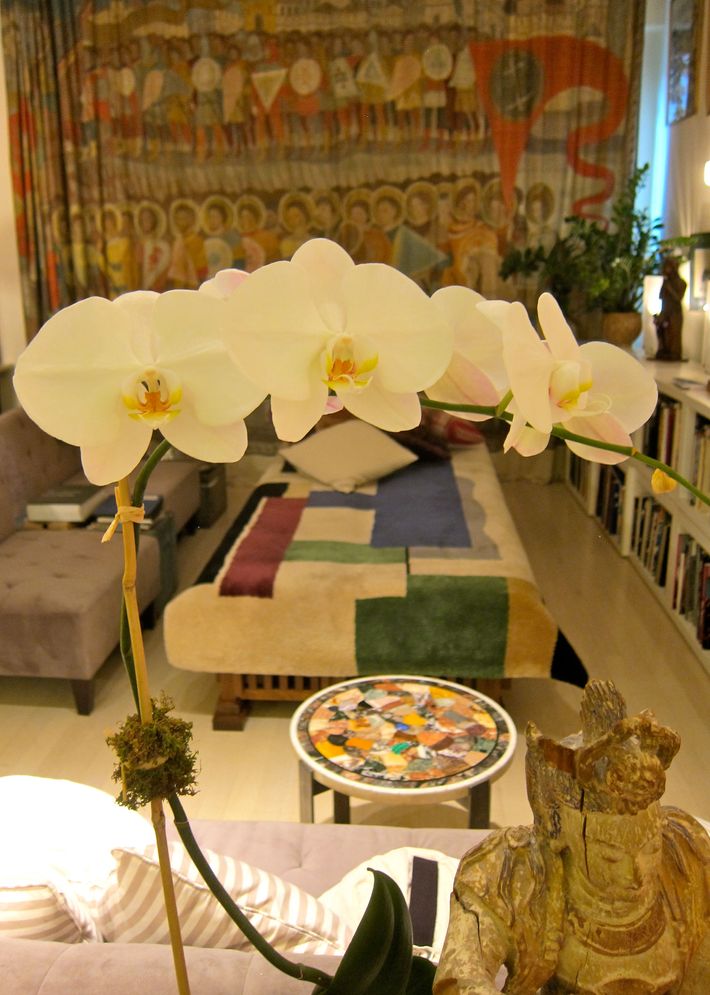 Four years ago, I attended a stupendous birthday party that writer and former French Vogue editor Joan Juliet Buck threw for the artist Gray Foy. The festivities took place in her 1,200-square-foot one-bedroom loft, pictured here, where she has lived since early 2007 after stints in Sante Fe and Paris. "I wanted the volumes and high ceilings of a loft, with the safety of doormen," Buck told me. "This building was an armory and it's impeccably maintained. It's in Hell's Kitchen, which to me was the New Mexico of Manhattan."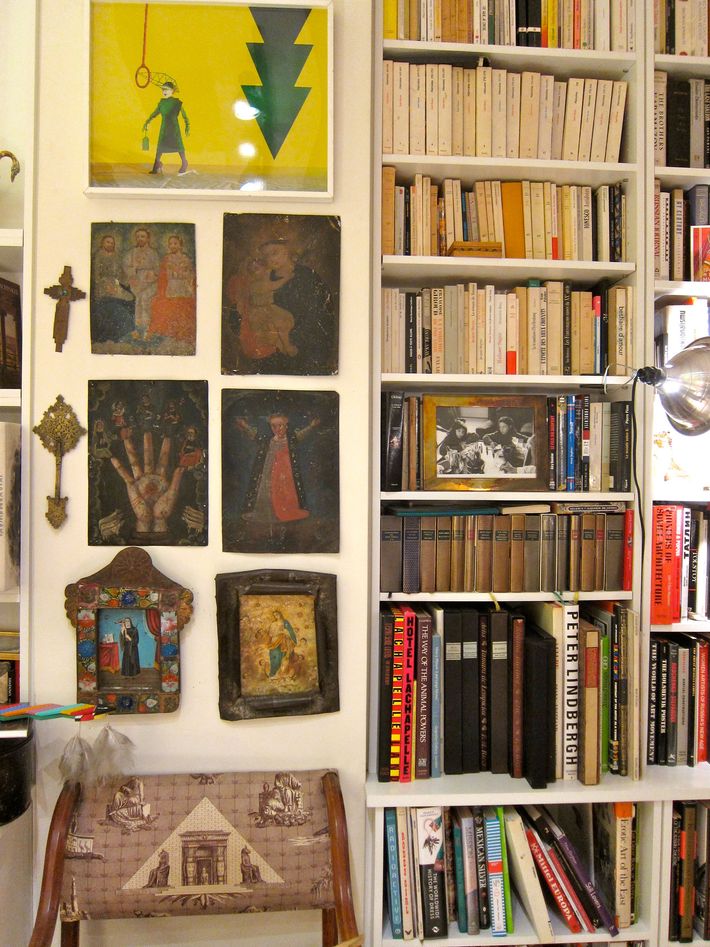 The space is filled with floor-to-ceiling books, as you might expect. Buck, who edited French Vogue from 1994 to 2001, has a memoir coming out next fall from Atria, and she says it's still in the final-revisions stage — papers and photos are spread out over a football-field-length table, off limits to my inquiring camera. "Those are Mexican tin paintings of saints, 'retablos,' that I have been collecting for years," Buck tells me. "The yellow photo above is by Todd Eberle, for my last issue of French Vogue, on the theme of the theater."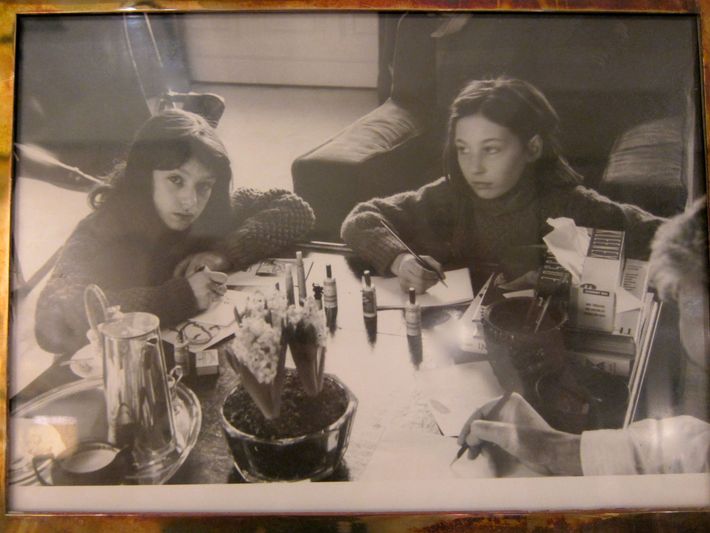 The black-and-white print of Joan (left) and Anjelica Huston was taken by Joan's father, Jules, who was a producer and also worked as a cameraman for John Huston. "This photo was taken in 1959, the Christmas we first met," Buck says. "We're both wearing new Aran Island sweaters and we're drawing at the coffee table in the study, just as her father, John Huston, did. We're still drawing and we're still friends, 56 years later."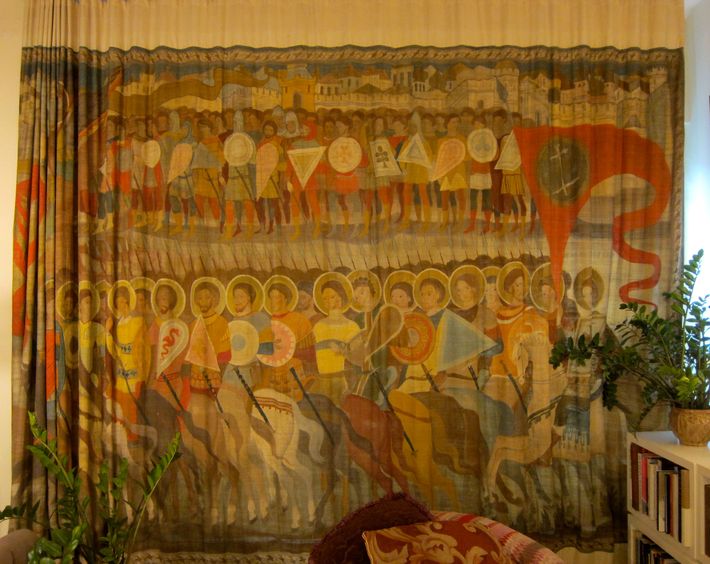 I've been obsessed with this magnificent curtain ever since that birthday party. Buck recalls: "I first saw the curtain along the wall of Potemkin's study on the set of my father's 1968 film Great Catherine, at London's Shepperton Studios. Jeanne Moreau was the Empress Catherine of Russia, Zero Mostel was Potemkin. The art director John Bryan painted the frieze of Russian saints and soldiers on silk, but it was not fragile — Zero did a lot of pulling on it. When I moved to my first apartment in 1972, my parents gave me the curtain, which had been folded up somewhere. Twenty-four feet long, it covered an entire wall. I inherited many movie props, including the Empress Catherine's whip, with a fake-diamond pommel."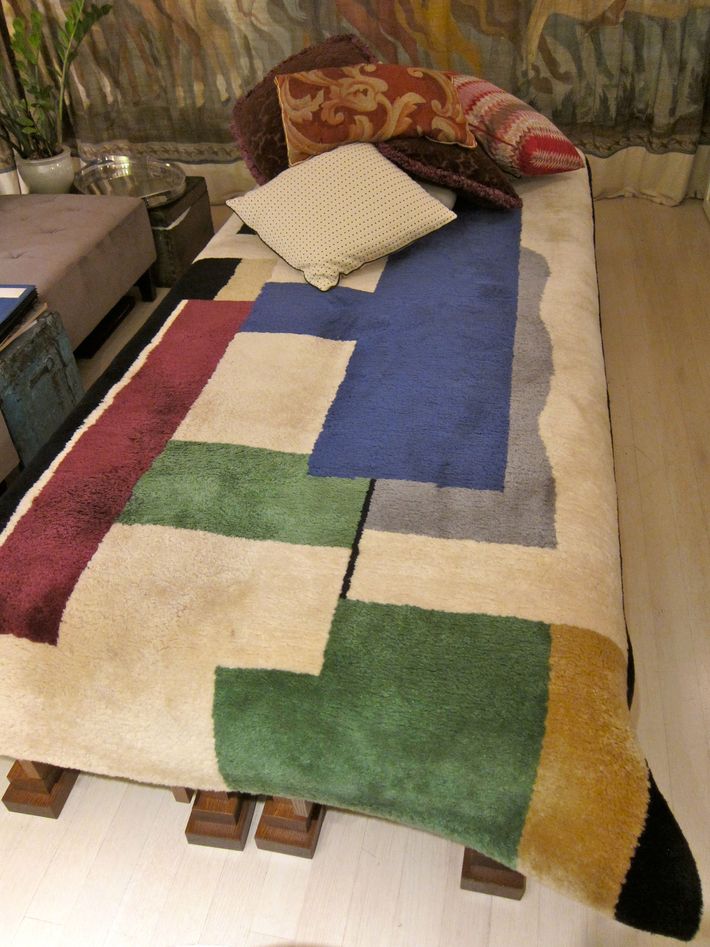 The Fernand Léger carpet ("Blanc," from a 1927 design) was purchased by Buck's parents in the '60s, when the family lived in London, "before they bought Léger's 1923 painting Le Pont," she says. "They eventually sold the painting but kept the rug. It was on the floor and you skirted around it. I didn't like walking on or even around it, so I put together two halves of a 17-foot bench to make a giant ottoman and put the carpet on top. It's my Thai massage table, guest bedroom, and the ideal spot to binge-watch Netflix."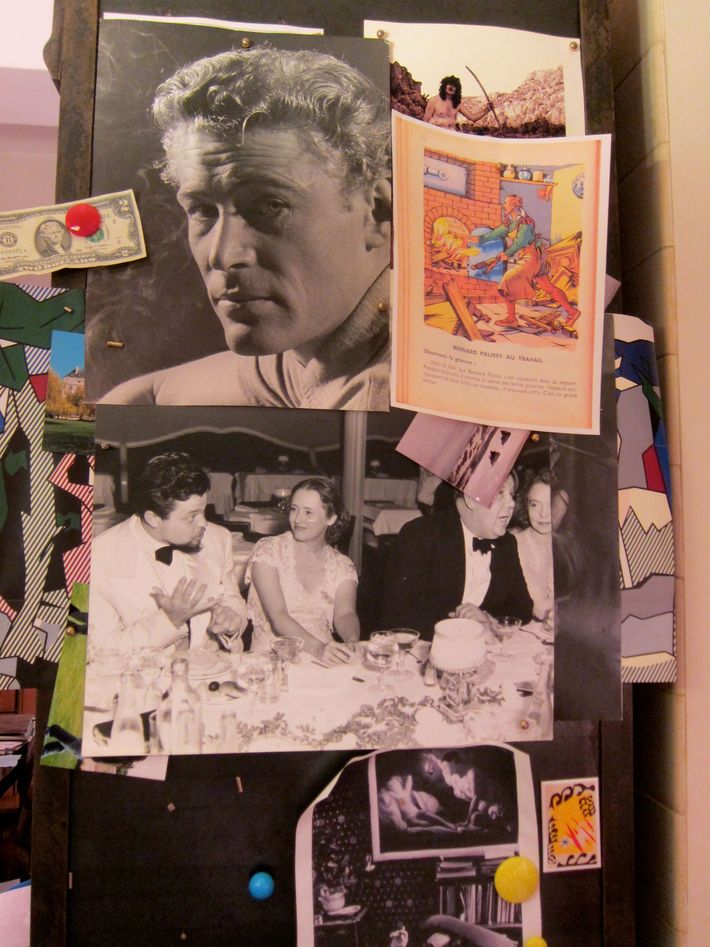 There are fascinating photographs everywhere; I found this collage on the side of a bookshelf. The black-and-white dinner-party scene features Orson Welles (at left), an unidentified woman, Charles Laughton, and Mary Pickford. The portrait of a blond Peter O'Toole, above, was taken while filming Jules Buck's film The Day They Robbed the Bank of England, which led David Lean to cast O'Toole as the lead in Lawrence of Arabia.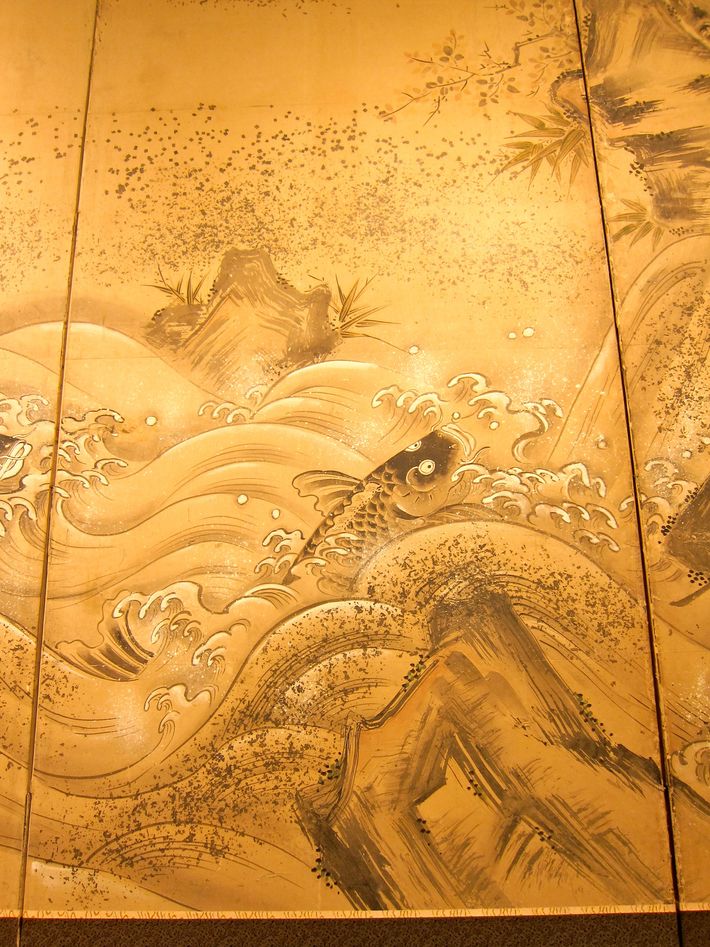 While editing her book, Buck decided to edit her loft as well, and is currently engaged in a bit of fall cleaning. One of the things she is considering selling is this six-panel screen (a detail of which is shown here) from the Meiji period showing koi swimming upstream toward a waterfall. "It's a legend about high hopes and persistence. Only one koi made it to the top of the waterfall," Buck says, "and the gods made him a golden dragon. I bought it in New Mexico; it's said to have once belonged to Jane Fonda."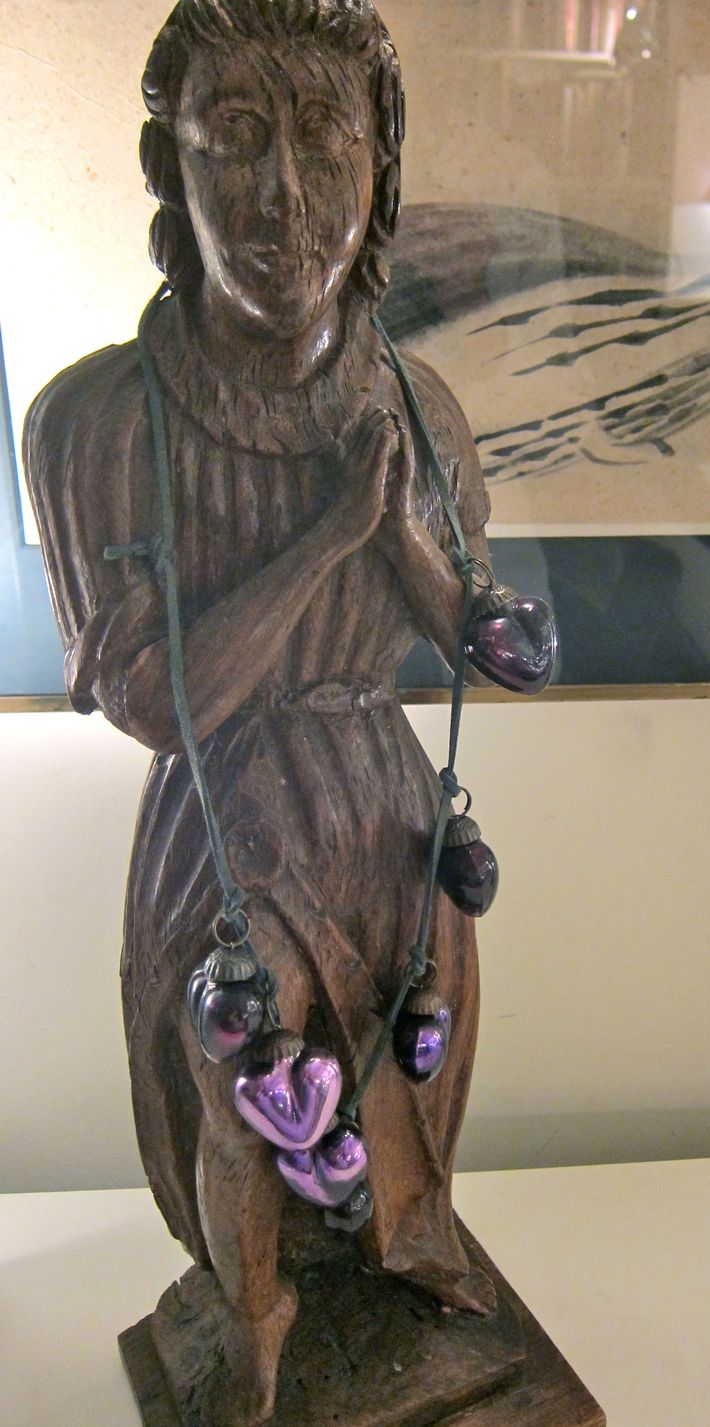 One thing that Buck will not be sending on its way is this wood statue. "I have no idea what saint he is," Buck says, "but I have known him all my life. He's fairly primitive, probably Flemish. The purple glass hearts are from Allegra Huston, who is like my younger sister. My newlywed parents bought most of their furniture when William Randolph Hearst emptied his storerooms at Saint Simeon in 1945. Renaissance was cheap. They had cassones, sideboards, cupboards, church chairs."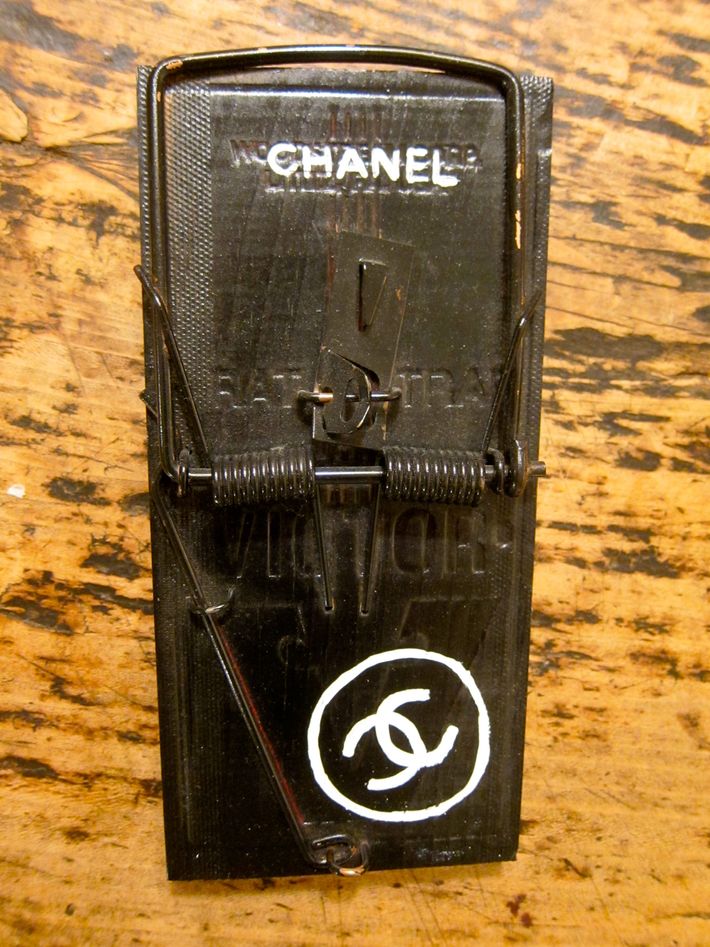 On my way out I spied this piece. "Thaddaeus Ropac gave me a Tom Sachs Chanel rat trap in Paris in 1999," Buck says with a smile, "back when I was either a big cheese or a mouse."