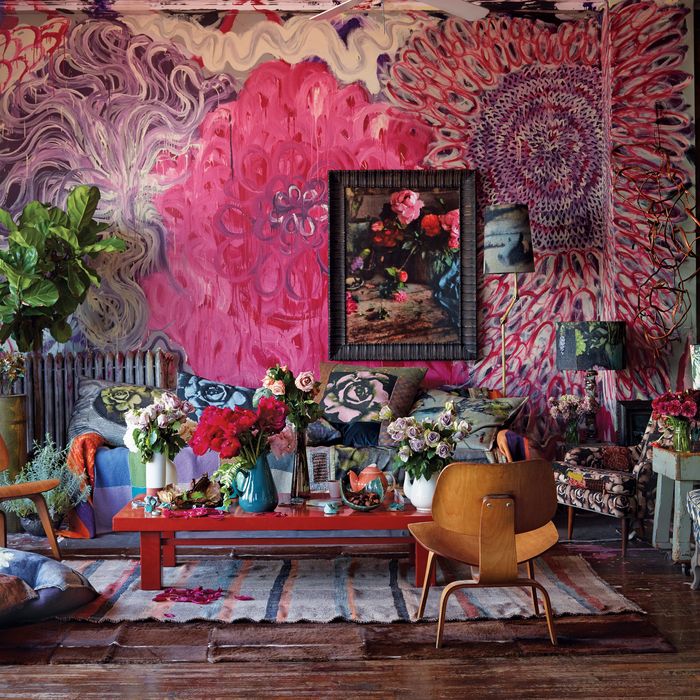 The fantastical wall mural was created by Thompson's partner, the artist Dove Drury Hornbuckle.
Photo: Martyn Thompson
Martyn Thompson is sitting in the back part of the loft that he shares with ceramic artist Dove Drury Hornbuckle, describing the aftermath of his first visit to New York. It was 1982, and "everybody was going to be something. Ambition was born in me at that moment. And I got back to Sydney with this idea that whatever I want to do, I can do." Thompson has, since then, done everything from painting to fashion design to (especially) photography, and after that trip he spent more than a decade in Paris and London before settling in New York in 1999.
After he arrived, he rented for a few years while looking for a loft, but everything he saw had been renovated to death. Finally, he had a breakthrough that many New Yorkers have experienced: His broker said he had just the place, though it was out of Thompson's price range. It was also a rare un-messed-around-with loft in the Little Singer Building in Soho, built in 1903 and converted to residences in 1982 — precisely the year when Thompson first saw the city that opened up his horizons. He was able to come up with the extra money, and a dozen years later he's still in the apartment.
Today it is a riotous, flower-strewn, mural-painted, art-filled think tank where he and Hornbuckle have enough space to go their separate ways for the workday and rejoin at dinnertime. From this ever-evolving environment, he runs his creative empire: Last year, he launched a line of textiles and rugs printed with his photographs of flowers and still lifes, and this year he's collaborating with Hornbuckle on a series of one-of-a-kind lamps.
The furnishings are a pastiche, collected in different cities over time: a set of Giò Ponti chairs from London, a wood-painted bureau from Paris, and Charlotte Perriand lighting found here and there. In 2011, Thompson photographed the loft for his first book, Interiors, when it looked very different, and wrote the following: "I used to be very particular and neat, almost neurotically so. I think I'm more relaxed now — I like to have some mess around. I want to feel comfortable and not like I'm living in a work of art. No matter how perfect an interior may be, there should always be room for people." This one has plenty. Also space for a lot of fabric. And great furniture. And art, and ceramics, and lamps. And, still, ambition to spare.
*This article appears in the Winter 2016 issue of New York Design Hunting.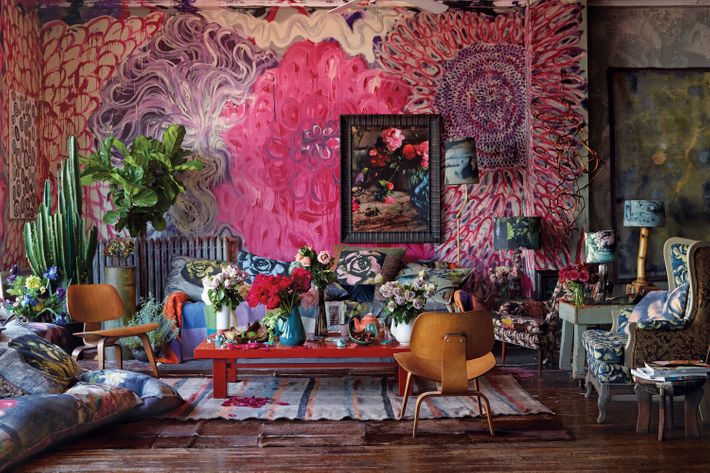 The fantastical wall mural was created by Thompson's partner, the artist Dove Drury Hornbuckle, with Farrow and Ball paint. The sofa is nearly buried under tapestry pillows by Martyn Thompson Studio from its "Cézanne's Shadow" collection. The wing chair is upholstered in another Martyn Thompson Studio fabric, as are the lampshades. This one is called "Melting Sea Blue." The chairs are vintage Charles and Ray Eames LCWs; the design is still in production from Herman Miller. The tall lamp is a vintage industrial piece.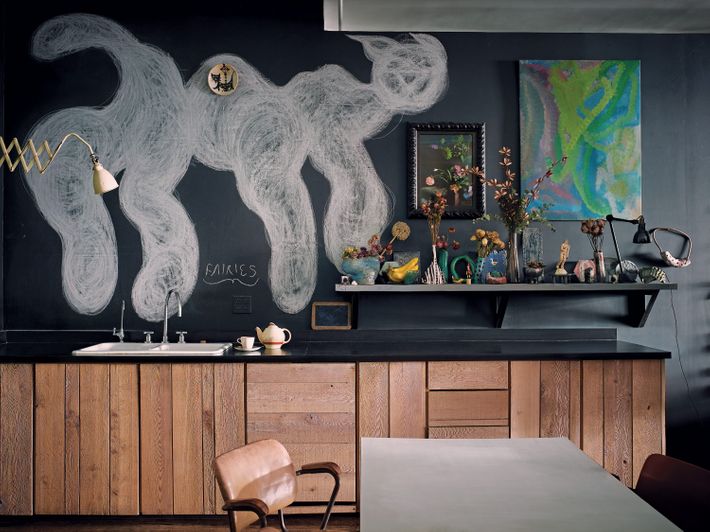 The open kitchen is built into one chalkboard-covered wall. Thornbuckle drew the chalk art. The photo in the black frame is Thompson's own; the Aboriginal painting is by Emily Kame Kngwarreye. The faucet is by Dornbracht. The teapot on the counter was made by Susie Cooper, Martyn's great-aunt. The kitchen cabinets were made by a local artist from Belgian oak, its grain turned bluish by a process called cerusing. The chairs are vintage, by Ilmari Tapiovaara, and were purchased at R & Co. They're paired with a Jean Prouvé Compas table from the 1950s.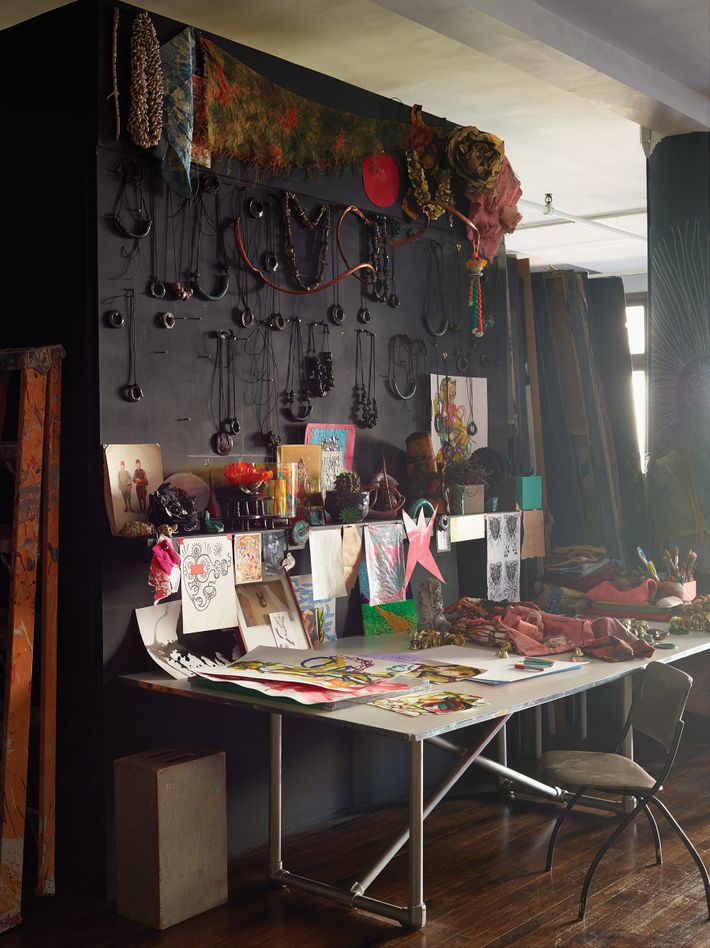 Dove's worktable, with jewelry.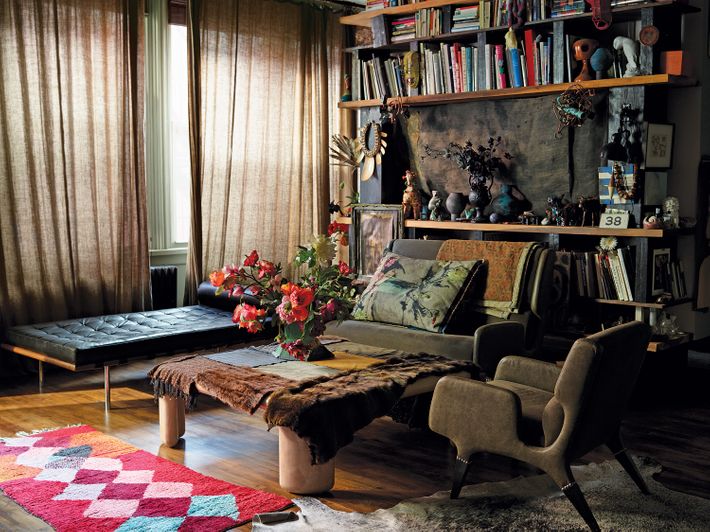 The daybed is by Ludwig Mies van der Rohe, designed in 1929. The pillow textiles are from Thompson's own "Falling in Love" collection. The Moroccan rug is from Larusi. The coffee table is Karl Springer, augmented with fuzzy patchwork. The Giò Ponti chairs and couch are upholstered in leather and Ultrasuede.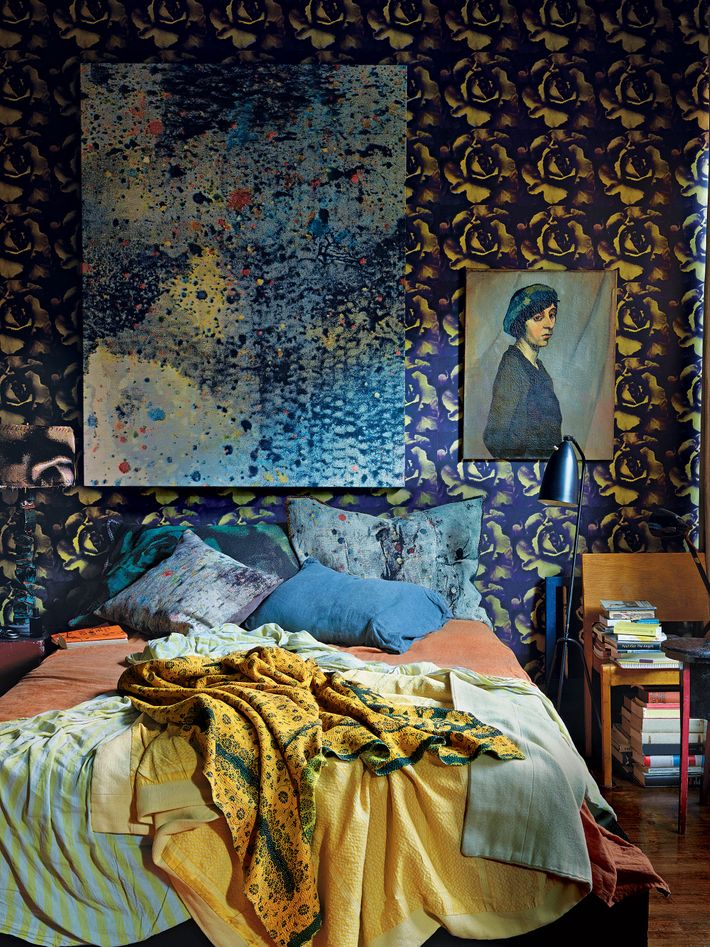 The yellow-and-white linens are from Society Limonta, and the orange bedspread is from Larusi. Thompson made the yellow throw himself, from Fortuny fabric. The anonymous portrait over the bed came from Paula Rubenstein; the wallpaper, from Martyn Thompson Studio.