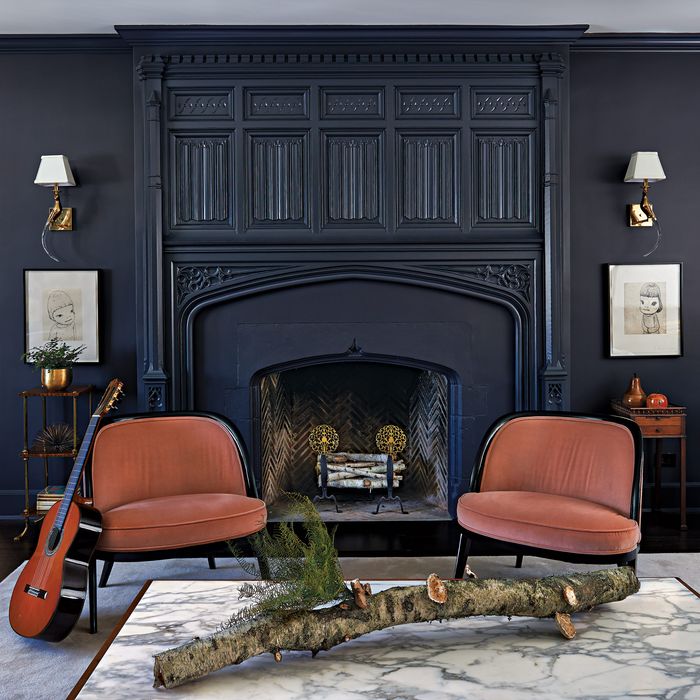 The living room's moody palette helped make the couple's art collection pop.
Photo: Michel Arnaud
When Fritz and Lee Michel purchased a 1927 Tudor in Riverdale, their friend and designer, Molly Luetkemeyer, was not entirely enthusiastic. Bought from a 90-something widow with a taste for floral-print wallpaper and a lot of brown, it was … well, let's be kind and say traditional. But Luetkemeyer brightened up once she learned that the Michels didn't want anything remotely baronial. After all, when this house was new, "the Wiener Werkstätte movement was unfolding in Europe, which made for a really exciting — and temporally accurate — starting point," Luetkemeyer says. The founder of M. Design Interiors, she dove into that era's black and white geometric shapes and colorful accents, drawing on archival images to create a family-friendly, deeply personal home.
That said, the house needed a lot of reimagining to get out of its half-timbered past. Thaddeus Briner of Architecture Outfit turned the cramped quarters into a light-filled open layout with the help of the father-son firm Riccoboni Contracting. Renovations took two years, giving Luetkemeyer sufficient time to vet every last detail, down to the triangle-patterned carpet on the steps that could just as easily have appeared in Vienna 90 years ago.
Because the house sits on a hill, the basement level is often where the family enters. It received as much attention from the team as the master bedroom and got a colorful paint job, custom cabinetry, and poured-concrete floors. A staircase leads up to the large central open kitchen.
Every designer says that he or she collaborates with the client, but this time it was especially true. Lee came up with the idea for an Yves Klein blue dining-room table; Fritz ordered the room-dividing chain-mail curtain from a Canadian guy who makes armor for movies. Even the couple's young daughters got a say; when they requested some neon tubing, Luetkemeyer produced custom nameplates to hang above their beds. She says that she hit only one sticking point: "Getting the family to go with a smoky-black living room took a bit of convincing. Not every client will do that." After a pause to consider, they came around, and now it's one of the most memorably elegant spots in the house.
Designer: Molly Luetkemeyer
Built: 1927
Before: Chintz linoleum, and a sea of brown.
After: Wiener Werkstätte patterns with Rietveld pops of color.
*This article appears in the Winter 2016 issue of New York Design Hunting.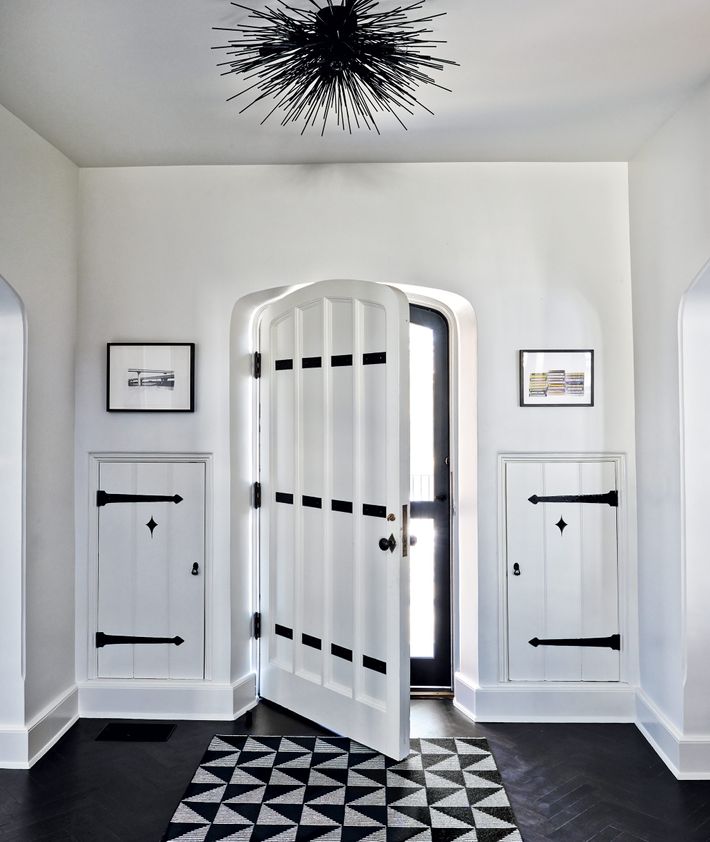 The front door is original to the house. The (new) chandelier is by Jean de Merry.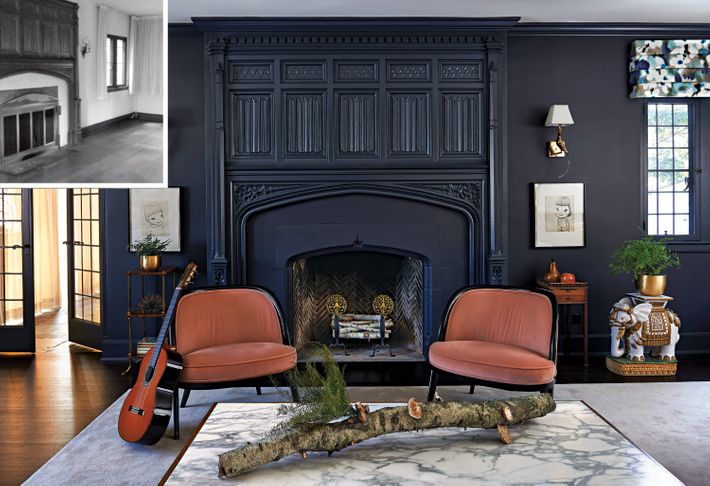 To make the formal living room feel modern, the elaborate mantel was painted in Benjamin Moore's "Abyss," matching the walls. The moody palette helped make the couple's art collection pop, and window treatments in Rubelli's "Orchidea" fabric soften the complex moldings. The drawings flanking the fireplace are by Yoshitomo Nara, bought from Marianne Boesky Gallery. The andirons (inherited) and sconces (purchased) are vintage.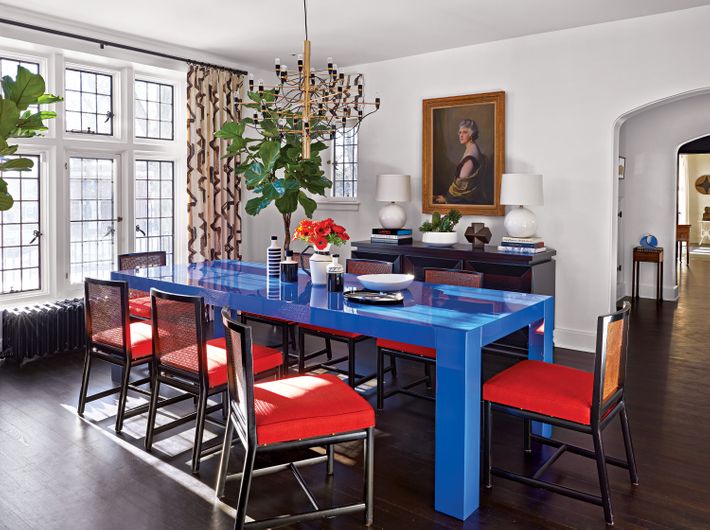 The light fixture is a 2097/30 Chandelier by Gino Sarfatti. A Philip de László portrait of Fritz's great-great-grandmother Florence Sheftel oversees dinner. Vintage Michael Taylor for Baker chairs are paired with a custom table by Wolfgang Pflanzl of Hooked on Wood. To get a durable high-gloss finish on the table, Pflanzl used polyester paint made for carnival rides.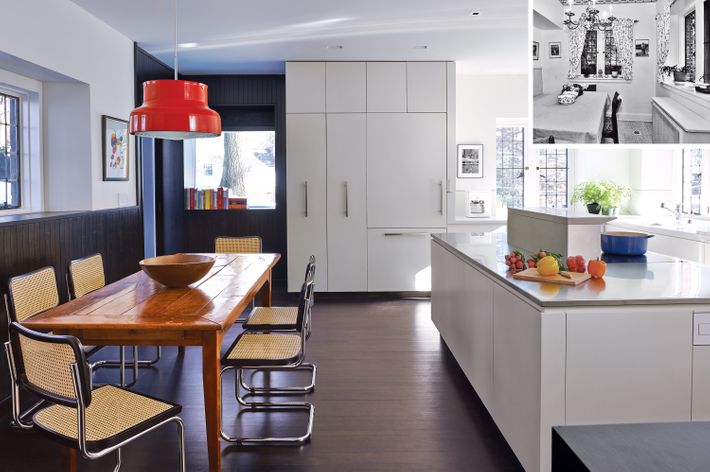 What's now the kitchen was originally a pantry, a kitchenette, and a breakfast room. The countertops are stainless steel; the rough-hewn table plays nicely against the Machine Age polish of the Breuer chairs.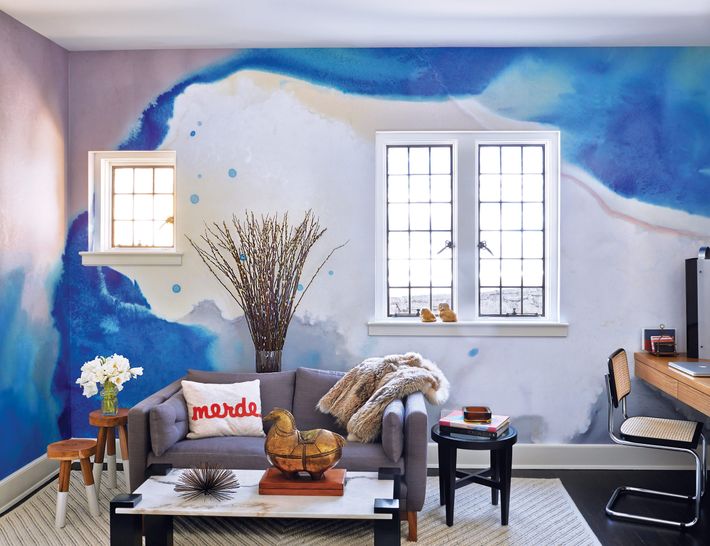 The awkwardly placed windows in Lee's open office called for something creative. Wallpaper from Black Crow Studios, custom-designed to fit around the two openings, is commanding but not overpowering.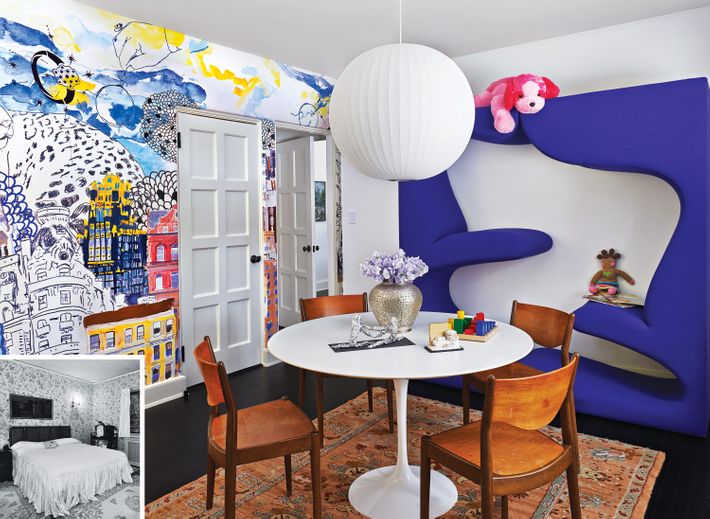 The wall-mounted Verner Panton Living Tower, in squishy violet, gets extensive use in the playroom, where it acts as a landscape for creativity, naps, and homework. "The girls practically live in it," Luetkemeyer says. The mural is by Rebekah Maysles for Anthropologie.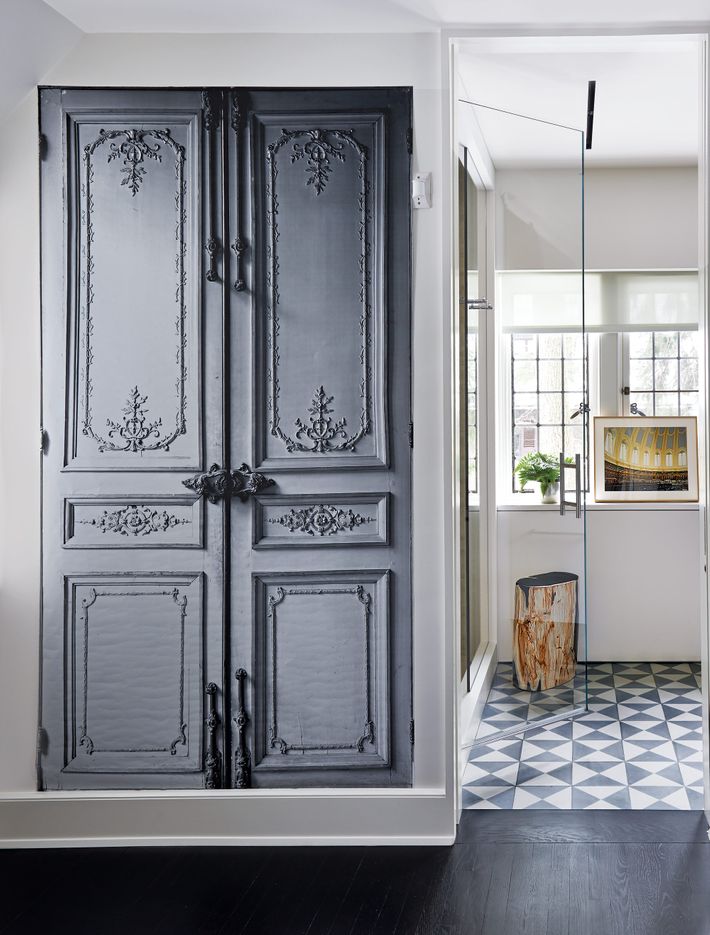 That's no armoire; it's a trompe l'oeil door on a decal by Maison Martin Margiela for L'Atelier d'exercices. The seat outside the shower is a polished hunk of petrified wood.