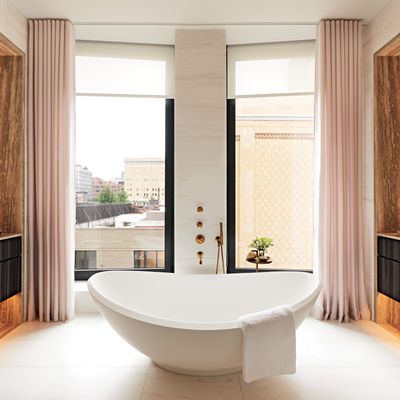 A bathroom in 505W19, a new building near the High Line.
Photo: Annie Schlechter
"Luxury for New Yorkers is essentially space and light," says architect Thomas Juul-Hansen. "And that translates into spaces where one doesn't necessarily think about that, like bathrooms." He gestures toward the two ten-story buildings he has going up on either side of the High Line. Their common entrance is directly beneath the black steel trestle, and from the lobby you can look through a glass skylight and see the raw structure above.
The bathrooms he's talking about in the building, which is called 505W19, have eight-foot-tall casement windows that make the city beyond a living wall of changing light and activity.  A freestanding bathtub is surrounded by a radiant-heated floor, and two vanities ensure that the lucky couple will not have to duke it out for toothbrushing primacy in the morning. There's a lot of glass, and, "of course, privacy for some is an issue," Juul-Hansen muses. "There are shades and curtains, and they deal with that. But imagine starting the day in a bathroom that is just covered in light." Not so hard to do.
The countertop's travertine, in a shade called Stormy Grey, was also used on the surrounding walls. The black-glass cabinetry and custom top were designed by Juul-Hansen. The draperies were custom-made by Erik Bruce (you can meet him here) from Pollack fabric, with privacy roller shades by Lutron. The faucets and towel are from Waterworks. The small bath table is from Restoration Hardware. Wet feet will never get cold on the Nuheat radiant-heat floors. Across from Rapsel's Lavasca Mini tub, there is a honed Stellar White marble-slab floor and shower stall (not shown) with fluted-glass shower doors framed in black anodized aluminum.
*This article appears in the Winter 2016 issue of New York Design Hunting.