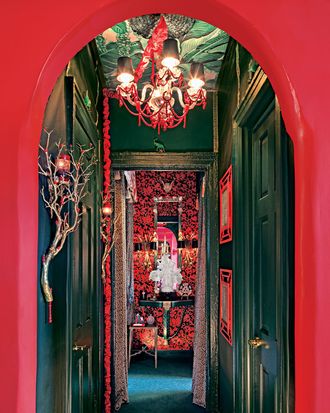 The walls are upholstered in iridescent taffeta and the ceiling is covered in Dorothy Draper's Brazilliance pattern.
Photo: Floto+Warner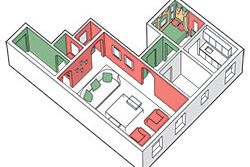 Interior designer Brett Leemkuil says that at a young age, he already had somewhat of a maximalist sensibility: "My childhood bedroom was a symphony of golds, yellows, browns, and had a feature wall of treillage Mylar wallpaper." Today, he lives in a 465-square-foot Sunnyside, Queens, studio apartment that feels out of a different place and time.
The designer turned the dining alcove into a bed lair by layering fabric and mirrors over jewel-tone-painted walls throughout, and treated the space like a theater set: The walls, upholstered in malachite sheeting fabric designed by Hutton Wilkinson for Home Shopping Network, are also hung with leopard rayon velvet backed with coral shantung silk — but the sheeting fabric doesn't back the entire wall; it just covers what is visible to the eye. The central mirror (which Leemkuil picked up off the street, painted Kelly green, then glazed in a soft gold) is flanked by four other mirrors that he bought at his local 99-cent store, which, he says, "help create that feeling of openness and grandeur."
Leemkuil, who considers himself "an old-school, hands-on decorator," has spent years digging through flea markets and junk shops and found the 19th-century Chinese pith paintings — which he framed and hung in his foyer in their original glass-fronted boxes — while rummaging through bins at the 26th Street flea. And he trawls eBay to find more Culver barware in his favorite mushroom pattern. Leemkuil has created a bar worthy of Nick and Nora Charles from The Thin Man, which he made by removing the shelves of the entrance-hall coat closet and adding reverse glass paintings, framed petit point, and rope trim. Leemkuil says he lives by the late Hollywood design icon Tony Duquette's mantra, "Beauty, not luxury, is what I value," though he didn't actually visit Duquette's Beverly Hills home, Dawnridge, until a few years ago. "Becoming aware of Tony Duquette confirmed I wasn't out of my mind. Going to Dawnridge was like coming home for me."
*This article appears in the November 16, 2015 issue of New York Magazine.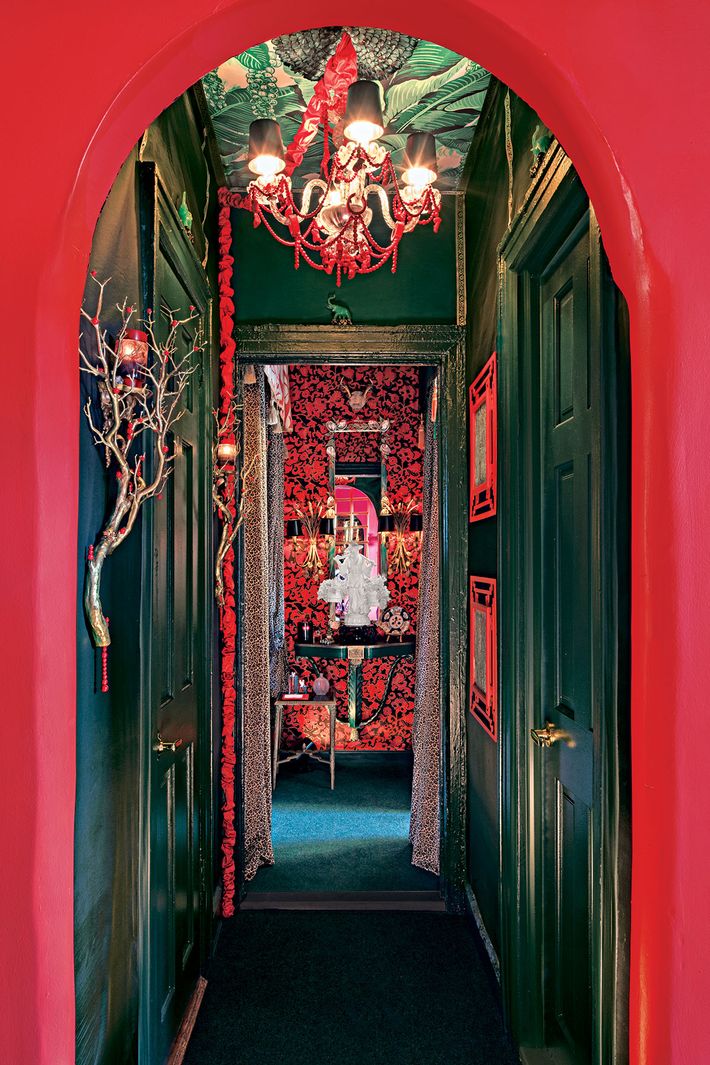 The Center Hall
Brett Leemkuil upholstered the walls in iridescent taffeta and covered the ceiling in Dorothy Draper's Brazilliance pattern. The chandelier's Indian-sari embellishments were found at Daytona Trimmings in the Garment District.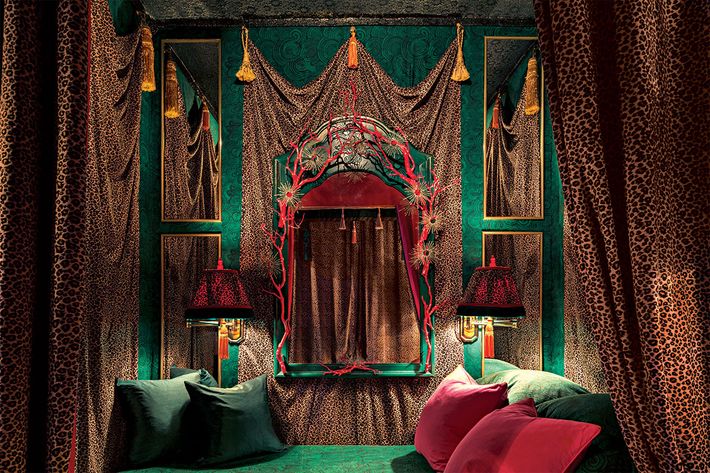 The Sleeping Nook
"This is a fantasy setting meant for dreaming," Leemkuil says. He painted the manzanita branches in rich coral and adorned them with glittered starbursts.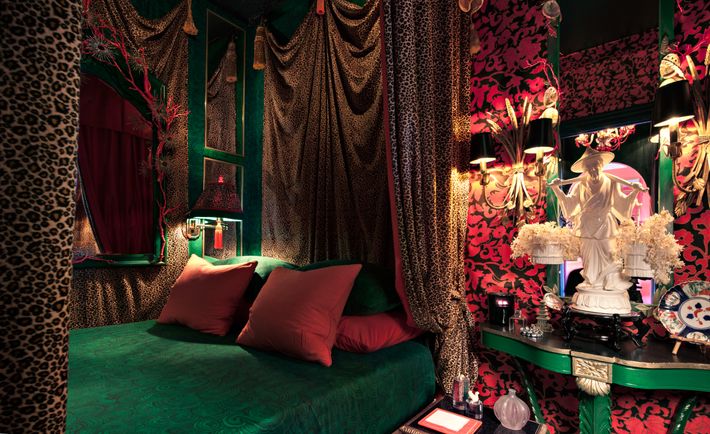 The Sleeping Niche
"The mirror over the console was found on the street and painted and glazed, while small abalone shells, gold plastic leaves, and painted manzanita were used to embellish the frame," Leemkuil says. "A pair of gilded deer antlers act as a finial. And I found the console below the mirror, as well as the vintage sheaf of wheat Italian sconces, in a Phoenix, Arizona, antiques collective."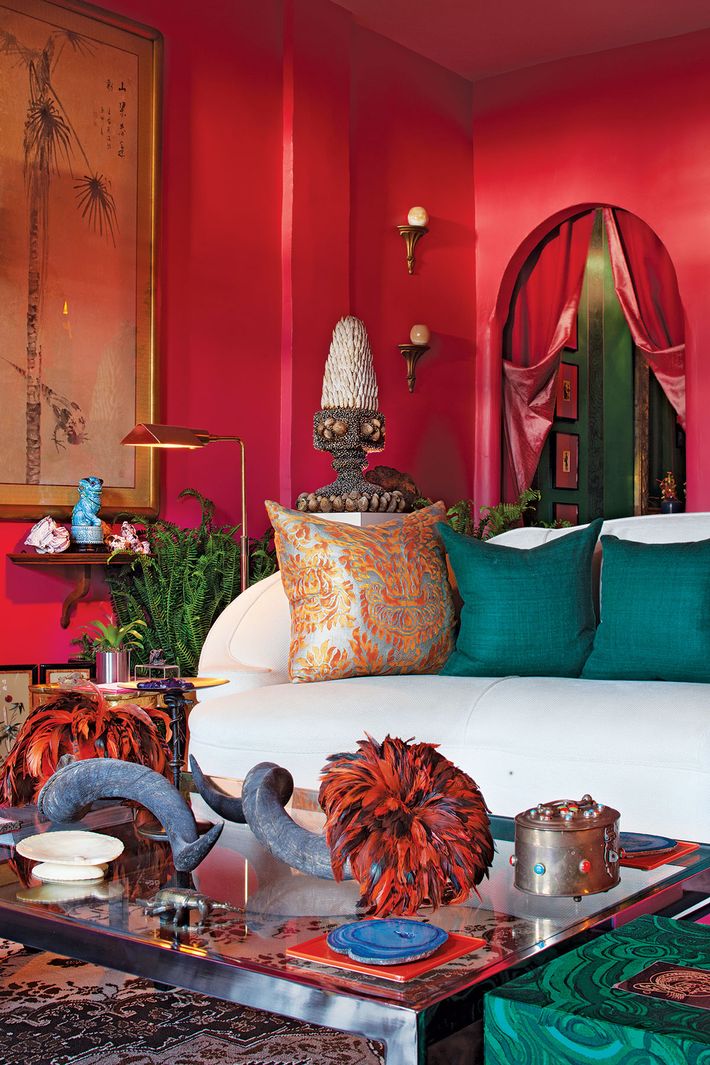 The Living Room
The sofa and Tabriz carpet were from a Doyle auction. The glass-and-chrome coffee table is vintage '70s, and the standing brass lamp by the sofa is Koch & Lowy.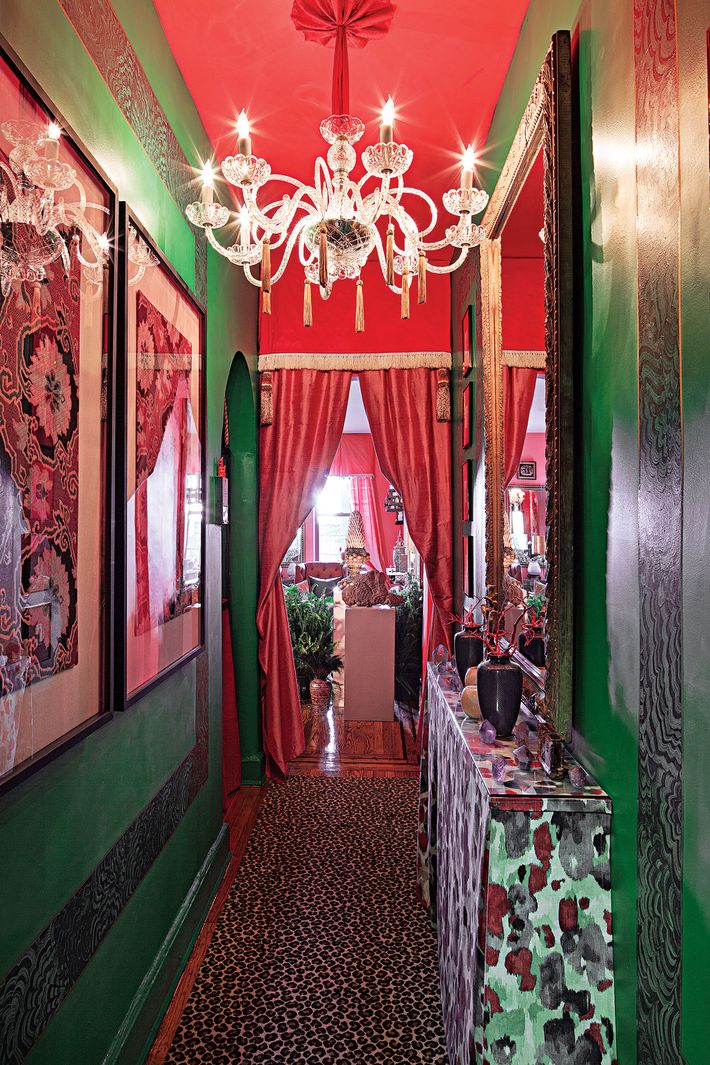 The Entrance Hall
"I love large-format pieces in a small space," Leemkuil says of the chandelier, mounted Japanese textiles, and mirror surrounded with 19th-century Chinese pith paintings.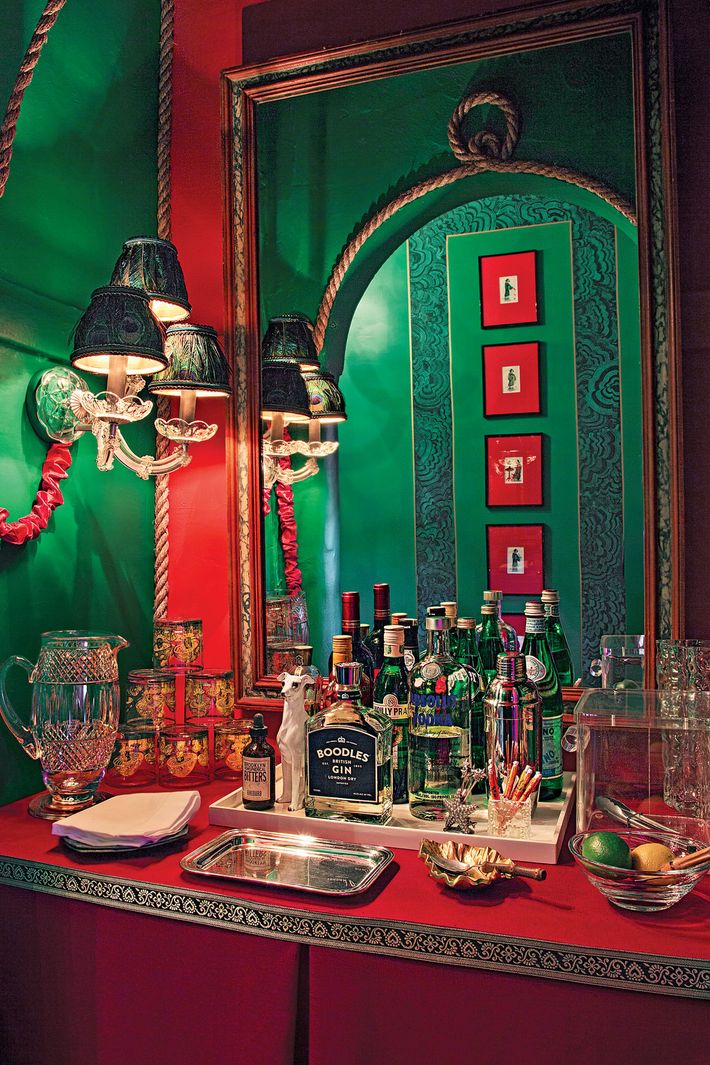 The Bar
"My whippet on the tray is named Bachelor. I bought him at an Astoria antiques store. He's very low maintenance."