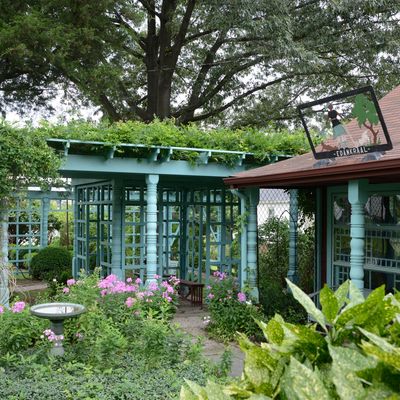 The one-room cottage was a refuge where Anne Spencer wrote her poems.
Photo: John M. Hall
Harlem Renaissance poet, teacher, and activist Anne Spencer lived in Lynchburg, Virginia, where she and her husband, Edward, created a house and garden that welcomed luminaries including Dr. Martin Luther King and W.E.B. Du Bois. It is now open for the public to enjoy.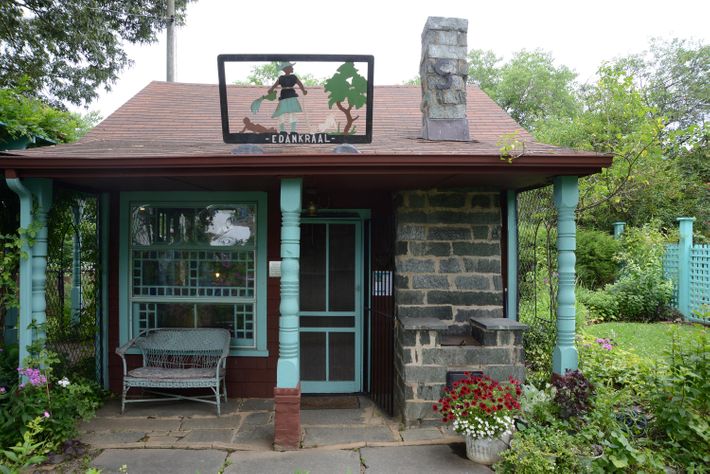 "Nothing was untouchable," says Shaun Spencer-Hester of her grandparents' house and garden and their garden cottage, Edankraal. As kids, they were allowed to sit on or play with anything. The cottage, shown here, was built by Edward, her grandfather, for Anne Spencer, her grandmother; the name Edankraal is a combination of Anne's and Edward's first names with the suffix -kraal, which in Afrikaans means corral. "Edward built Edankraal sometime in the '20s," using discarded objects and pieces of architecture, Spencer-Hester says. "Things didn't match, but they worked."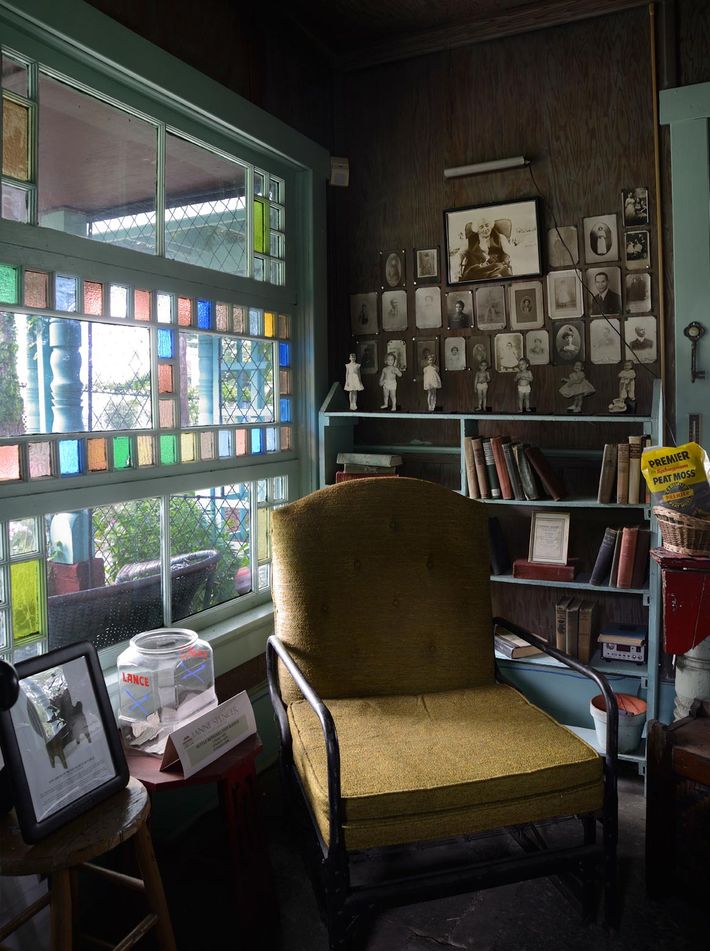 The one-room cottage was a refuge where Spencer wrote her poems, some of which include "Any Wife to Any Husband," "Black Man O' Mine," "Big Ditch and the River," "The Wife-Woman," and "White Things." Her archives live at the University of Virginia. Spencer, along with NAACP secretary James Weldon Johnson, helped co-found the Lynchburg chapter of the NAACP in 1918, and it was Johnson who discovered her poetry and worked to get it published.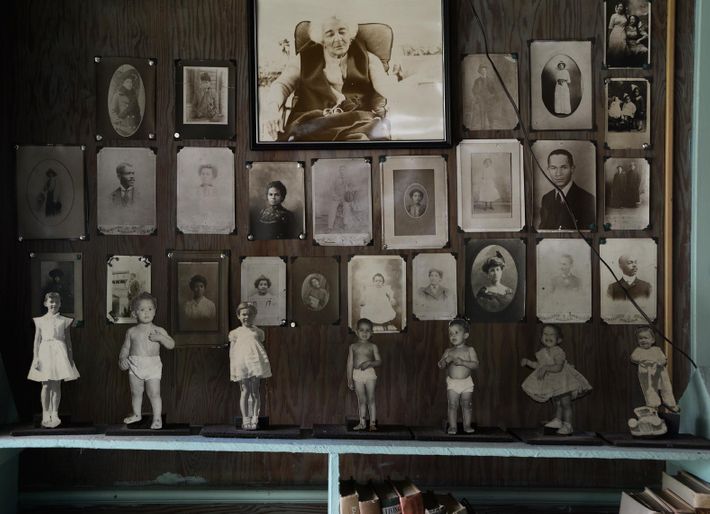 Edankraal also features a treasury of Spencer's photographs of friends and family; her grandchildren were given pride of place. One photograph of Spencer later in life has her presiding over her flock.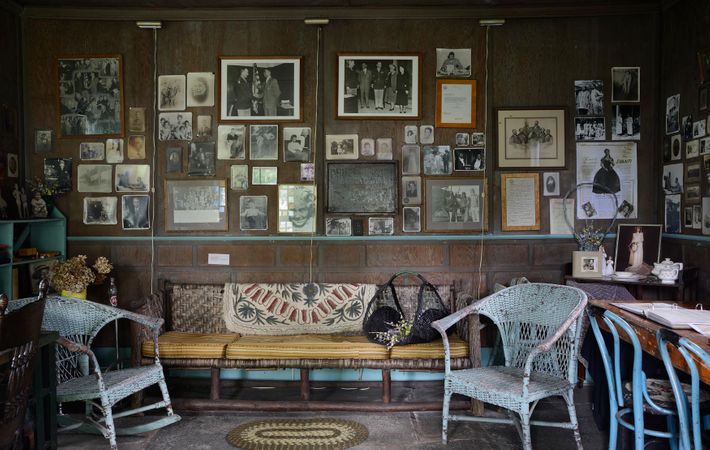 Pictured here is the other side of the cottage room, with a bit of Spencer's desk seen on the right and more family photographs. Anne and Edward raised three children here: Bethel Calloway, Alroy Sarah, and Chauncey Edward Spencer, Spencer-Hester's father, who served in the military during World War II and was active in creating the National Airmen's Association of America, a precursor to the Tuskegee Airmen. Anne Spencer was the librarian at the Dunbar High School in Lynchburg from 1924 to 1946, during which time she hosted major literary and civil-rights leaders.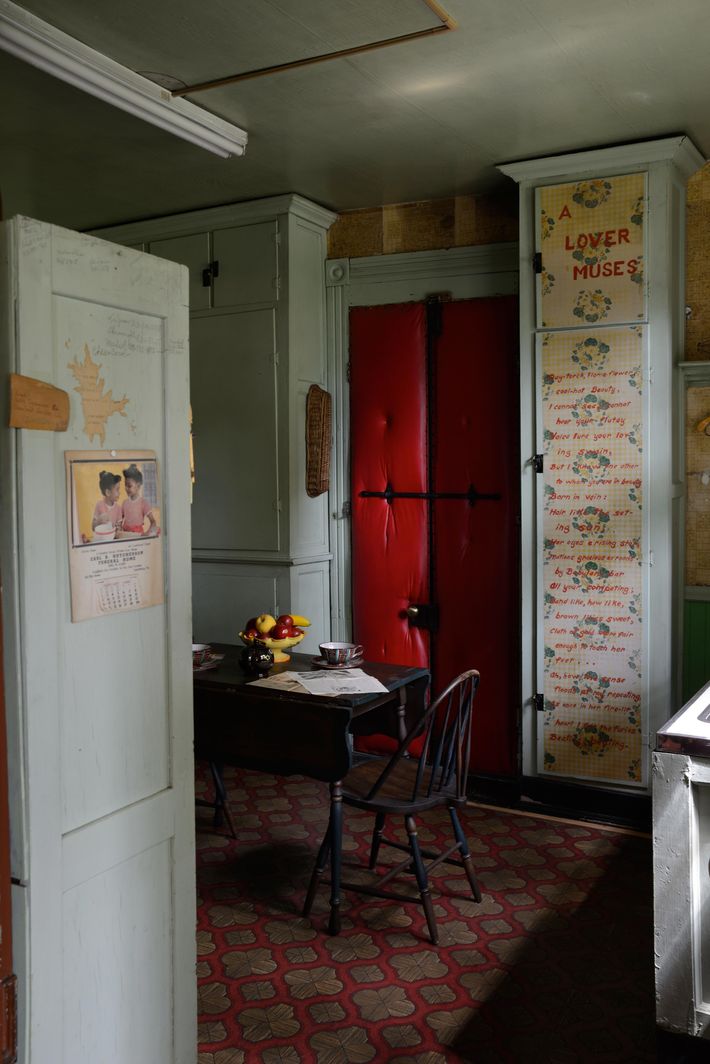 The kitchen in the main house is also embellished with found objects. The red door was a discard from a local movie theater. What appears to be a strip of wallpaper is actually a poem of Spencer's painted on the wall by modernist architect Amaza Lee Meredith (1895–1984), who also made the Edankraal sign and was key in building an African-American development in the Hamptons in the 1930s and '40s.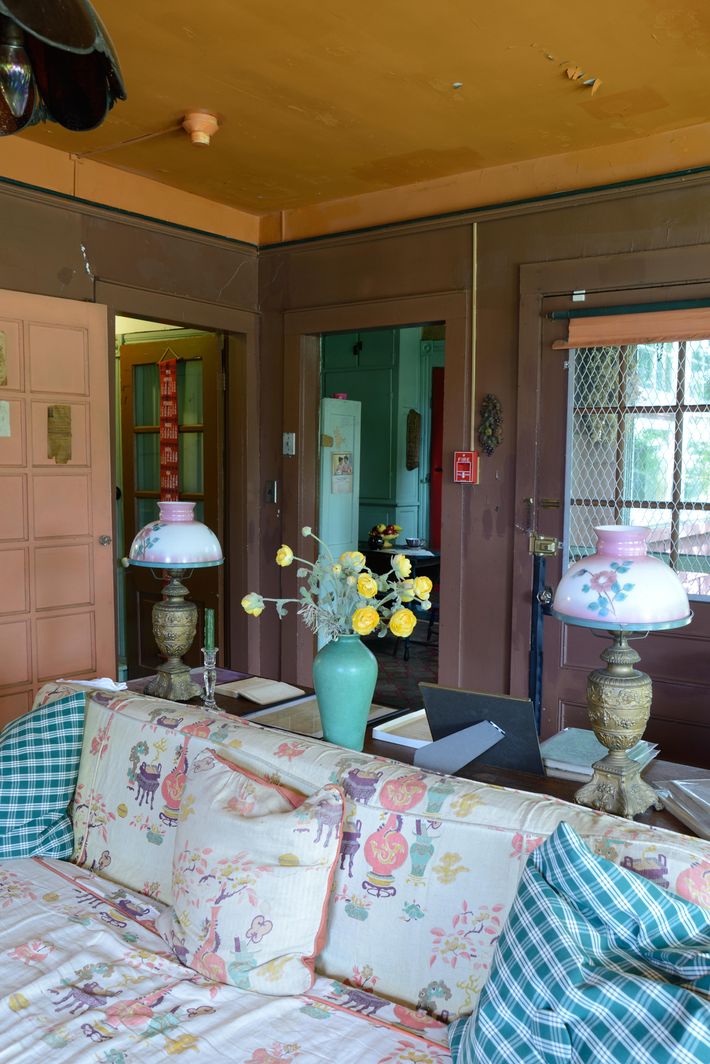 Here is the living room of the main house. "When I was a kid," Spencer-Hester says, "I appreciated the artistic thing about the house — all the colors and the patterns and the textures. And what my grandmother wore was just as beautiful. One of the things I really admired about her was that the ribbons in her hair — she had two pigtails — none of them ever matched."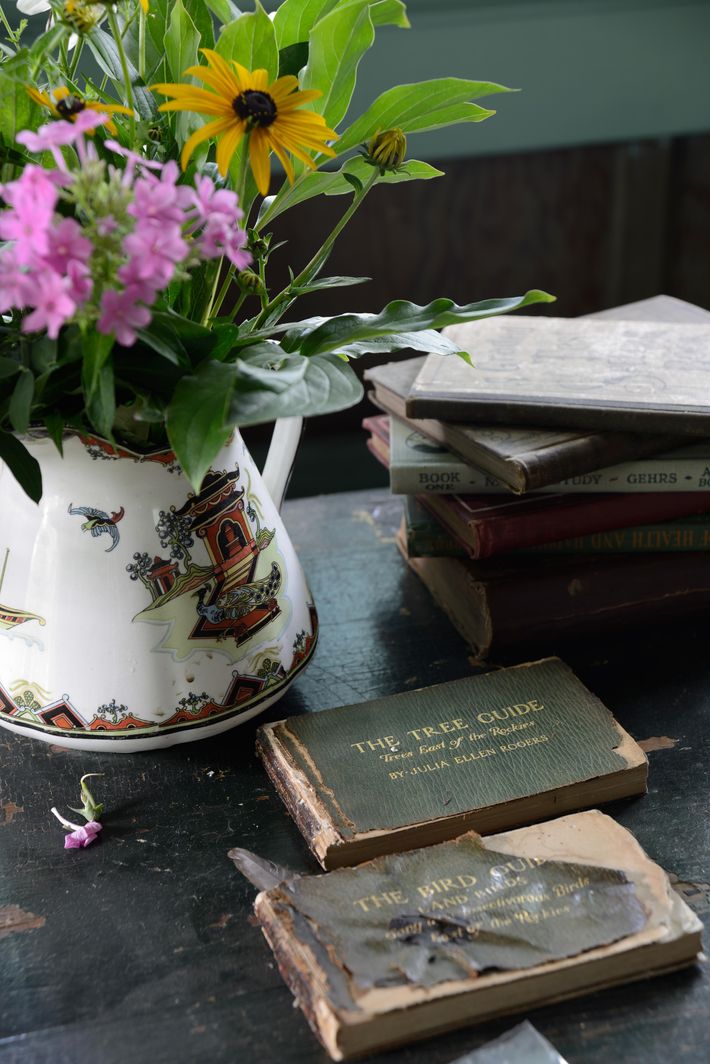 Some of Spencer's gardening and poetry books are still in place in the house.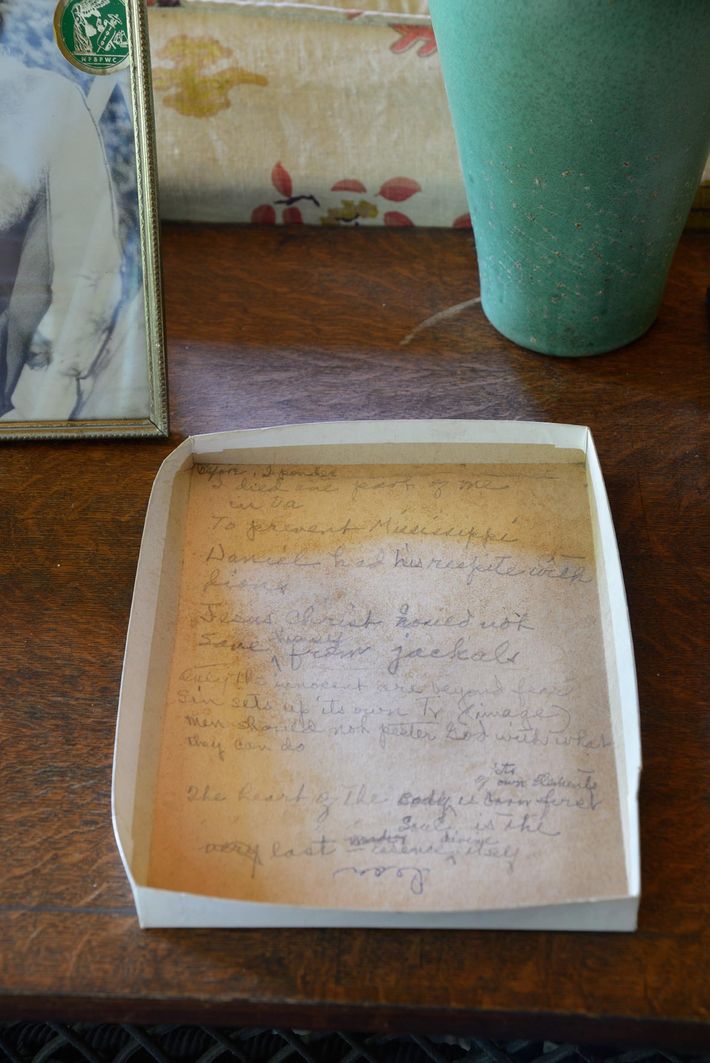 Nothing was off-limits when inspiration hit. Spencer wrote her poetry on anything she could find, including the tops of boxes.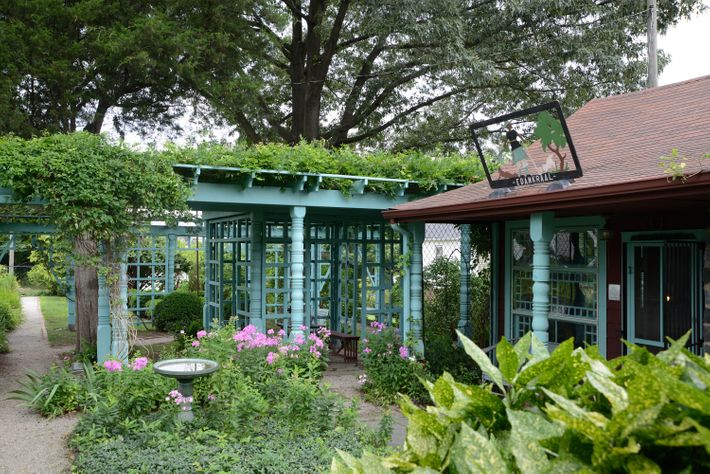 Spencer-Hester recalls that her grandparents loved to garden together. "When they were first married," she says, "my grandfather worked for the railroad. And I recently found that he had a little pocket booklet that they gave to people who worked on the railroad, the porters, with places that you could go and see in the locations they were traveling to, and in that book he had marked and circled all of these gardens and all of these museums. He was going there for ideas, and bringing those back to the house."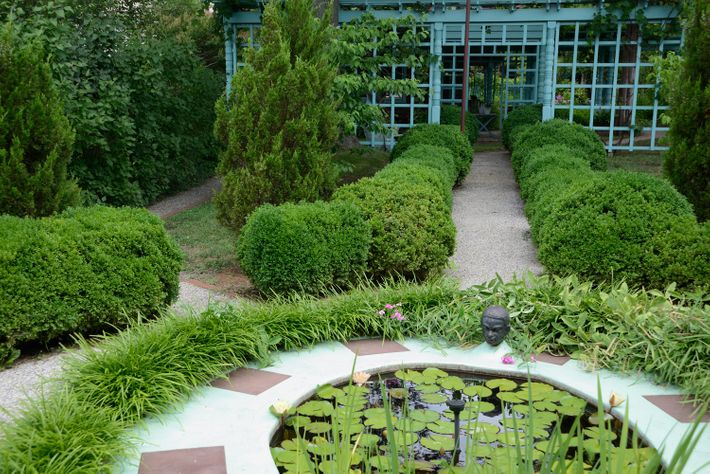 The garden pond created by Anne and Edward gave particular pleasure to all the grandkids. "My grandfather originally made the fountain in the pond by installing an old showerhead," Spencer-Hester remembers. "The pond was filled with big goldfish. Our goal as kids was to see who could touch the fountain without falling in, and I only ever remember one of us falling in and that was my brother Joel, and we had to sneak him in the back door to change his clothes without my grandparents knowing."