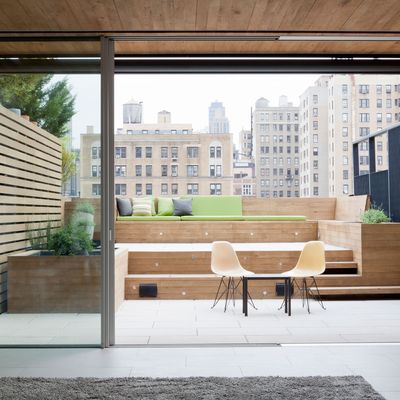 "We started the project in 2010," says Virginia Kindred, a founder of Redtop Architects.
Photo: David Gilbert
After endless delays, a couple's Upper West Side terrace project was finally realized. And they added another floor in the meantime.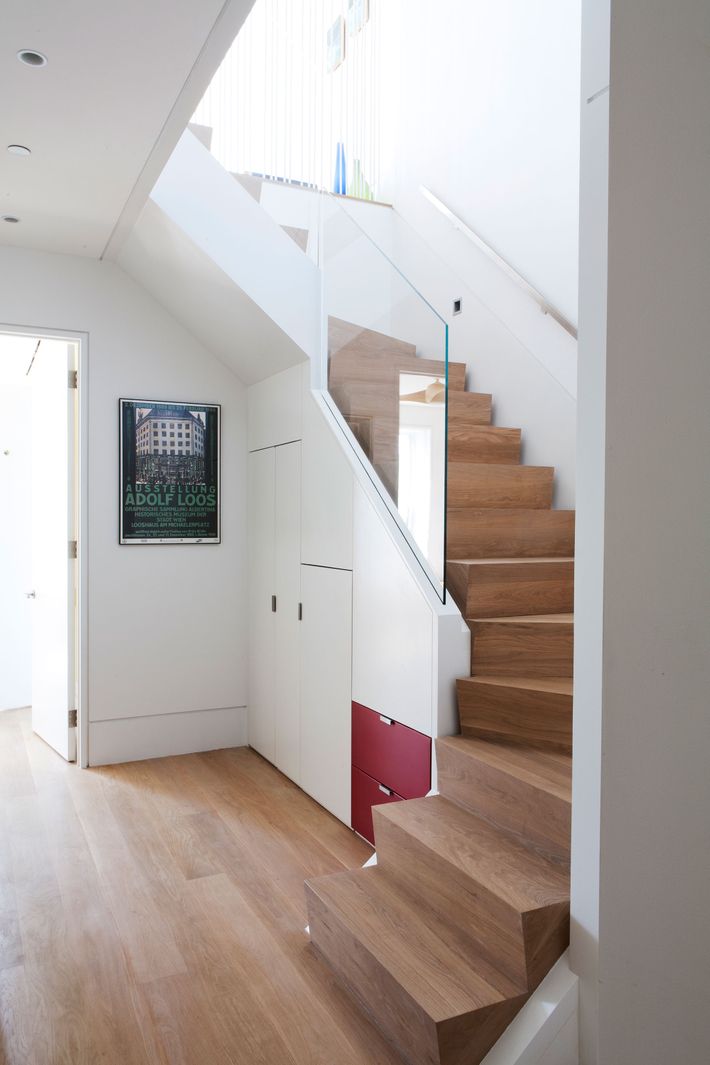 "The silver lining of this terrace project taking so long," says Virginia Kindred, who, along with Amy Shakespeare, is a founder of Redtop Architects, "was that the apartment below the duplex we were working on became available — and we were able to create a triplex." Shown here is the triplex addition. The glass-sided staircase and storage space underneath is typical of Redtop's no-nonsense modernism.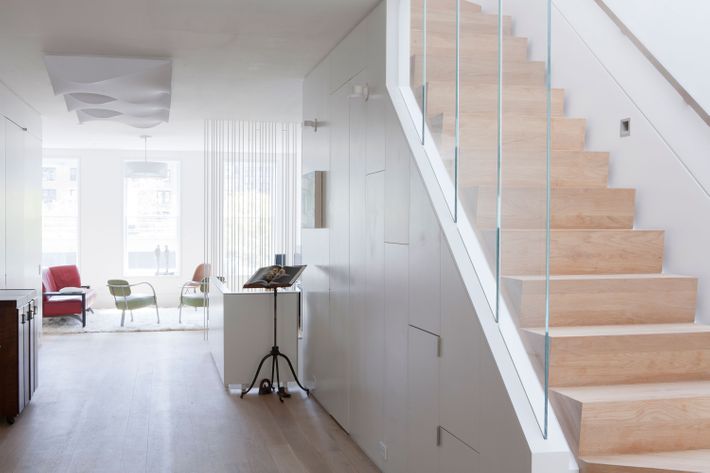 Here is the second floor, with a view toward the living room and the staircase, also enclosed with glass panels. Light flows through the space thanks to the pale reflective surfaces and the ceiling light fixture, a series of three "Nelly" designs placed consecutively, by Axo lighting.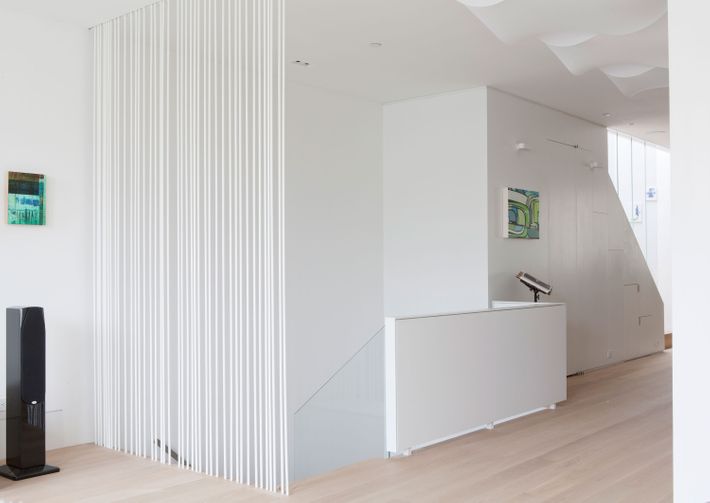 The view from the living room toward the open space leading to the kitchen. A panel of white-painted steel rods acts as a wall between the floor and staircase.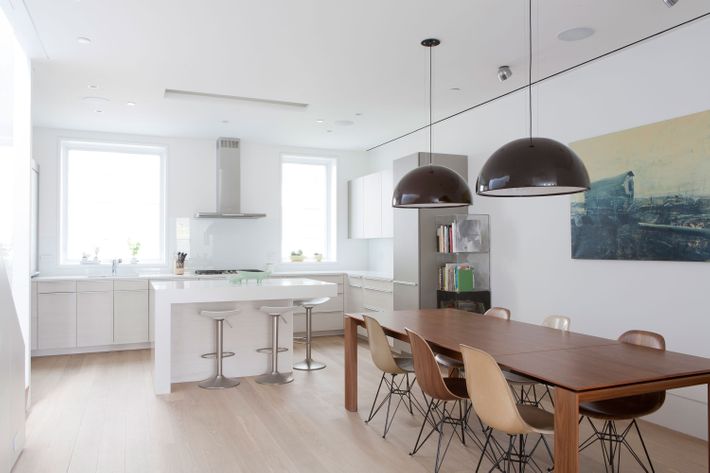 The existing kitchen was a hemmed-in affair, with a countertop separating it from the living room. The new kitchen by Poggenpohl is an open room where dining and cooking are seamlessly integrated, with breathing room to spare. The original windows were replaced with Pella windows to comply with landmarks.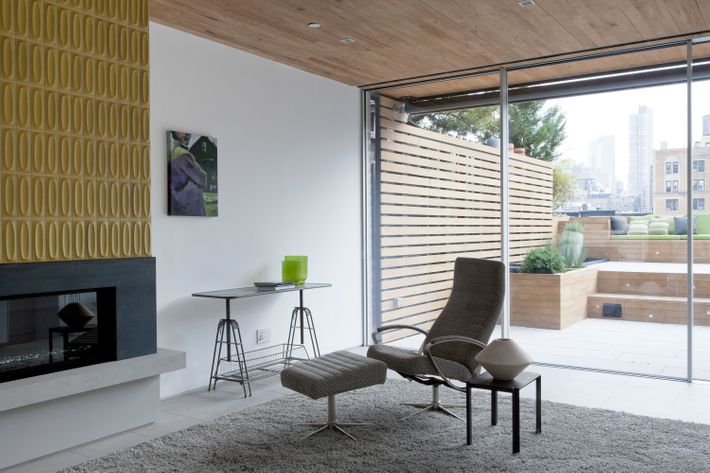 "Getting a variance to allow the new penthouse to be built is what took the longest time," Kindred explains. The owners thought, since their neighbors were able to do it, that they wouldn't have any trouble building a terrace; it ended up taking them two years to get variances from the Department of Buildings. "We started the project in 2010, and we are actually still working on some of the final items and closing out the job with the contractor," Kindred says. This pared-down room features a fireplace with tiles by Montigo.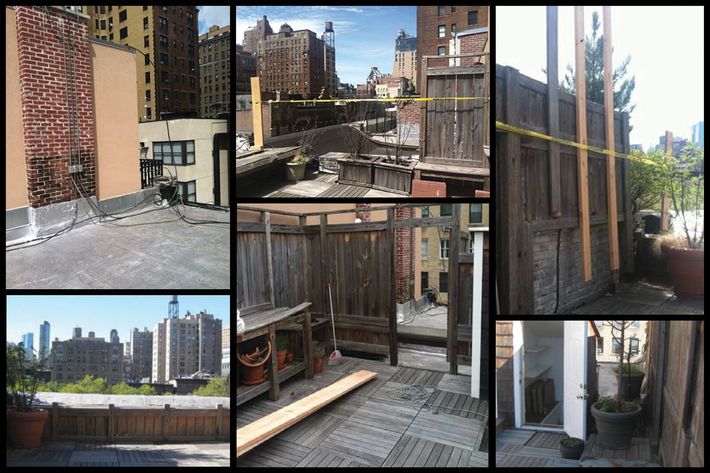 These before photos, shown here, are of the rooftop, which had been accessed by a bulkhead with a pull-down ladder from the fourth floor. The wood deck was old, and the planters were falling apart. "One of the first things we needed to do," Kindred says, "was take off the entire roof in order to restructure it."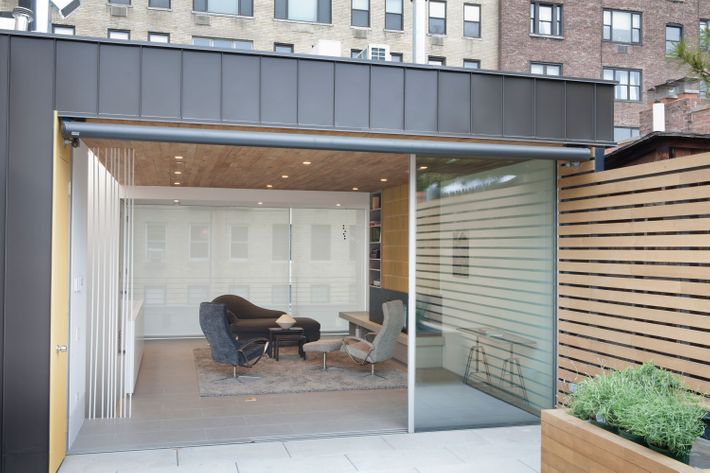 The ceiling and wood fence of the penthouse are reclaimed butternut wood. "There is kind of a funny story about the wood ceiling," Kindred says. "The first time we presented our plan to the owners, there were a few moments of silence looking at the renderings, and the husband commented that it looked old-fashioned. We've never been called old-fashioned before, so this was hilarious to us, and it became a running joke in the project. Also, as you can see, we convinced him that the wood ceiling was not old-fashioned but rather timeless."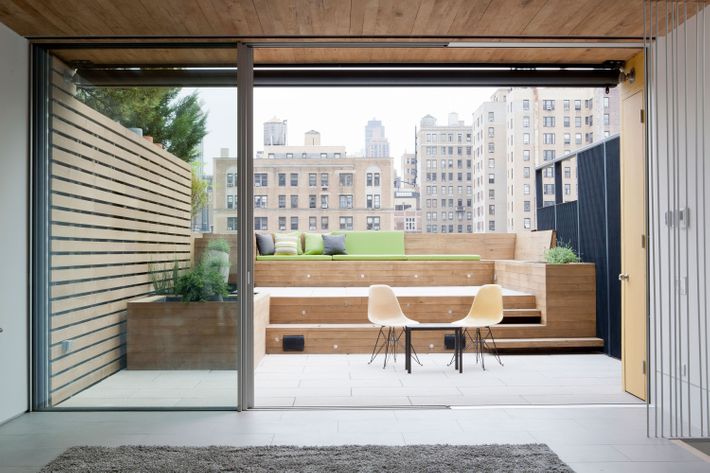 The final roof deck before all the planting had been completed; it now includes lavender and wisteria vine, "both of which are thriving in the micro climate of this roof, which receives abundant southern sun year-round," Kindred says. "The owners wanted plant varieties that would be easy to maintain given their travel schedules." She adds, "The garden is also currently inhabited by a several-hundred-pound concrete garden gnome, paying homage to the owner's Swiss heritage."