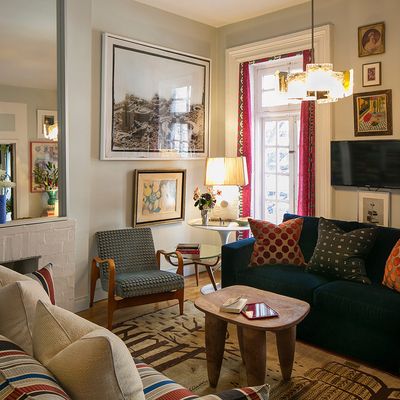 Interior designer Brock Forsblom and his boyfriend are moving out of their perfect Greenwich Village apartment.
Photo: Courtesy of Koitz
I ran over to interior designer Brock Forsblom's apartment when he told me that he and his boyfriend, Australian-born activist and Purpose founder, Jeremy Heimans, were moving owing to the plundered Bowlmor Lanes next door, which is making way for a 23-story condo where one-bedrooms will go for $2 million. "With the promise of two years of excavation and construction, we decided to move," Forsblom says. "It was all too much!" Luckily, I got a peek at the charming apartment before the moving trucks arrived.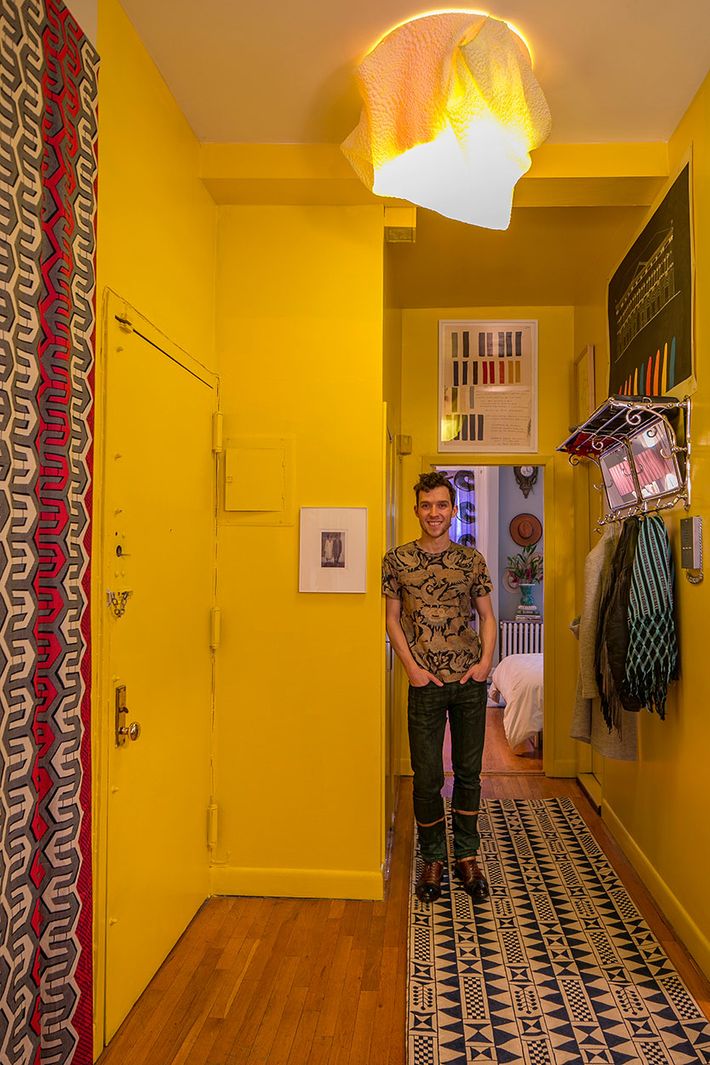 Forsblom, pictured here in the entrance hall that he painted a shade of "Van Gogh yellow that didn't go over that well." Forsblom says, "Jeremy is more of a sleek, cool, global-culture-chic kind of guy. He thought this was too primary-school. I think it's divine."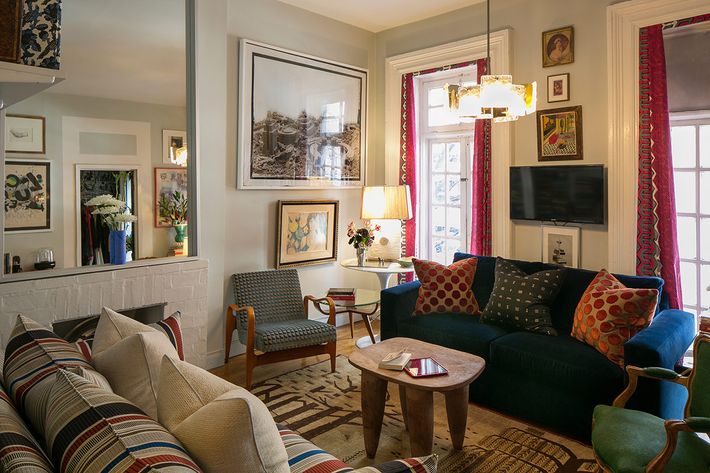 Forsblom moved in six years ago, after Heimans had already spent two years living in the apartment with a roommate. The two of them didn't care much about the décor — Forsblom describes it as being a "townhouse parlor-floor dorm." The living room today includes a blue velvet sofa from Room and Board and a Louis XV–style armchair on the right, which Forsblom painted green (it originally was covered with an ugly tapestry pattern) using textile paint. The wood coffee table is from Côte d'Ivoire, and Brock made the curtains and portiere with African Holland wax-resist fabric.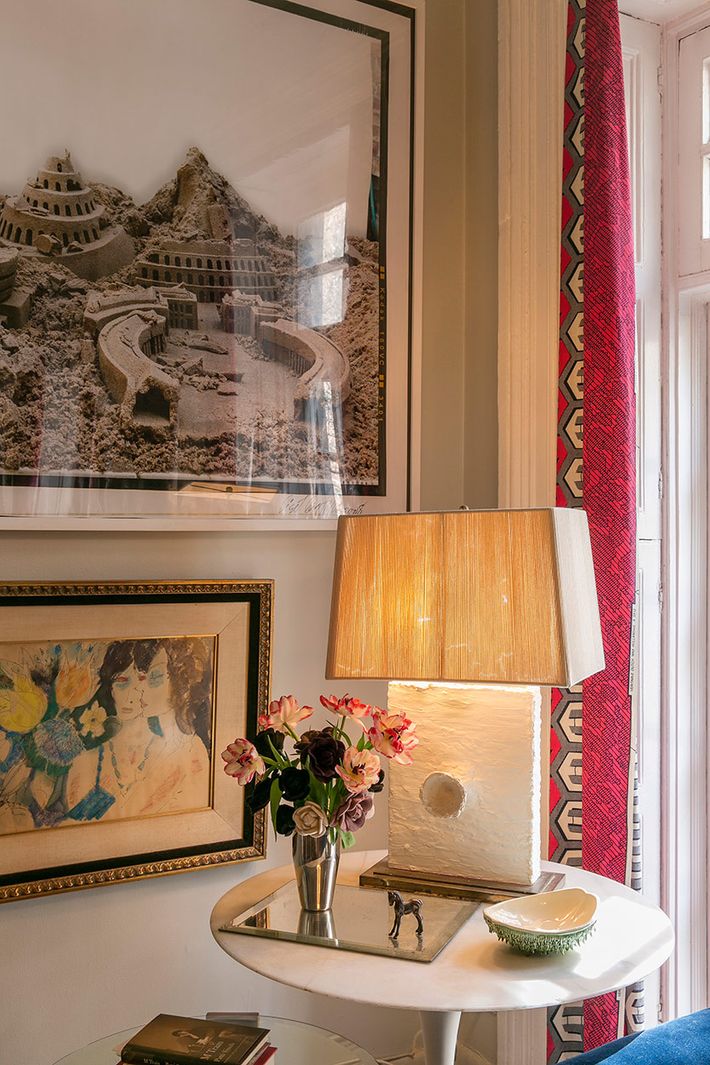 The original state of this lamp in the living room (which sits on a Saarinen table) was so unacceptable to Forsblom that he plastered the base, and added a slightly off-center martini glass, which also got plastered.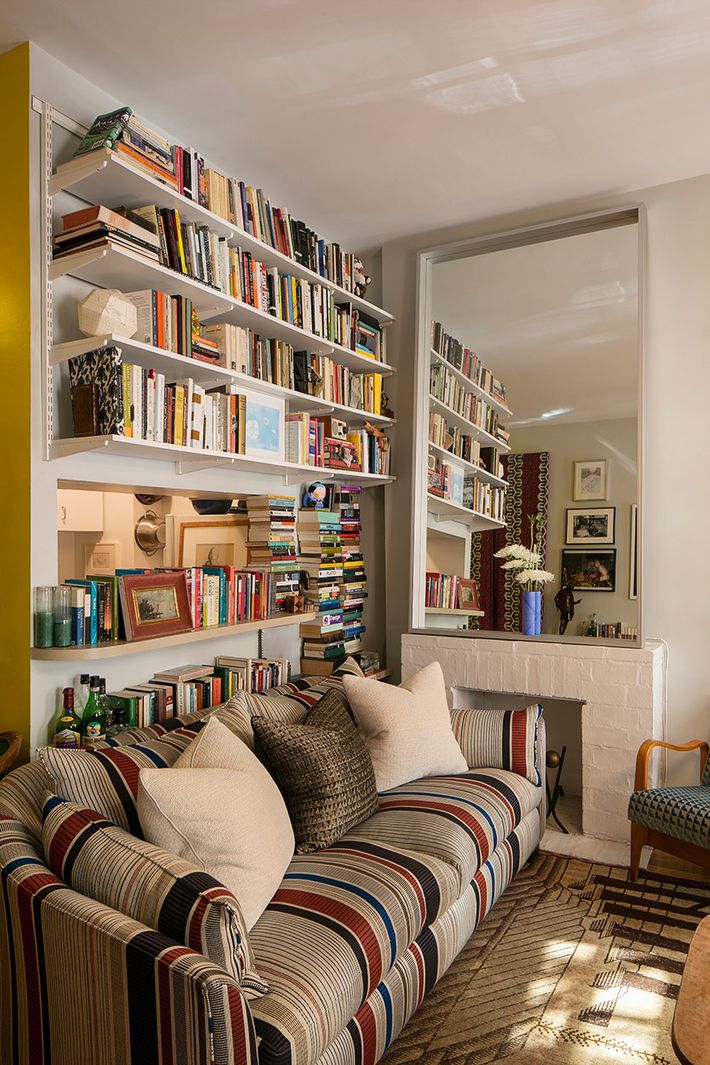 The opposite side of the living room, with a pass-through to the kitchen, has a deep, comfy sofa from Montauk Sofa upholstered in a Paul Smith fabric from Maharam. Forsblom "precariously" installed Elfa bookshelves from the Container Store. "I get accused of introducing 'old lady' ideas a lot," Forsblom says, in contrast to Heimans, who has sleeker, more modernist tastes. "But you have to hand it to old ladies — they know what's comfortable, what you actually want to sit on and touch. I like to channel them from time to time."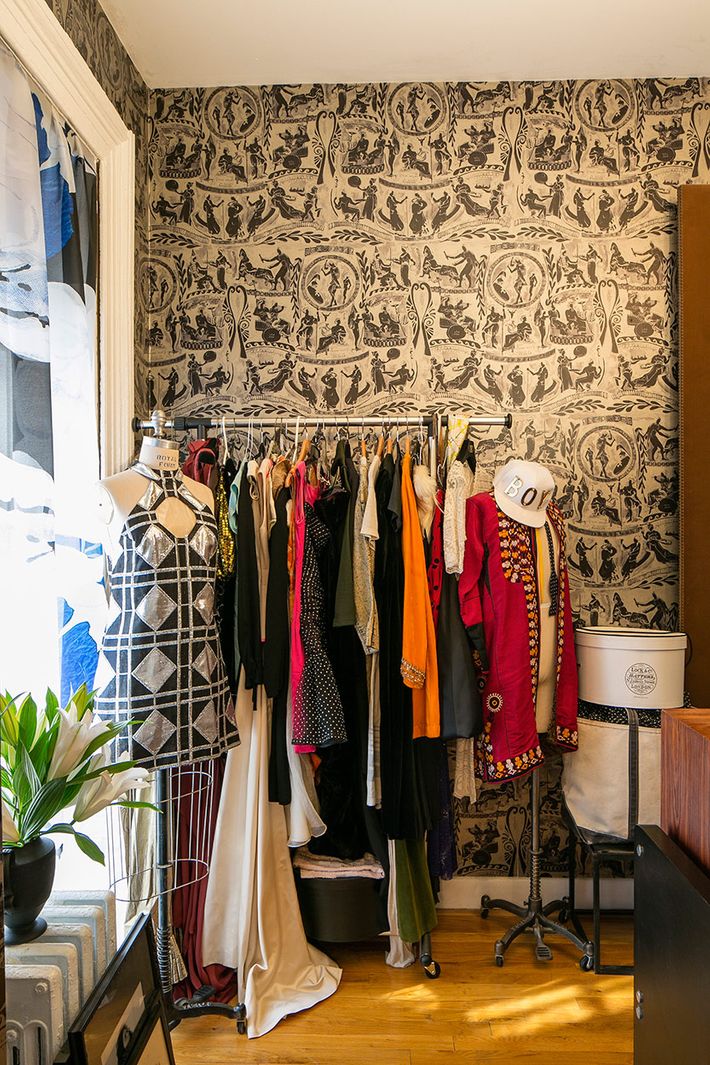 Forsblom turned the second bedroom (pictured here with "grecian urn" wallpaper from George Venson's collection for Voutsa) into a study and walk-in closet. He made the window curtains from Carolina Herrera organza fabric found at Mood Fabrics.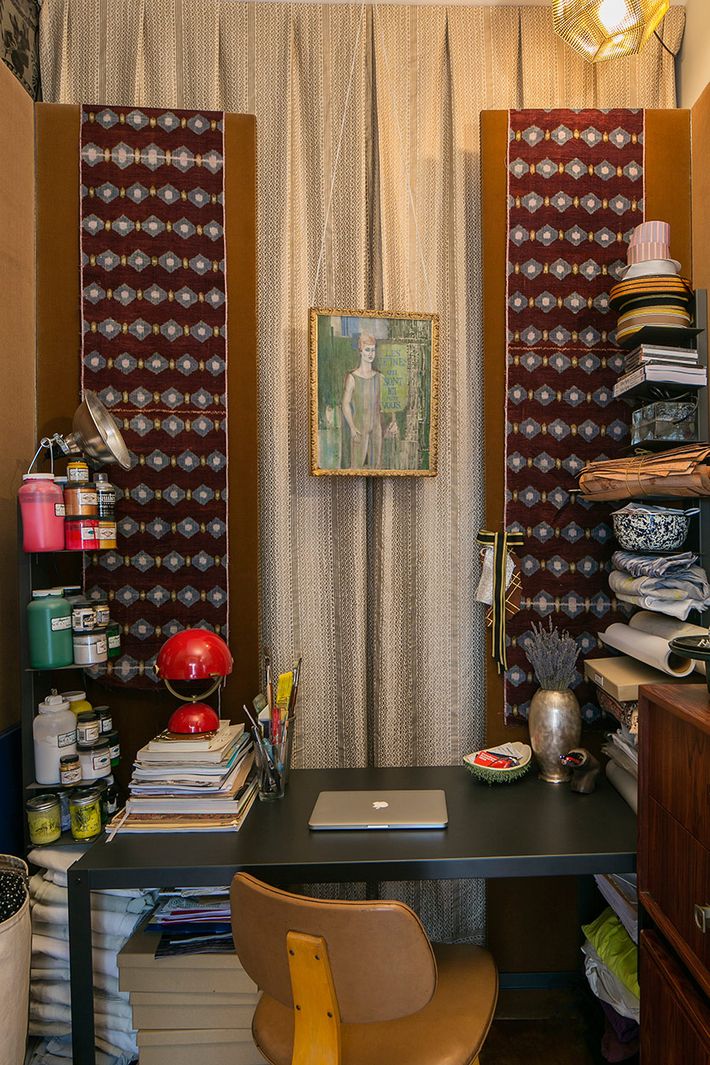 The walk-in closet, on the other side of the former front bedroom, is separated by curtains made of Fortuny fabric, which Forsblom found at the Kips Bay Show House thrift shop. Brock's CB2 desk is stationed in front of two upholstered screen panels from Donghia layered in velvet-patterned fabric from Kay Merton at the 25th Street flea market. The ceiling light is from Tom Dixon.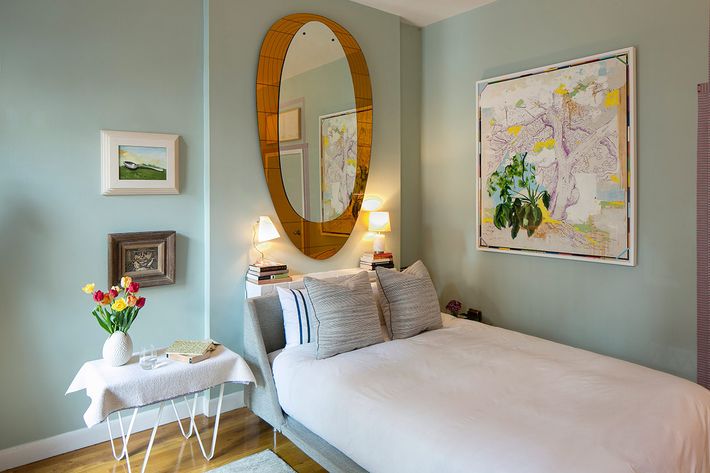 The cool, robin's-egg-blue bedroom is anchored by a bed from Blu Dot. The 1960s Italian mirror was found at Rago Auctions and the large painting is from the Patricia Mendoza Gallery in San José del Cabo. The lamps on the shelf — actually the mantel of the room's fireplace — are from Leucos (at left) and West Elm (at right).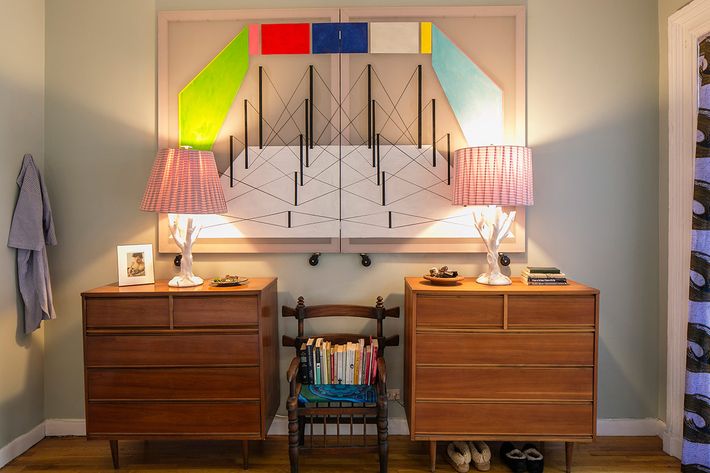 The matching dressers facing the bed were found separately: one on Craigslist, and one from Horseman Antiques. The large stadium painting is by George Venson. The lamps are from David Duncan, and Forsblom made the ribbon shades. The Chieftain Chair from Côte d'Ivoire acts as a perfect mini-bookshelf between the dressers.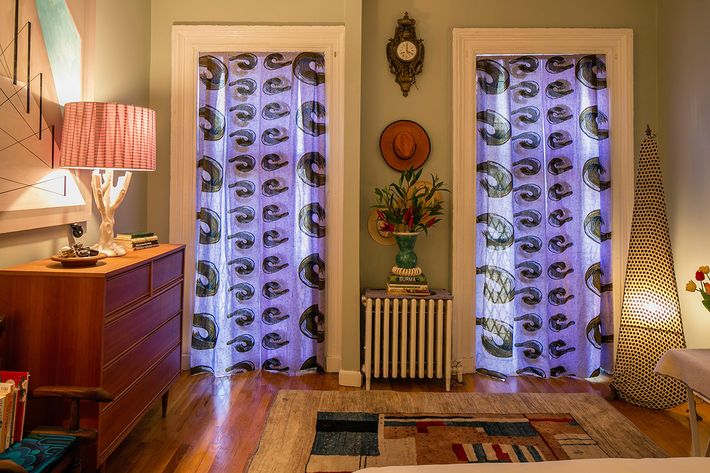 Forsblom works for designer Tony Ingrao, but he has future plans that include writing a book, and eventually starting his own practice. For now he says, "When you spend your professional life doing ultra 'done' fancy uptown billionaire apartments, to come home with a staple gun and a drill and make some curtains using $3-a-yard fabric can be better than a martini to take the edge off." Forsblom made the bedroom curtains with African Holland wax-resist print fabric.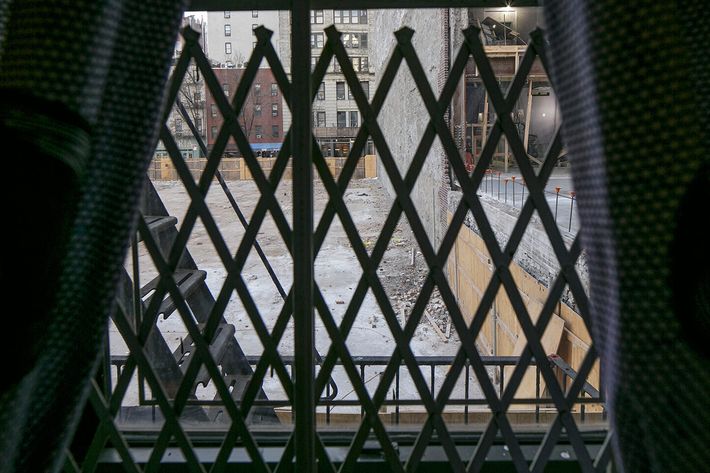 "Our bedroom windows in the back looked onto the quietest little brick wall in Greenwich Village," Forsblom says. "You could only just hear the ball hitting the pins at Bowlmor in the quietest part of the night." This is the view today, of the empty site lying in wait for its new home for millionaires, where, who knows, there might even be a bowling alley as an amenity?