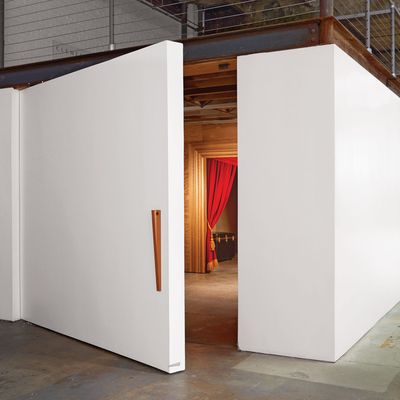 It's a theater for clothes.
Photo: Jason Schmidt
In 2006, when artist Francesco Clemente converted a former factory in Greenpoint into a studio and storage space, his wife, Alba, a costume and set designer, thought to herself, Why bother just filling it with boxes? The space, designed by architect Richard Gluckman, featured a large, empty room, the perfect spot, Clemente decided, to store her designer treasures: around 200 pieces by Jean Paul Gaultier, Alaïa, Moschino, Comme des Garçons, and others mostly from the '80s and '90s, when Clemente graced the city's most glamorous parties and was photographed everywhere she went. "I was always overdressed!" she says with a huge laugh. "It was so much fun." But Clemente didn't just want a closet; she wanted a theater for her clothes.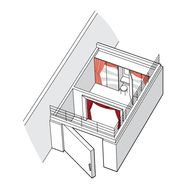 "I am obsessed by theaters," she says, and has been ever since the age of 7, when she put on puppet shows for her friends growing up on Italy's Amalfi Coast. These days, she designs costumes, for shows like Chekhov's Platonov, performed at the Kitchen, and for the New York City Opera's Powder Her Face. After asking Gluckman to draw up plans for the space, Clemente enlisted artist Jim Long to help her fully realize her vision. Long combed through photographs of theater interiors, all of them too big, until he found one that had been built in 1798 inside the palace of Caterina Cornaro in Asolo, Italy. He then installed red velvet curtains and canvas panels. To christen the studio, a performer did a burlesque show inside a balloon, and Clemente hosted her birthday there three years ago. The rest of the time, this is a sacred space where Clemente's daughters come to try on their mother's clothes as well as a private spot where she can reflect on "her most special things." "I remember every piece and why I got it," she says. "This space is like a tomb, a memory of my 35 — and I hope more — wonderful years in New York City."
*This article appears in the April 18, 2016 issue of New York Magazine.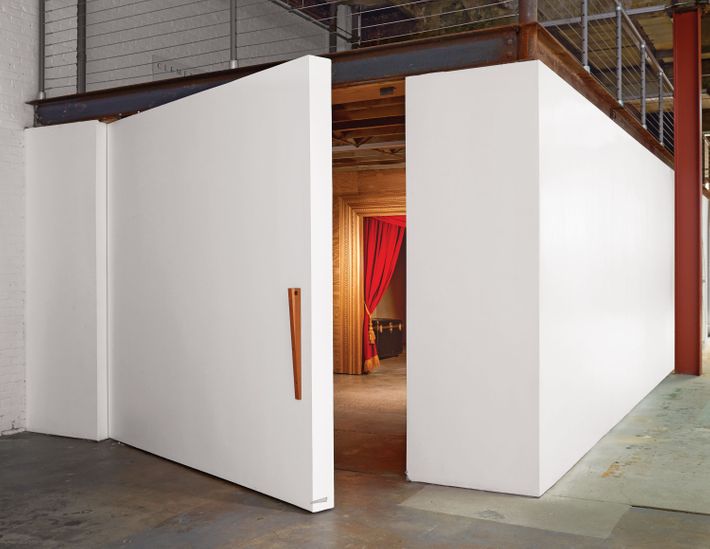 The Pre-Entrance
Architect Richard Gluckman designed the studio of artist Francesco Clemente, and Clemente's wife, Alba, saw an opportunity to create storage space for her clothes under the mezzanine.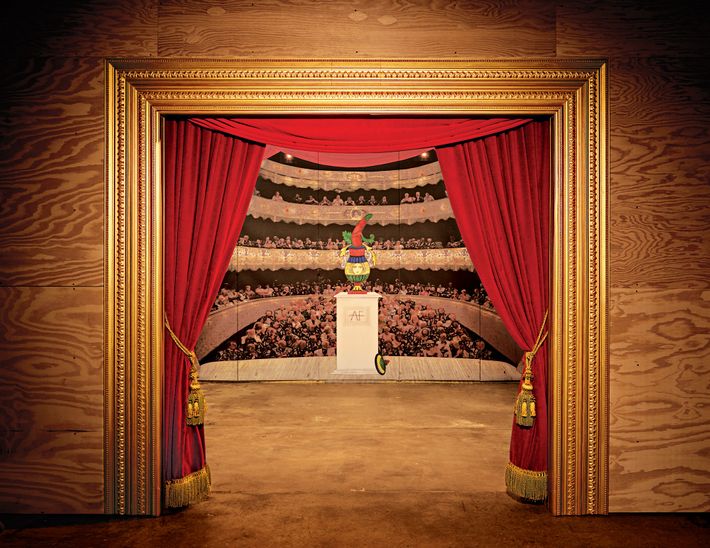 The Closet With the Doors Shut
Clemente staged a performance for her birthday party in the studio–slash–storage space. "I had butoh dancers dressed like Marie Antoinette, and then I made a huge fake cake."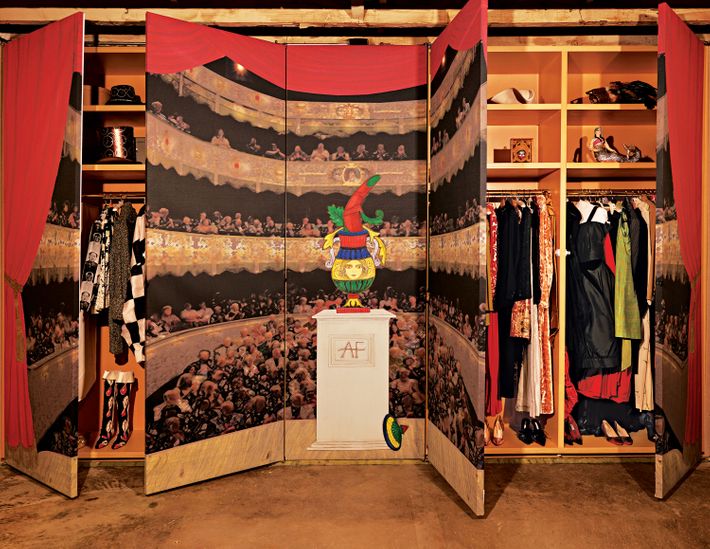 The Closet With the Doors Open
The photograph on the doors shows the theater at the palace of Caterina Cornaro, after it was moved to the Ringling Museum in Florida and renamed the Historic Asolo Theater.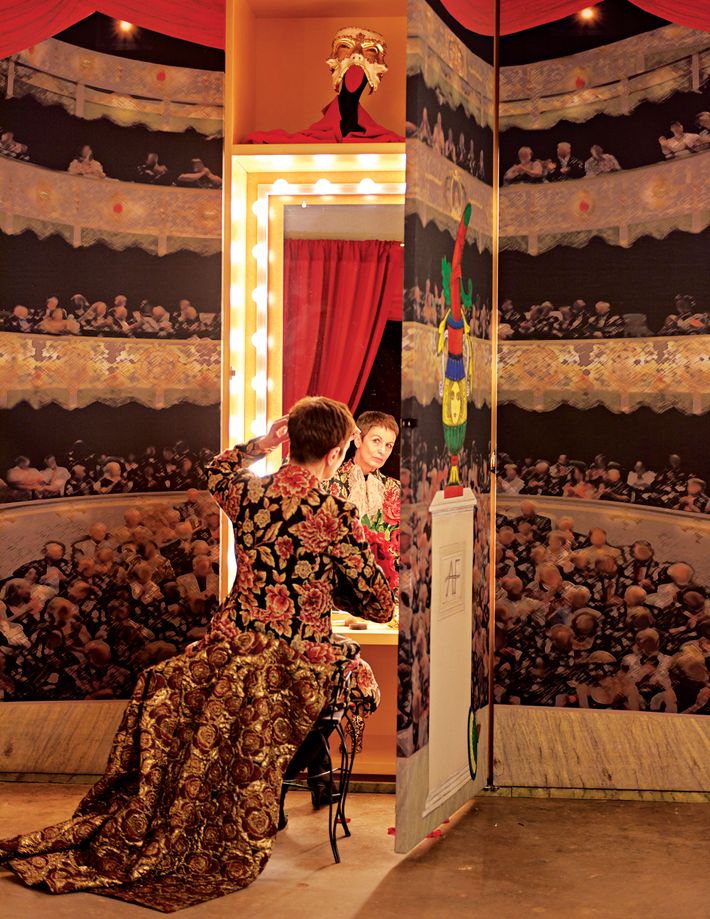 Clemente at Her Vanity
Every proper theater has a dressing room. Here, Clemente tucked one behind the closet door.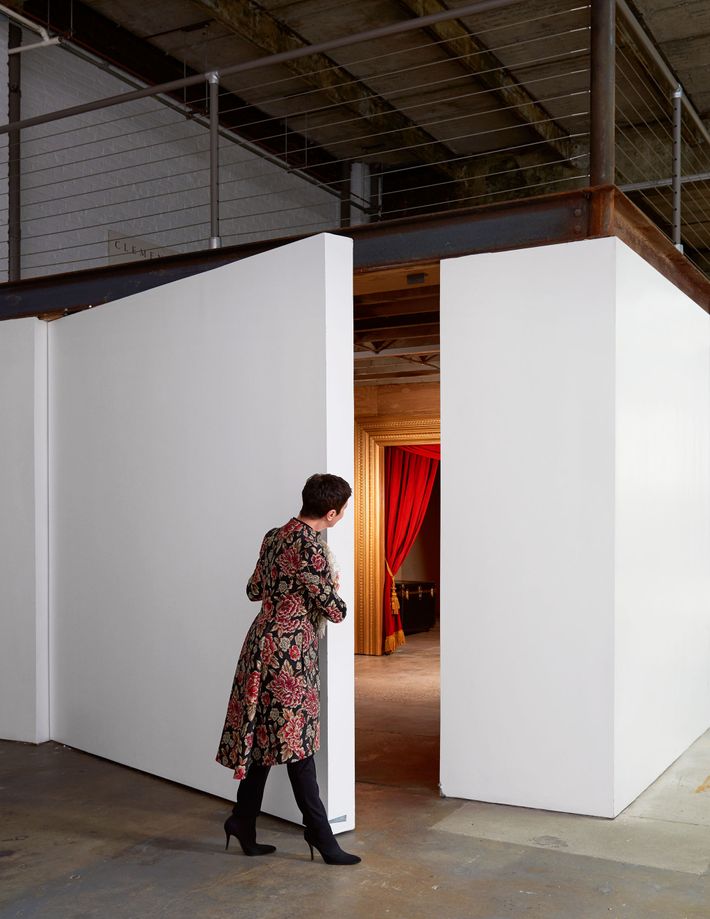 The Entrance to Her Closet
Clemente leading guests into her private space.