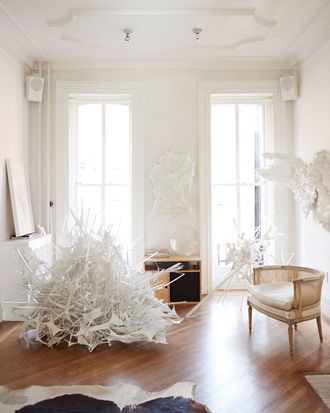 Artist Julia von Eichel and her filmmaker husband Alex Vlack found their 1862 Clinton Hill rowhouse in 2004.
Photo: Jason Schmidt
Julia von Eichel's Clinton Hill row house is part art studio, part family home.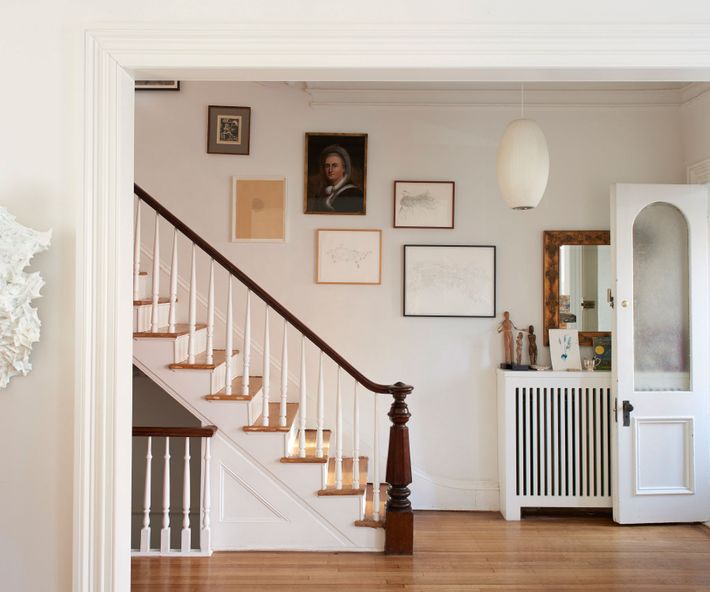 When artist Julia von Eichel and her filmmaker husband, Alex Vlack, found their 1862 Clinton Hill rowhouse in 2004, it had been divided into two family units. They brought it back to a single-family home in stages as finances and time would allow. Here, their architect, Annabelle Selldorf, with project architect Lauren Wegel, relocated and enlarged the entry to the living room so the space feels more loftlike. The portrait over the stairs of Martha Washington is painted on glass; it hung in von Eichel's room when she was growing up. "My father always explained that it was painted backwards, that made a huge impression on me," she says. The carved wood-framed mirror was a gift to von Eichel's great-grandmother on her 75th birthday.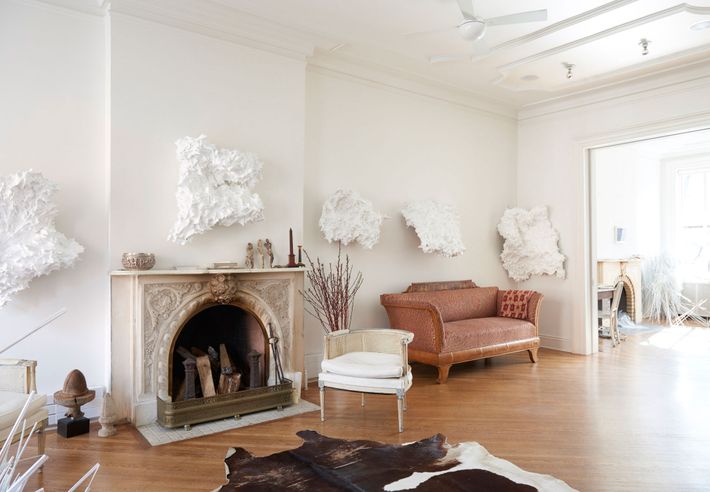 The spare living room is an extension of von Eichel's working studio seen beyond. Pieces for her solo exhibition ("Scream in My Throat," on view at Winston Wächter through July 29) took pride of place on the walls before the installation. "I like to be in the thick of things," von Eichel says, regarding her expansive work area. "If I were tucked away on the bottom floor, I wouldn't feel like I was part of the daily grind, homework, play dates, kids hanging out in my studio. I am pretty much always in my studio, so by being smack dab in the middle of things, I don't feel like my kids need to compete with my work — they are just part of it."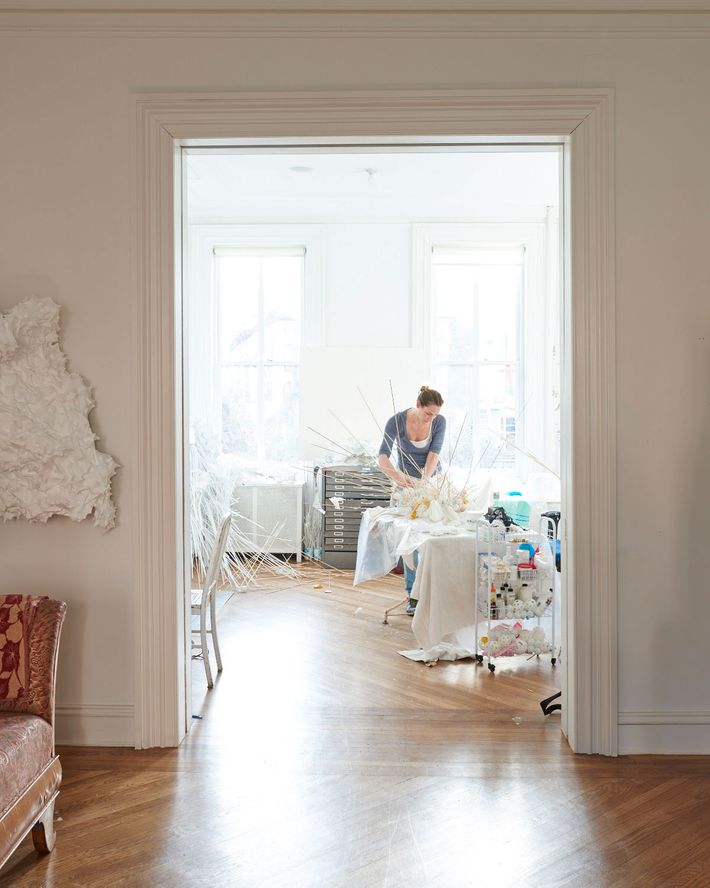 Von Eichel is seen here working in the back part of her studio. Her sculptures will also be shown in group shows at Lucien Terras through July 15, at Sperone Westwater, and at Lesley Heller Workspace, opening July 20.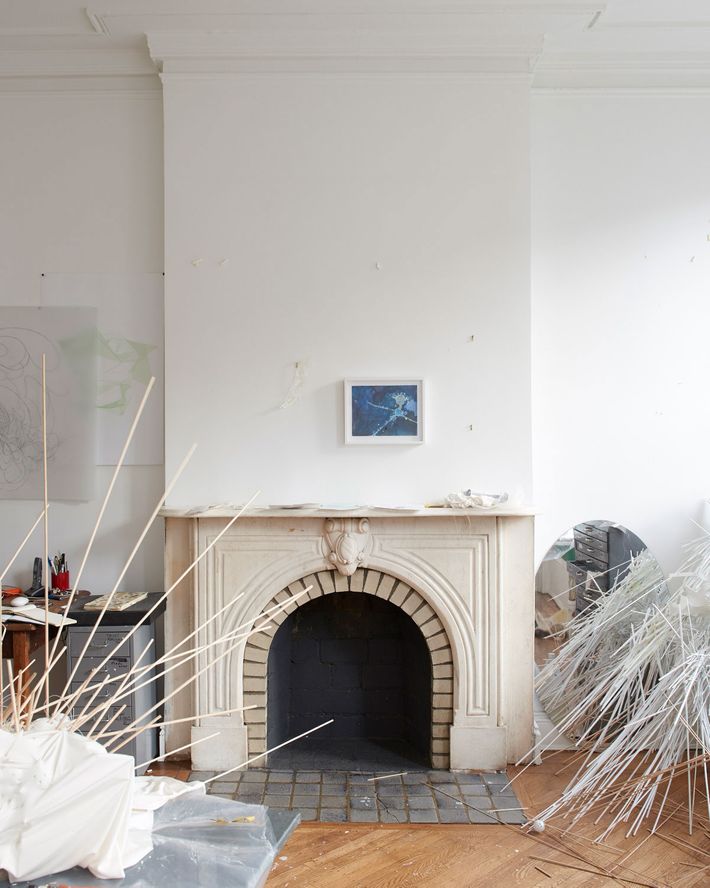 Von Eichel's workspace in the back room off the living room is filled with works-in-progress. "Things hang in the studio for years sometimes," she says. The pieces here show her process of working with wooden dowels and enamel paint. The blue painting on the wall above the fireplace is a watercolor that von Eichel did during her father's illness. "I literally have not touched watercolors since he died," she says.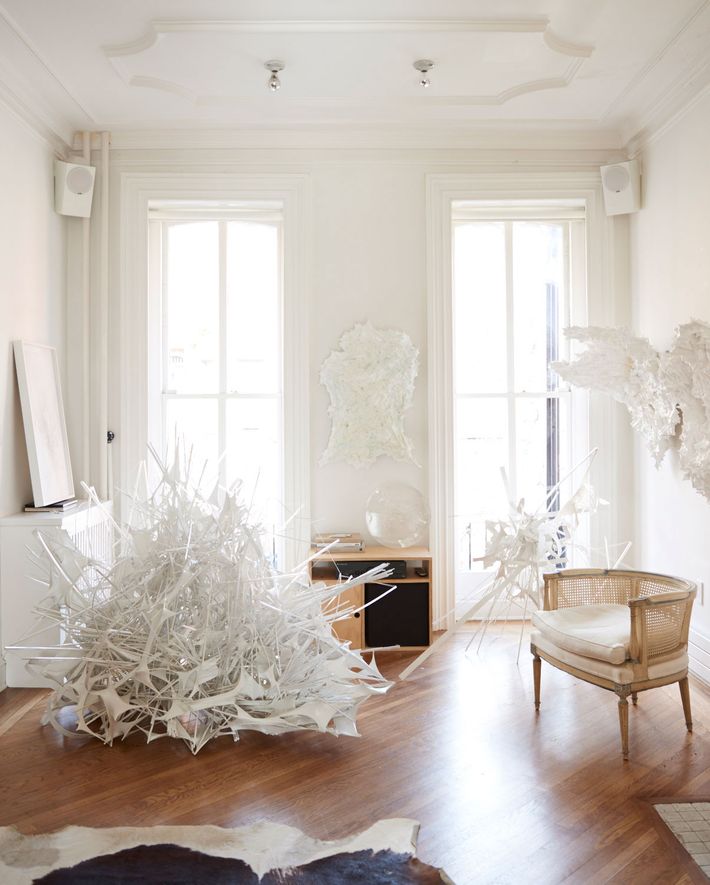 The opposite side of the studio floor in the living room, where entertaining also happens, is filled with von Eichel's monochromatic pieces made by stretching silk over wood with thread and using materials like Wiffle balls. The works seem to be exploding and energizing the serene space.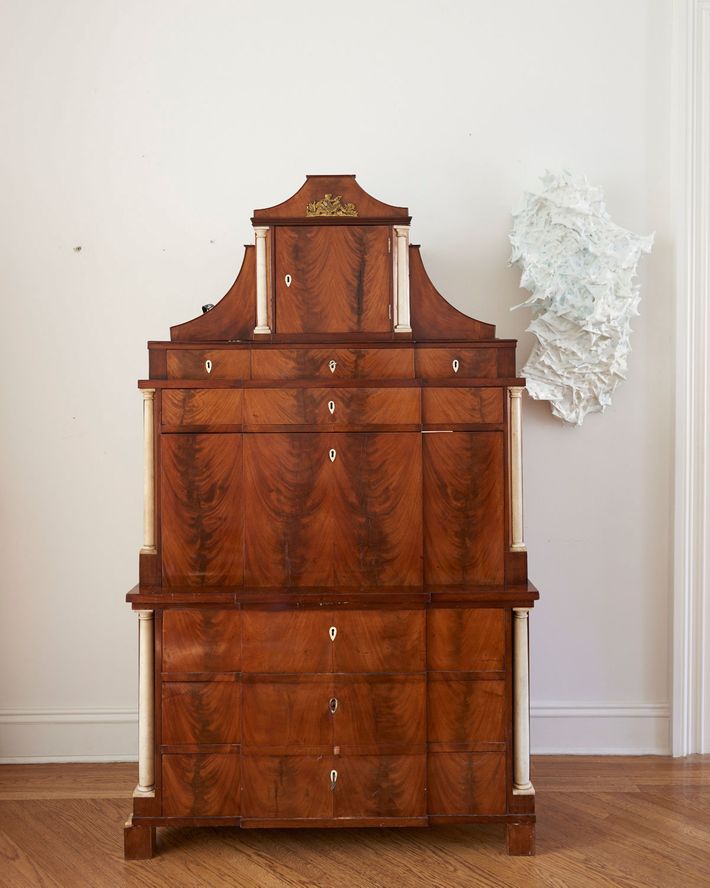 This much loved, much used Biedermeier secretary belonged to von Eichel's father, who used it as his desk. Now her son uses it for doing his homework, with one of von Eichel's sculptures hanging nearby.