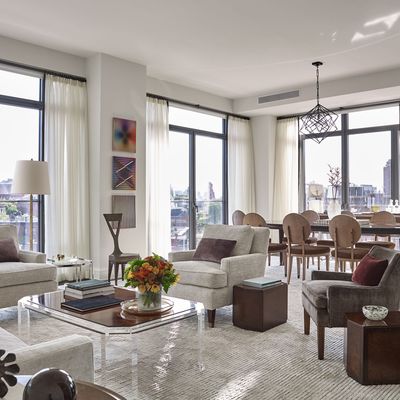 The Greenwich Lane is designed with the comforts of prewar living, with custom moldings and dark stained-red oak floors.
Photo: Pieter Estersohn, Courtesy of The Greenwich Lane
The much-anticipated new residential buildings on the site of St. Vincent's Hospital serve up understated luxury, with a prewar aesthetic that extends to even the most modern apartments of the five-building, five-townhouse complex.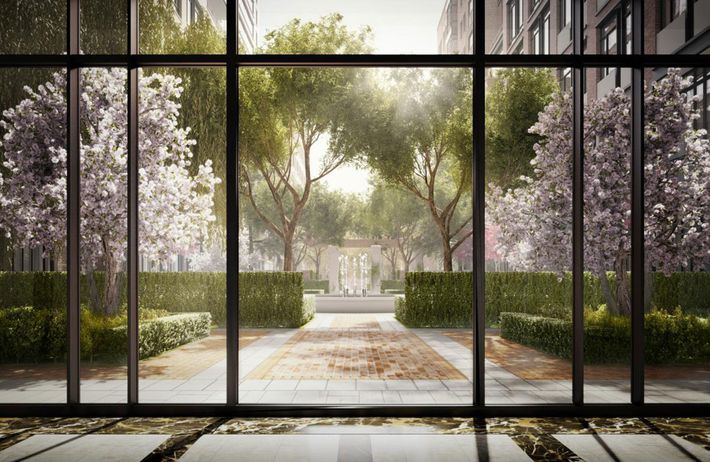 I would be lying if I said my heart didn't sink every time I passed the destruction of St. Vincent's Hospital in my West Village neighborhood to make way for the Rudin family and Global Holdings' new construction of the Greenwich Lane. The good news is that the project, designed by FXFowle Architects with interiors by Thomas O'Brien, is respectful of the architectural context of the site, and some buildings incorporate the original brickwork and details of the hospital's facade. Here, a rendering of the almost-finished garden courtyard with a view looking east.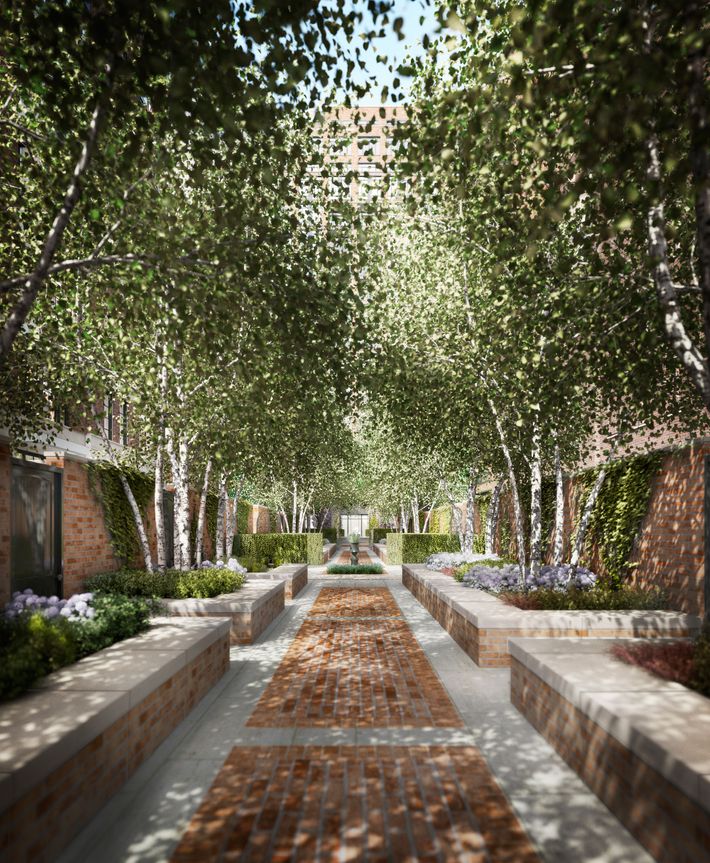 The private garden courtyard is designed by M. Paul Friedberg & Partners. The allée lined by birch trees (shown here) beyond the fountain and reflecting pool is one of many amenities for residents; the other perks include a 25-meter swimming pool and fitness center, a chef's kitchen and private dining room, a resident's lounge overlooking the garden, a 22-seat screening room, a parking garage with electric-car charging stations, and, of course, bike storage. The complex is also a certified LEED Gold development.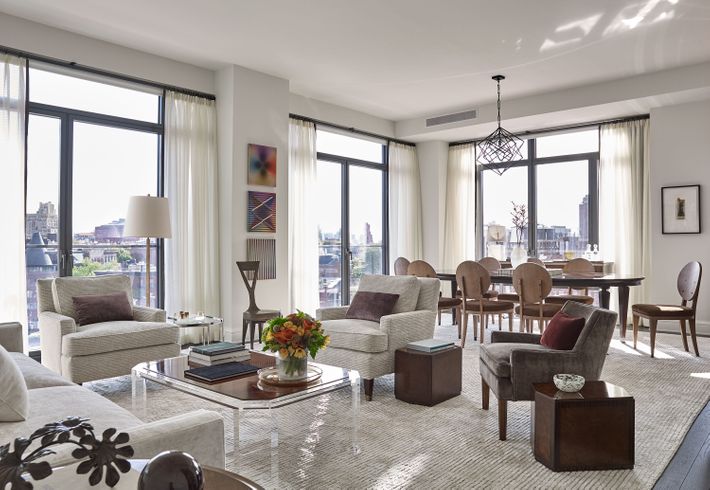 Here, the living room of apartment 6A, at 155 West 11th Street. The floor-to-ceiling windows take advantage of the unobstructed views of the neighborhood's low, historic buildings. "The original idea was that of course there were these buildings of different eras, and each had its own identity," O'Brien says. He took his design cues from the character of each building's architectural style, including what O'Brien calls Iconic Village, Traditional Elegance, Industrial Classic, and Grand Modern (which is shown here). The townhouses are deemed New Heritage.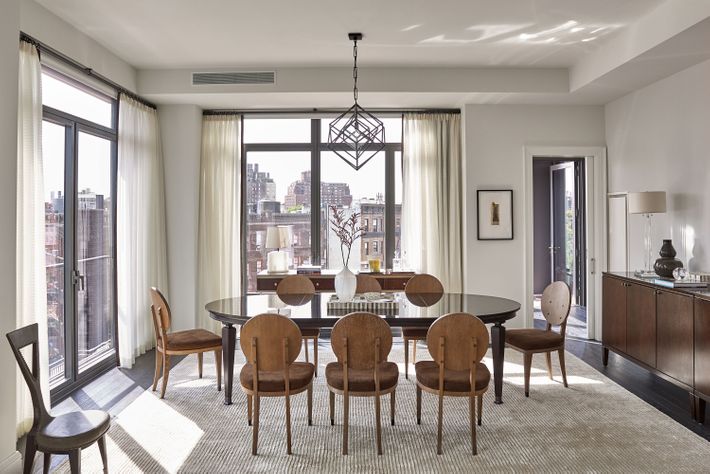 "I love both worlds," O'Brien says of mixing classical and modern elements in his decorating schemes. And even though this model apartment is in the most modern of the five buildings, O'Brien has designed it with the comforts of prewar living, with custom moldings and dark stained-red oak floors.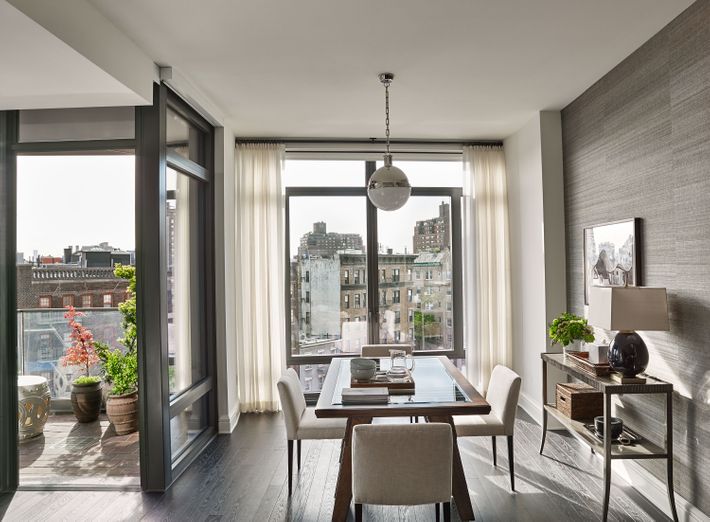 This family room off the kitchen revels in the natural light of a lovely expanse of sky. The custom wood trims and casings add to the prewar elegance.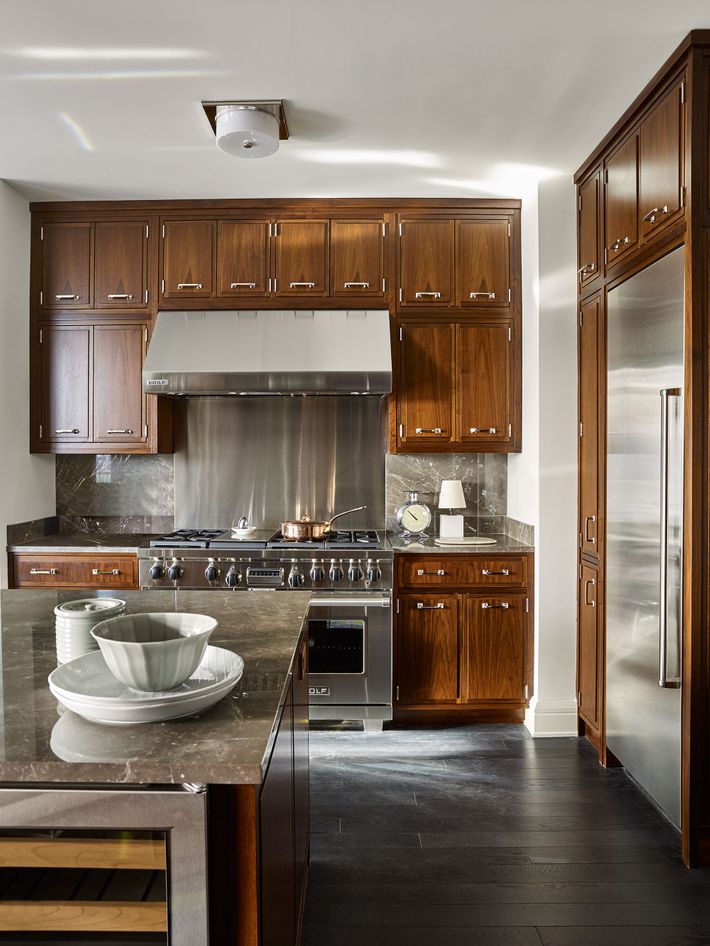 "I love designing millwork cabinetry and detailing." O'Brien says. The walnut-wood cabinets warm up the space. The kitchen models are different in each building; in the kitchens at 160 West 11th Street, white walls and stainless fixtures preside.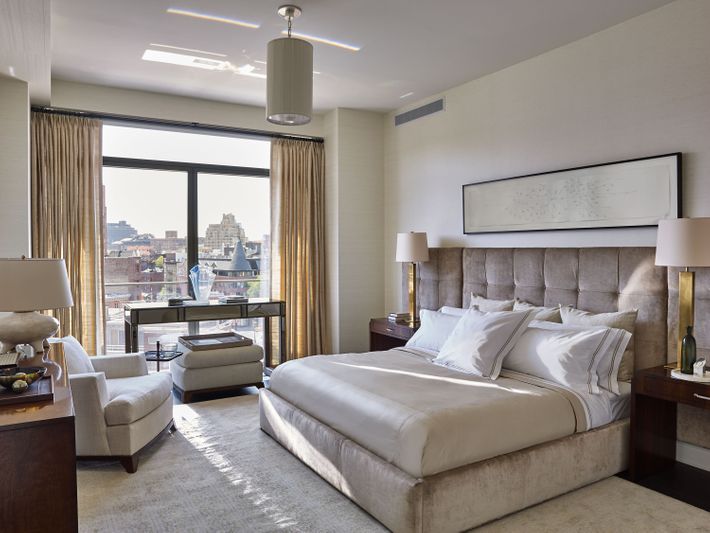 Here is the master bedroom in this four-bedroom, four-bath apartment; it also has a powder room, a family room, and outdoor space, plus a direct elevator entrance and service entrance.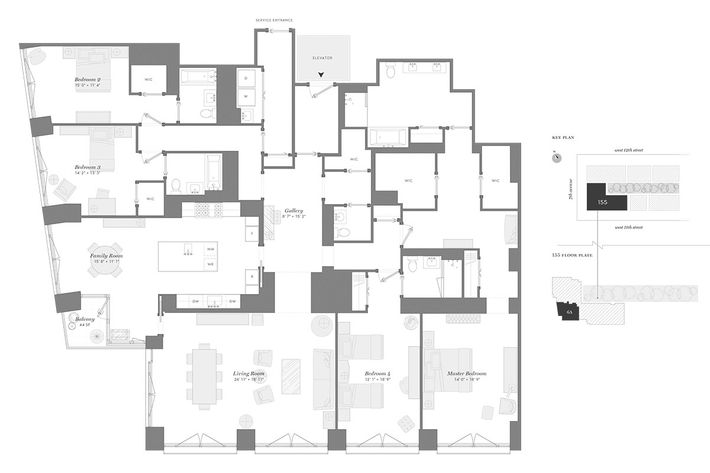 The floor plan shows how generous hallways connect public and private areas. As for the surrounding neighborhood: O'Brien hopes future residents here will make a point of frequenting classic restaurants like Elephant & Castle and the few remaining indie shops like the little handicraft boutique Tabwa. "It's really important for people to go to all of these places and support them. I love all of them."