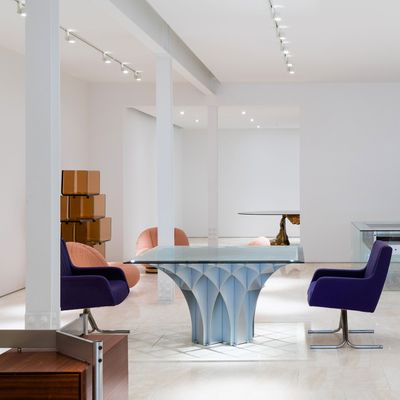 The space has been reimagined by architect Rafael de Cárdenas into a polished, milky-white gallery.
Photo: Pablo Enriquez /Courtesy of Demisch Danant
I always wondered what was behind the blue curtains of 30 West 12th Street's ground-floor window, with its discreet gold lettering. Turns out it was home to S.F. Vanni, one of the oldest Italian bookshops in America, which opened in 1884 on West Broadway and moved here in 1931. Alec Wilkinson's wonderful New Yorker story "Italian Hours" tells the full history. Now it's been transformed into a new space for Suzanne Demisch and Stephane Danant's gallery Demisch Danant.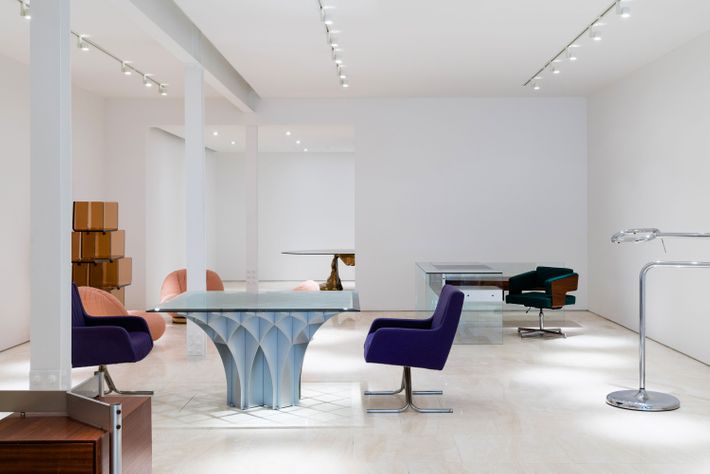 The space has been reimagined by architect Rafael de Cárdenas into a polished, milky-white gallery, seen here during the installation of Demisch Danant's first show in the new space, "made in France," opening September 17. Cárdenas took down a wall on the left side and installed metal columns that look as if they have always been there. The lighting is new, as is the travertine floor.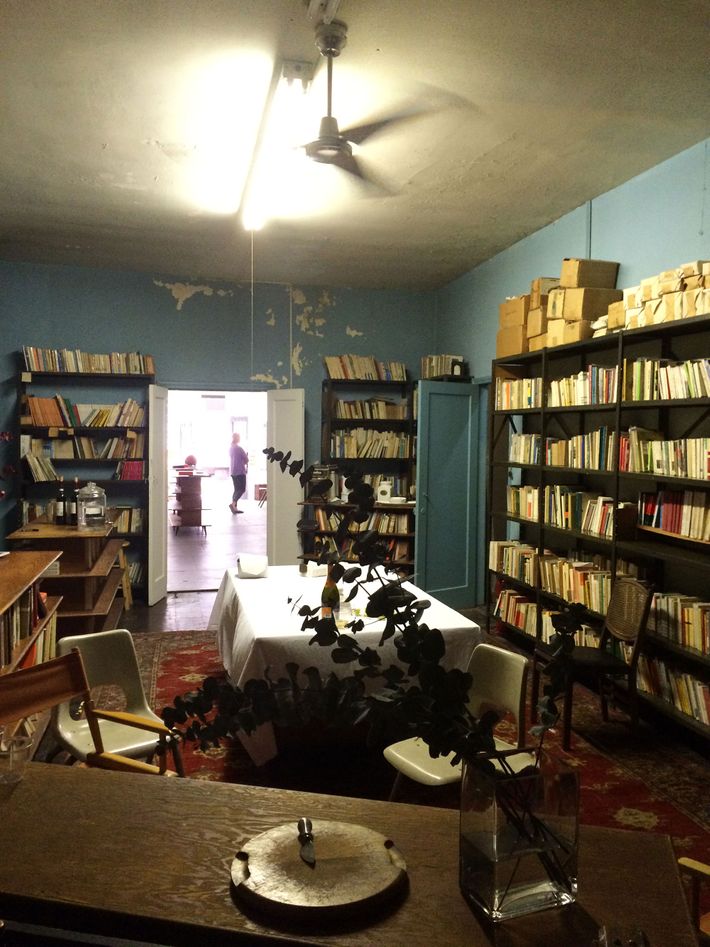 When Demisch first saw it, the space was still filled with books; the back room was used for gatherings and talks.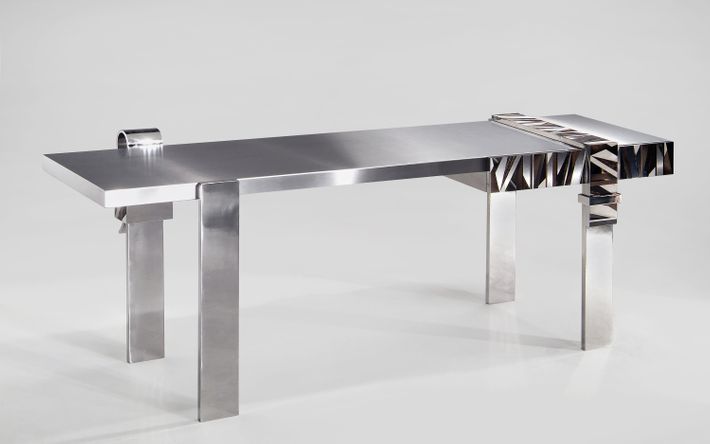 Demisch and Danant, who opened their gallery in 2005, are scholars of 20th-century French design. They resuscitated French furniture designer Maria Pergay's career, seeking her out while researching a book on the designer's work. "Ten years ago, there wasn't the market there is today," Demisch says. "Part of our mission here is to provide a background for the work of different artists with the results of our research. It is exciting to delve deeper and energize people with new information." Here, a marquetry desk by Maria Pergay (2005) featured in the new show.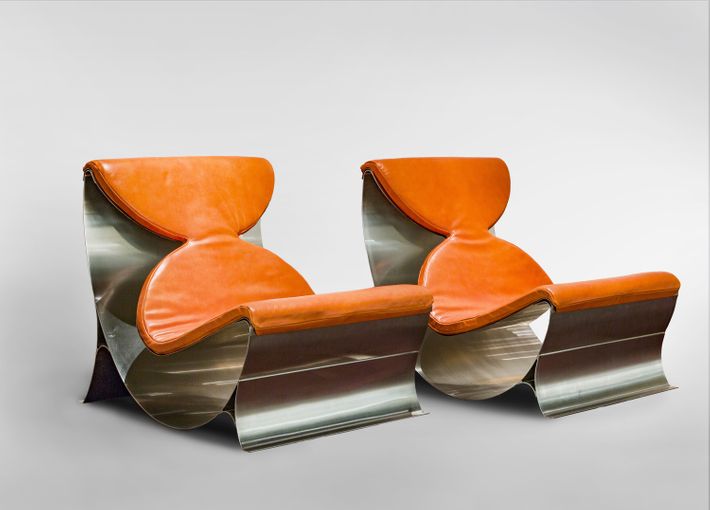 The inaugural exhibition will display over two dozen works from artists including Pergay, Pierre Paulin, Joseph André Motte, Sheila Hicks, and César. Here, a pair of lounge chairs by Pergay from 1970, made of stainless steel and leather.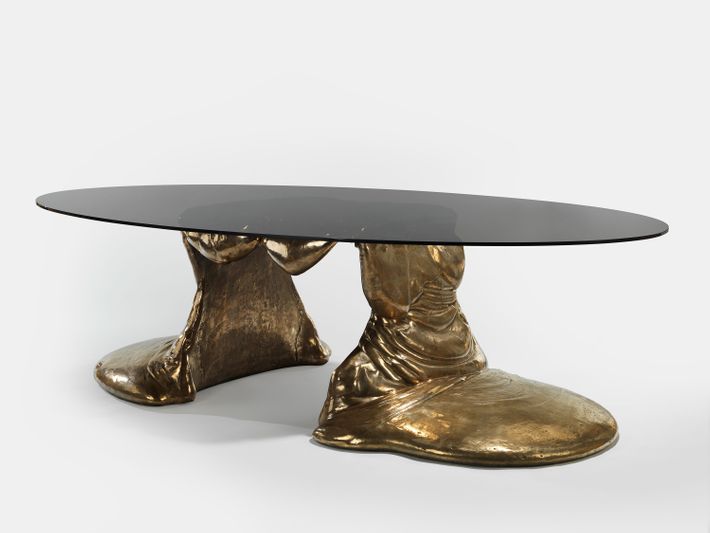 César's Expansion Table, from 1977, made from bronze and glass, is such a fantastic piece, I would start a collection with it had I the means.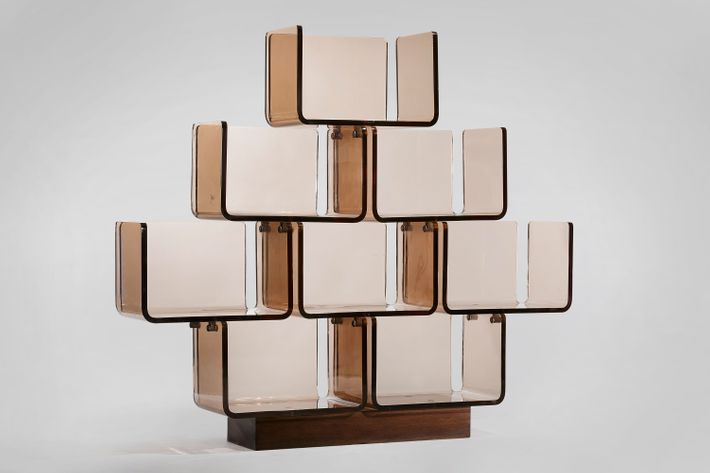 Pierre Paulin's "Elysée" bookcase, from 1971, will also be featured in the show. In 1969, Paulin was commissioned to design Georges Pompidou's private apartment in the Élysée Palace, and created a bookcase similar to this one for the smoking room. Demisch believes that these two bookshelves are the only two Paulin made of this design.