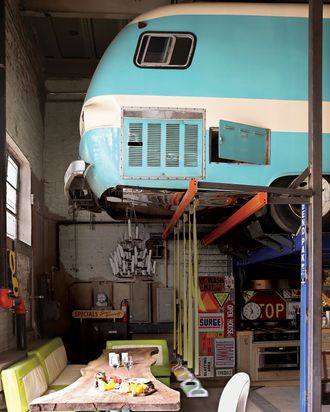 Polumbo found this 10,000-pound Dodge Travco on eBay and placed it atop a salvaged truck lift.
Photo: Costas Picadas
Randy Polumbo set up his studio immediately after he bought this 4,000-square-foot Gowanus warehouse 18 months ago. Never mind that there was no heating or cooling system in the 1930s-era building, or that a lone porta-potty was the only amenity. Or, for that matter, that "when I got here, there was a humongous cylindrical lift for picking up boats — this thing was left there seething ancient grease and Lord knows what else." But there's little that fazes this artist and high-end builder, whose day job involves working for clients like Rafael Viñoly, Maya Lin, Thomas O'Brien, Santiago Calatrava, and Lee Mindel (for whom he built Sting's duplex at 15 CPW and Laurie Tisch's apartment on Fifth Avenue).
As polished as his professional projects are, Polumbo's personal environments convey a Mad Max–meets–Tony Duquette sensibility. He divides his time between a late-18th-century building near the South Street Seaport (where he has fashioned a fireplace out of an old locker) and a house in Joshua Tree (which has a bathroom window fabricated with tequila bottles). When it came to creating his studio, he likens the process "to seeing what materials washed up on the shore each night. It pickled slowly, like kimchee, or grew like a fungus." That's not to say there wasn't actual labor involved. "Getting the 10,000-pound camper up by the top of the 20-foot-tall ceiling was not that easy," he says. "Nor was hauling the ancient cupola up on the roof that now functions as a chicken coop." But, he says, "For my clients, we've hoisted way worse stuff — like a two-story-tall curved glass terrace addition on Fifth Avenue — and we always make it happen."
*This article appears in the September 19, 2016, issue of New York Magazine.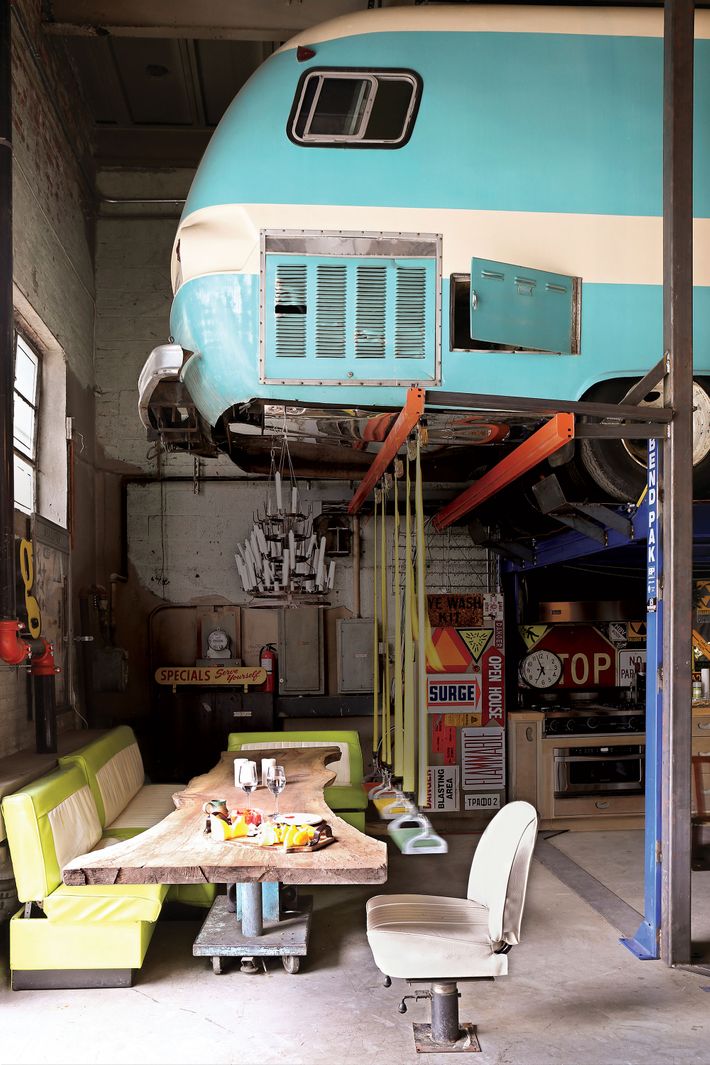 The Dining Area
Randy Polumbo found this 10,000-pound Dodge Travco on eBay and placed it atop a salvaged truck lift. He uses it as a workspace. "It has air-conditioning, so we survived the summer here," he says.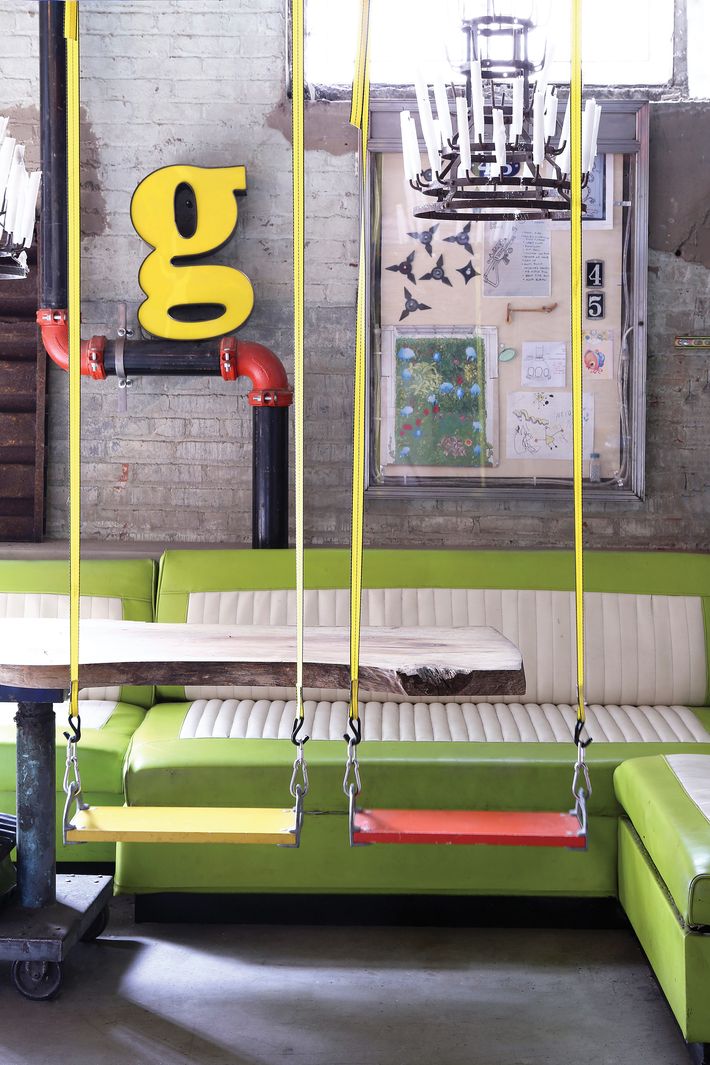 The Dining-Room Chairs
The car seating came out of the camper. "I removed the seats to clean them," Polumbo explains. "I was going to put them back in, but I accidentally gutted the interior and liked how they looked below — an automotive gut-spilling motif." The swings, he says, "came from a yard sale via some schoolyard or park."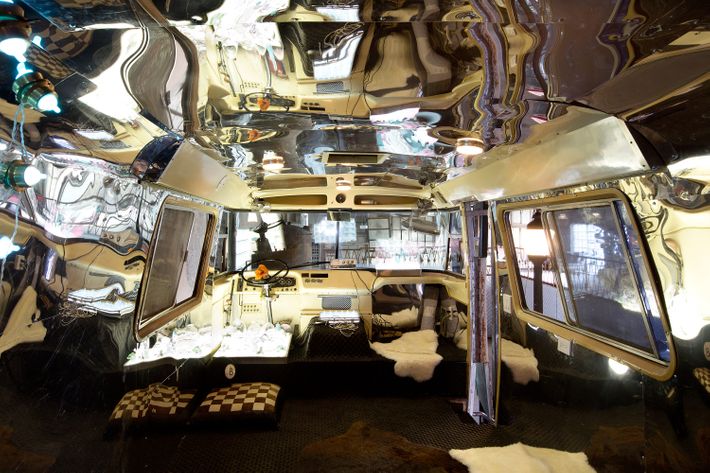 The Camper Interior
It's filled with mirror-polished aluminum.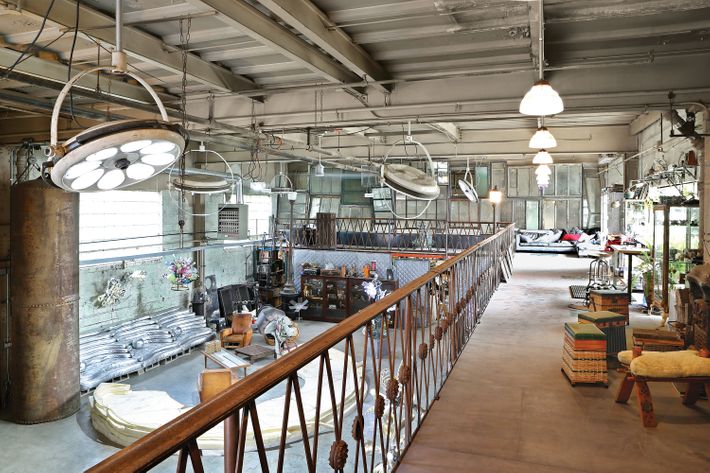 The Main Studio and Mezzanine
Down below, the circular foam-rubber couch is a piece that Polumbo is making for the Orient Point Lighthouse on the North Fork, which he's in the process of restoring. "I am turning it into my peculiar vision of an art residency — somewhere between Rapunzel's tower, Marfa, and a nurturing penal colony." The mezzanine is Polumbo's work area when he's editing film or drawing or making models. The large, swiveling lamps over the main studio are operating-room lights. The railing was found "stacked under snow in the backyard of a salvage dealer," he says.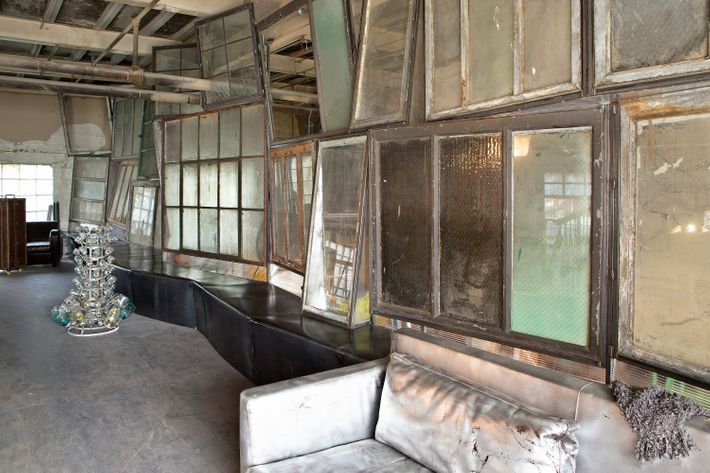 The Mezzanine Wall
Polumbo found the windows, which he made into a wall, "from some dude who was selling stuff out of his basement near Ikea." The couch was spray-painted silver, Polumbo says, "by a very talented intern who applied Armor All so visitors no longer leave with a silver gilded posterior."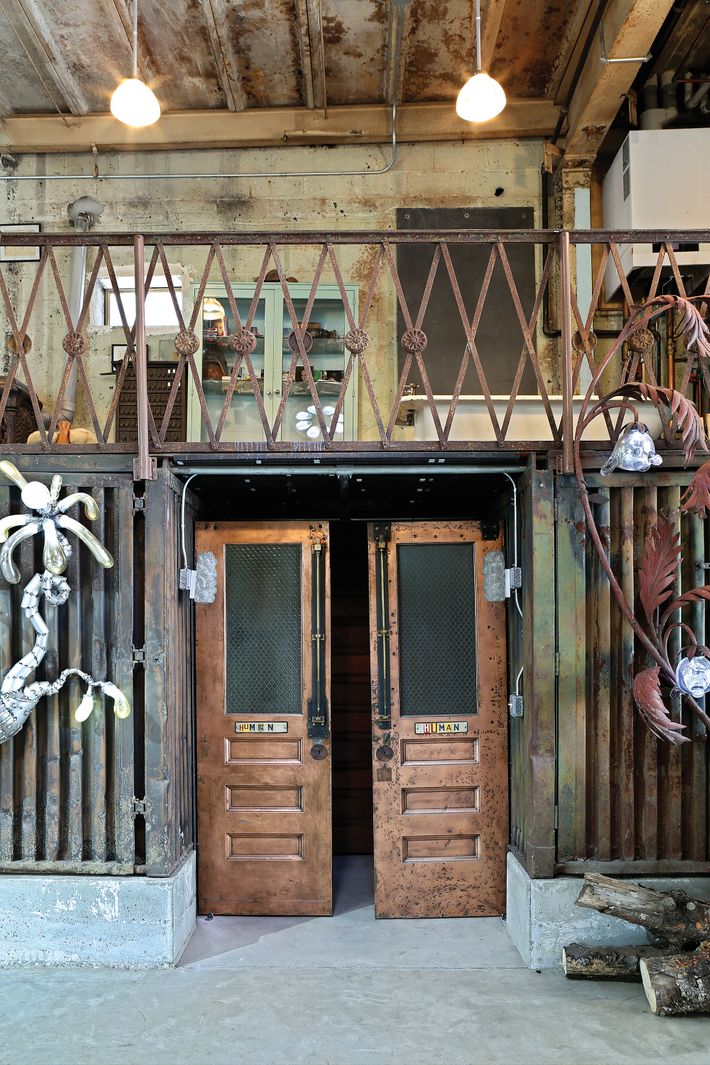 The Bathrooms
The doors labeled "Human" lead to two bathrooms that are in old military shipping containers found at Rudy's Brooklyn Restoration Supply in Connecticut. Polumbo's sculpture of aluminum segments, Zelda, is on the left, and Willow hangs on the right.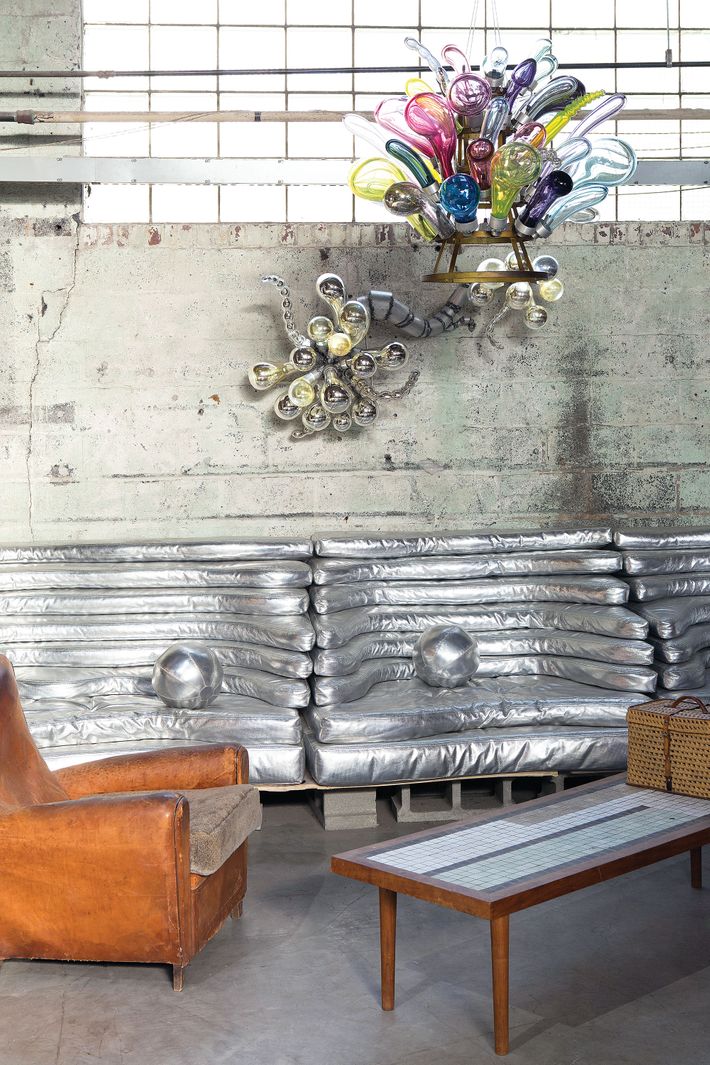 The Seating Area
This silver couch is a prototype for a piece he made for collector Beth DeWoody. The silver piece on the wall, which Polumbo made in this studio, is called Puff the Magic Dragon. The hanging colored glass is Polumbo's too.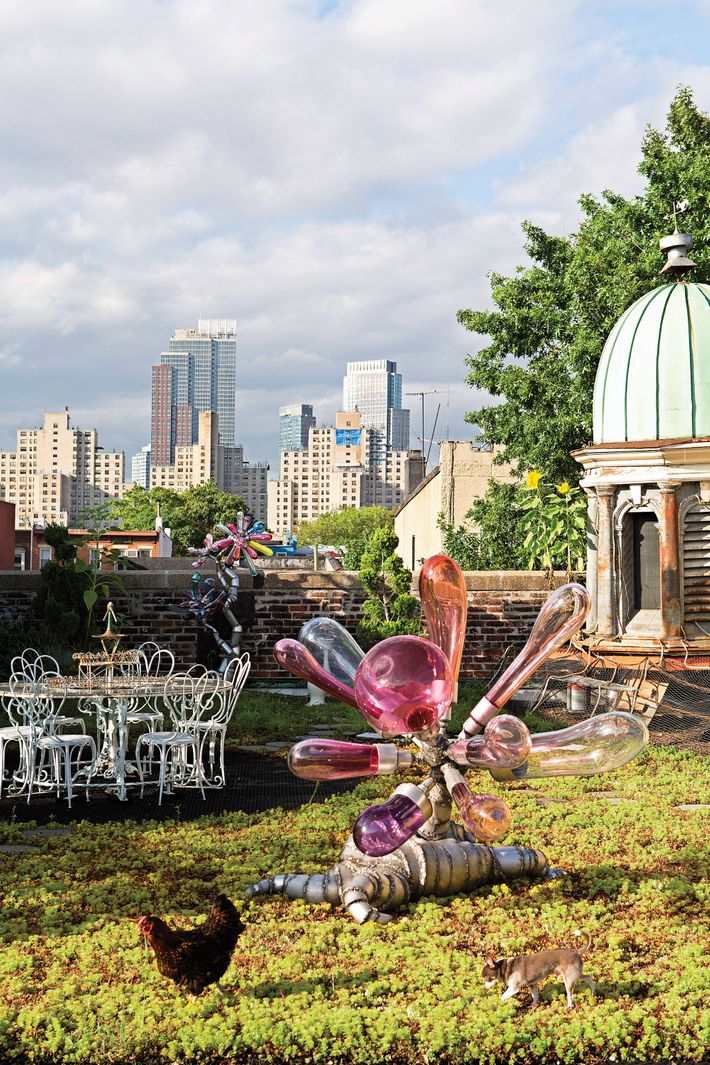 The Rooftop
Polumbo hauled an old cupola up to the roof and made a chicken coop out of it. He also made planters and now has a vegetable garden, as well as lots of places to sit, dine, and enjoy the view. Here, one of his chickens takes a stroll with Polumbo's rescue dog, Barky.