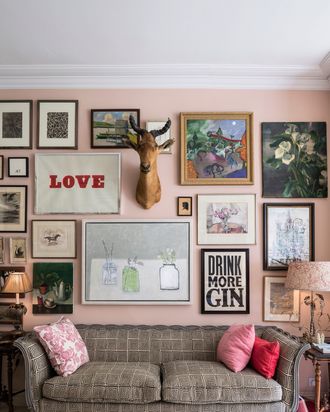 Rita Konig knows how to do a gallery wall.
Photo: Joakim Blockstrom
Rita Konig, whose interiors are the stuff of Pinterest legend, will be bringing her London design workshops to New York starting next month. Attendees will learn how to build a gallery wall, figure out lighting plans, and the art of mixing patterns. For those unfamiliar with her design prowess, here's a tour through her London apartment.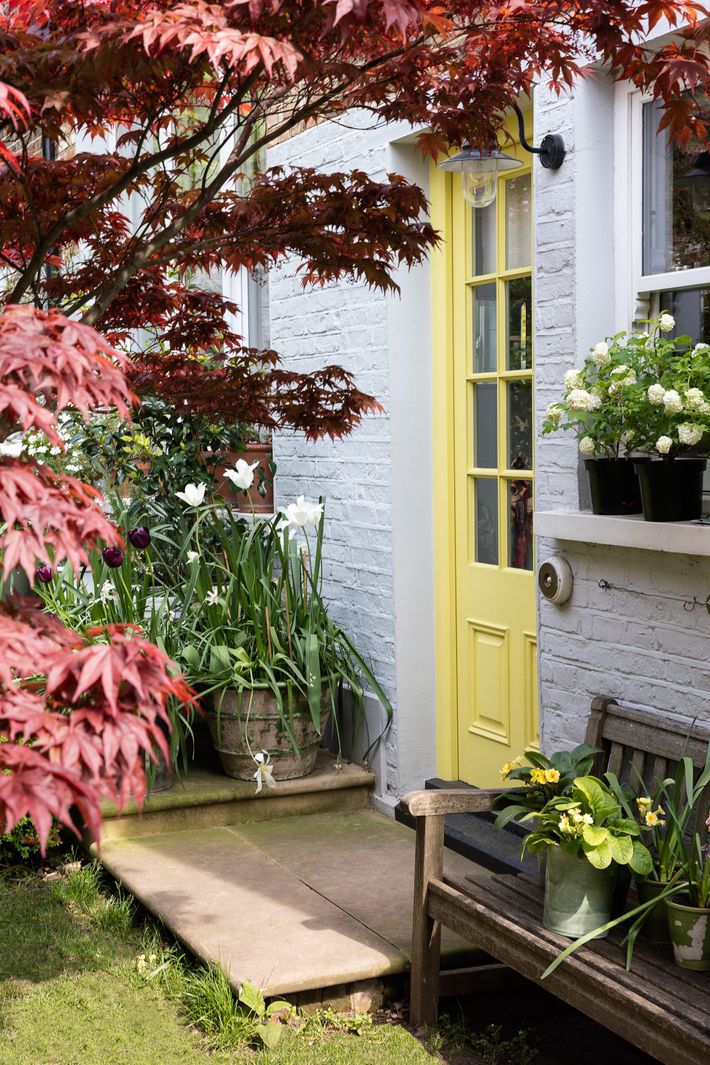 Design guru Rita Konig, European editor of T magazine, and a columnist for British House & Garden, moved back to London in 2011, after six years in New York, and found the perfect bachelorette pad, which she meticulously renovated. But then she fell in love, married biographer Philip Eade, and gave birth to their daughter, Margot. As luck would have it, the flat next door became available, and she embarked on yet another renovation to combine the two apartments. The result is a space with an easy elegance that invites spontaneity, starting with the buttercup-yellow front door that leads you in through the kitchen.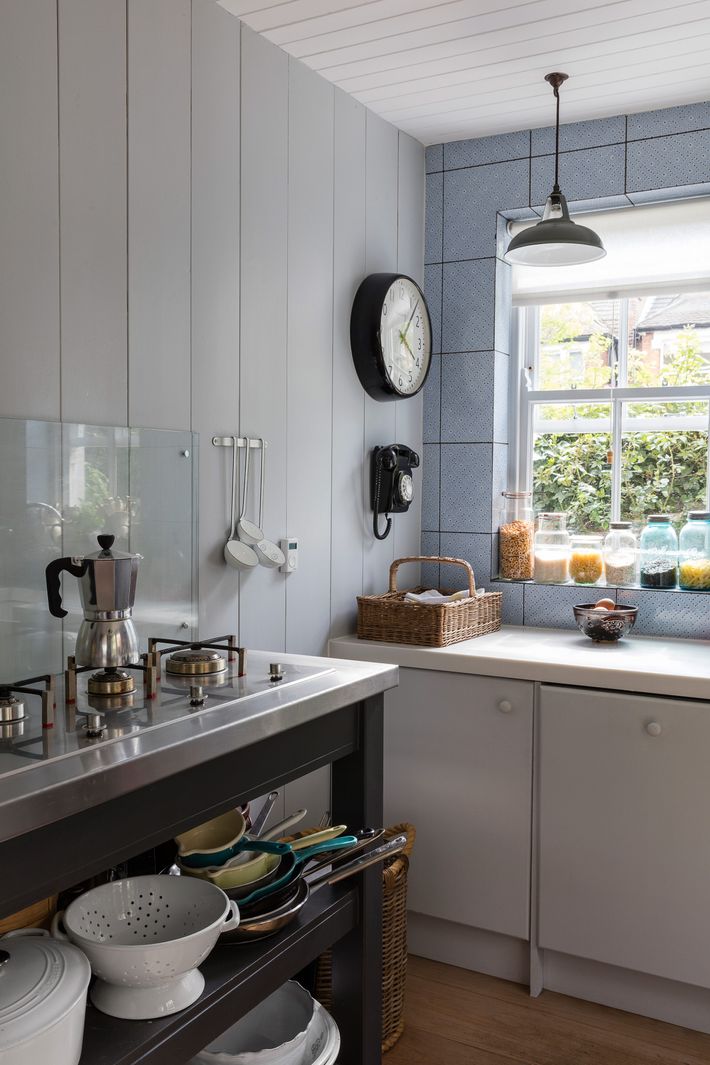 Corian-topped counters, wood paneling, and tiles define the no-muss, no-fuss kitchen. "I didn't want the best room in the house to be given over to the kitchen," Konig says. "I don't want to spend more time than is necessary in there. But I did want it to look good. Our kitchen is like a country one as it also serves as our entrance hall — a hangover from my New York life where both of my apartments had the kitchens in the entrance hall." Konig started conducting her design workshops in London, in her own home, and is bringing them here for the first time in October. (You can sign up here.)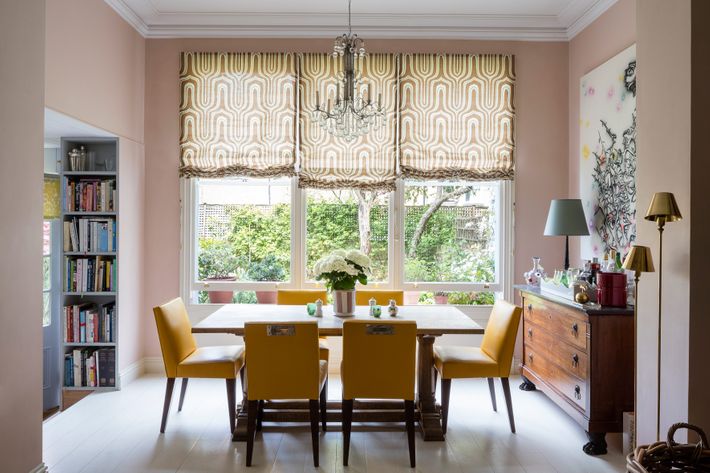 A step up from the kitchen (at left) and you are in the dining/living room with a wood table from Dean Antiques and yellow leather upholstered chairs from Philippe Hurel. The walls are painted in "Greville Pink," by Adam Brey. "I realized that in England people really like to decorate, without a decorator, but they get stuck and actually need help with the basics." We have that same problem here, too. "I give a lot of resources away in my London workshops, so I am going to have to flip over to my U.S. address book, while giving people good London sources that will ship easily." Yes, please!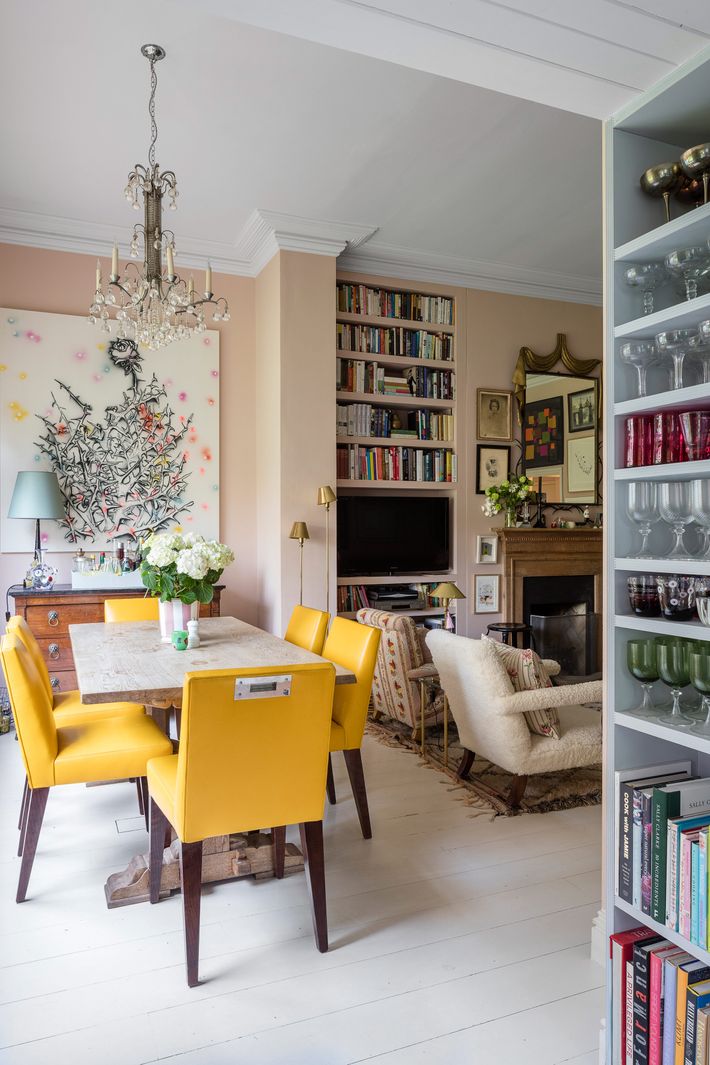 Konig has positioned two vintage armchairs (one from her mother, legendary decorator Nina Campbell, and one from her great-grandmother) to establish the boundary between the dining and living areas. Konig is not shy about placing a big old flat-screen right up there with books in the bookshelf.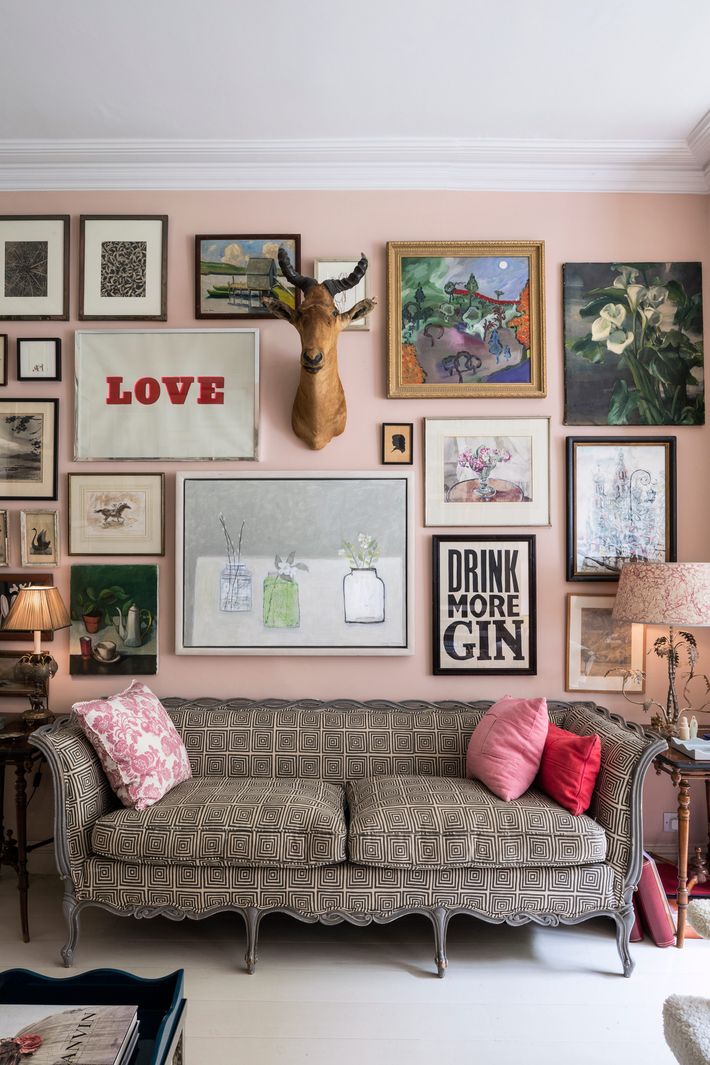 Konig knows how to do a gallery wall and that is but one of the topics she will delve into during her daylong workshop that covers all home-design bases. One of the emails I received from Konig's assistant, Sarah, noted, "The attendees are kept fed and watered throughout the day with a delicious lunch included in the price."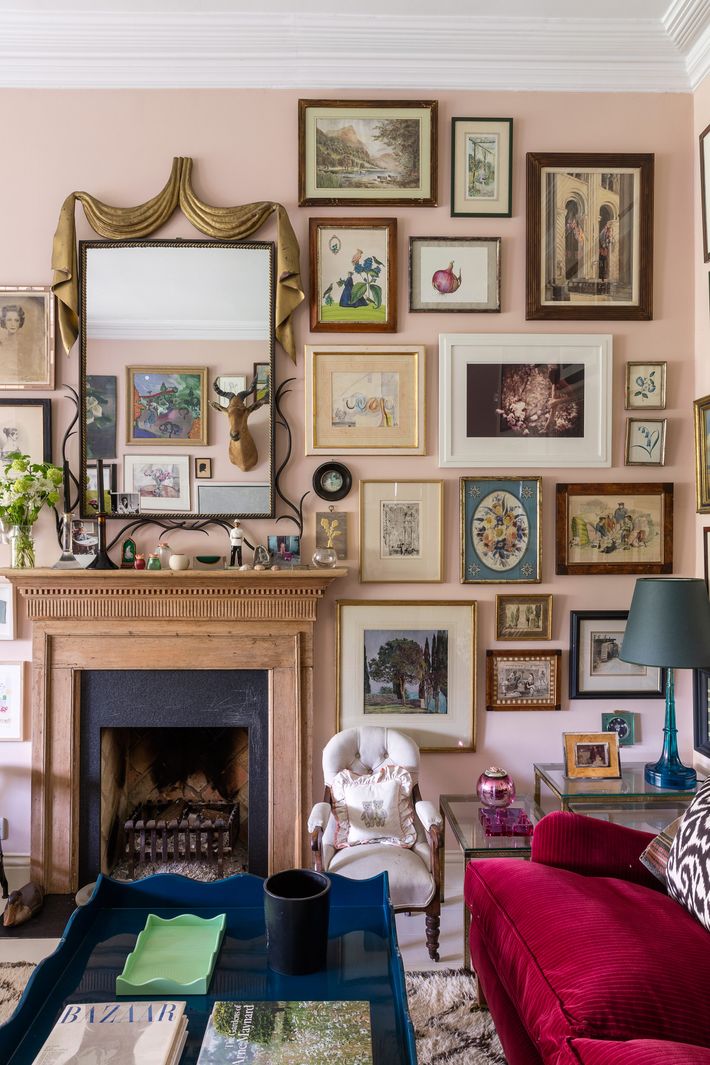 Etro's scrumptious raspberry-red cotton velvet "Palinuro" from Pierre Frey covers the sofa by the fireplace. The wood mantle was found at Petworth Antiques Market. This room looks like it decorated itself over time with family furniture and art.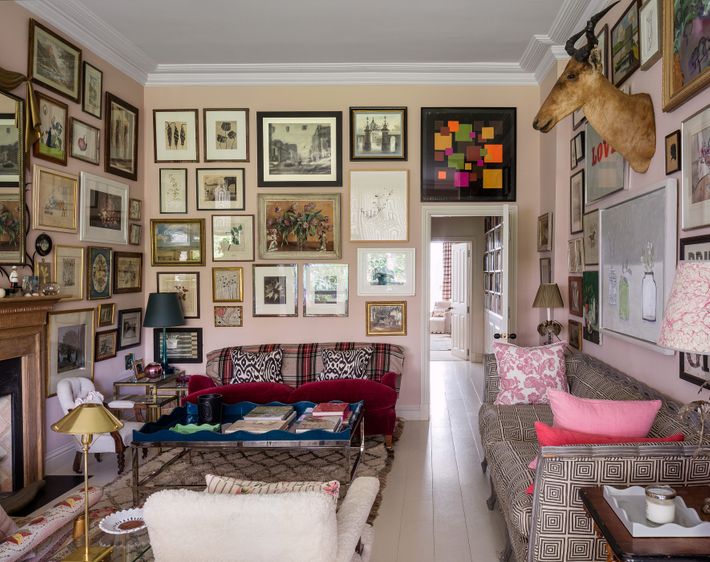 An overview of Konig's cozy living room. The one thing that you won't find her doing? "Using a neutral palette. I also hate decorating by numbers and I think so much is so soulless right now. Be brave and be yourself and don't give a fig what anyone thinks. Rooms need a bit of ugly and stuff that wasn't part of the original 'scheme.'" The law according to Konig.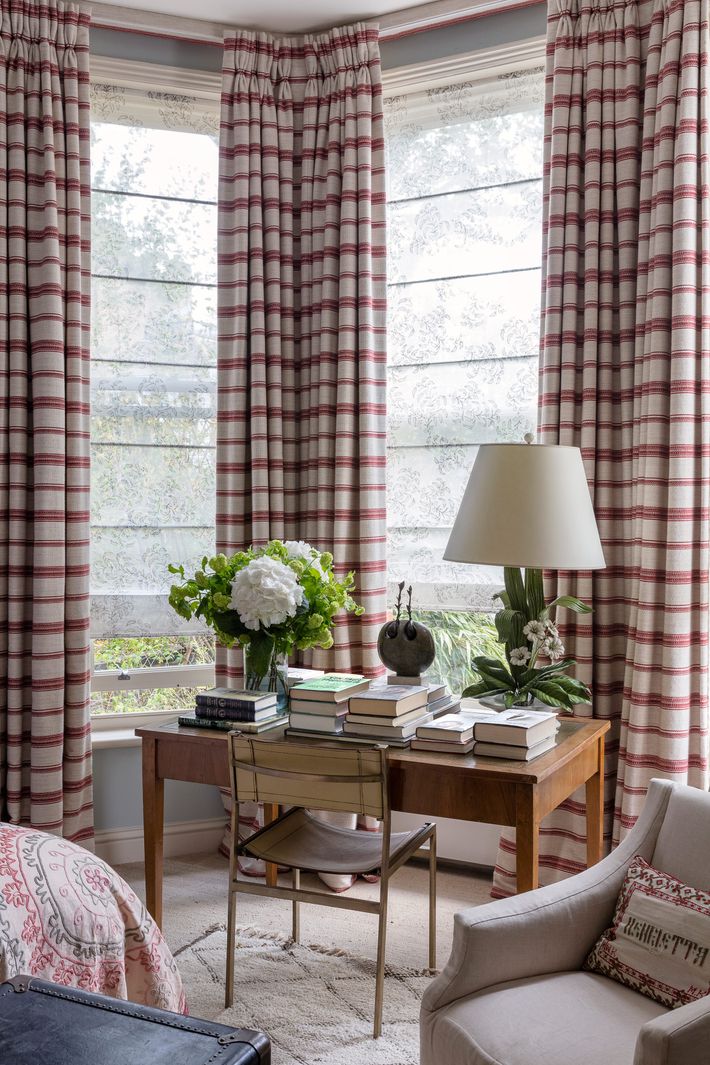 The master-bedroom windows are hung with C&C Milano wool. I love that the curtains are hung right from the ceiling, which always gives a room more height.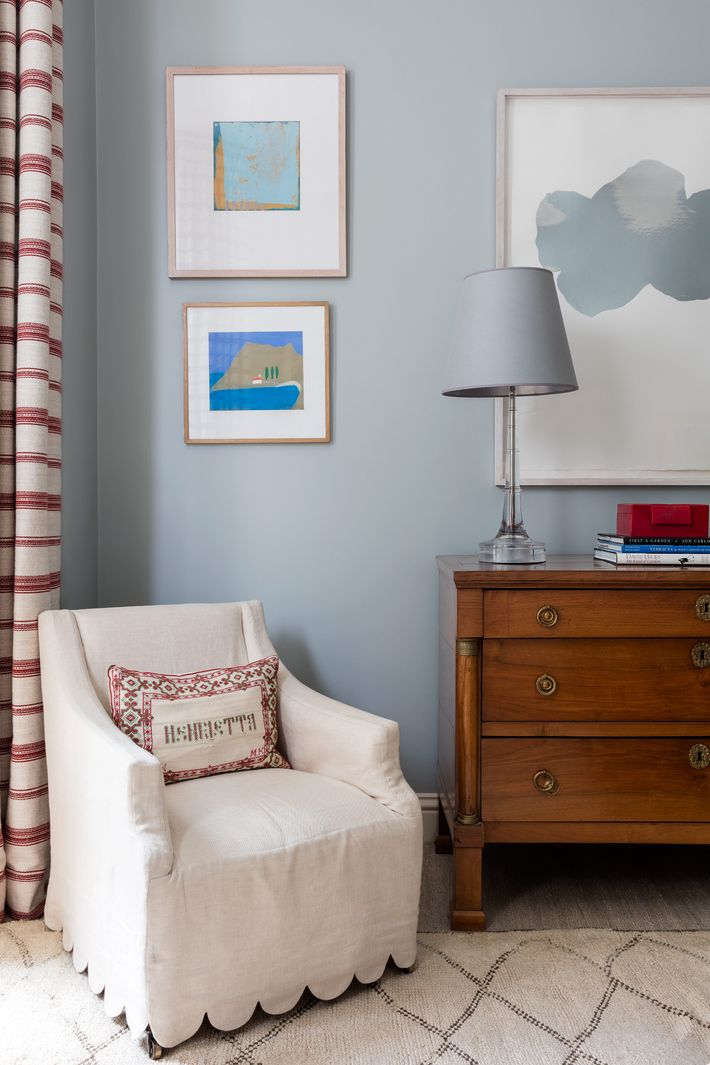 This corner Howard armchair is custom slipcovered in fabric with a scalloped edge! It's slightly old-fashioned to use a scalloped edge but here it looks adorable and fresh as can be.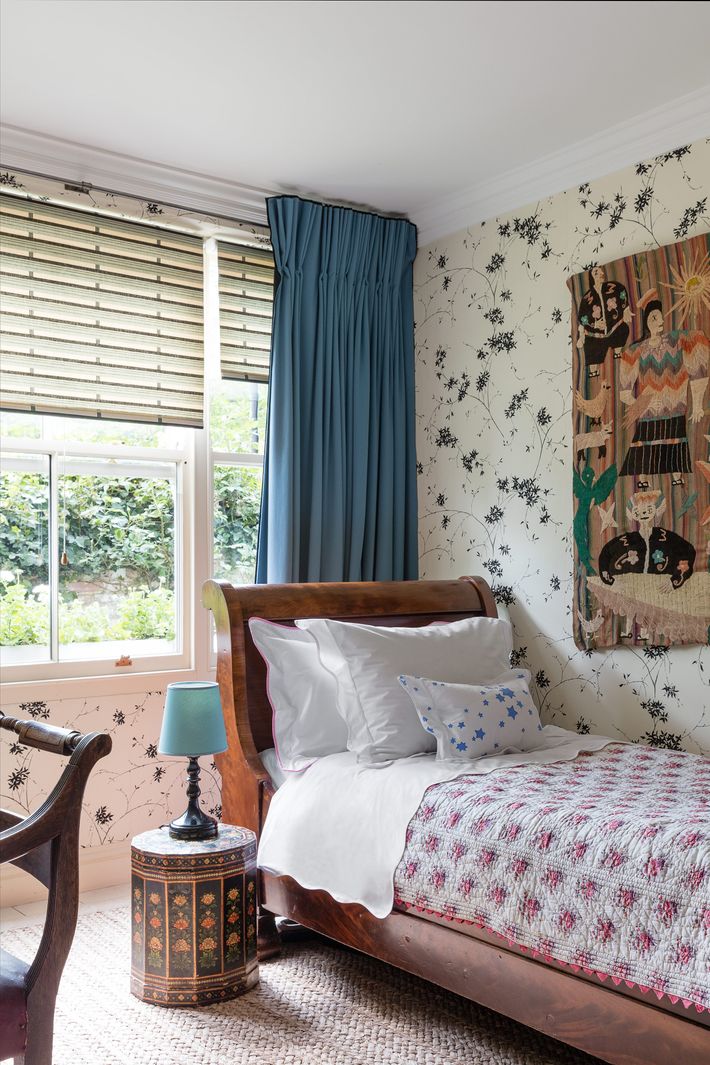 In the spare bedroom, not a drop of pretense, just a joyful mix of layered patterns starting with "Night Blossom" wallpaper by Tyler Hall from Tissus d'Helene, a wall-hanging found by Eade in Guatemala, and broadcloth-felt curtains from Hainsworth. Her workshops are filling up fast, and no surprise, in addition to being "watered and fed," you'll be armed with her secrets and resources at the end of the day!