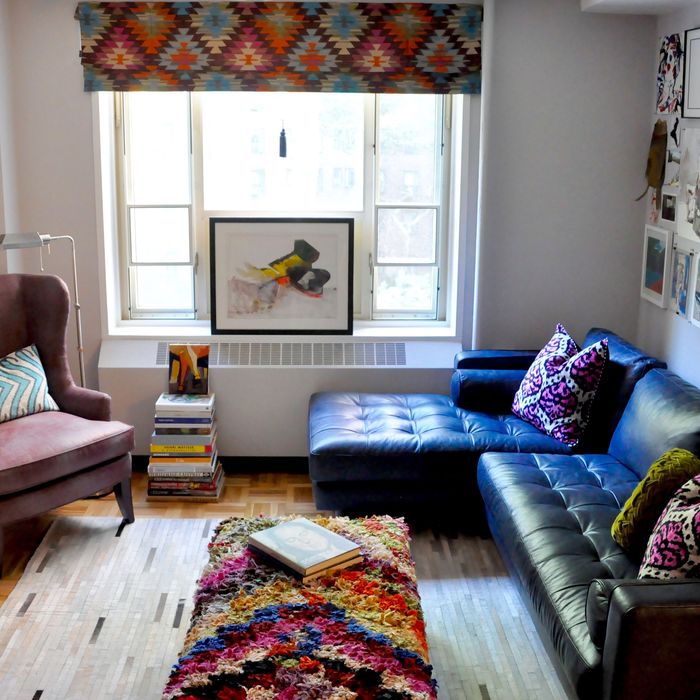 Cary's client, Audrey, is an artist and has lived in this two-bedroom in Stuyvesant Town for over 20 years.
Photo: Cary Jones
Indie-film producer turned interior designer Cary Jones transformed the Stuyvesant Town apartment of a recent widow who'd lived with her husband in the cluttered space for more than 20 years.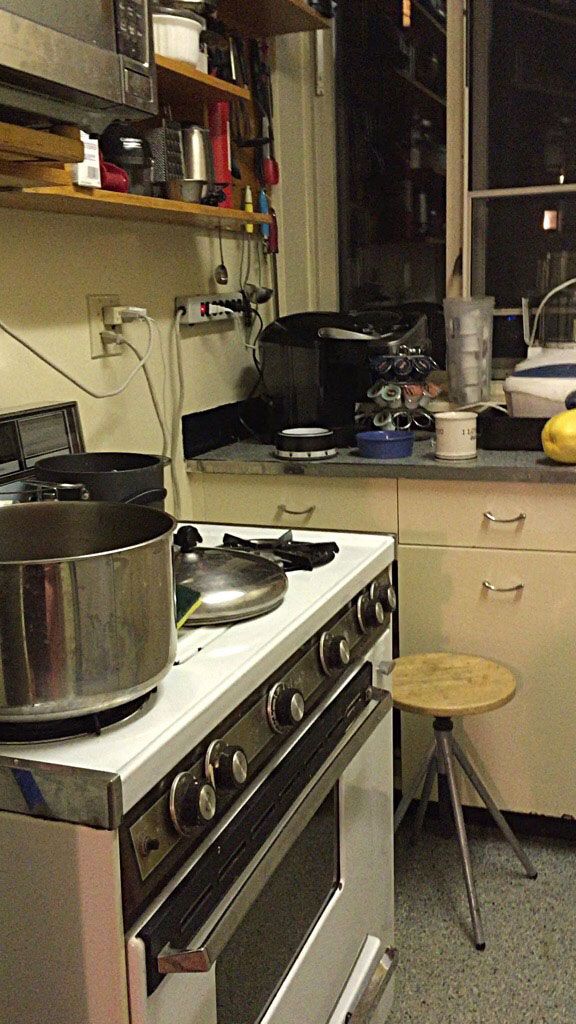 The former indie-film producer Cary Jones spent the first five years after she moved to New York from L.A. helping her sister Jennifer Jones with her design business. "Jennifer taught me the grand and the gritty. I was exposed to everything," Cary says. "As it turns out, my film-producing background was actually great training for what I do now." In January, a client asked her to help his mother organize her apartment after his father's death; all he said was that his mother might need some storage-type furniture. It was clear that the apartment was under siege. "She needed to drastically purge," Cary says. The stuff had to go before she could start to work. The kitchen is seen here.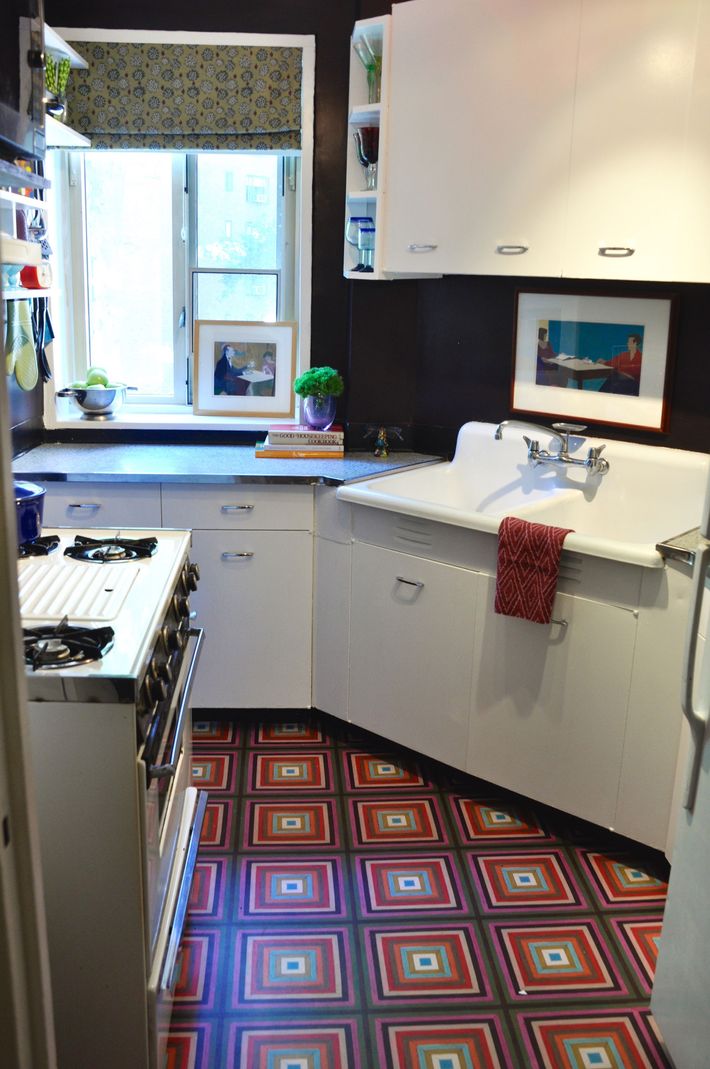 "And let me tell you, she hit the ground running," Cary says of her client, Audrey, who is an artist and has lived in this two-bedroom in Stuyvesant Town for more than 20 years. As a recent widow, Audrey had to figure out what to do with everything she and her husband had accumulated over a lifetime together. Audrey began by donating up a storm, then tossing what she realized she didn't need. After months of work, the apartment is now unrecognizable. "We wanted to redo the kitchen, but we had a budget, and Audrey is a renter," Cary notes. She used Sherwin-Williams Raisin-SW7630 on the kitchen walls, added new cabinet hardware from Home Depot, and redid the floor herself, putting down vinyl tile from Mirth Studio.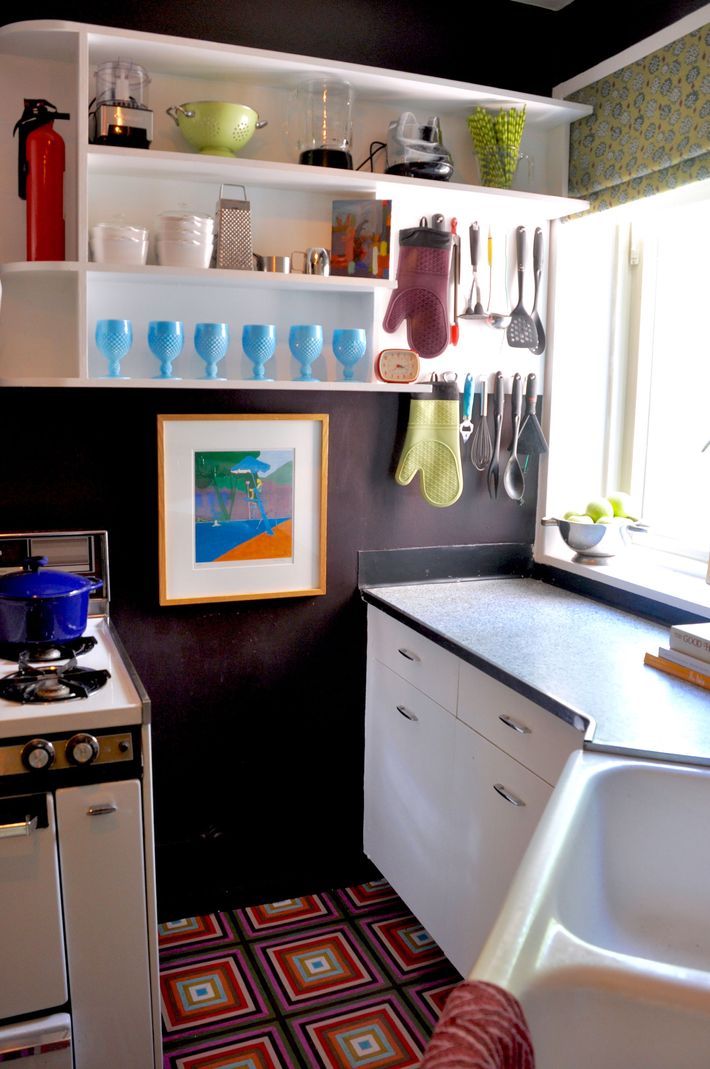 Audrey admits that the idea of a decorator was not on her radar before the redo, but she now says, "I am an advocate for designers. I realized that I couldn't have even come close to achieving any of this without Cary." In the process, she adds, "my taste emerged. It wasn't just imposed on me."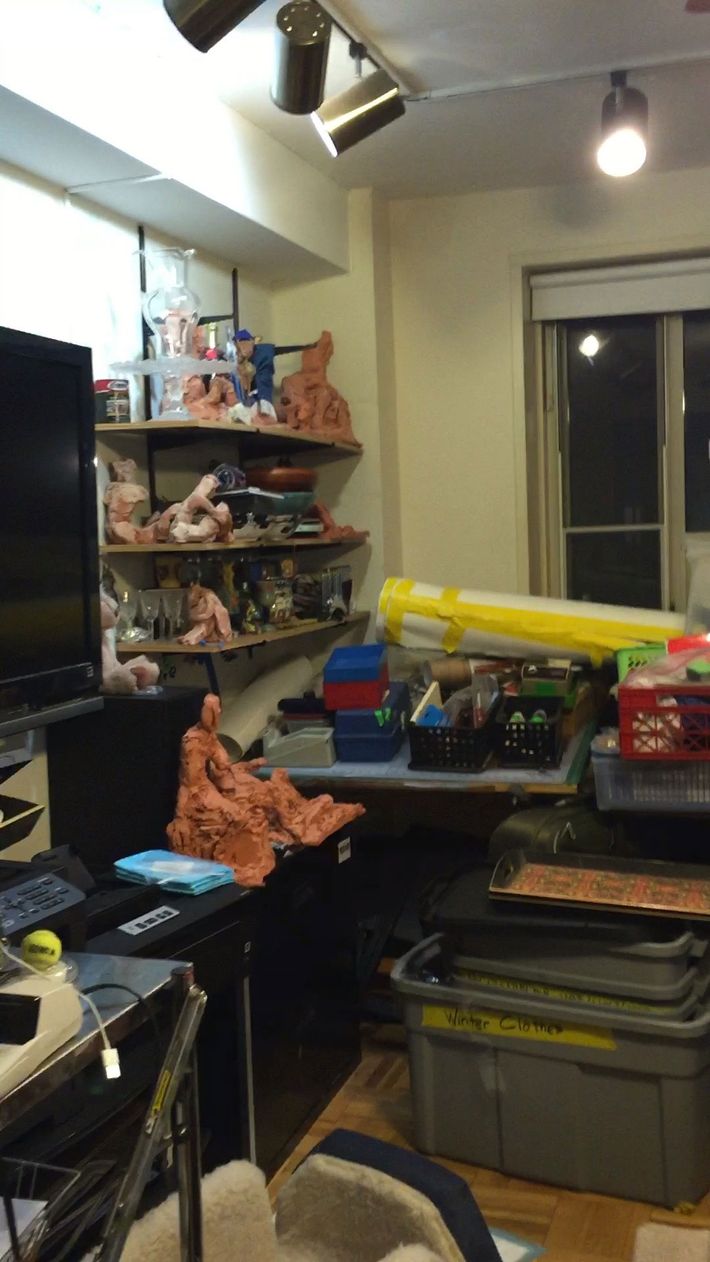 The living room had essentially turned into a storeroom. "Audrey used to have two surge protectors in each outlet and then surge protectors plugged into the surge protectors — in a nutshell, about 24 plugs for every outlet. We now have a basket of extra surge protectors and just one plugged into each outlet," Cary says. Audrey adds, "Cary really helped me to find out what was important to me." Ultimately, that meant a comforting haven that was pet-friendly for her dog, Zipper.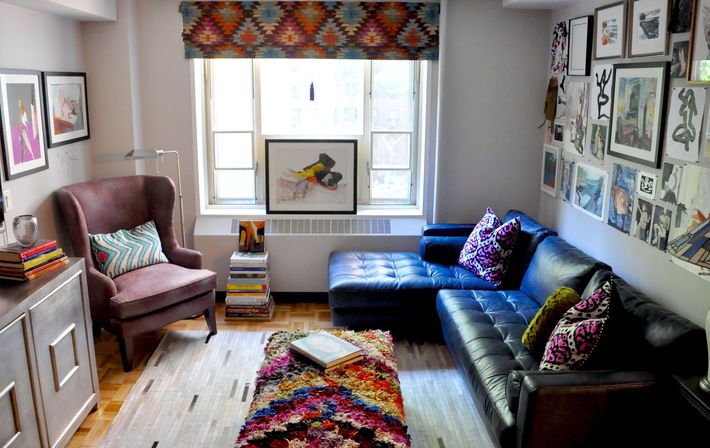 "Audrey was wedded to an oversize sectional that was so big and oddly shaped that she couldn't see the chaos around her," Cary says. "But once her apartment was free of excess, she didn't need to hide anymore from her surroundings." Cary replaced the sectional with this one in navy leather from Article, as Audrey wanted surfaces that could be washed or wiped down because of Zipper, who rules the apartment. Cary found an ottoman to serve as a coffee table and slipcovered it in a Boucherouite fabric she found on Etsy. The art on the wall is all Audrey's mounted with pushpins: "It's 30 years of work that has been stored away." Lost and now found.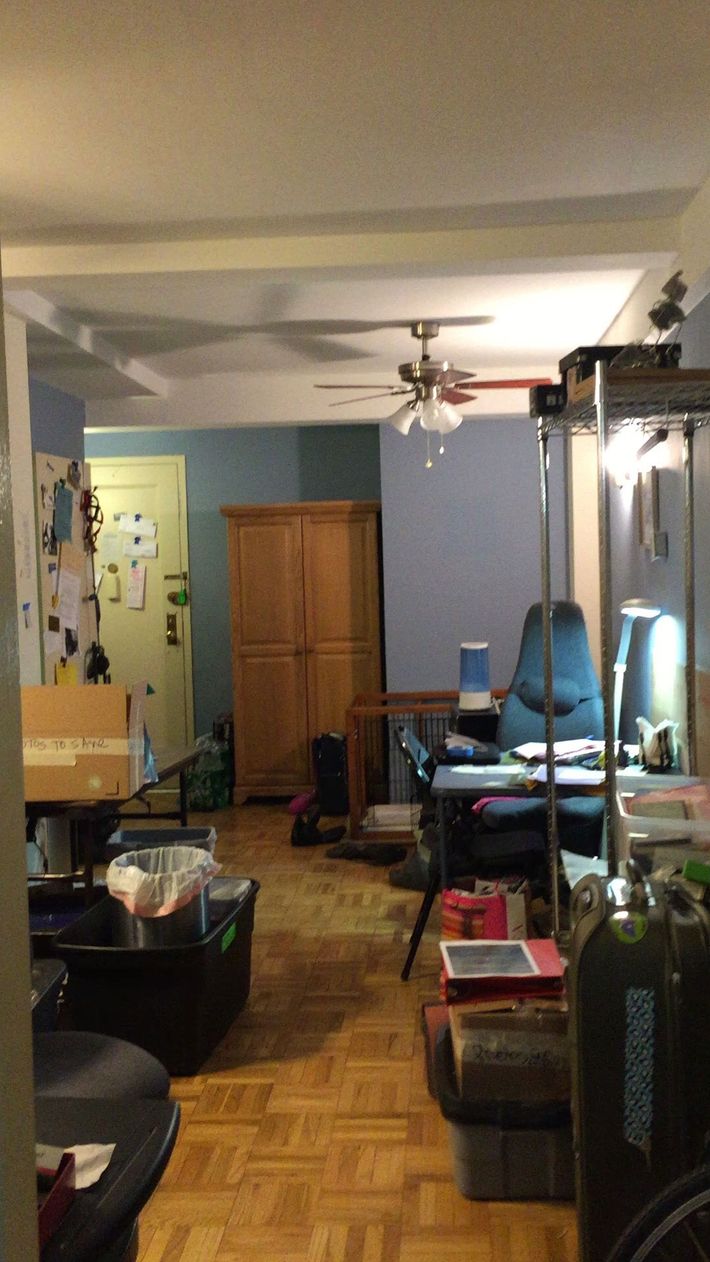 Going through a lifetime of memories and objects over the years became a challenge that Audrey embraced. Here, mid-process, Audrey admits that "I got very excited by it."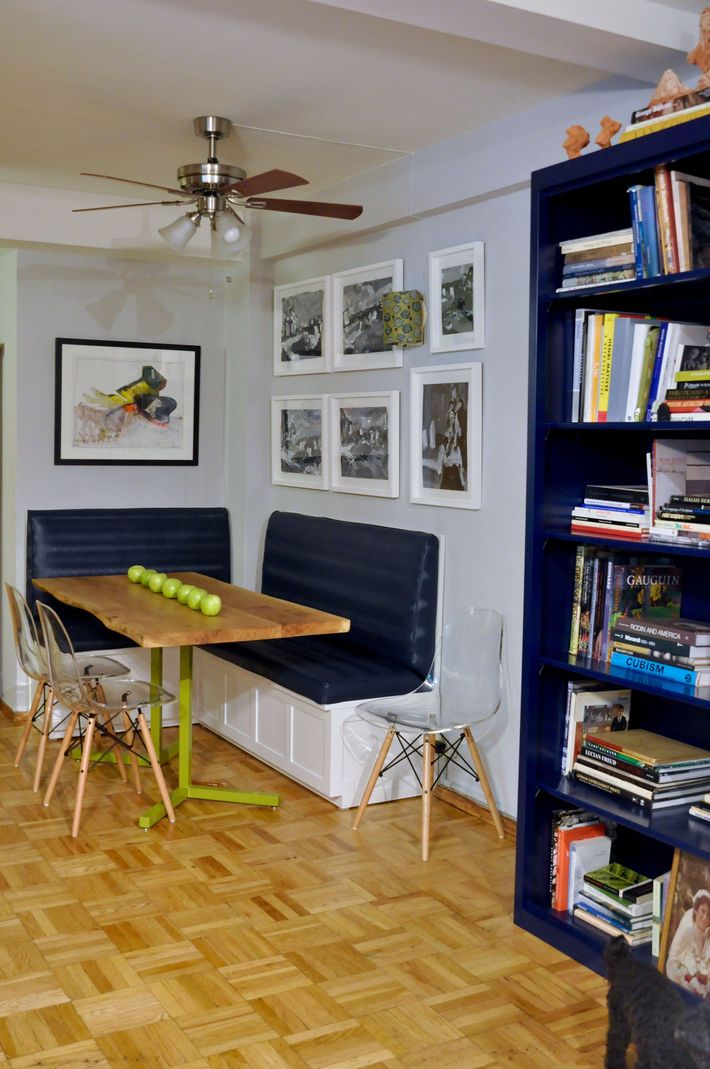 "Now everything has a place and fits right in, and we had fun doing it," Audrey says. She says her love of diners inspired the banquette that Cary had custom-built by Art and Carpentry in Brooklyn with vinyl fabric from Kravet in the corner dining area. "The metal dining-table base was custom-designed by some folks I found on Etsy," Cary says, "and the tabletop came from a restaurant supply on the Bowery so it would be super-durable."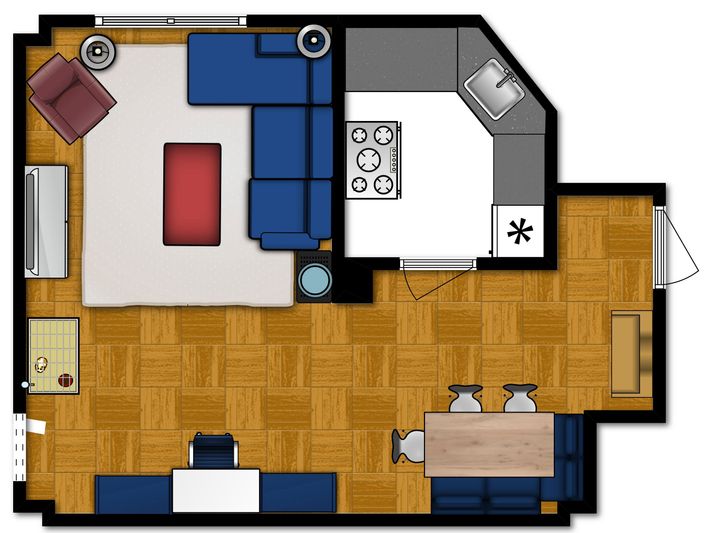 The new plan of the kitchen and living/dining room illustrates a pared-down simplicity that offers a fresh start. "I come home to a cheerful house that is comforting, and I feel cared for. It combines the past, the present, and the future," Audrey says.