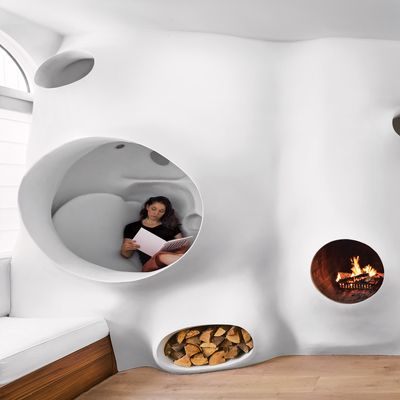 The sculptural wall practically demands that you climb in and stay.
Photo: Annie Schlechter
Clarina Bezzola didn't get her wish. "I would rather have taken something with more charm," the Swiss-born artist says, describing the Brooklyn house she purchased in 2011. "I mean, this place had not only zero charm; it had minus charm," mostly owing to a ham-fisted renovation that involved a lot of different kinds of marble. "I would rather have bought a decrepit house where an old woman had lived her entire life." But if she had found that lovely fixer-upper, would she have ended up creating the spectacular moonscape wall in her living room?
Besides, the house is around the corner from the studio Bezzola purchased in 2008. (Back then, she was living in an East Village duplex with her now-ex-husband and commuting to Brooklyn for work. It's one of those real-estate-jackpot stories; the couple bought the apartment in 1997 for $80,000, renovated it, and sold it for $960,000 when they split up in 2010.) So there she was, with a minus-charm house that had to be gut-renovated and a handsome carpenter boyfriend who told her he would set up an office in her house and do all the work. "After a while I realized, He's never going to finish, and he's never going to move out!" she says, erupting into laughter. She eventually broke up with him and fired him.
So she Googled "architects and new york" and cold-called the principal of the first firm that came up. Improbably, that happened to be James Ramsey, whose RAAD Studio is now in the news for creating the Lowline, the underground park in Manhattan. But back in 2011, his office was a hole-in-the-wall with two desks. "It was the smoothest, most beautiful collaboration ever," Bezzola says, beaming. "Collaborating with Clarina was such a treat," Ramsey agrees. "Designing and envisioning these architectural versions of her work basically turned the entire building into an experiential art piece."
"I really wanted to make a space that felt 'her,' " he continues. "Her art is very provocative and biomorphic. But if we went for that vibe for the whole place, it would look like a mess, and would do the work a disservice. So creating a space that was clean-lined enough to highlight the work while actually also having it be a functional artist's space was an important balance to strike."
Their collaboration was a rapid-fire exchange of ideas between artist and architect. Bezzola now thinks she was drawing on a favorite book from her childhood, Barbapapa, about sweet creatures that could change shape depending on what they wanted to express. "They lived in a house that was like this bubble house," she explains. "It was one of my favorite books when I was 6 years old, and it still is!" She has also recently discovered the Swiss architect Peter Vetsch, who built earth houses whose similarly curved shapes seem to grow out of the ground. "Swiss people … " she muses. "I don't know how many you have met, but they are so repressed. The society is so tight and structured that everyone kind of swallows everything until, by the time something actually comes out, it's really weird. The weirdest people I have met in my life are all from Switzerland."
*This article appears in the Winter 2017 issue of New York Design Hunting.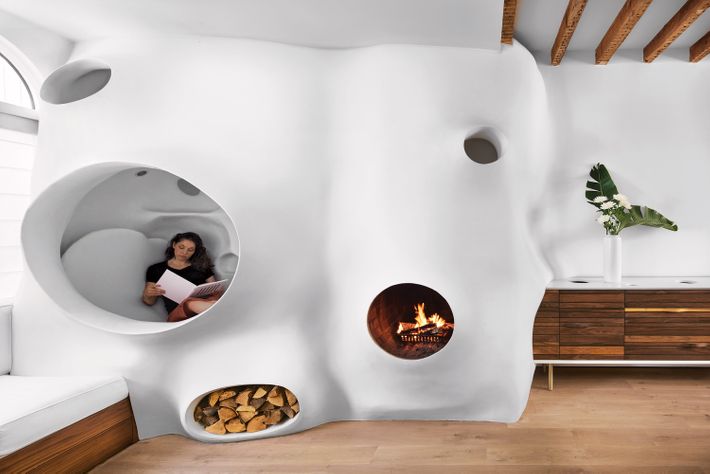 In the living room: Artist Clarina Bezzola, seen here, brushed up on the old-fashioned plastering techniques she learned in school to make the white sculptural wall. James Ramsey had designed a speaker console similar to this one for his own apartment. Bezzola saw it and asked, "Can you make it bigger?"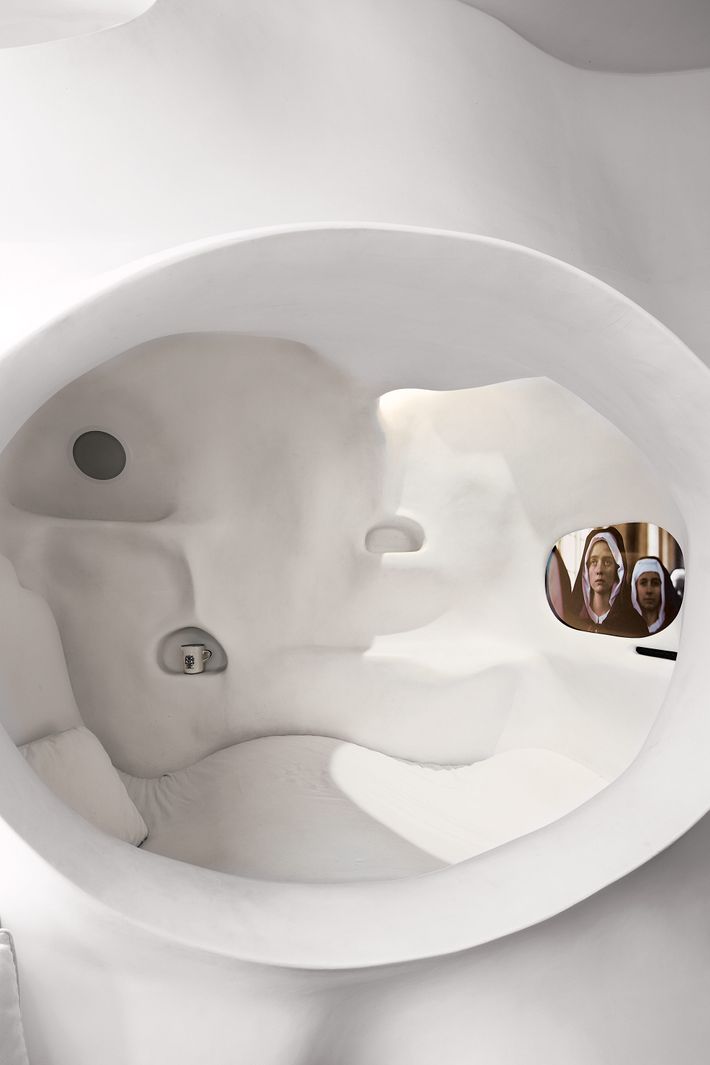 Inside the wall: Bezzola created a nook with a flat-screen and built-in shelves. A custom mattress cushions the niche.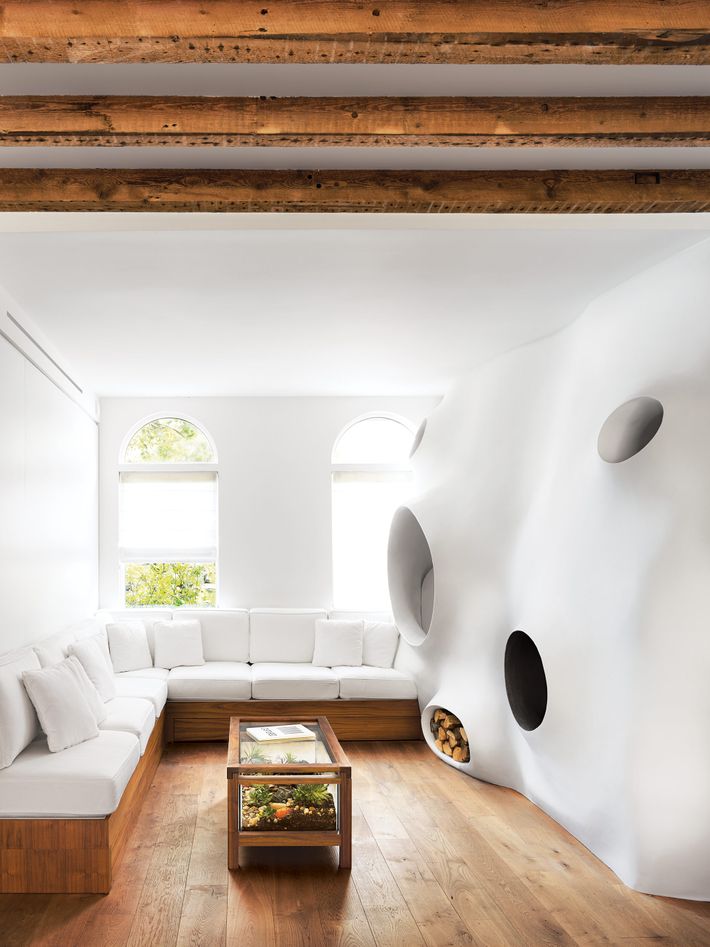 To offset the curvilinear wall, Ramsey designed an L-shaped banquette.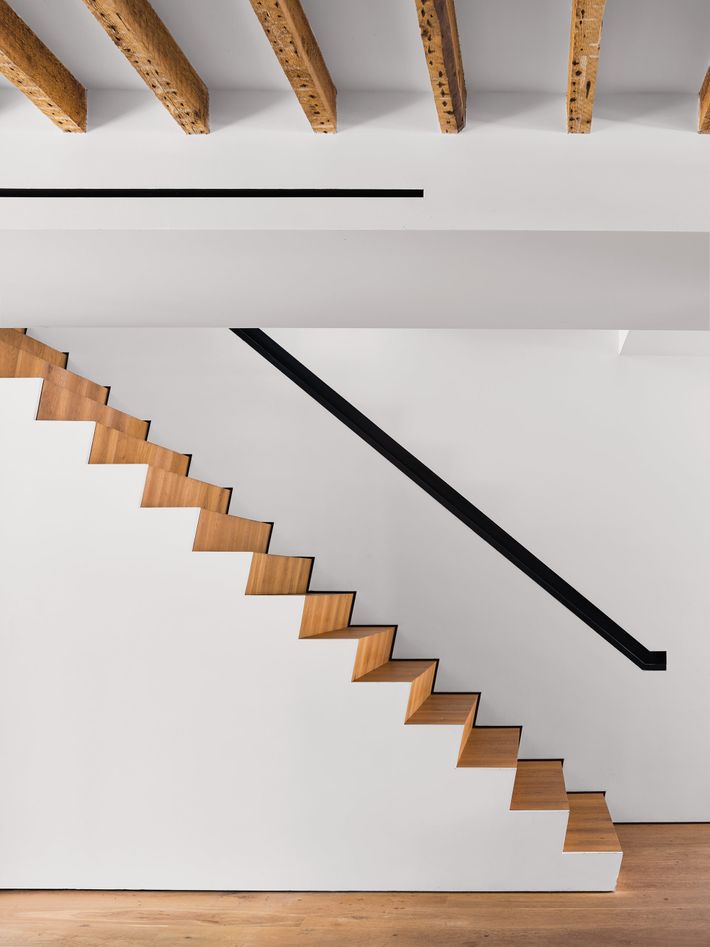 The open staircase leads to Bezzola's painting studio and bedroom.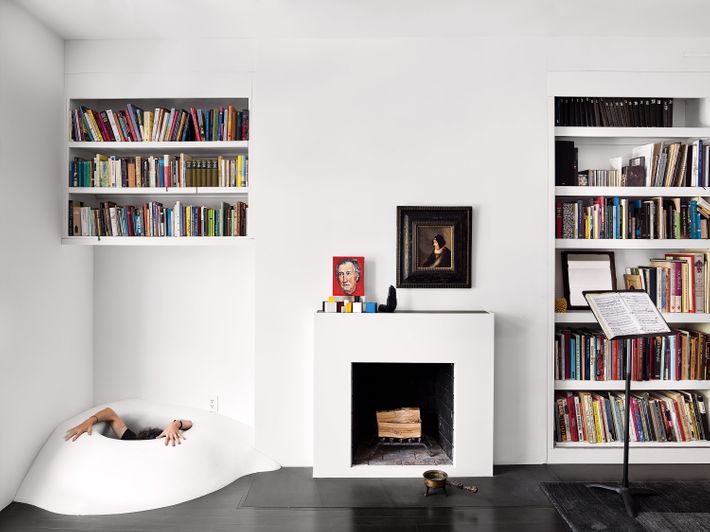 Down the hatch: This porthole leads to the floor below, and to the largest opening in the bubble wall seen on the first slideshow photo. The portrait on the mantel, of Goethe, was painted by Bezzola herself.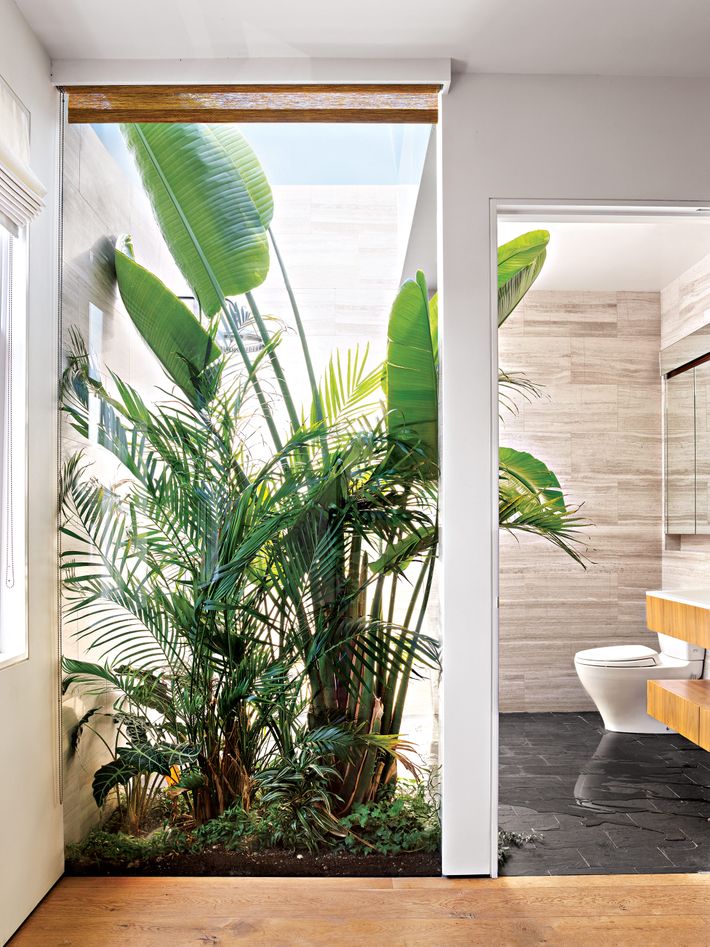 The bathroom: It's an open wet room, with a shower, a drain in the floor, and lots of thriving plants.