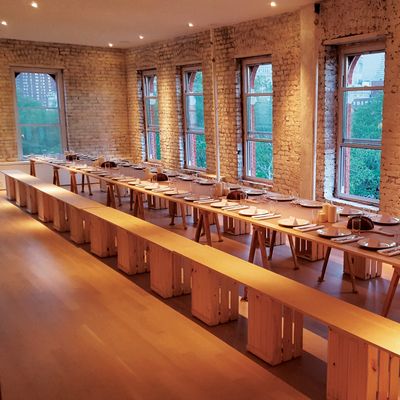 When it's set up for dinner.
Photo: Peter Murdock
The Lower East Side gallerist Simon Preston likes to throw the occasional dinner party after an opening. When it came time for him and his partner, the Turkish-born architect Koray Duman, to renovate this sixth-floor walk-up around the corner from the gallery, those parties were an inherent part of the plan. "Why go out to a restaurant if we could do this at home?" Preston asks. That would require a giant dining table, and that in turn meant acquiring, and breaking through into, the apartment next door.
Still, Duman, who recently renovated a four-story studio-gallery and sculpture garden in East Harlem for Richard Prince, worried about ending up with a generic white-box look. So no detail went undiscussed. The floor-to-ceiling bookshelves wound up not gallery white but a friendly Kermit the Frog green. (When he chose the color, "Simon even asked one of his artists," says Duman.) He took pains to highlight the building's bones, exposing its raw brick. And he pushed the kitchen into a unique side nook, lined on all sides with stainless steel. A previous renovator had installed standardized windows that were too small for the openings, filling in the gaps with framing and Sheetrock; Duman tore it all out and installed right-size windows with nearly 25 percent more glass area (and light).
In the opened-up, brightened-up living room, he floated two conversation areas: a square sofa and a nine-by-five-foot plywood-topped dining table. Sitting at either would prompt guests to turn to their sides to talk. "I wanted to provoke real intimacy," Duman says. If it sounds like a fanciful dream for an art-world dinner party, you can't fault him for trying.
But maybe it worked. Last year, even though construction wasn't done yet, the duo gave the apartment a trial run with a dinner honoring one of Preston's artist friends, the painter Caragh Thuring. A trip to Chinatown yielded a handsome, inexpensive service for 40. Three four-by-ten-foot sheets of plywood, with sawhorses underneath, extended the dining table the length of the room. Recalls Duman, "The space and the furniture performed wonderfully, with everyone connecting long into the night."
Renovation Architect: Koray Duman
Built: 1900
Before: A battered Lower East Side tenement floor–through.
After: A wide-open stage, joined with its neighbor, for entertaining.
*This article appears in the Winter 2017 issue of New York Design Hunting.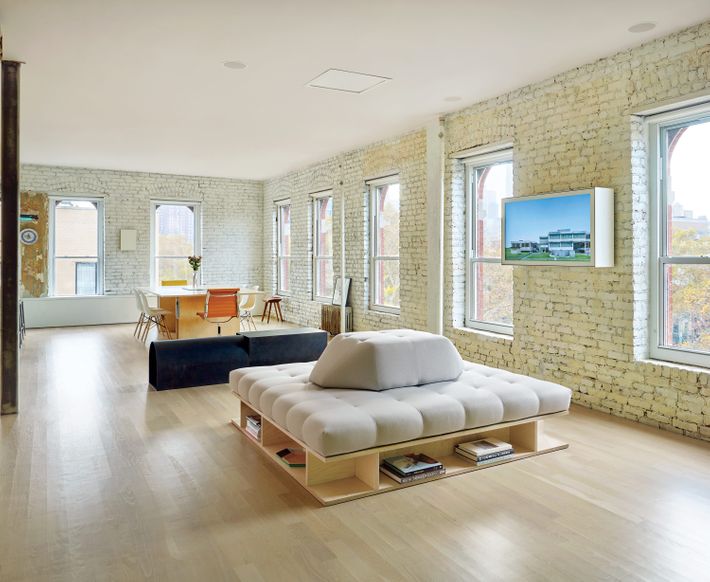 The brick walls: The patchy paint is neither a special faux finish nor distressed from age. "When they were painting the bricks," says Duman, "they first applied this sealer, and I immediately told them, 'Stop! I like it like it is.' " The square sofa is esigned by Duman and has an upright central cushion that shifts, allowing groups to sit on one side, or for Simon Preston and Duman to push it back and recline while watching TV.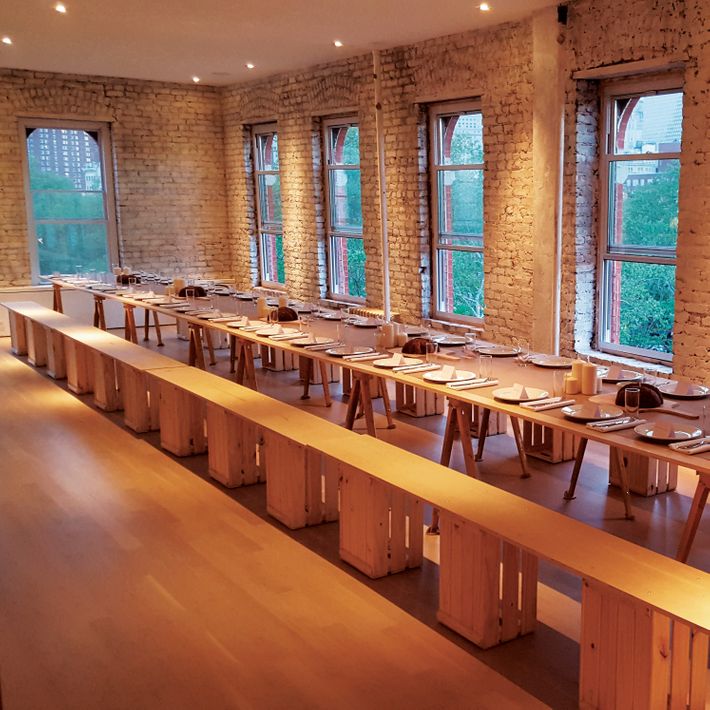 When it's set up for dinner: The squarish table you see in the previous photo becomes one section of this temporary arrangement. The dining table also serves as a drawing space for Koray Duman during the day.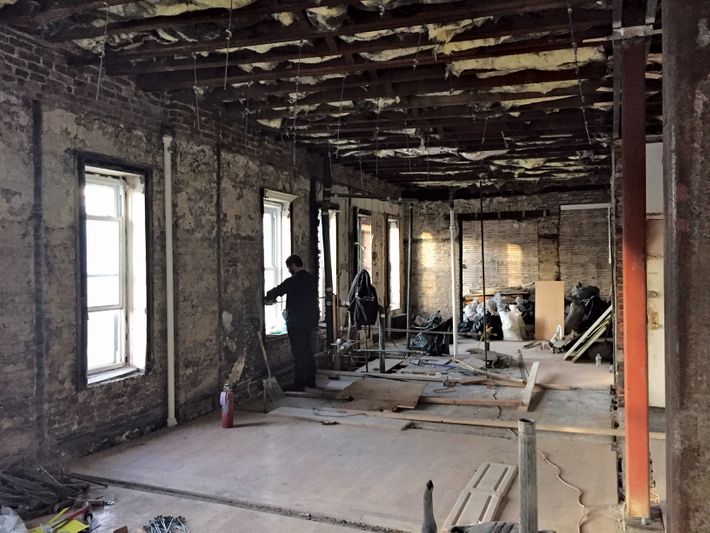 Before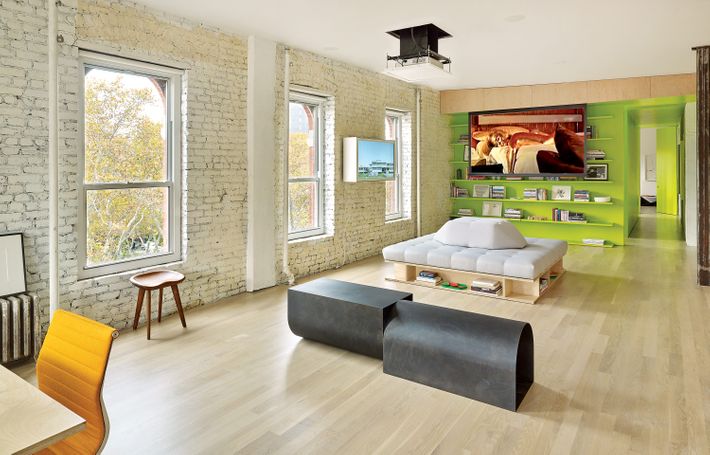 Both the TV projector and the screen retract into the ceiling. Duman resisted any fancy finishes on the oak floors as well. "We put a white stain on them, which we wiped off immediately," he recalls. "Then we applied a natural clear finish."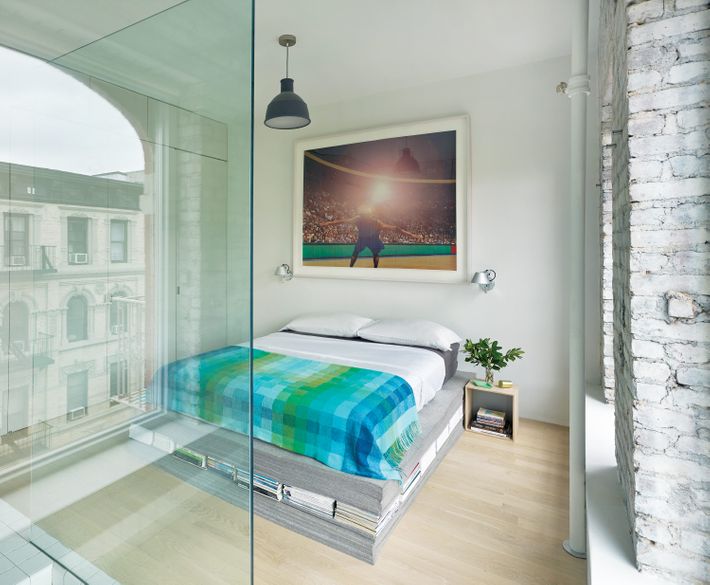 In the master bedroom, a slim band of book storage is cleverly worked into the platform bed.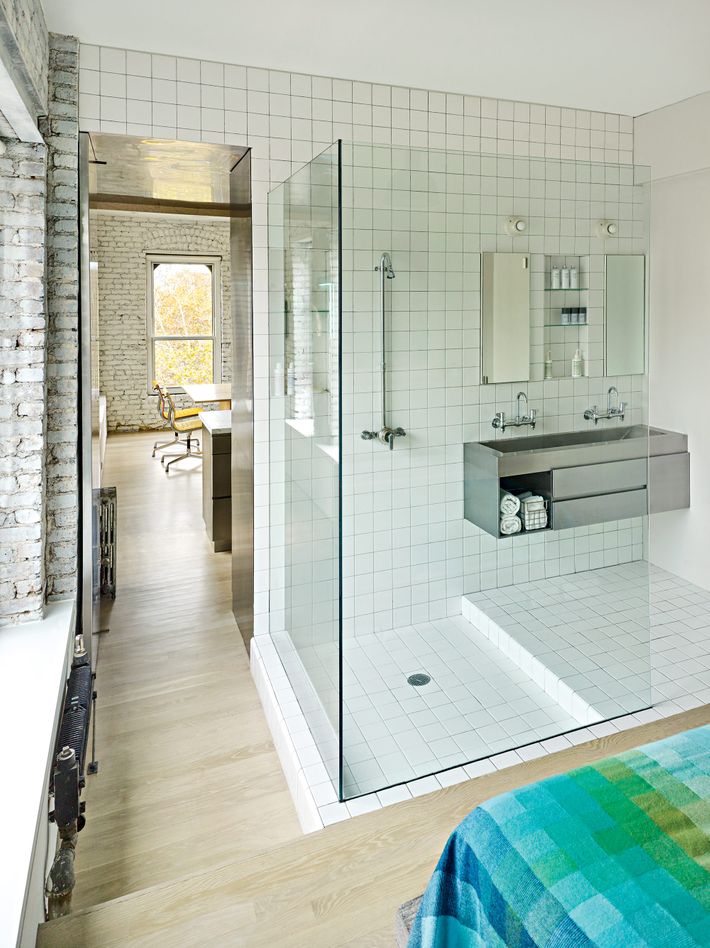 The master bathroom: The stainless-steel sink is custom, built by Bowery Kitchen Supply; the faucets and shower fixture are straight-out-of-a-catalogue industrial fixtures.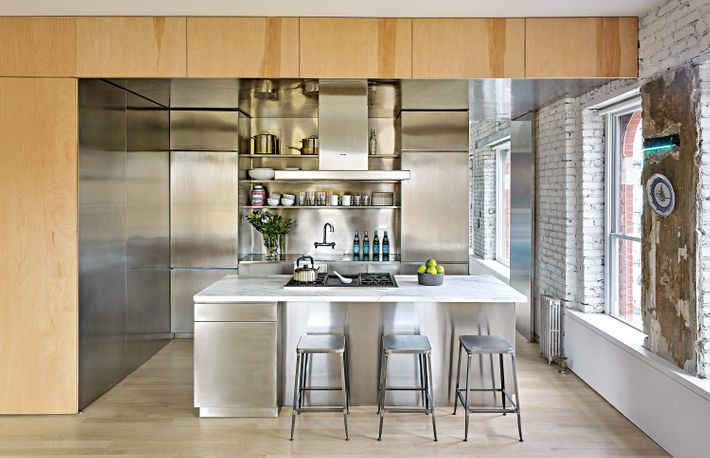 Even the ceiling is stainless steel in the kitchen. It was built mostly for Preston, who'd been the household chef, but Duman liked it so much that he's cooking more, too.