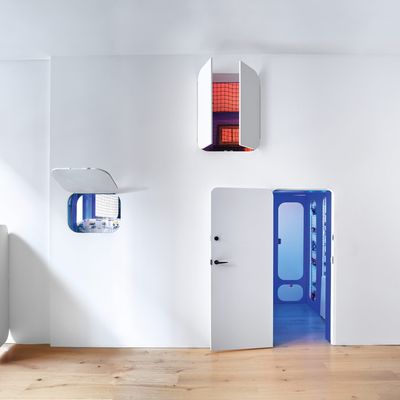 Pod people? Not these kids.
Photo: Annie Schlechter
Sure, George Switzer, founding principal of Swis.Loc Architecture, could have built two regular bedrooms for his client's two kids. But Switzer didn't have a ton of space to work with — this is a 1,300-square-foot loft for a family of four. Fortunately, the clients were a family open to something idiosyncratic: Zesty Meyers, co-founder of the great 20th-century-design gallery R & Company, and his wife, Maureen Cahill. "We treated this like a work of art," Meyers says, standing in front of a white wall punctuated by rounded doorways that peek into wonder-world pod bedrooms. There is no art on the wall here, because the wall itself has its own graphic beauty, especially when the northern light pours in.
"It's an approach to kids' bedrooms that was widely seen in New York City in the 1980s," Switzer says. "The inspiration for the kids' rooms came from many fronts," including sci-fi-movie sets and NASA concept drawings of the 1970s. Also from furniture by Joe Colombo and Verner Panton; Meyers is an avid collector of the work of both designers, and has put pieces by them in both rooms.
Marlon, who is 3, has the unit closest to the windows, fitted out with mobile storage units on casters that can be moved to anywhere he has spread out his toys. His brother, Max, is 13, and a passionate collector himself, so his room has lots of display space and the added feature of a smart-phone-controlled color-changing LED system, incorporating UV LEDs that illuminate his collection of fluorescent rocks. There's also a panel in his room — secret, at least until now — that opens to reveal a piece of the loft's history, showing part of an original baluster of the stairway and a cache of bottles and letters from its many years as a perfume factory. Form follows function here, but it also follows fun.
*This article appears in the Winter 2017 issue of New York Design Hunting.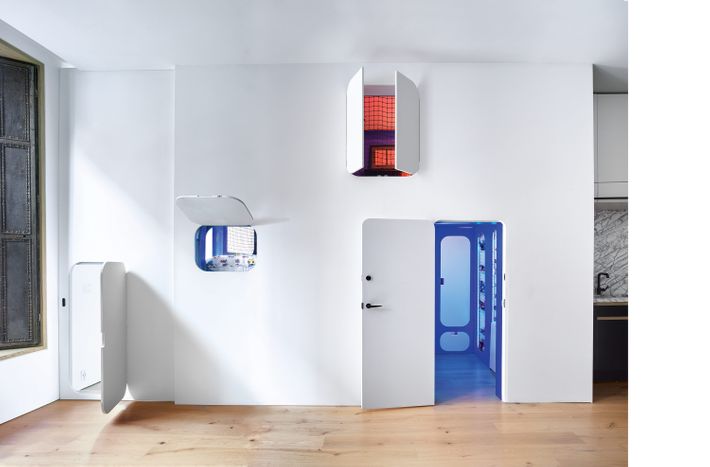 Marlon's room (left): He's 3. Max's room (right): He's 13. Over the top: A little private space for Max, with an opening that allows him to climb over and visit his brother's room.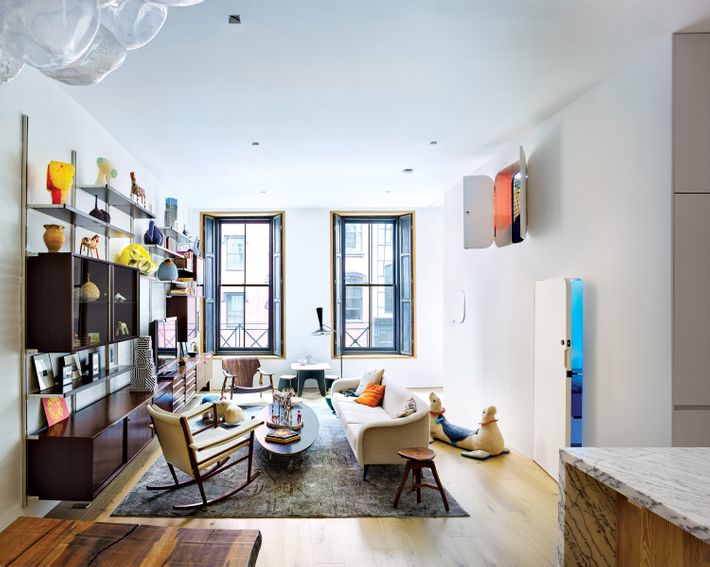 The pure wall: Meyers and Cahill didn't hang any art in the living room, instead treating the big wall itself as a graphic piece.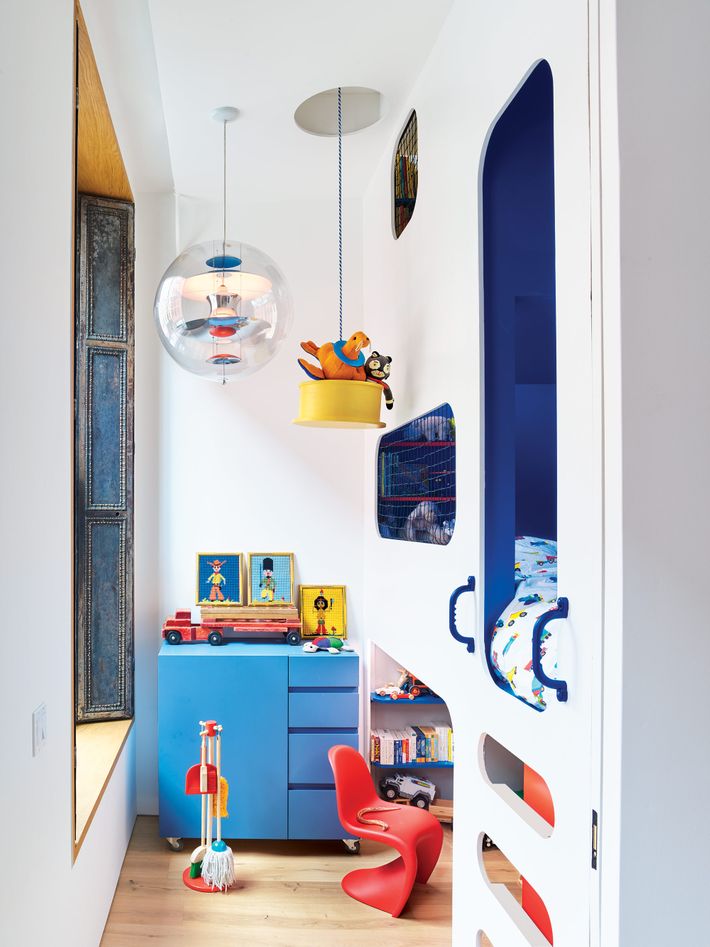 And inside it: "The approach pays homage to Joe Colombo's Living System Box1 and the densely packed, modular furniture he designed," architect George Switzer says. The blue dresser rolls into the play space under the bed.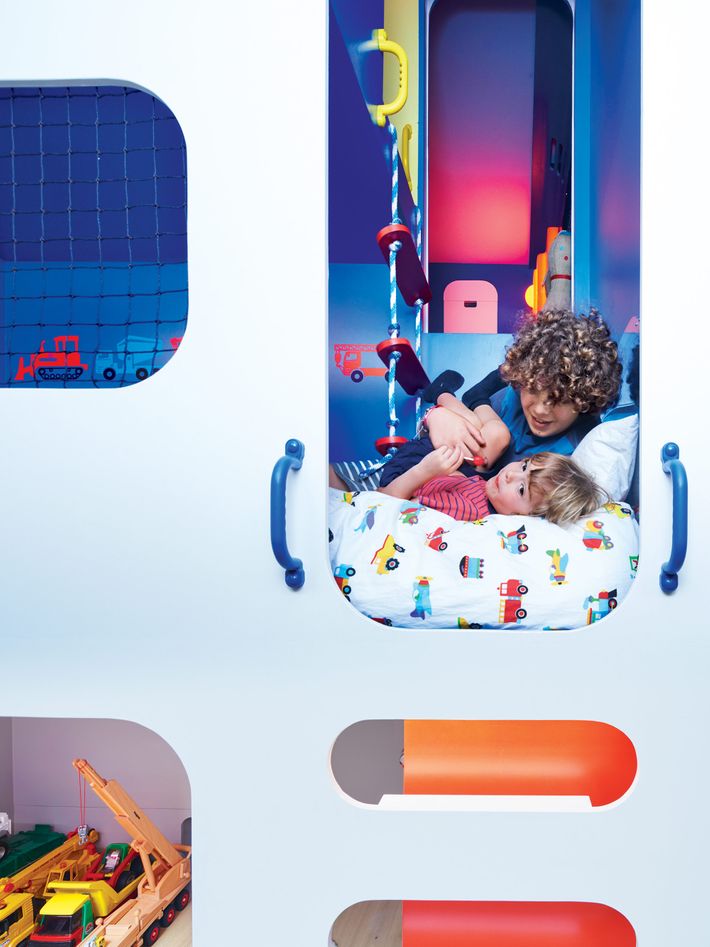 Max (on top), with Marlon on his bed, which is accessed by built-in steps.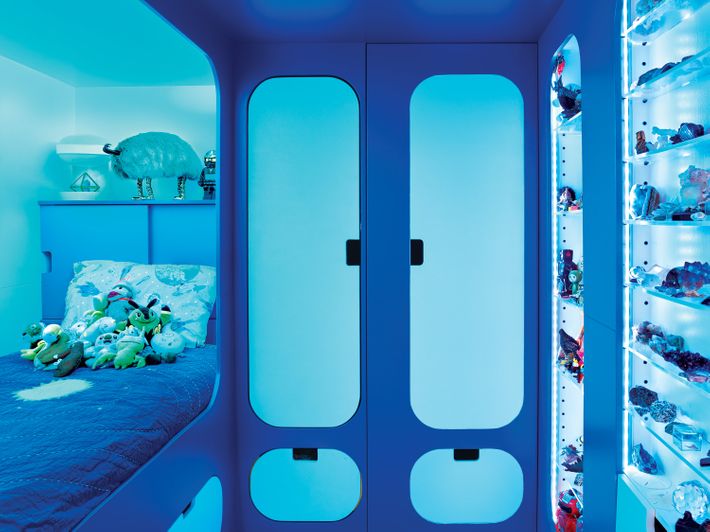 The glow: Max can adjust the color of the illumination (and switch to UV) through an app on his smartphone.