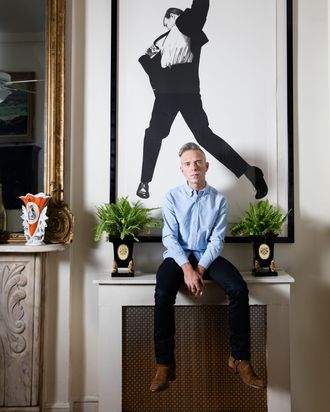 Drew Elliott in front of a Robert Longo print that belonged to his mother.
Photo: Floto + Warner
Paper magazine chief creative officer Drew Elliott has added a new gig to his packed schedule: He's now a judge on the upcoming season of America's Next Top Model (which premieres December 12). And when he finally gets home at the end of the day, it's hardly to the minimalist modern décor that you might expect from a hipster such as himself; rather, he has perfected the art of cozy glamour in a style that might be described as Gilded Age Pop.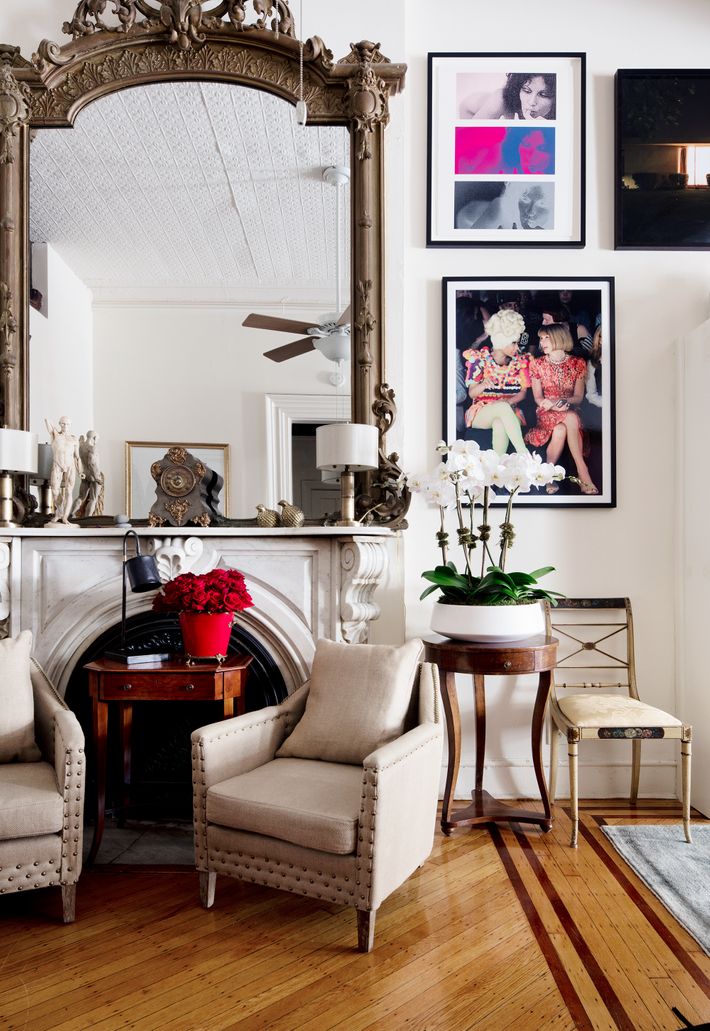 The Patrick McMullan photograph of Anna Wintour gossiping with Nicki Minaj at a fashion show, featured in Drew Elliott's parlor-floor apartment, is not surprising art for someone famous for, among other things, breaking the internet with his now legendary Kim Kardashian cover.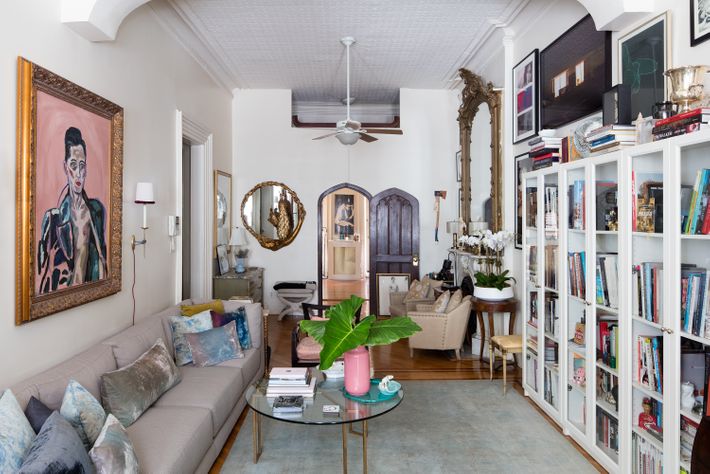 The apartment's a little bit gothic, a little bit rock and roll, and filled with furniture, art, and personal items that all have meaning for Drew, who grew up in Bloomington, Indiana, and whose mother was known for classic décor with an edge. "My mother was an artist and the most sophisticated woman I know," Drew says. "Our homes were always ahead of the times, but traditional in their feel." The glass-encased bookshelf is from Ikea but customized with new hardware, and the glass-topped coffee table is from ABC Carpet & Home.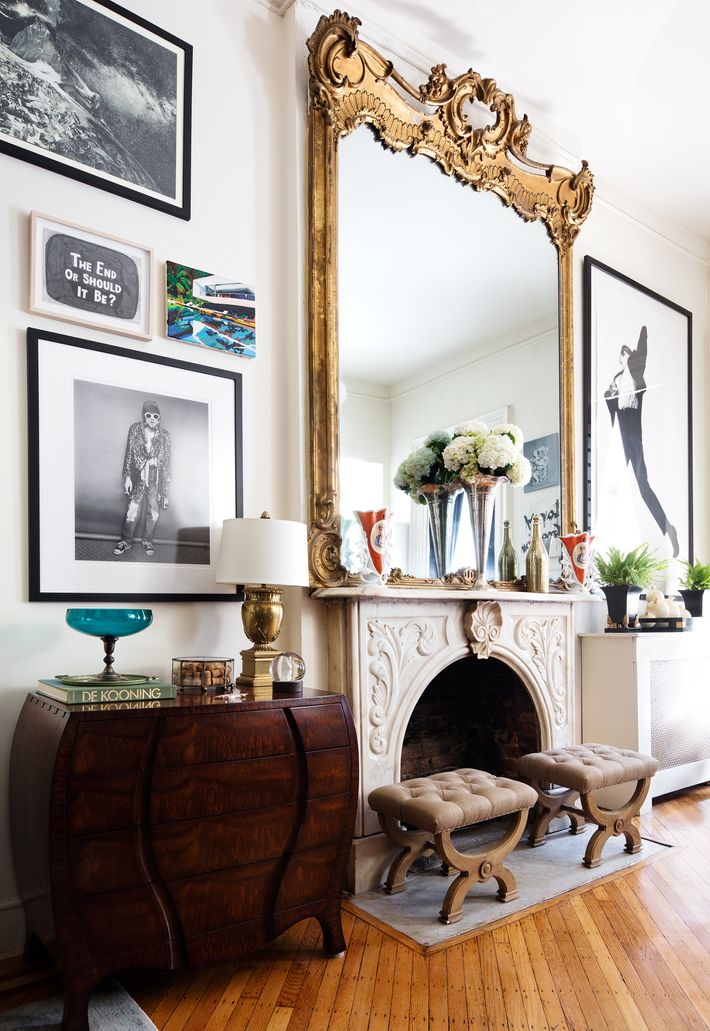 "I find no need to buy things that don't either have a story or some great design aspect to them," Drew says. The gilded mirrors above each fireplace were intact and in place when he moved here in 2013.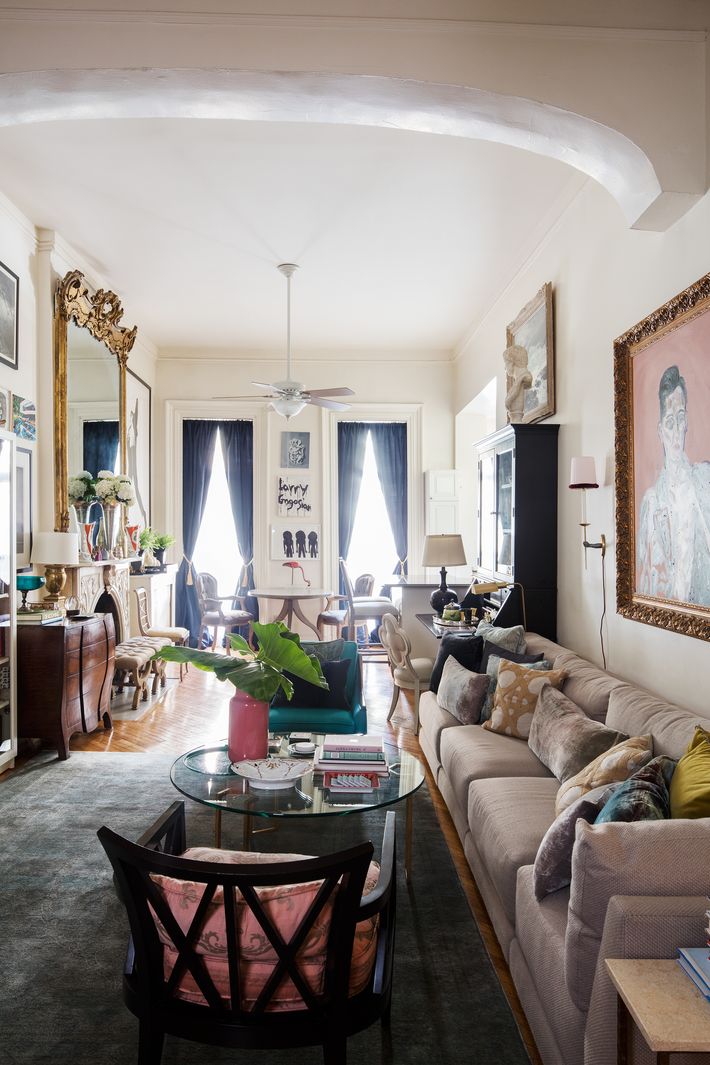 Here, the large Crate & Barrel couch sits below a portrait by Tali Lennox.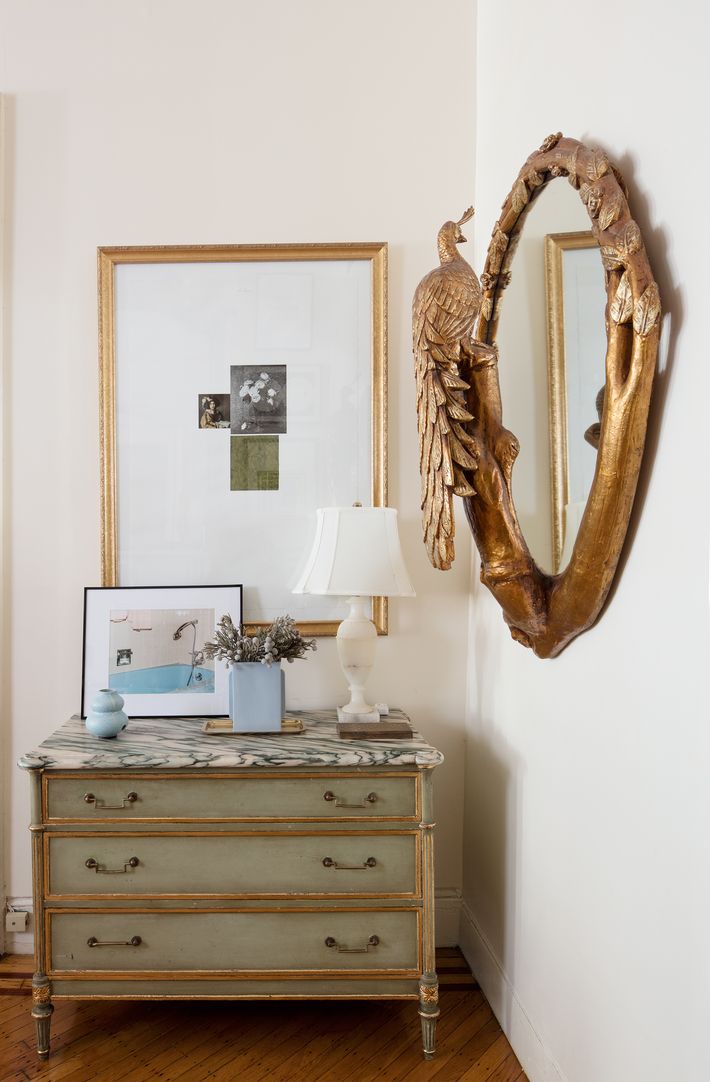 Drew scored the amazing gilded peacock mirror on eBay. The marble-topped bureau was part of Drew's mother's furniture collection. "It's an original Jansen piece, I believe," he says of its provenance.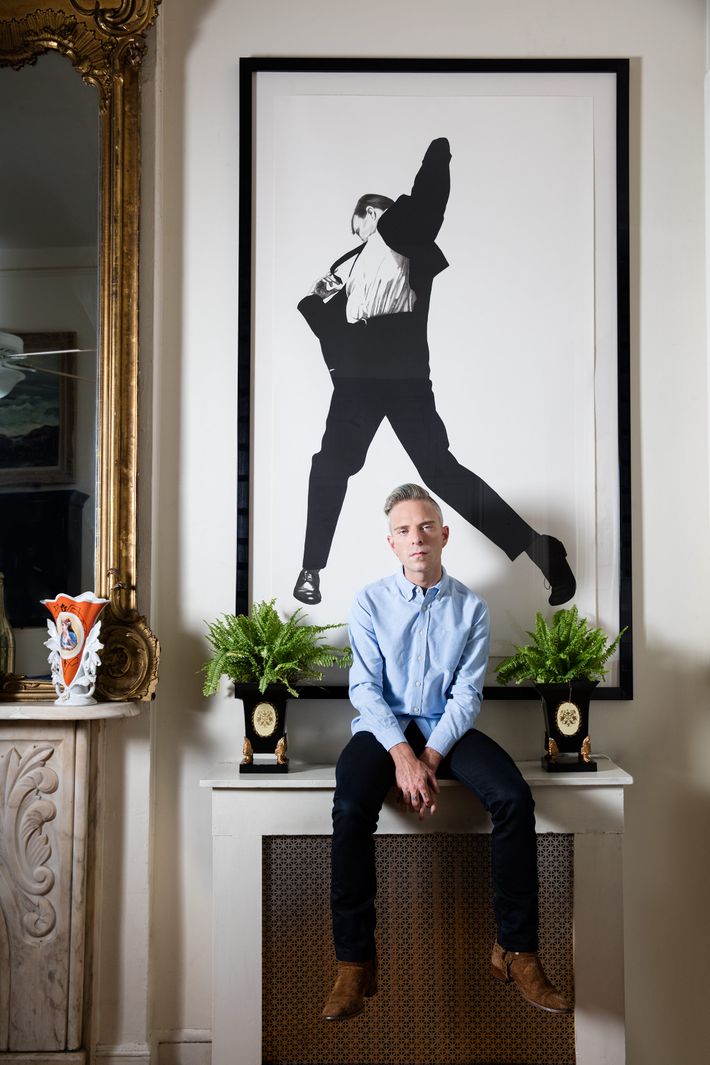 Drew sits on the radiator in front of a Robert Longo print that belonged to his mother. The two porcelain plant holders were found at a junk shop. Tyra Banks, co-creator of America's Next Top Model, along with Kenya Barris, in 2003, first approached Drew to help revamp the show to reflect the current culture of fashion and media, but then "it became a much bigger project." Of his time on the show as a judge, Drew says, "We filmed on location in New York over two months, and you really get a sense of what a model's life is like as they make their way through the industry. The city is treated like a character in the show."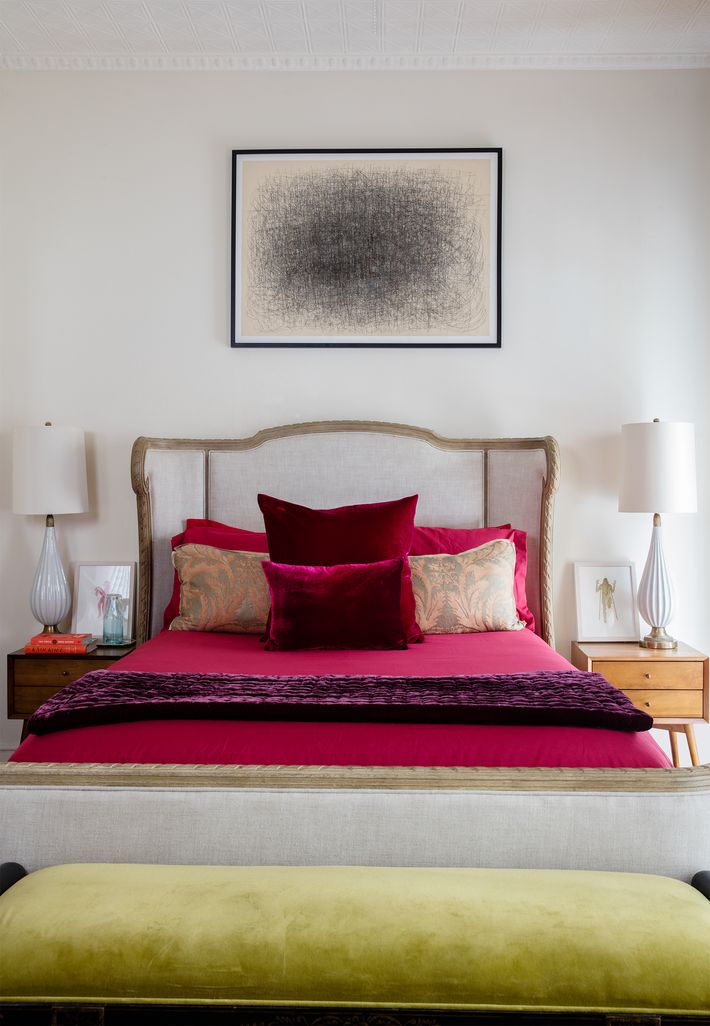 Drew's bedroom speaks to understated patrician glamour with a bed from Restoration Hardware and matching side tables and lamps. The drawing above the bed, by artist Dan Miller, is from Creative Growth.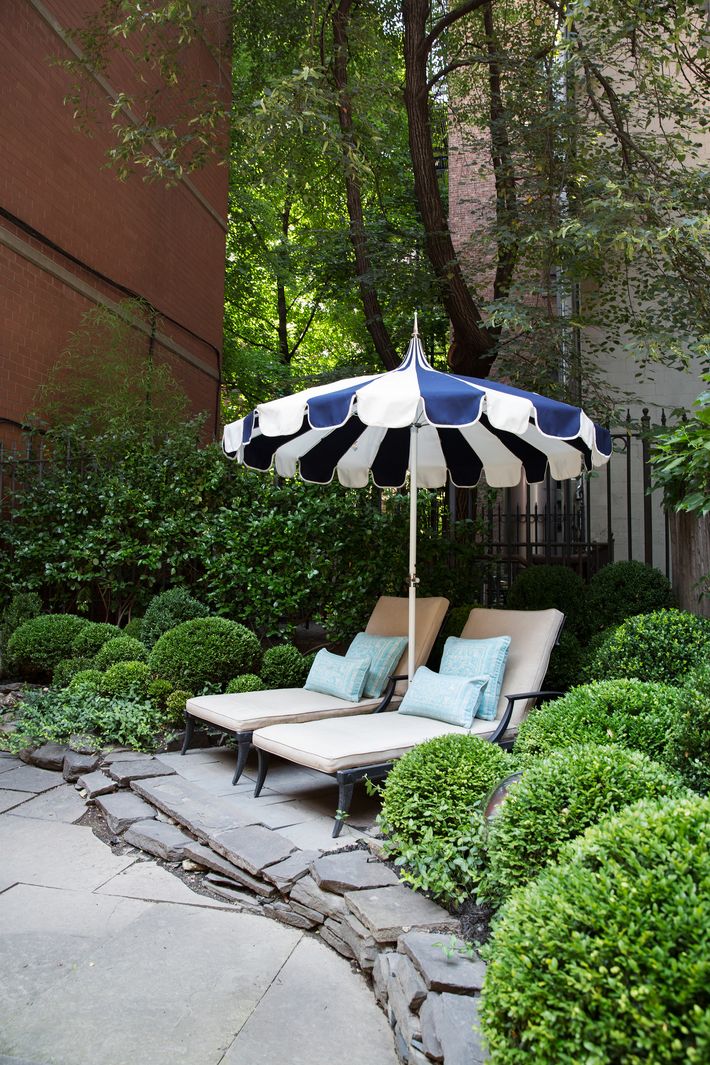 The apartment's pièce de résistance is the large outdoor garden space that Drew uses for entertaining when the weather permits. His gardener, Iris Kaplow, gutted the space and planted 60 boxwoods and added the stonework. The loungers are from Restoration Hardware and the striped umbrella from One Kings Lane. "I think I will know I have been successful when I own an Egon Schiele drawing," Drew says. "That is my dream."