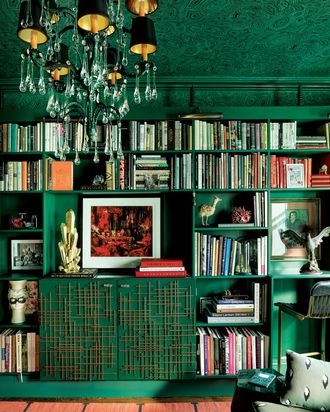 The library bookshelves are covered with some faux-mid-century gold wall hangings.
Photo: Annie Schlechter
"There is a bit of a Rip Van Winkle feel about it all," James Aguiar says, describing his move with his partner, Mark Haldeman, this past September into the same Park Slope duplex that they had rented from 1997 to 2006. Following that period, the couple decided to economize after buying a weekend house in Kingston, New York, and moved two doors down to a smaller space. But when their former apartment came back on the market and their pockets were much deeper, they snatched it up. The first time around, the décor was a bit cartoony (lots of taxidermy, a mannequin presiding over the second-floor landing). And for their smaller apartment, they had gone for eye-popping color, with a persimmon-and-lime-green living room anchored by a hot-orange couch. For this, their new old apartment, Haldeman and Aguiar decided to try something totally different.
"We saw this as the perfect opportunity to reinvent a whole new life in an old space," says Haldeman, the U.S. regional manager of Paul Smith, who along with Aguiar, the fashion director of Modern Luxury, wanted to go with a slightly more sophisticated look. The rooms downstairs are saturated in rich colors and layered patterns, while the upstairs salon shimmers in pale hues contrasting with animal prints and porcupine-quill lampshades. (Billy Baldwin and Syrie Maugham would have felt at home here.) "I think we always look for the wrong thing to make it right," Aguiar says. This can mean deconstructing a metal wall hanging found at Target and repurposing it as an ornamental detail on the front of a console in the library, or placing matching sofa-bed love seats covered in an ermine tail-motif fabric on a rust-colored area rug. "We spent ten years missing this place — it was our first home together," Aguiar says. "The countless holidays and dinner parties. And, of course, we missed the 11 closets the most."
*A version of this article appears in the January 23, 2017, issue of New York Magazine.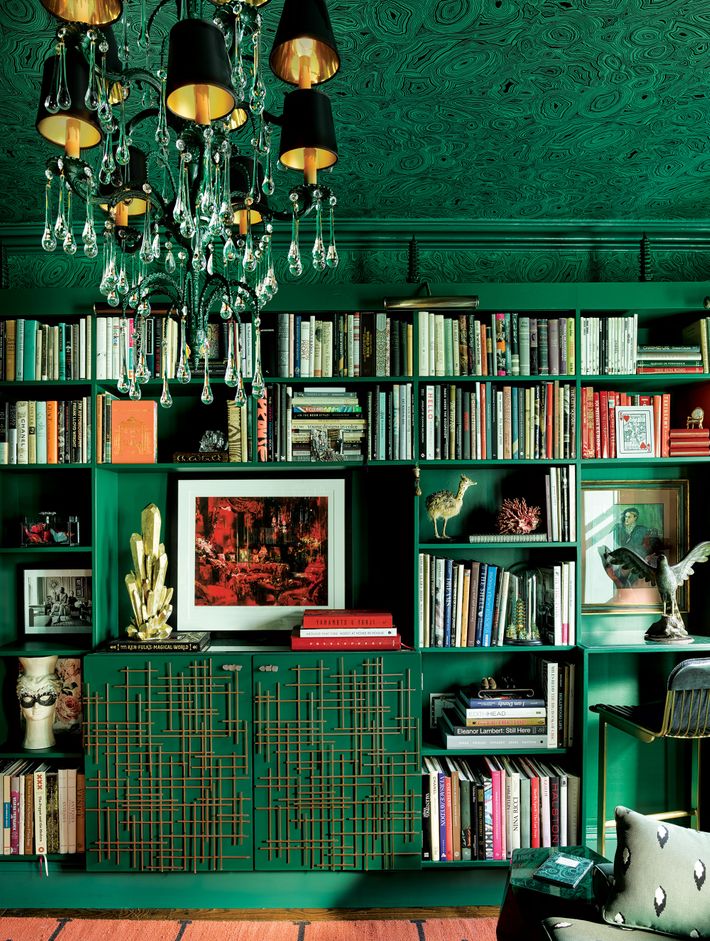 The Library Bookshelves
James Aguiar and Mark Haldeman covered the cabinet doors of their custom bookshelves with some faux-mid-century gold wall hangings they found at Target. The framed painting by Jeremiah Goodman depicts Diana Vreeland's Park Avenue living room, designed by Billy Baldwin to resemble "a garden in hell."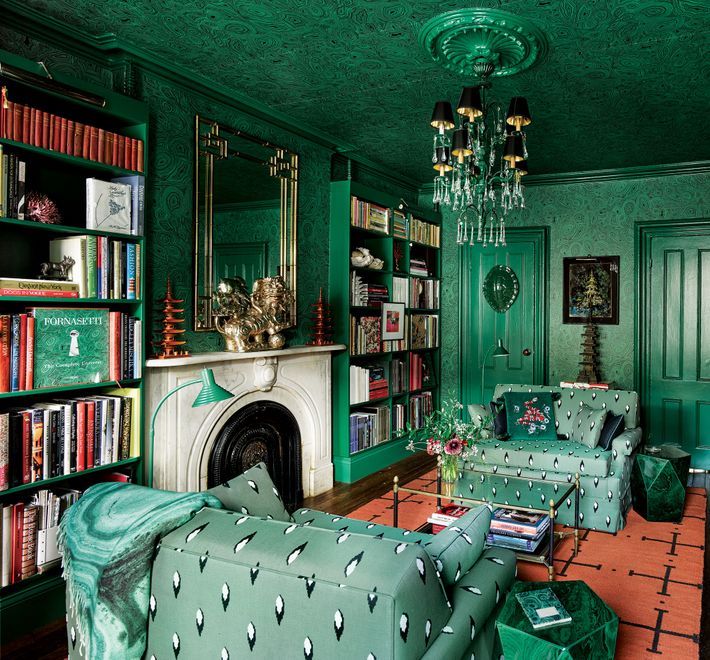 The First-Floor Library
"It was always our dream to have a library," Aguiar says. They covered the room in Fornasetti's malachite-patterned wallpaper from Cole & Son. The space doubles as a guest room, and the two love seats, which are upholstered in Royal Ermine by Tony Duquette for Jim Thompson, are pullout beds. The area rug is from Madeline Weinrib at ABC Carpet & Home.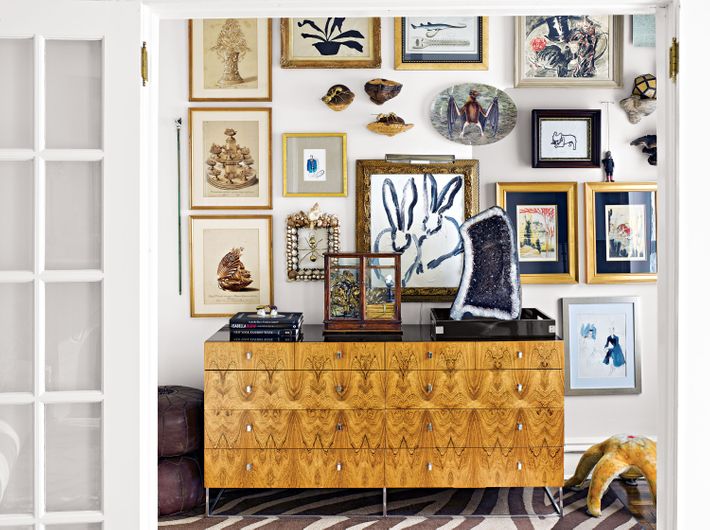 The Gallery
Separated by French doors, this annex off the parlor holds some of Aguiar and Haldeman's art collection, including Hunt Slonem's rabbit painting, an illustration of Bill Cunningham in his blue jacket by Manuel Santelices, and a study of the Duchess of Windsor and Elsie de Wolfe, by Kenneth Paul Block. The patterned rug is from Home Depot.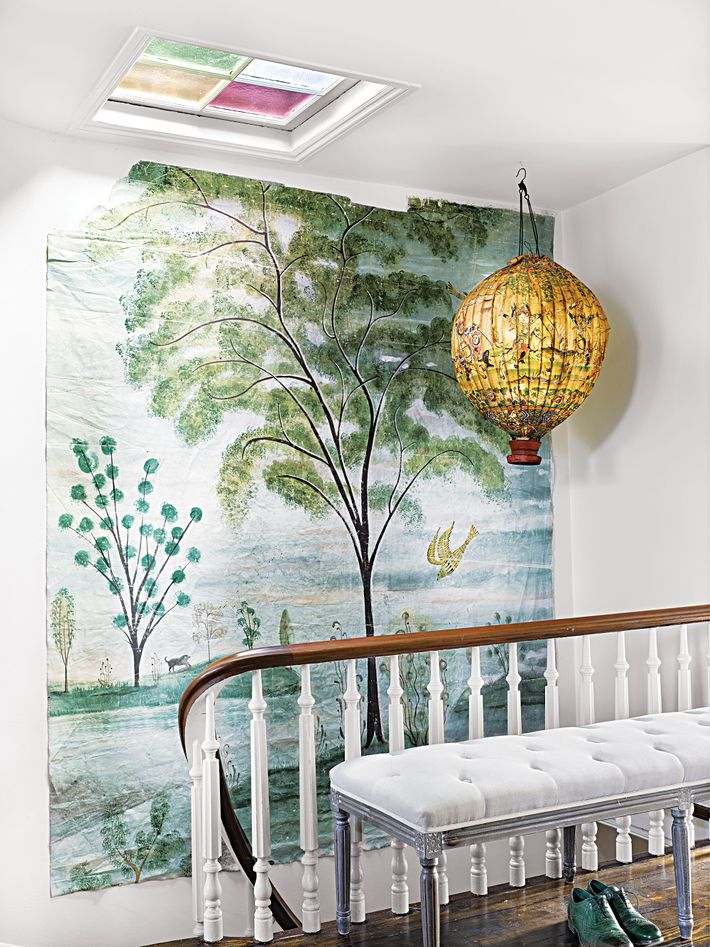 The Upstairs Landing
A painted canvas by Kevin Paulsen covers the stairway wall. The bench is from Home Goods, and the hand-painted silk lantern was a gift from John Derian.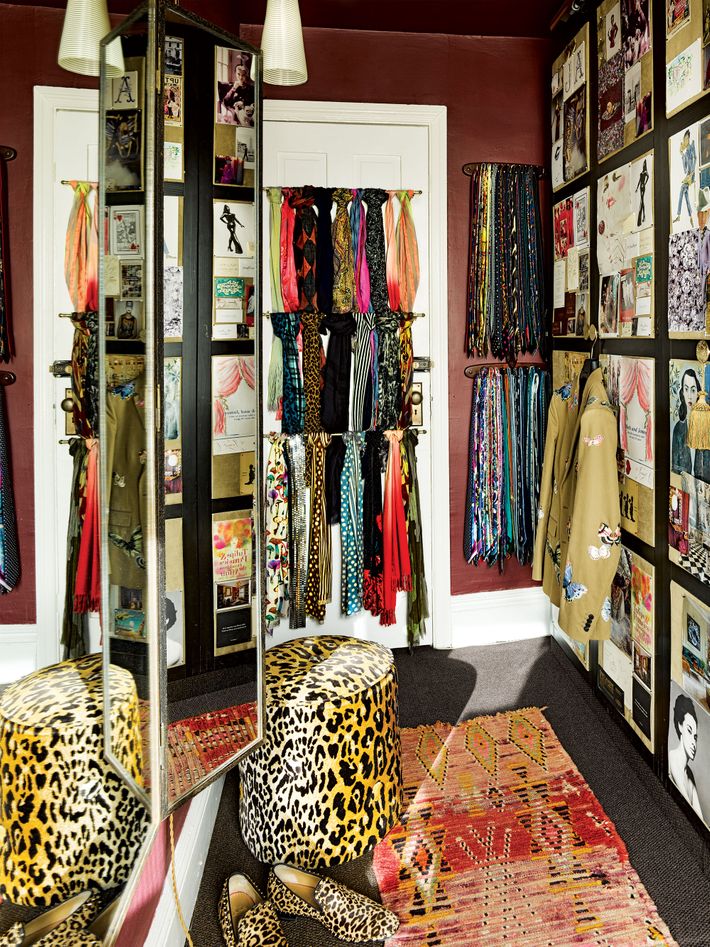 The Dressing Room
The first time around, this room was used as an office. Now it's a dressing room where every surface accommodates the couple's extensive wardrobe. The doors are covered in a collage of images.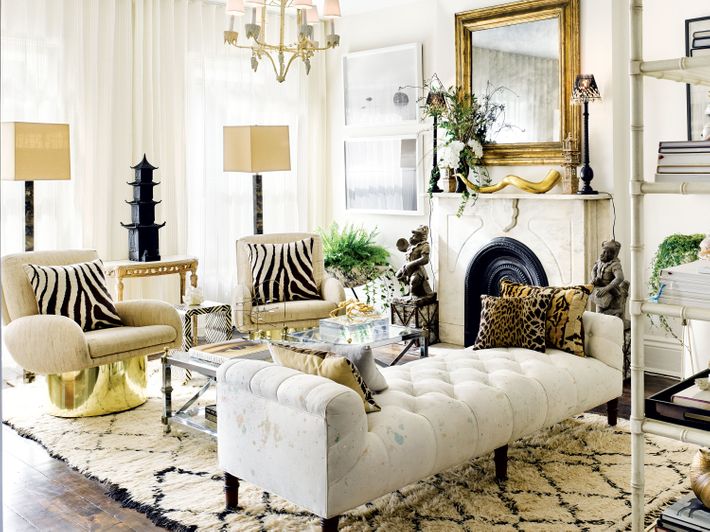 The Second-Floor Parlor
The vintage swivel Leon Rosen chairs for the Pace Collection are accessorized with zebra-stripe pillows. The John Derian tufted Field bench is upholstered in an artist's dropcloth, while the vintage Moroccan rug is also a John Derian find. The pair of Fonda floor lamps and the porcupine shade lamps on the mantel are from Exit Nineteen in Kingston, New York.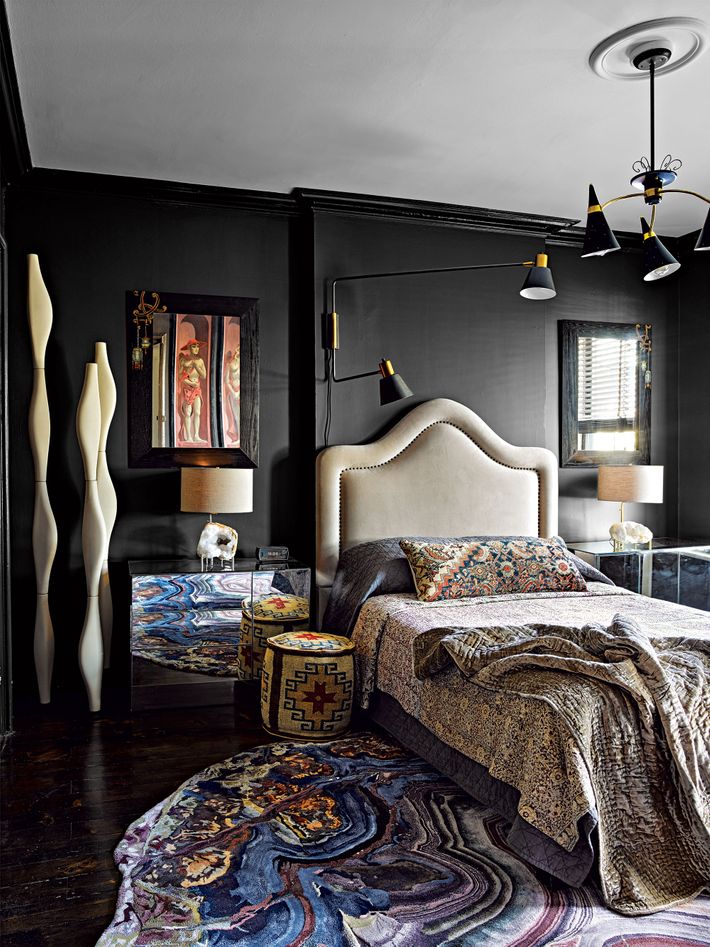 The Bedroom
Benjamin Moore's Mink envelops the room, anchored by a geode rug by Kimberly McDonald for Marc Phillips. The bedcovers are from John Derian, and Aguiar and Haldeman customized the Waldorf-Astoria headboard.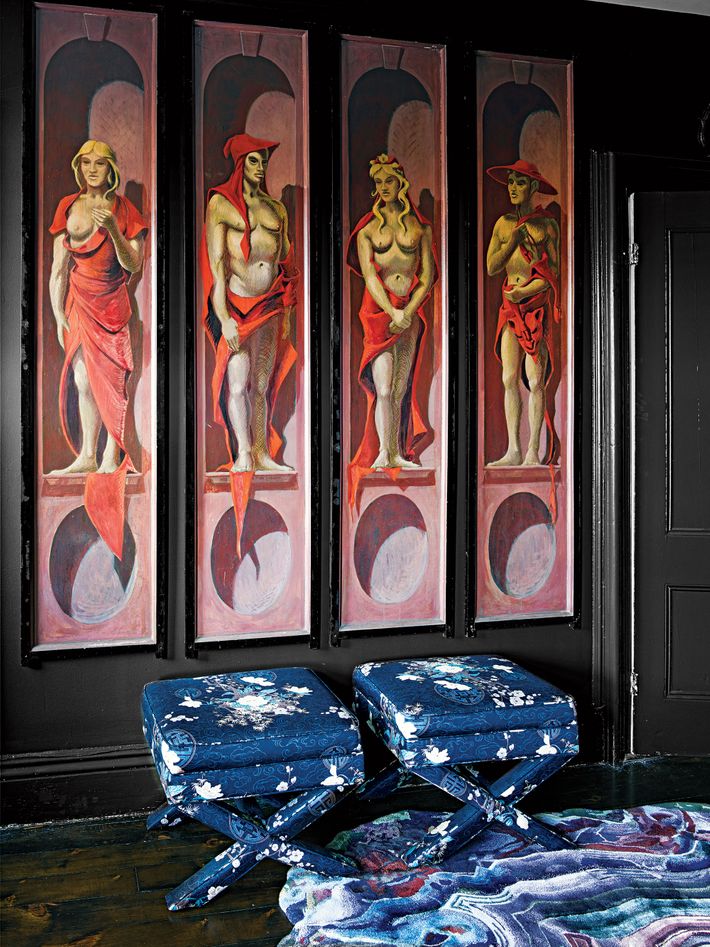 The Bedroom Panels
A screen found at a flea market was taken apart and made into separate panels that now hang in the bedroom. The stools are covered in chinoiserie fabric from a flea market, complementing the patterned rug.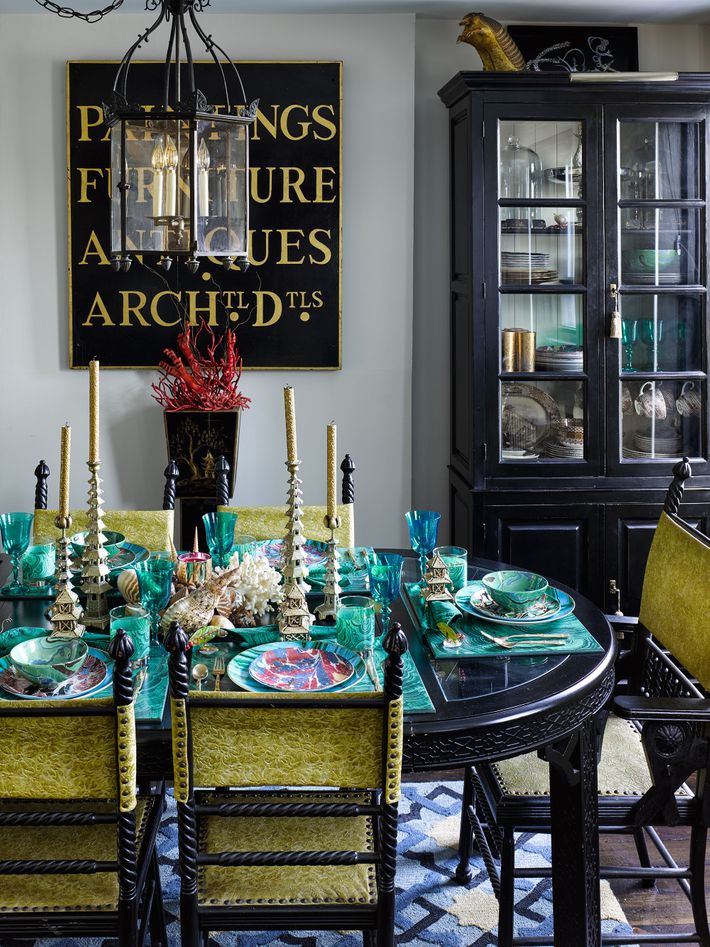 The Dining Table
Aguiar and Haldeman love to entertain and mix it up between hosting formal dinners and traveling cocktails where 50 people can easily roam the two floors. Here, the table is set with John Derian's plates and bowls. The hand-painted black-and-gold sign on the wall used to hang in Haldeman's uncle's antiques shop on 10th Street.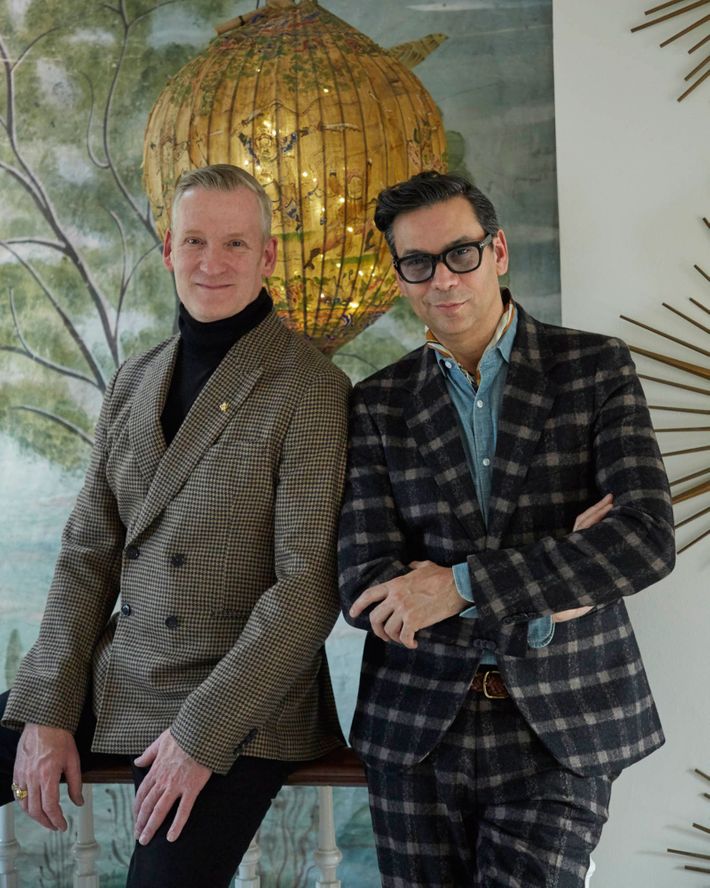 Portrait
Mark Haldeman, left, and James Aguiar, right, back home, at last.