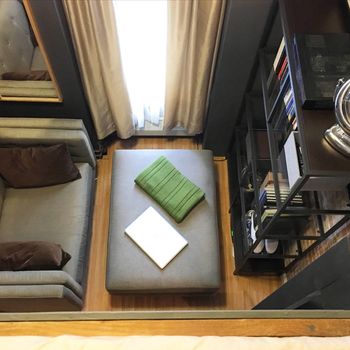 The man cave.
Photo: Anthony Triolo
Actor Anthony Triolo moved into a 150-square-foot studio in a brownstone on the Upper West Side thinking it would be temporary until he found a bigger space. That was six years ago.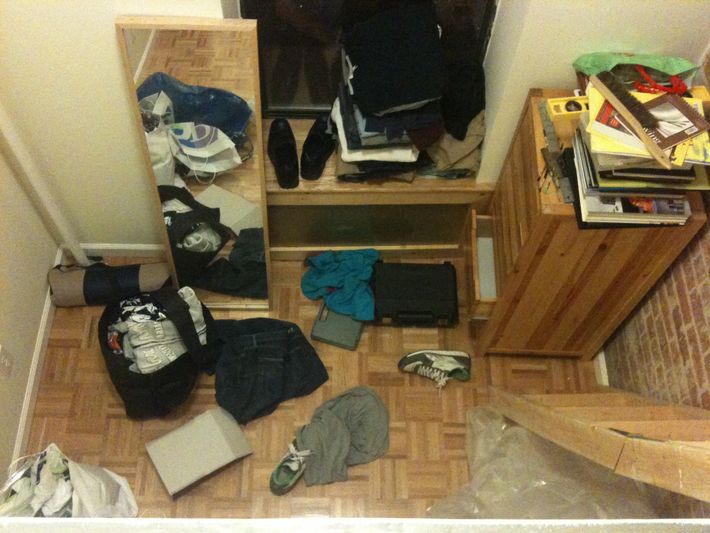 "This was the first place I found on Craigslist that wasn't a scam," says actor Anthony Triolo. While the Upper West Side studio was tiny, he decided that because "the rent was low, plus it was clean, and the bathroom had been nicely renovated," he would go for it. So he signed the lease and got to work. Here, a picture of the apartment before he had his way with it.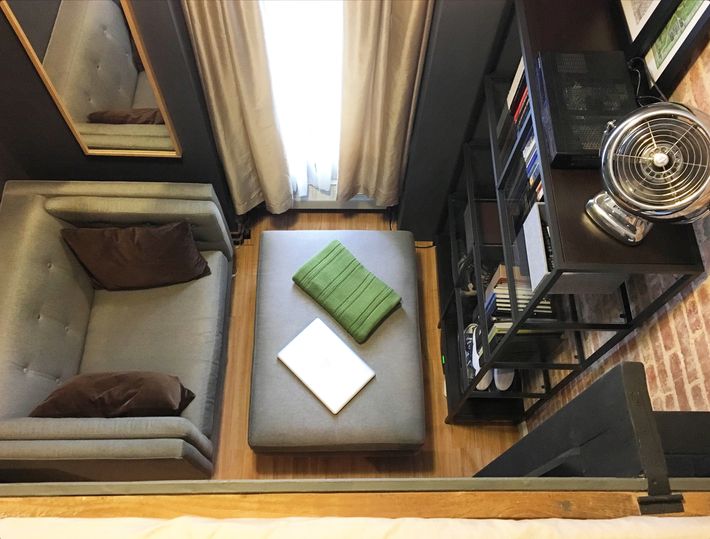 Ta-da! Big difference. "Since I'm working with such a small space, most areas have dual functions," Triolo says. In his actor life, Triolo was in the movie How to Be Single and is now filming a new CBS series Bull but he also has the advantage of having earned a degree in architecture from Temple University, so he built many of the organizational aspects of his tiny palace when he wasn't scouring the city for furniture that would fit, like the oversized chair from Crate & Barrel.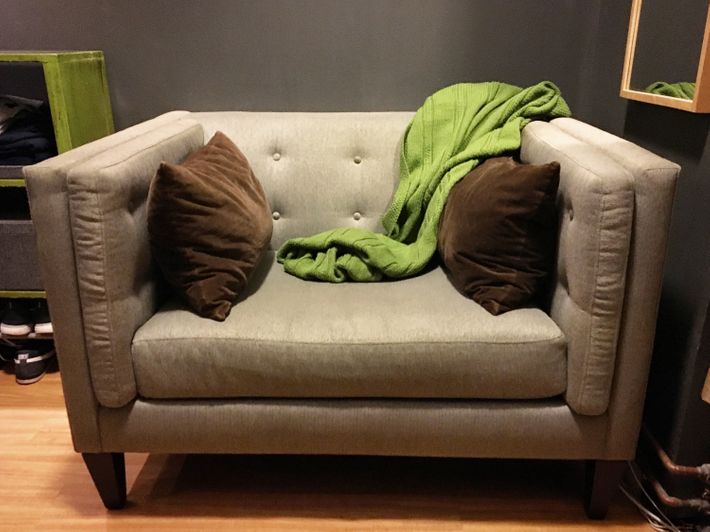 "When I brought it home I decided that I needed the matching ottoman as well." Triolo's mom made the green blanket that inspired him to paint the shelves green, seen on the left.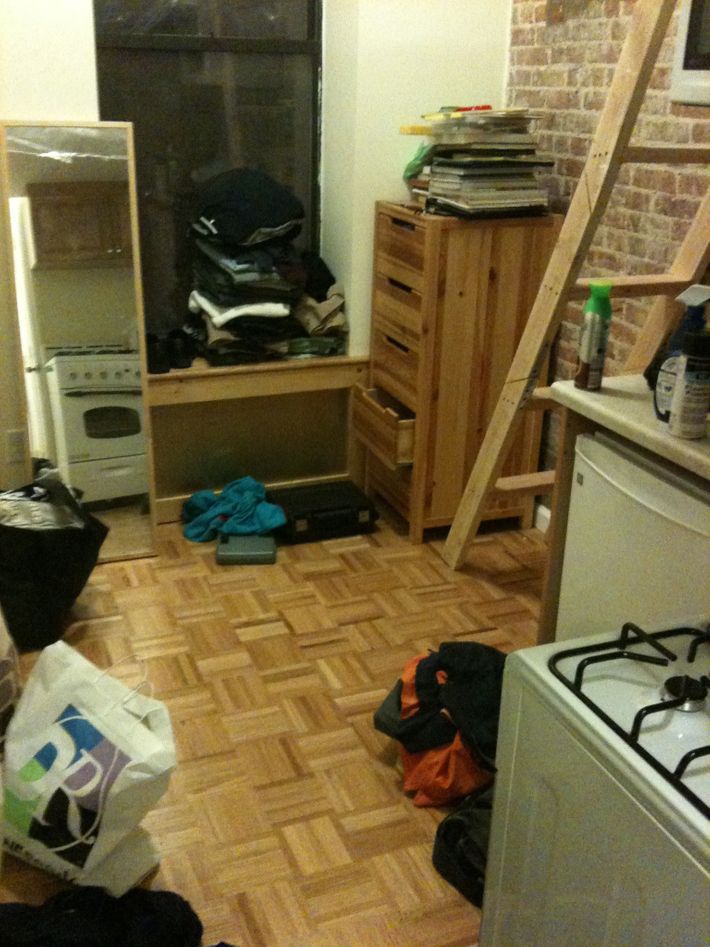 This picture, again taken just after moving in, shows the original floor, which Triolo replaced with tongue and groove flooring from Home Depot. "I could cut it to fit with a box-cutter," he says, "which was nice so I didn't have to make any noise to bother the neighbors." He also replaced the clunky wood ladder on the right, leading to the loft bed, with one he made.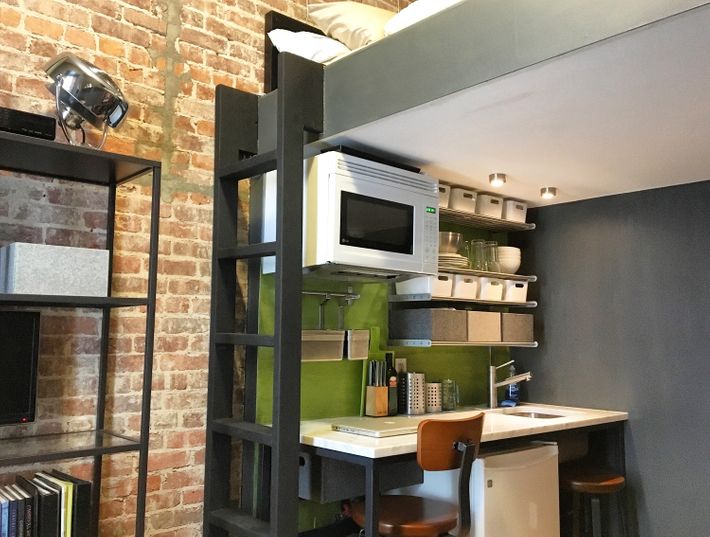 Space planning at its mightiest! "I removed everything in the kitchen and put up these great metal shelves from Ikea for storage and then totally splurged on a custom marble countertop and metal frame from Studium." The high chair and stool under the sink are from West Elm. "They were floor models — which means, hashtag discount," Triolo says.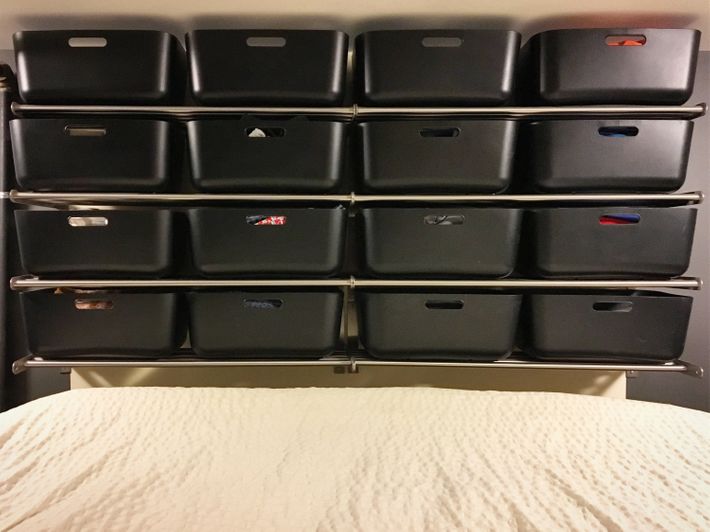 Maximizing every storage opportunity in tiny spaces means being organized. "At the foot of the bed there was an extra foot of space, so I went back to Ikea and sort of went crazy buying more shelves and more bins," Triolo says.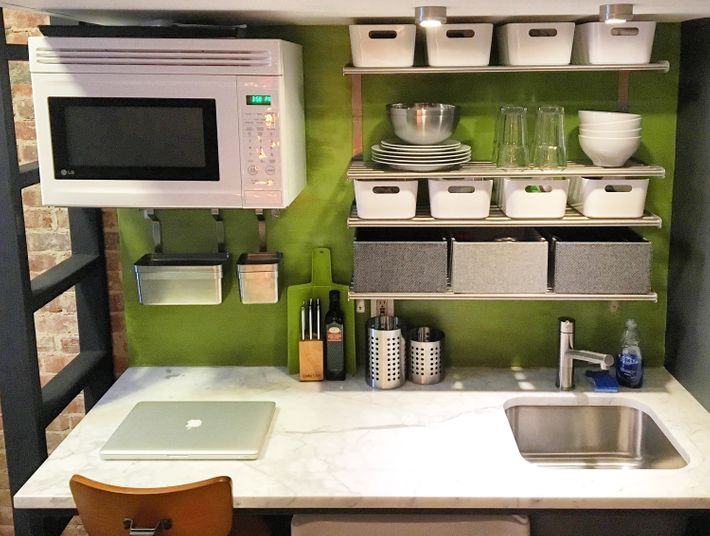 The kitchen counter doubles as a desktop surface and stays pristine with the shelving unit from Ikea. The Studium marble countertop adds elegance and a feeling of permanence.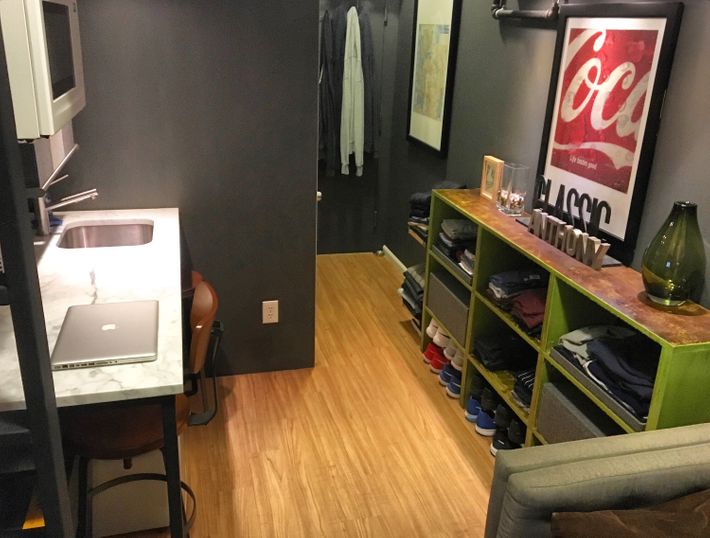 "I don't have any plans to move," Triolo says.