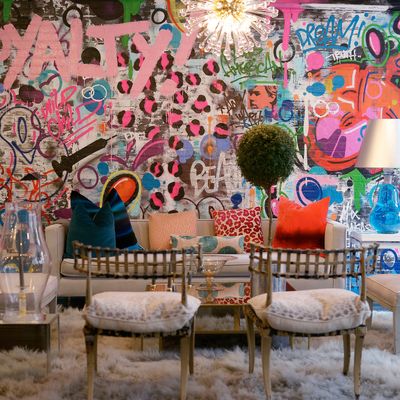 One wall of the loft is painted by the graffiti artist Cope2.
Photo: Erica McCartney
Design Renaissance man Michael Leva fled Soho in search of a nondescript neighborhood in lower Manhattan. His new place is full of art, furniture, and knickknacks from his wide network of friends — true New York characters.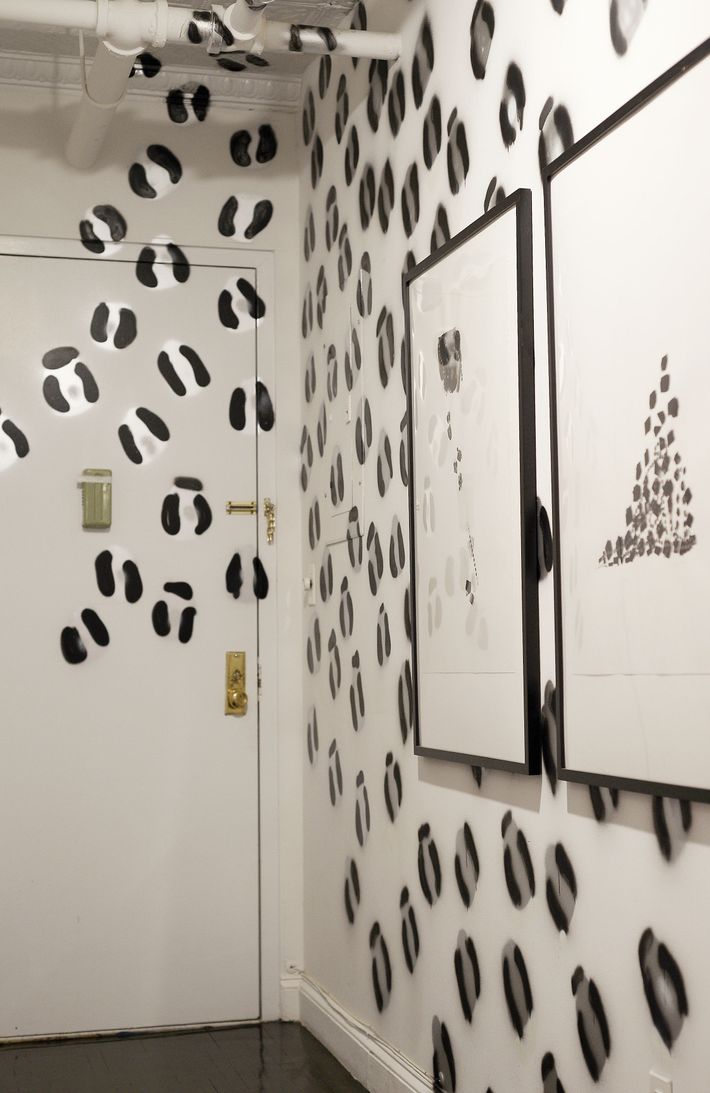 Michael Leva was living in Soho, where, he says, "the tourists and lines at the Apple Store made me insane." Now he calls a gritty former garment-manufacturing space, on a still-industrial street in lower Manhattan, home. Here in the entrance hall, his friend, Cope2 spray-painted metallic cheetah spots on walls and the ceiling. Gali Rotstein did the framed art.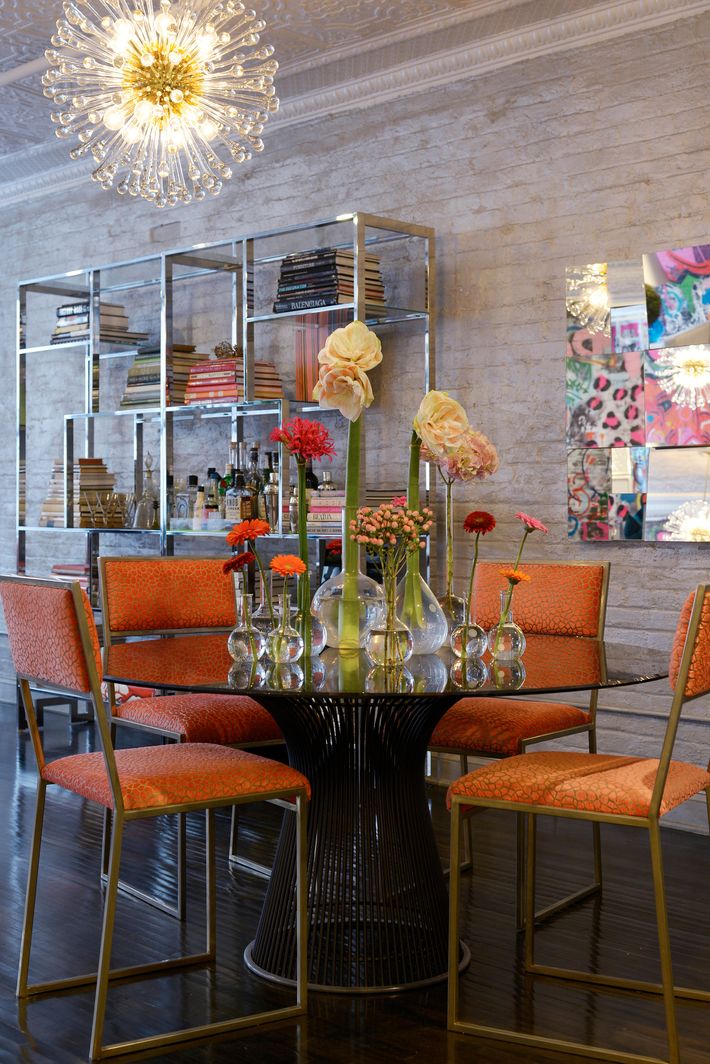 The original brick walls, tin ceiling, and wood floor are intact. Leva just added his own eclectic mix of décor to anchor the terrain. Here, the period Warren Platner dining table from Morristown Modern is paired with 1970s Willy Rizzo chairs from Firma London. The Neal Small mirror from Craig Van Den Brulle on the wall by the table makes a reflected mosaic of pieces in the space. The chrome bookshelves are Milo Baughman for Thayer Coggin, purchased at Refined Furnishings. The light is a 1960s Murano dandelion chandelier from Kerson Gallery NYC.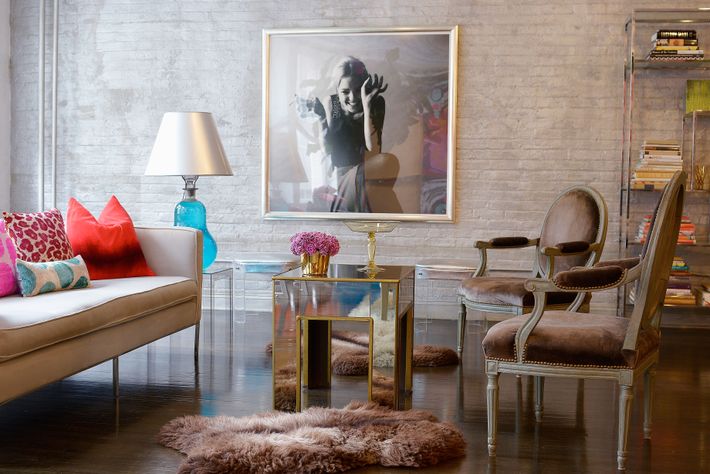 This print of Warhol muse Edie Sedgwick is one of Leva's prized possessions, made especially for him by photographer Jerry Schatzberg from his original negative. "Jerry is the coolest and a real New York story." Michael says. "He directed The Panic in Needle Park. He was also the only photographer to photograph Yves Saint Laurent's first collection after leaving Dior!" The Louis side chairs are 18th century from Antony Todd covered in charcoal silk velvet. Leva bought all the sofas in the loft at a Pier Antique Show in 2001.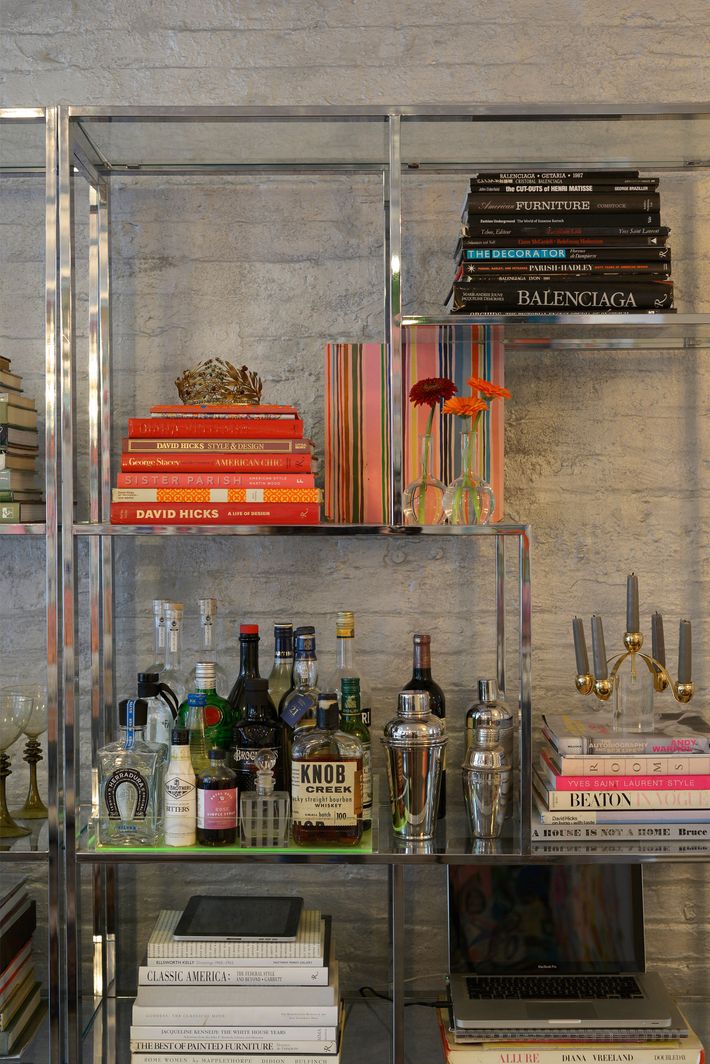 Here, a fraction of Leva's extensive design-book collection, arranged by size and color, of course.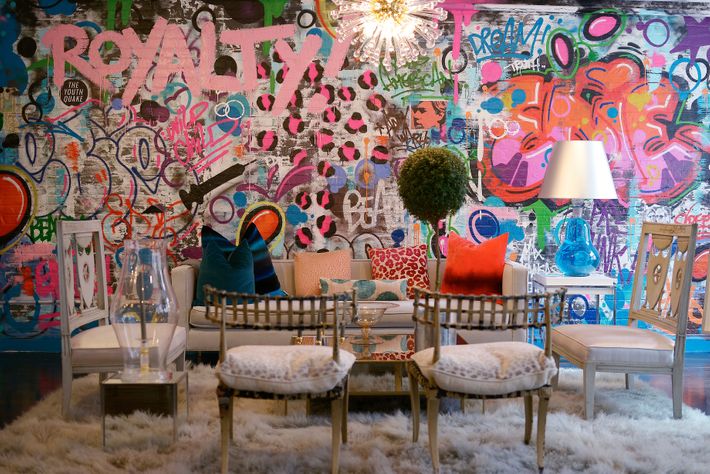 One wall of the loft is painted by the graffiti artist Cope2. "He's been tagging since the '80s," Leva says. "It's my homage to Edie! It's also meant to be visually disruptive and representative of part of my DNA." Leva has always freely mixed his diverse collection of furniture, as seen here with a pair of a 18th-century Directoire chairs co-mingling with a pair of 1960s iron outdoor Klismos chairs from Jason Boyer Antiques. The Mongolian lamb-fur rug is from ABC Carpet & Home.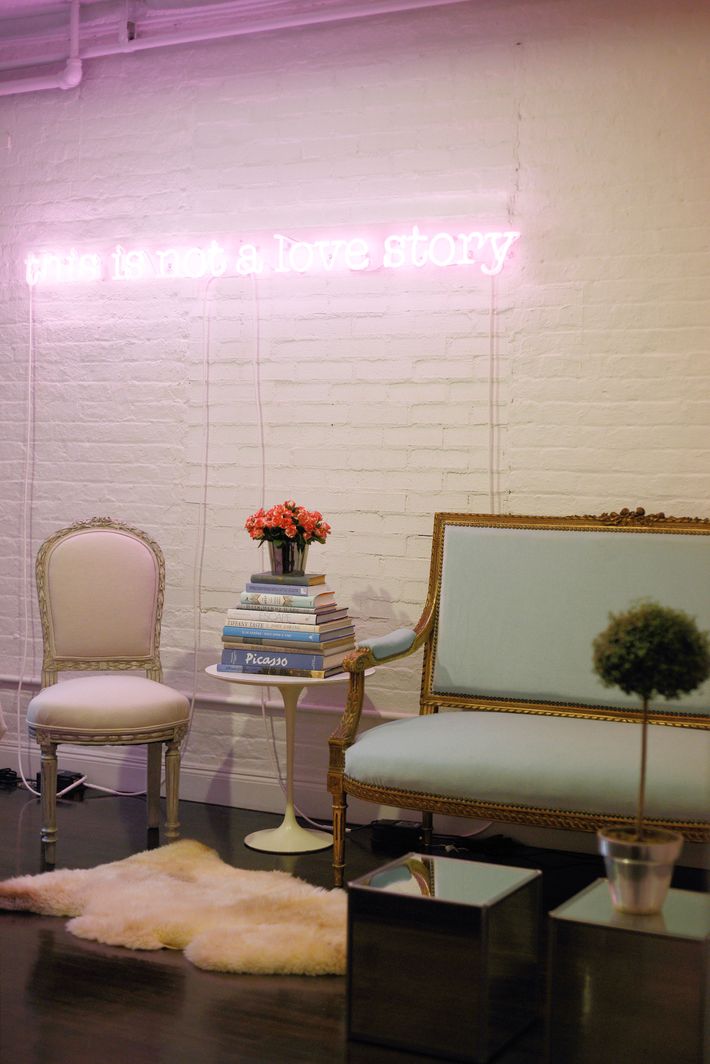 In the master bedroom, a 19th-century Tiffany blue velvet settee from Jason Boyer Antiques communes with a Saarinen side table and a Louis chair. The neon wall piece is by Walt Cessna, a.k.a. Walter S; he styled Leva's first fashion shows and published a much-loved zine called STOP in the '90s.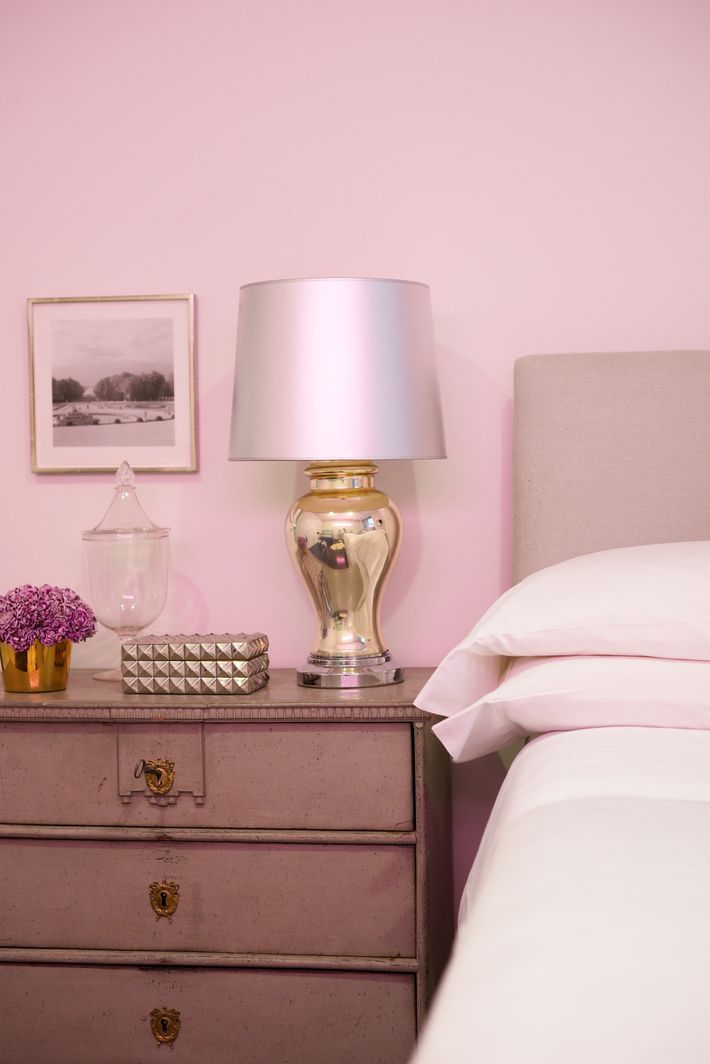 The master bedroom is bathed in a soothing shade of pink, highlighting the calm and classical furnishings.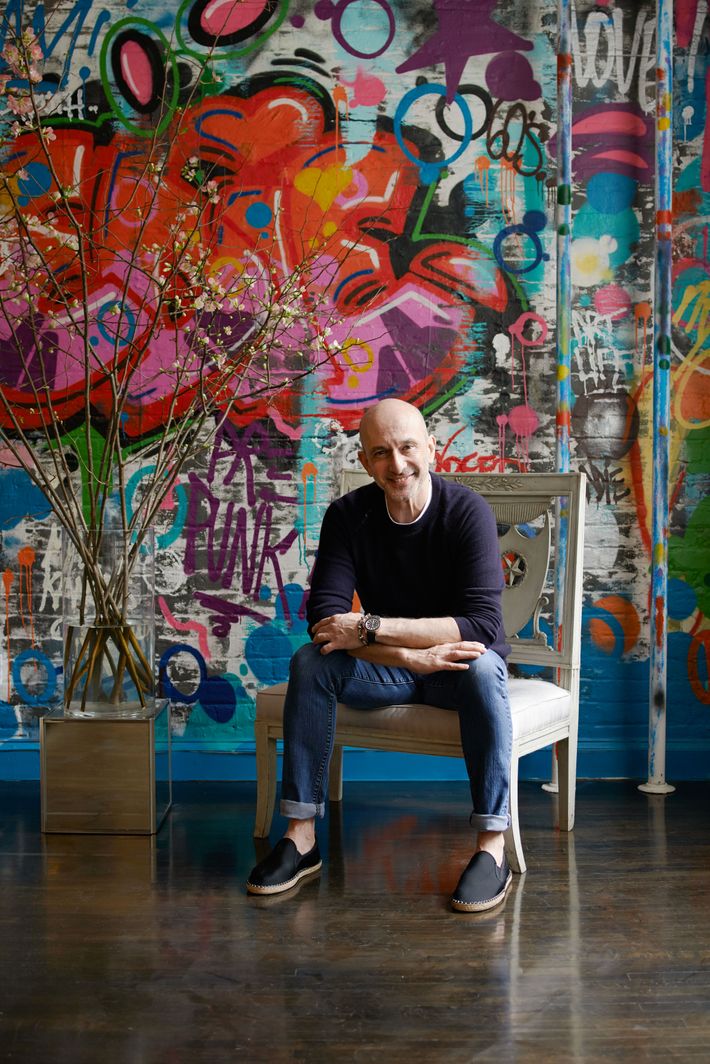 The designer taking a break at home. Leva has had many apartments over the years since launching his own fashion line in 1986 and working with C. Wonder founder J. Christopher Burch and developing products for Victoria's Secret, among many other ventures. His latest brand, Sea Star Beachwear (launched two years ago), with Libby Fitzgerald, continues to expand (with a pair of new waterproof slip-ons) after debuting with a line of waterproof espadrilles.