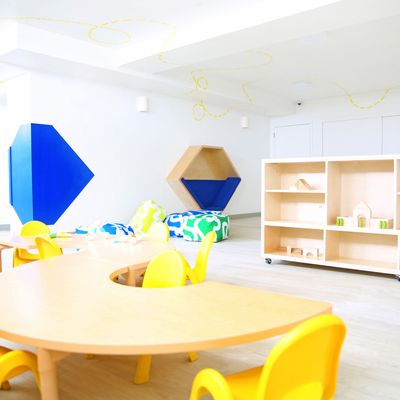 The renovation allowed for flexible space with rolling bookshelves.
Photo: Niya Bascom
"I've walked past this building my whole life," says Linique McCoy, an educator and born-and-bred Brooklynite, of the structure at Vanderbilt Avenue and Gates Avenue where she will soon open a new day-care center. McCoy and her husband, Chris, plan to open the doors at Discovery PitStop Day Care in July for summer sessions, with an inaugural group of 37 children. Formerly a thrift shop with a basement and a single-car parking garage, the bi-level space was recently transformed by architect Dennis George and Anishka Clarke and Niya Bascom of Ishka Designs.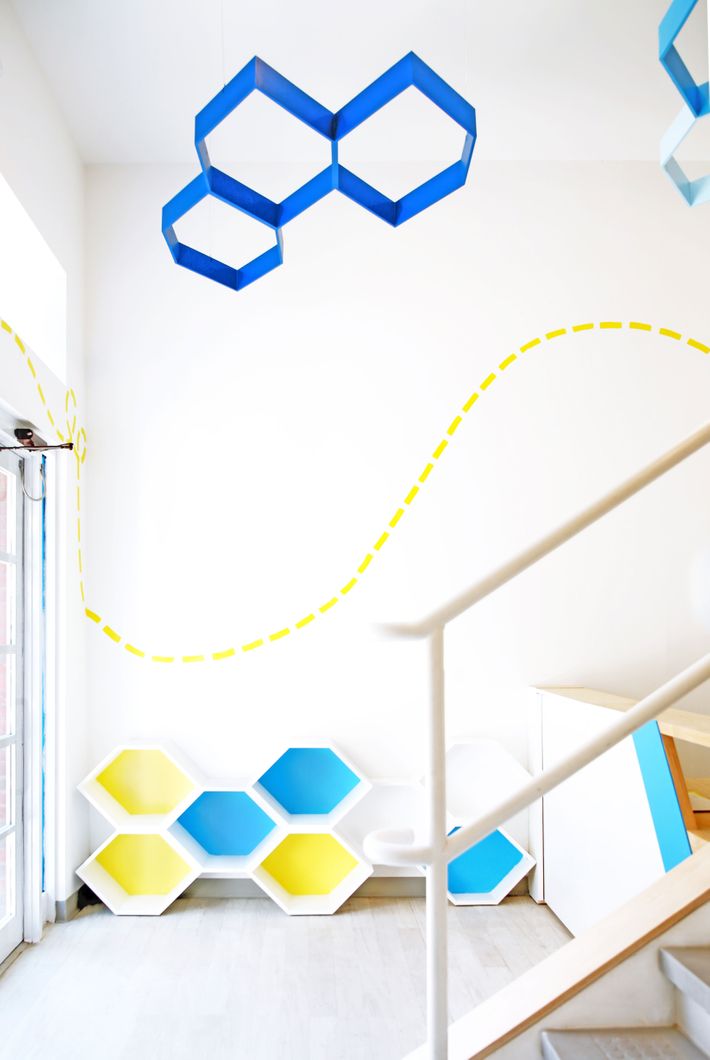 Here, the entrance to the reception area, where the car garage once existed.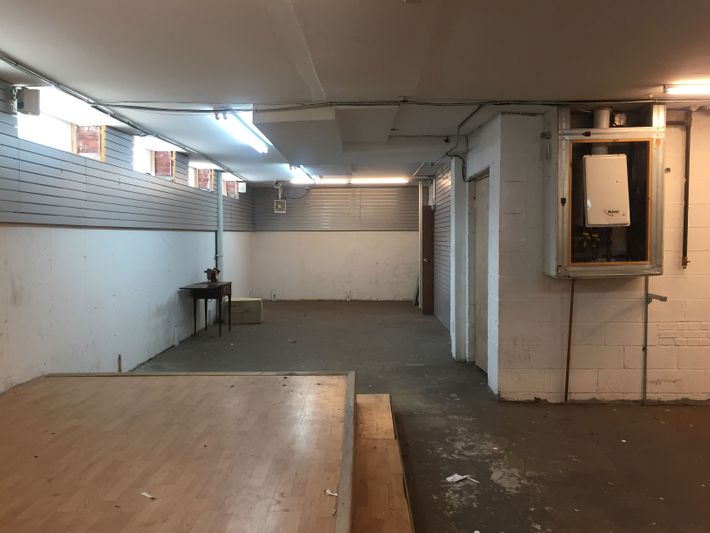 Before the nine-month-long renovation began, the bulk of the 4,100-square-foot space was a dark basement. Linique McCoy and her husband, Chris, suspected the building had potential but felt that they needed a designer's eye. "I pretty much stalked Anishka and Niya online after seeing their website," McCoy says. "I loved everything they did."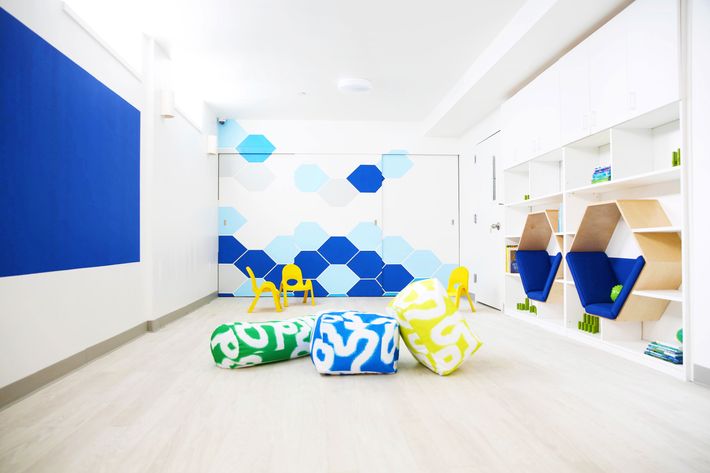 "We went to them with a mood board," Linique says of the couple's first visit with Ishka Designs. "It was like magic: We showed them our ideas, and it's like they crawled into our heads." Clarke says that she and Bascom were inspired by the day-care center's tag line, "You're on your way to who you'll bee," so they used a honeycomb hexagon pattern for the shelving and the art on the walls. Here, floor pillows are from Print All Over Me, featuring an Ishka Designs pattern. George Architect worked with Linique and Ishka Designs to replace the ceilings and floor and installed new bathrooms and a prep kitchen. The millwork for the bookshelves, with reading nooks, was done by 33 Woodwork.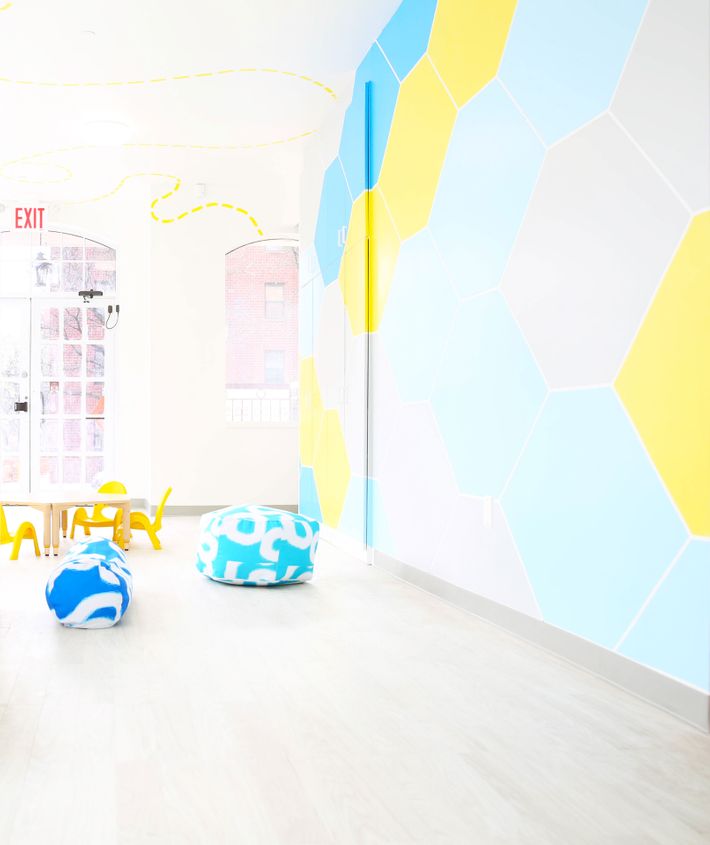 Artist Laura Bradburn executed all the surface designs by Ishka for the walls, doors, and ceilings.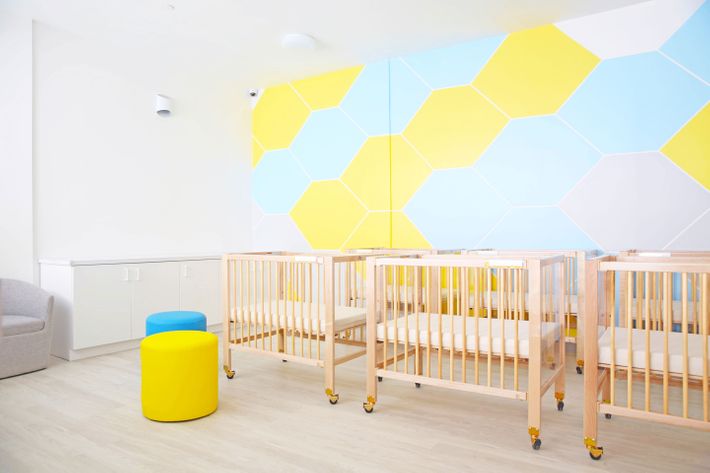 Discovery PitStop Day Care will enroll infants and preschoolers up to 4 years old. "I've wanted to open a school since I was a little girl," Linique says of her dream to give back to the community she grew up in. Linique will serve as executive director of the center; her résumé includes ten years of teaching at local public schools and a certification as a literacy specialist for children up to sixth grade. The cribs, seen here, are from Community Playthings.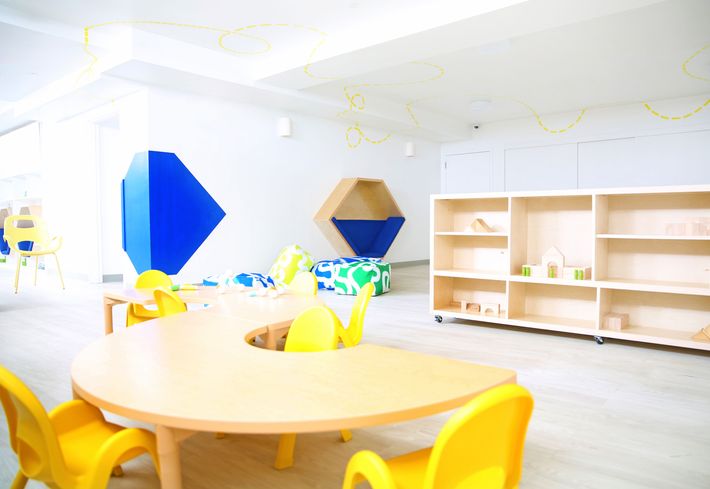 The renovation allowed for flexible space with rolling bookshelves. "The half round tables are standard options from Community Playthings," Clarke says. "We just placed them together in an S shape, and they can be reconfigured any way the client chooses."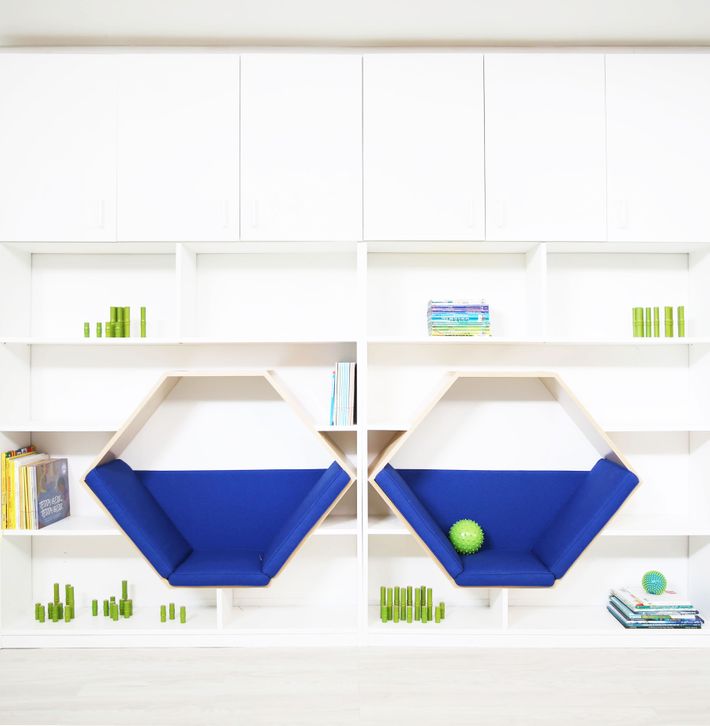 Ishka Designs created the concept for the cozy series of built-in nooks, which were fabricated by 33 Woodwork. The environment encourages little ones to curl up with a book or group together to play with friends.