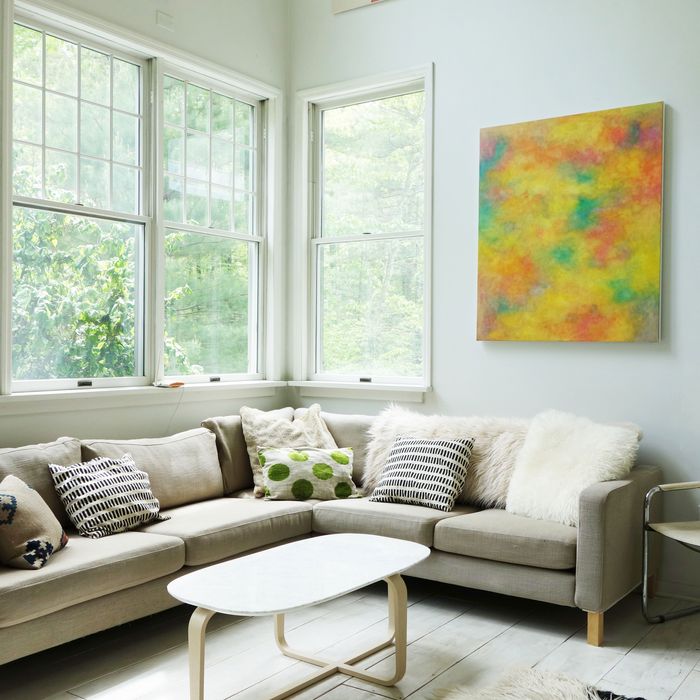 Ethan and Wray stripped the living room of its wall-to-wall carpeting.
Photo: Ethan Cook
Ethan Cook, an artist, and his wife, Wray, a fashion designer, got married in the Catskills in 2015. By then, they had been searching for a house in the area for two years before that. "We looked at close to 60 houses," Wray says. (The couple lives full-time in Greenpoint.) "I had all these insane parameters that the house had to meet," Ethan says. "My main rules were: no road noise and no people noise." In December 2015, they ended up finding a 12-acre property that abuts Catskill Park, offering plenty of privacy. Then they tackled their DIY renovation like a couple of pros.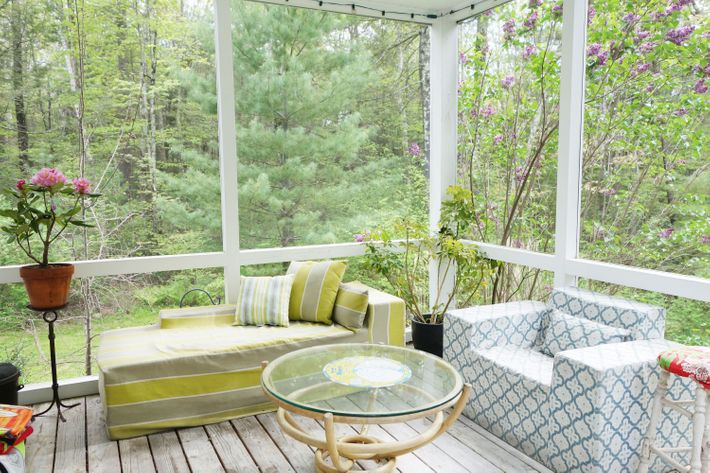 Here, the screened-in porch, decorated with furniture the Cooks found from Jungle's now-shuttered store in Williamsburg, plus a glass coffee table from an upstate flea market.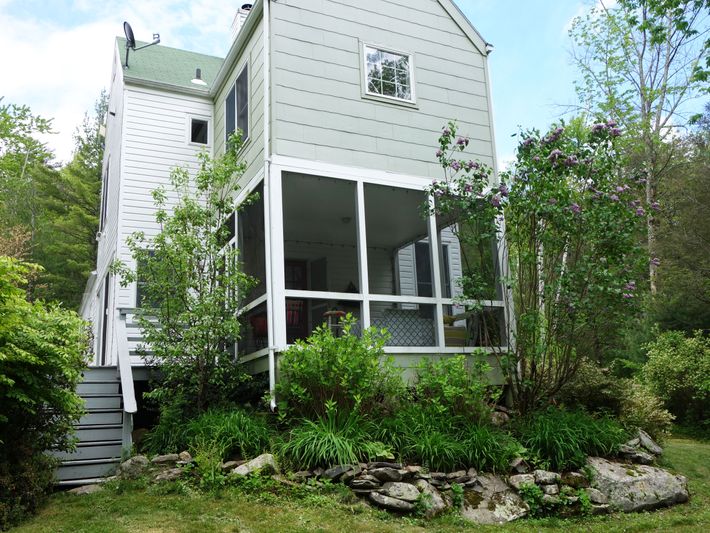 The two-story house was built in 1989. Ethan and Wray saw it listed online and didn't pay much attention to it — they had their sights set on buying an older building. "We weren't really looking for a newer, modern house." Wray says. "But old houses were built right on the road." The couple started to change their mind as they headed toward the house. "We were going down the driveway and it was so long, and Ethan was getting more and more excited the longer the driveway was, because he knew that we wouldn't be able to see or hear anybody," Wray says.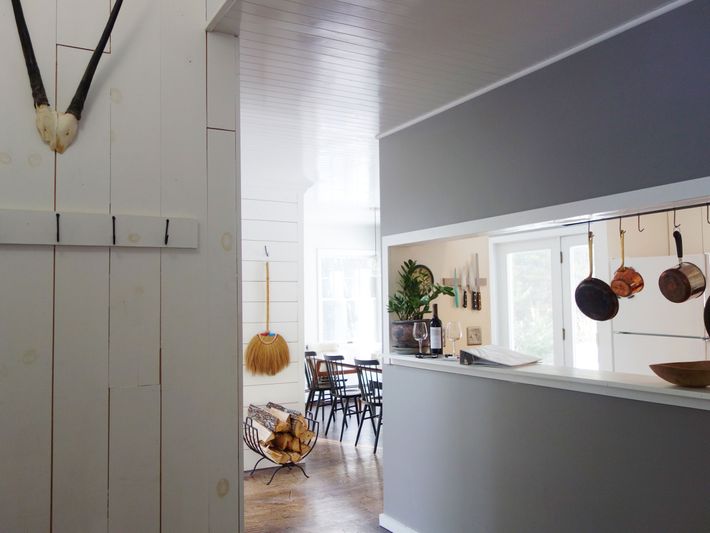 Ethan and Wray closed on the house in December 2015 and began renovations that same weekend. "The hardest part was redoing the floors," Ethan says. "Seventy-five percent of them were covered in wall-to-wall carpet. We took up the carpet and laid down white wood plank floor, but the kitchen and foyer already had wood floors, so we sanded them and stained them." Wray adds: "Five times! I'll never refinish floors myself again." The gray paint is Worsted from Farrow & Ball.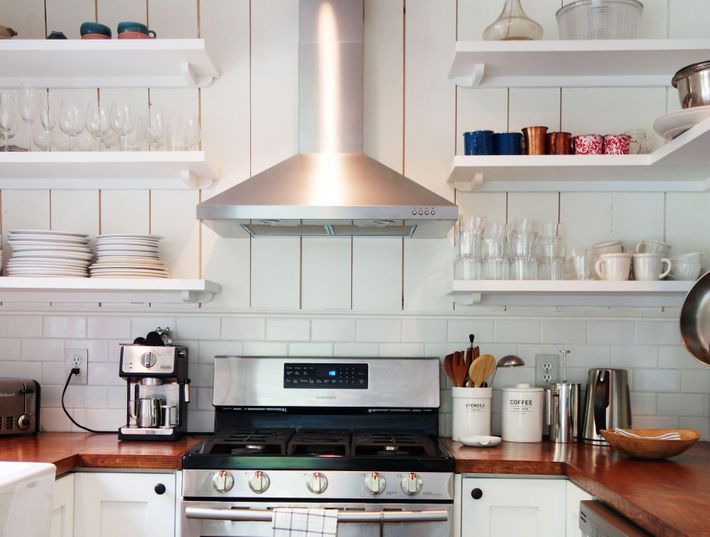 The kitchen makeover included stripping laminate off the wood counters, adding a tile (from Tile Shop) backsplash, and installing a wall of shiplap wood paneling from Williams Lumber. The Samsung oven is from Home Depot, and open shelving replaced the original cabinets.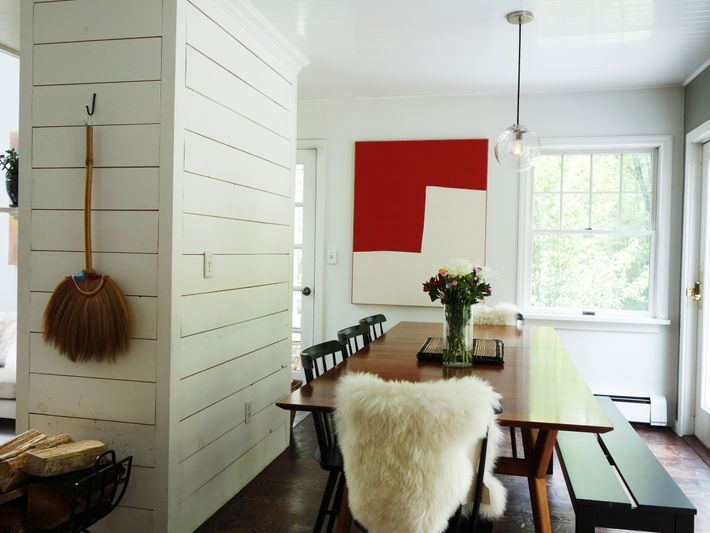 The dining area has a new wood-paneled wall painted in Benjamin Moore's Simply White. The red-and-white painting is by Ethan. Wray says she leaned on YouTube video tutorials during the renovation to pick up new skills. "I'm pretty handy," she says.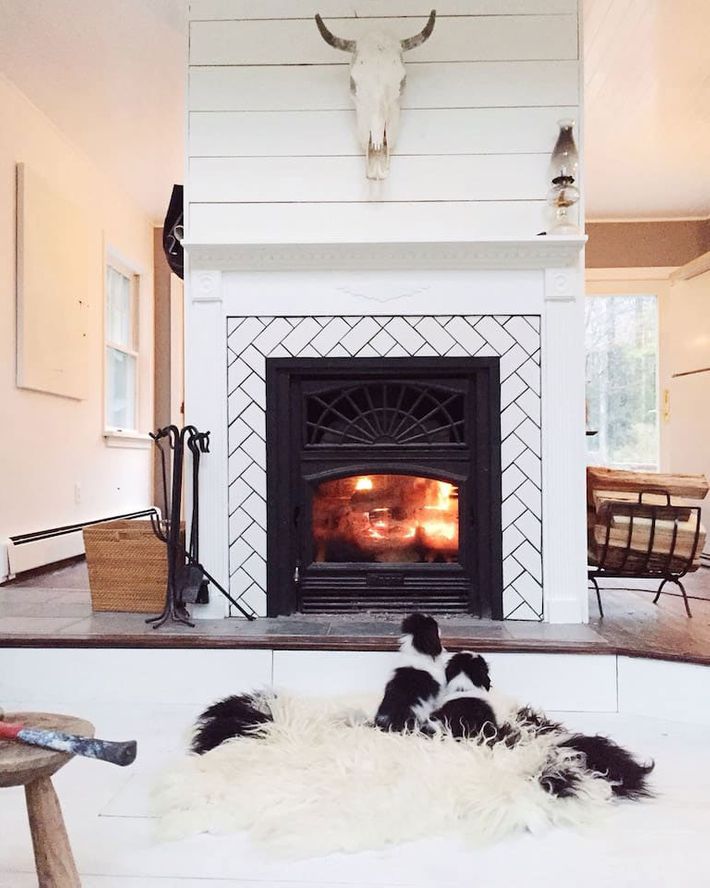 Redesigning the fireplace required removing a giant mirror that took up the whole wall above. "I was terrified of that mirror," Wray says. "It was glued on, so we knew we had to pry if off, and my biggest fear was that it was going to crack in half and kill us. But in the end it popped off pretty easily." Wray and Ethan's rescue Japanese Chin dogs, Bishkin and Fizzgig, enjoy the finished fireplace on an Icelandic sheepskin rug bought on eBay.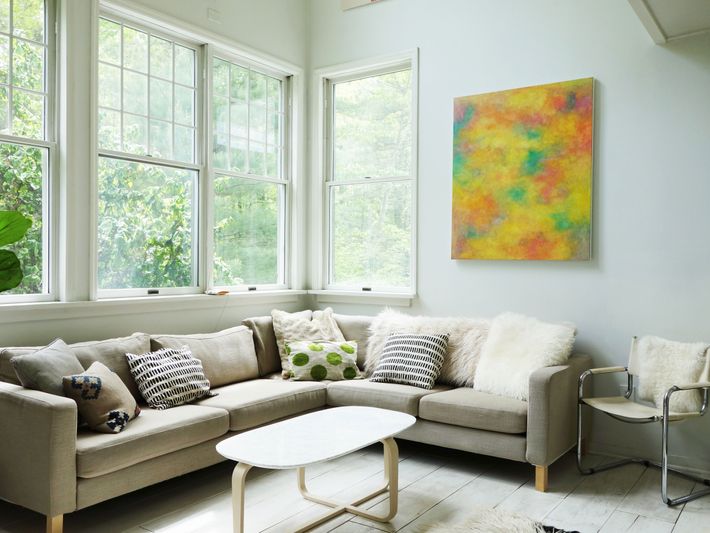 Ethan and Wray also stripped the living room of its wall-to-wall carpeting. "The white floors we made ourselves from sheets of wood that we cut into planks from Home Depot," Ethan says. "We painted them Simply White and varnish-brushed them by hand with a bristle brush, using a satin-finish oil-base varnish." The couch and coffee table are from West Elm, and the painting is by Jean-Baptiste Bernadet.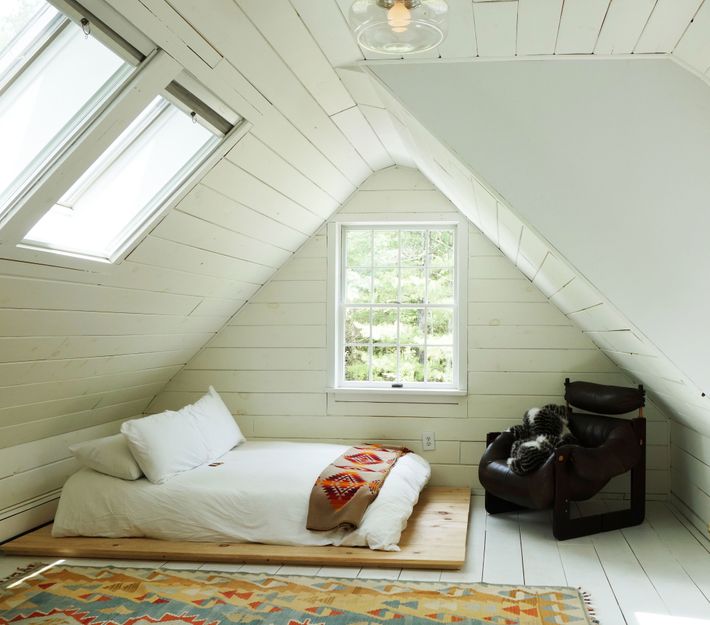 Here, one of the three guest rooms. The Cooks transformed it from a child's room with wall-to-wall carpeting and pink paint to a cloudlike space with a painted wood-paneled floor and new paneling on the walls. Ethan and Wray cut and installed each plank themselves. "When Ethan and I start a project, we are obsessed," Wray says.