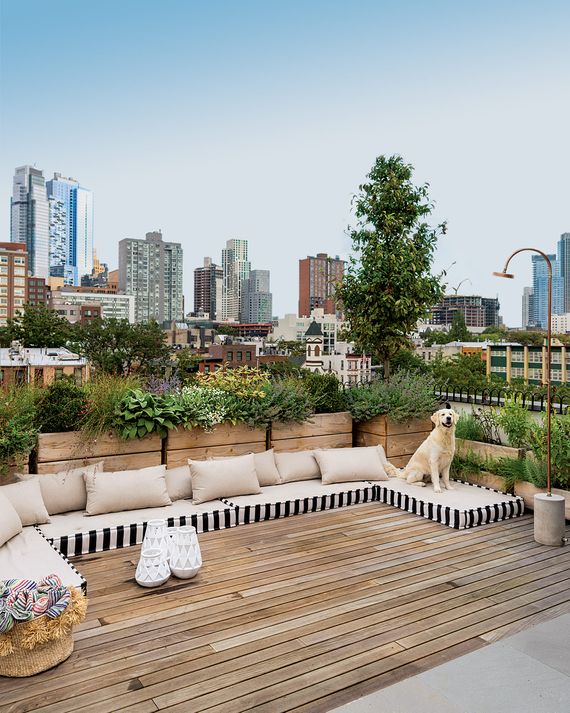 "We were only looking at severe rehabilitation — we didn't want to pay for someone else's taste," says Mitchell Wasser of the house search he and his wife, Samantha, recently undertook. The couple — Mitchell runs leasing and marketing at real-estate firm Metro Loft, and Samantha is the president and co-founder of the vegan-restaurant chain By Chloe — found just the fixer-upper in Boerum Hill: a Federal-style brick building built in 1920 that was used as a boardinghouse for Navy veterans after World War II. The house had been sitting vacant for five years when the Wassers got to it. "The reason I knew it was the one was that it was an entirely blank slate for us to work with," Mitchell says.
Designers Ariel Ashe and Reinaldo Leandro, of Ashe + Leandro, as well as Mercer Street Restoration, came onboard for the 20-month renovation, which spared nothing save the outer brick walls, which now sport a coat of white-painted stucco and have new windows and an original marble fireplace. The architects added an extra floor, plus a large roof deck where the Wassers do yoga, entertain guests, and cool off under a portable outdoor shower. Throughout the space, Ashe and Leandro tried to strike a balance between sophistication and comfort, with arched entryways, splashes of geometric tiles, and lots of vintage Moroccan carpets. And when Samantha thought a formal dining room might come off as too stuffy, the designers placed the eating area between the living room and the kitchen, which was inspired by the blue of Monet's kitchen in Giverny.
*A version of this article appears in the June 26, 2017, issue of New York Magazine.