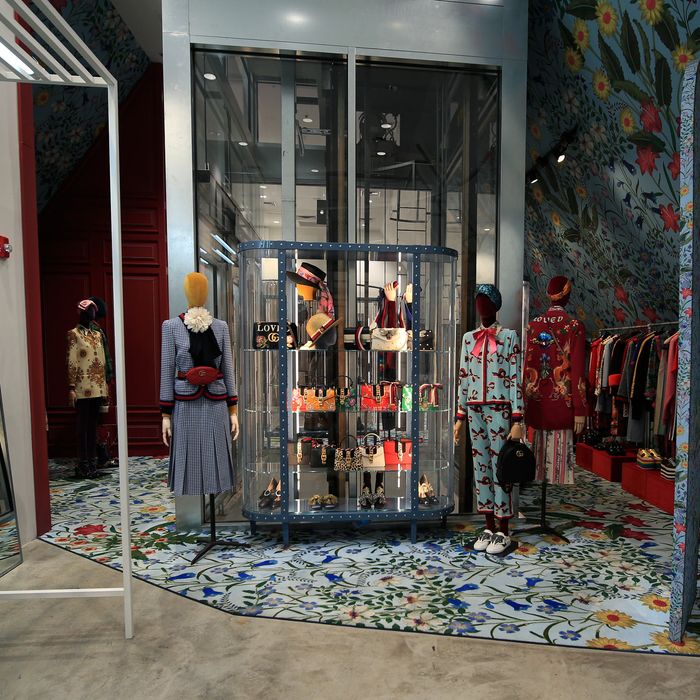 Floral carpet and wall coverings in the Gucci installation on the seventh floor.
Photo: Ilker Akyol
There's no shortage of places to see Rei Kawakubo's genius on display (the Met's exhibit on the Comme des Garçons designer remains open until September 4), but for a more shoppable version, fans might head to Dover Street Market (160 Lexington Avenue). Kawakubo opened a hybrid of a store and art space in 2013 with her husband and business partner, Adrian Joffe. Twice a year, in January and July, the store gets an interior-design makeover, where some featured designers get the chance to reconfigure their areas. Dover Street Market just underwent its latest biannual refresh — see the slideshow for a mix of new and existing installation shots.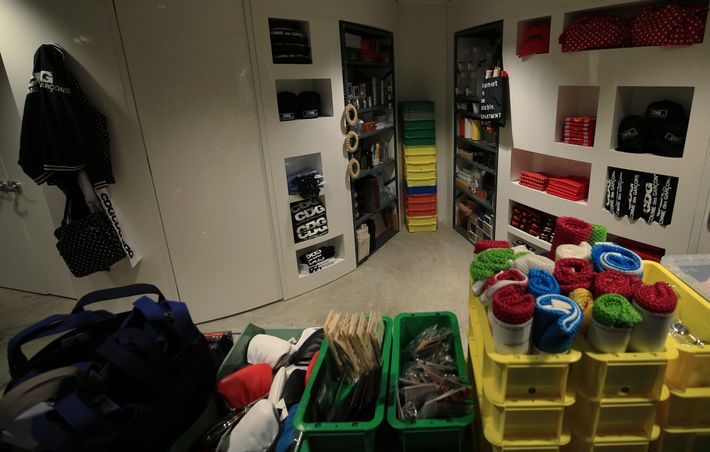 Dover Street Market opened on December 21, 2013, in a 1908 beaux-arts building at Lexington Avenue and 30th Street. The building is beautiful, and befitting of such a design-focused project. Kawakubo's avant-garde fashion collections often break with industry convention. The building, designed by architect Harvey Wiley Corbett for the New York School of Applied Design for Women, is striking: Its colonnaded façade rises above its boxy foundation, making it a fantastical take on beaux-arts design. Here, the basement of the store. Once used for storage, it now functions as a full floor of retail, featuring the Good Design Shop and a space for sneakers.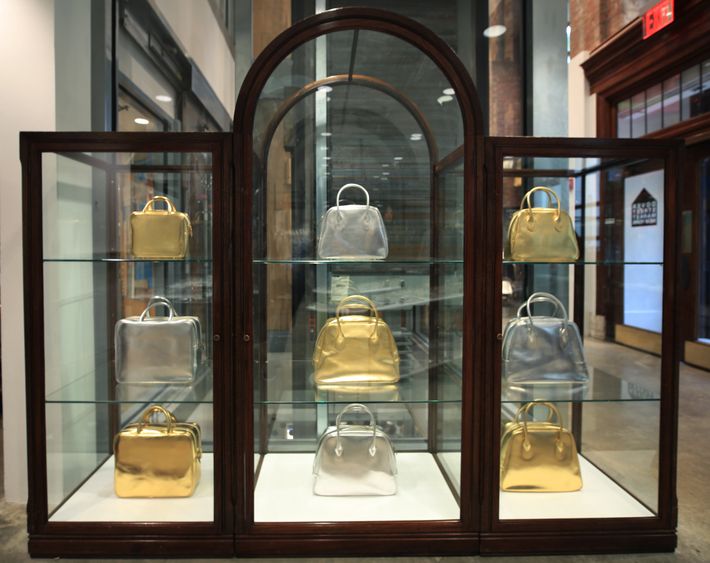 To the right of the entrance, visitors can fuel up on coffee and all-day pastries at Rose Bakery; nearby is this vintage display case, which always features a family of bags. Here, the Comme des Garçons Aoyama bag in a variety of shapes and metallic leathers.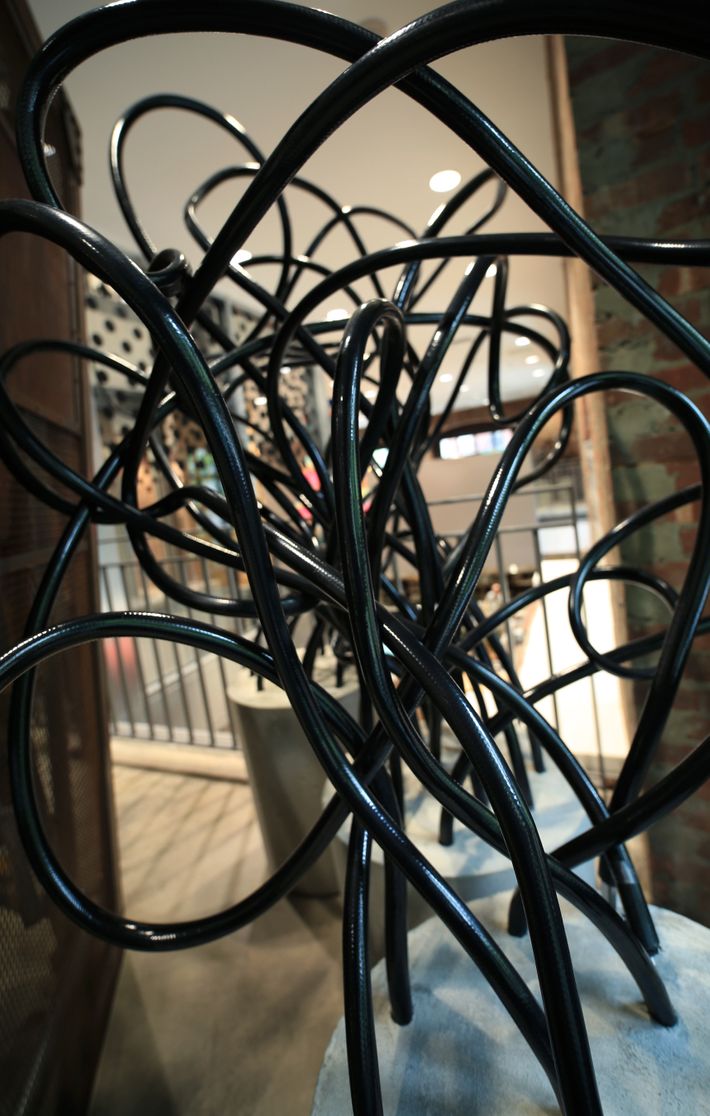 A glass elevator connects the market's floors. On the second floor, guests will find artist Lauren Kelly's sculpture Rigid, seen here, along with a Nike lab, a space for Moscot eyewear, and The Tablier of Balthus, a diptych by Katerina Jebb.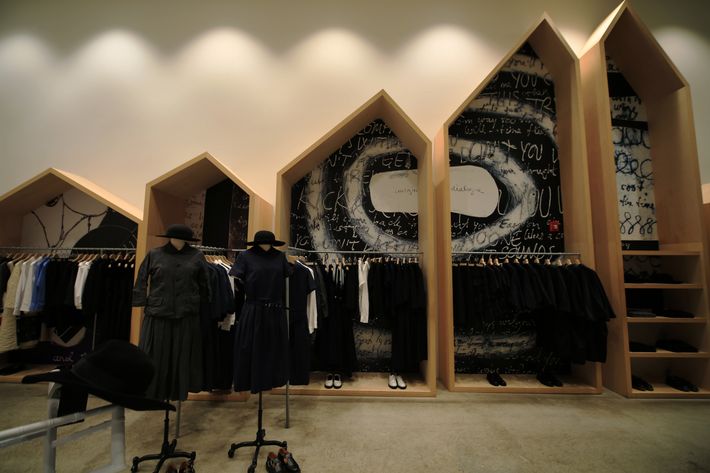 The third floor features a permanent installation designed by Kawakubo for the Commes des Garçons label. Biotopological Scale-Juggling Escalator, an art installation by Arakawa and Madeline Gins, doubles as the staircase to the fourth floor. The installations in Dover Street Market are so varied and so vibrant that walking into it feels like discovering a new neighborhood in a foreign country.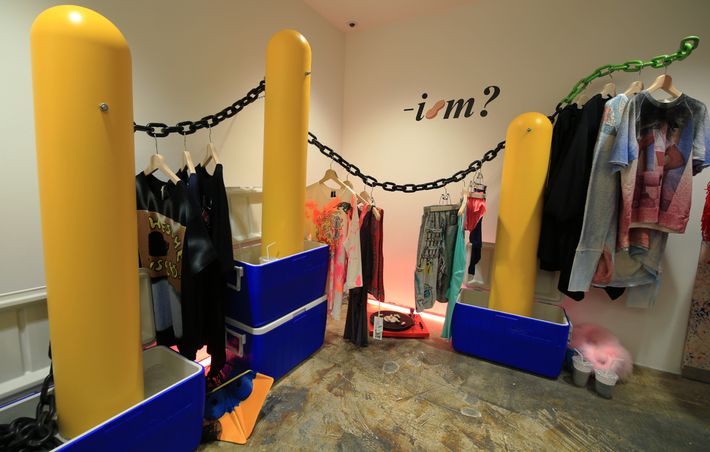 Designer Bernhard Willhelm and artist Philip Wiegard collaborated on this installation on the fourth floor. Willhelm's collection sports a fantastical nautical theme, hence the installation's coolers that house towering yellow pylons.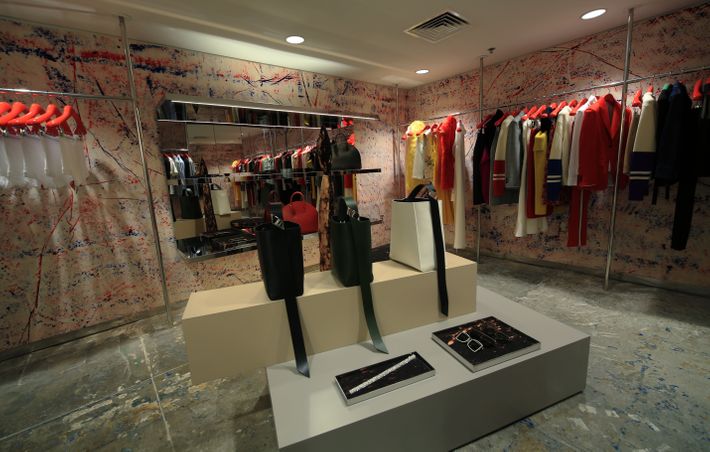 Calvin Klein is new to Dover Street Market and has designated the store as the brand's downtown location. Sterling Ruby, an artist and longtime collaborator of Calvin Klein chief creative officer Raf Simons's, designed the debut space, also on the fourth floor.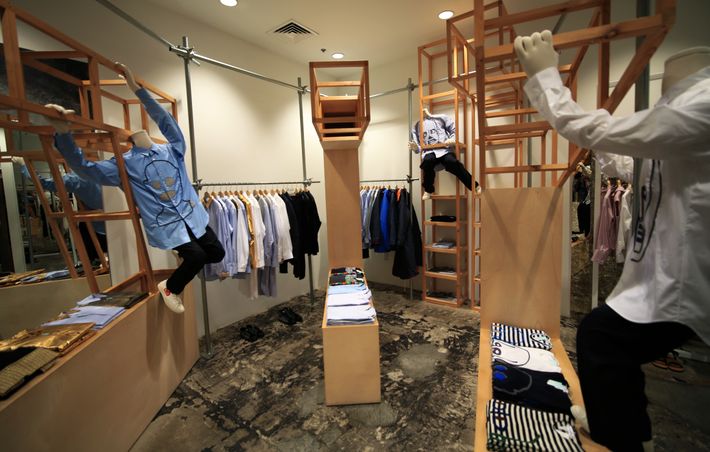 The permanent collection of Commes des Garçons SHIRT is displayed on the fifth floor in an unusually playful installation by Kawakubo. Designs by Rick Owens and Simone Rocha can be found throughout.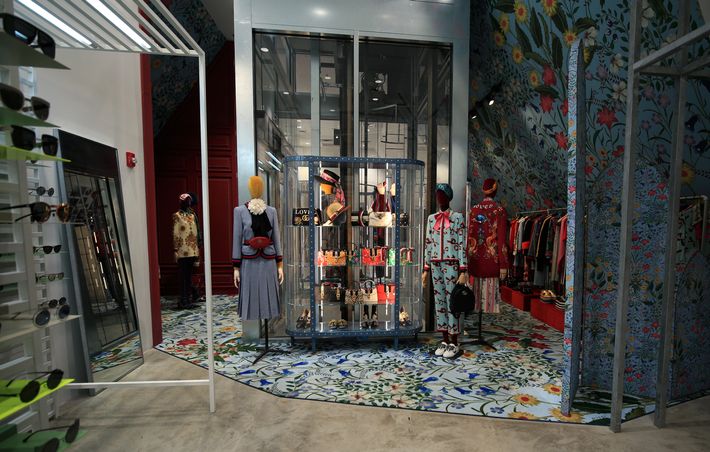 Floral carpet and wall coverings in the Gucci installation on the seventh floor, where Azzedine Alaïa's section can also be found (and perused).