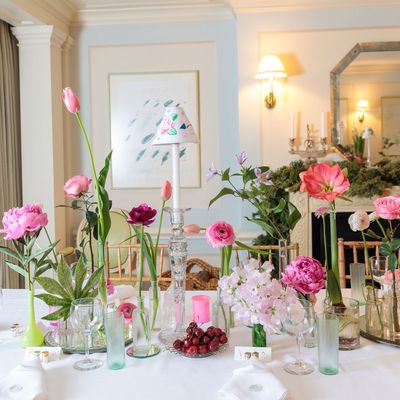 Every dinner or luncheon table is set differently; sometimes the arrangements consist of individual flowers placed in bud vases or repurposed medical vials.
Photo: Andrew Ingalls
Artist and expert hostess Cathy Graham has her first book out next month from Vendome Press. Second Bloom: Cathy Graham's Art of the Table features the artist's watercolors and will chronicle entertaining tips — like how to arrange the ideal bouquet of flowers, or handmade invitations — that Graham has collected over the years.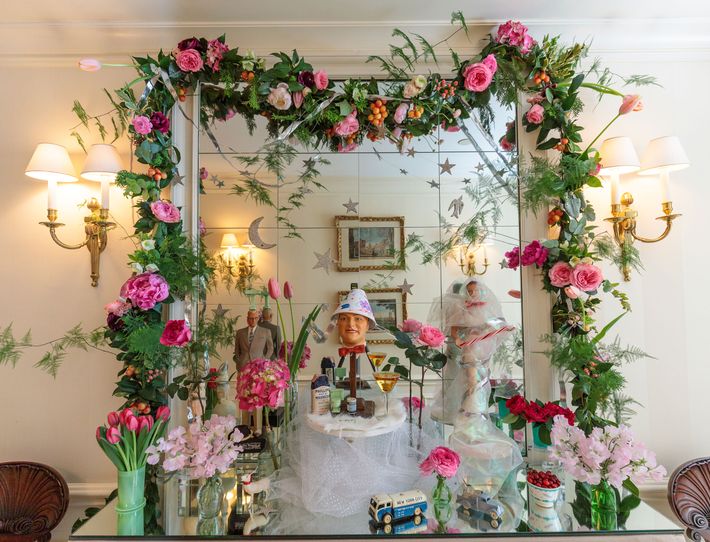 At her Upper East Side townhouse, artist Cathy Graham throws the kind of soirées and luncheons that get talked about for months afterward. Graham is famous for her attention to detail, which extends to her flower arrangements, her table décor, and her carefully considered guest list, which typically includes a confab of friends from the art and media worlds. The front-hall mirror, seen here, is sometimes festooned with garlands of wisteria vine laced with flowers like roses and peonies.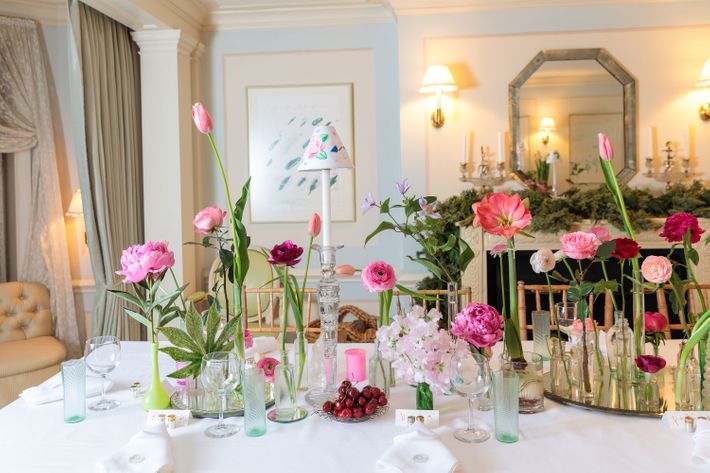 Graham's events kick off typically with cocktails in the living room before guests descend to the dining room, seen here. Flowers feature heavily, and a table laden with blooms awaits. Every dinner or luncheon table is set differently; sometimes the arrangements consist of individual flowers placed in bud vases or repurposed medical vials.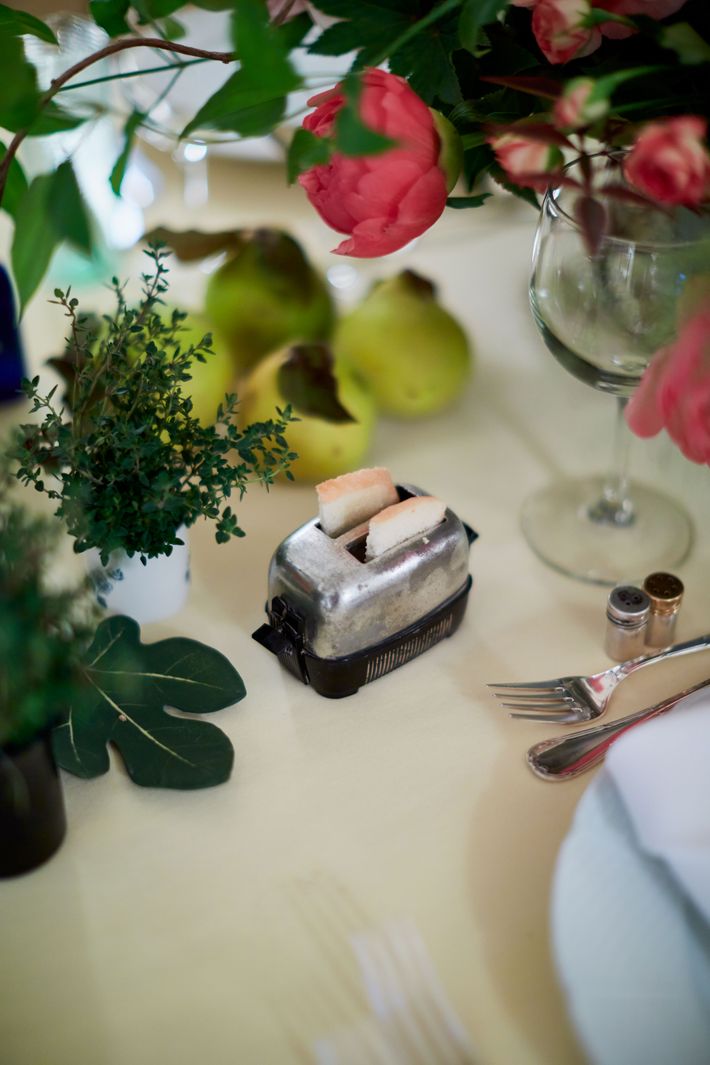 Graham has a noteworthy collection of miniatures, which includes this tiny toaster, that she sometimes mixes into her tablescapes. "My lifelong love of miniatures began the moment I first saw the remarkable Thorne Miniature Rooms at the Art Institute of Chicago," Cathy writes in Second Bloom. She'll sometimes also sprinkle in small bouquets of herbs like thyme, seen here, that she picks up at Union Square Greenmarket.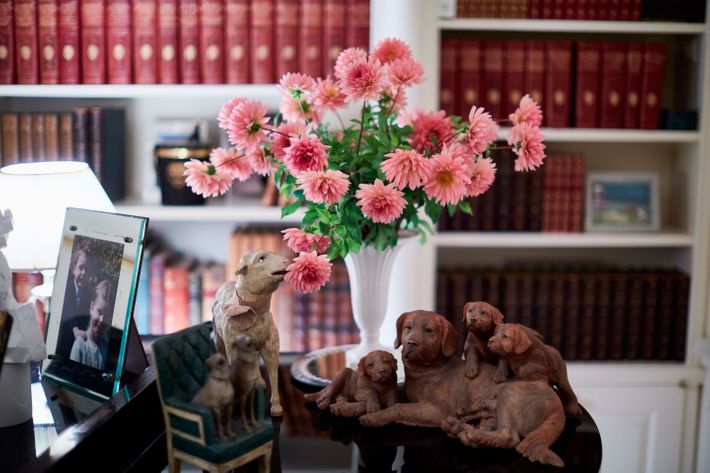 Graham grew up in Chicago in an artistic household: Her mother was an artist, and her father was an architect. She got a B.F.A. in painting from the Rhode Island School of Design, and when she moved to New York, she took courses in fashion illustration at Parsons. One event in Washington, D.C. changed her life: At Katharine Graham's 70th birthday party, the young artist met Robert Isabell, the late famed event planner who had done the party's design. Isabell became her close friend and mentor. But even before meeting Isabell, Graham was drawn to flowers. Here, an arrangement of peach dahlias presides over a family of Labradors and a sheep who live on the grand piano on the second floor.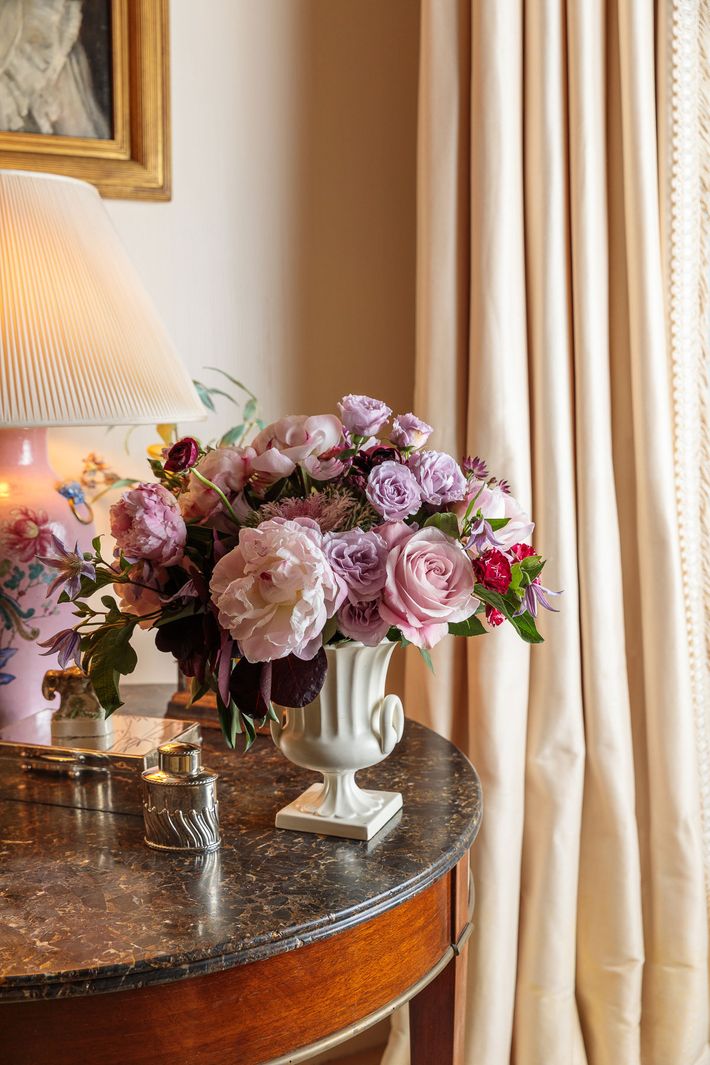 During the preparation for Marie-Chantal Miller's London wedding to Pavlos, Crown Prince of Greece, Graham had the chance to see Isabell's artistry in action. "We went over a week ahead and went to the all the markets," Graham says. Isabell jokingly called her and Wendy Wasserstein the "flower spotters," tasked with overseeing that the placement of thousands of roses were not disturbed. Here, a slightly smaller variation of the rose-and-peony arrangement in the living room.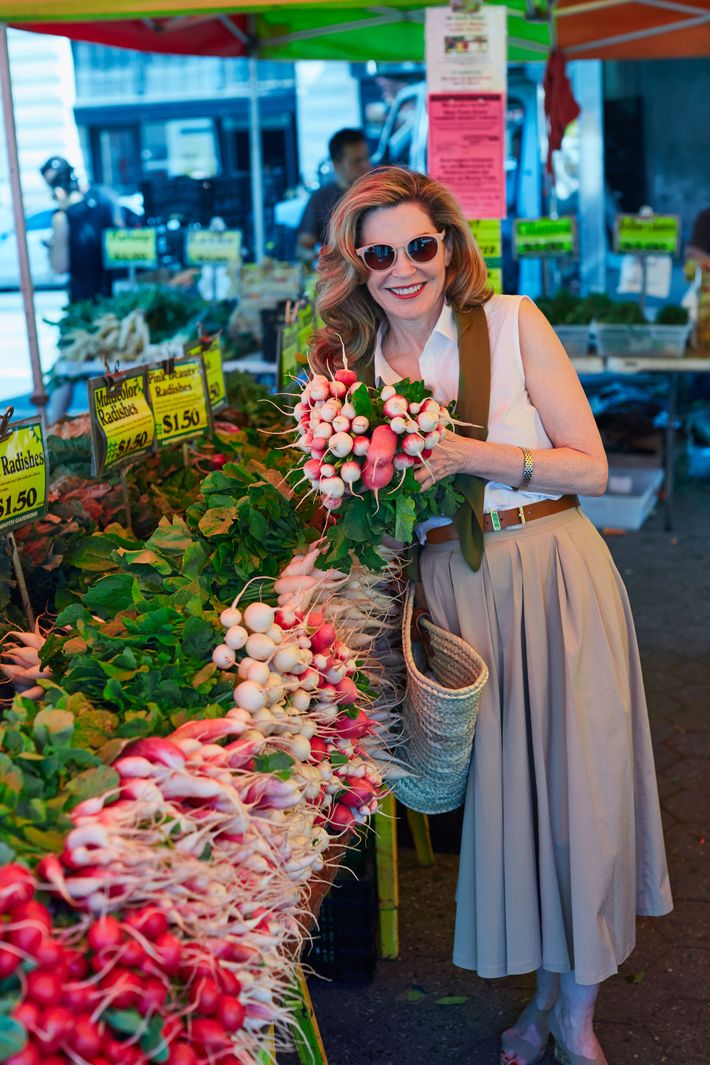 Graham, seen here in the Union Square farmers' market, trawls for in-season vegetables and flowers for her dinner parties.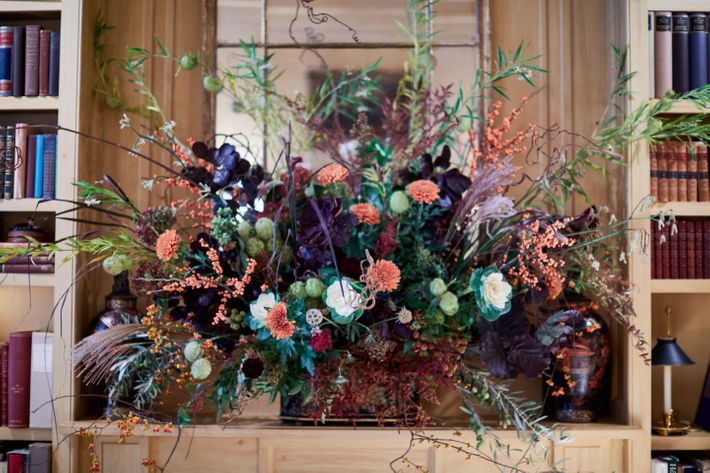 Many of her table centerpieces are romantic and delicate, but Graham often creates bigger, bolder arrangements inspired by 19th-century painter Richard Dadd, as well as Constance Spry, the English florist favored by Elsie de Wolfe.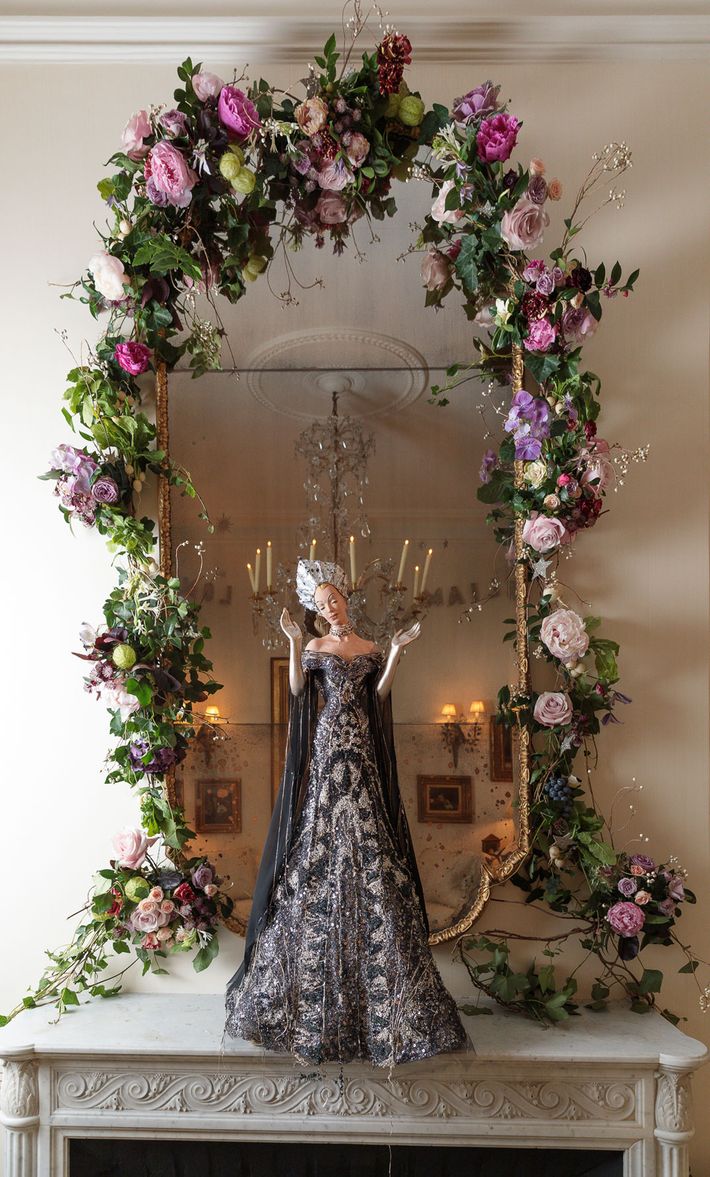 For a cocktail party in honor of costume designer William Ivey Long, Graham dressed a doll in a miniature version of the Chrysler Building dress that Long designed for The Producers (and then reproduced in miniature for the party). Cathy's upcoming collaborations include pajamas by Charmajesty, patterned papers by Parvum Opus, a range of servingware and decorative gifts with decoupage artist Scott Potter, and a Second Bloom fragrance candle made by Nest Fragrances.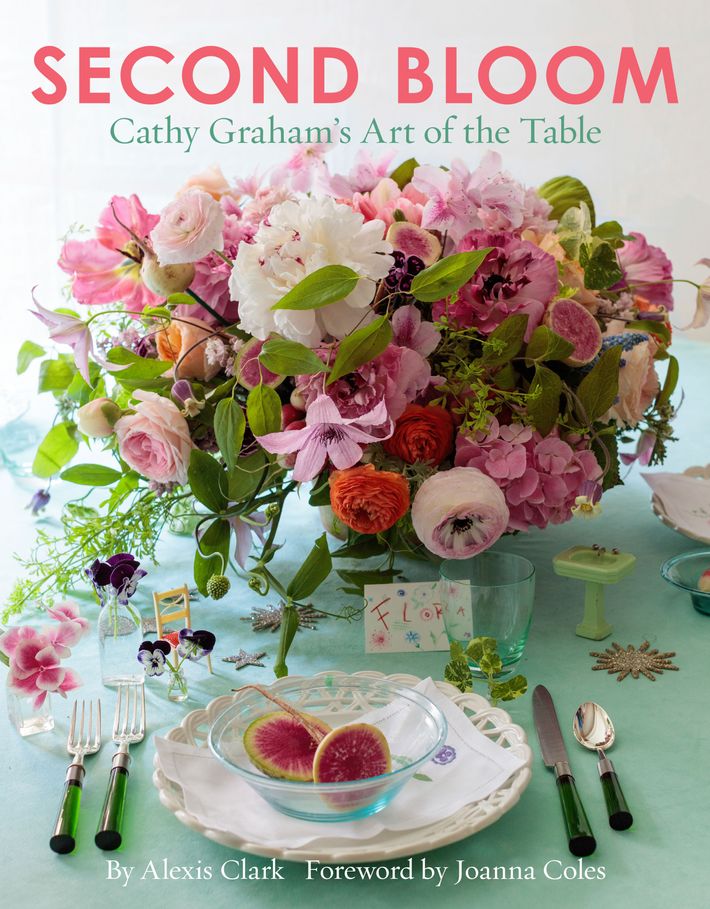 Graham's forthcoming book, with one of Ingalls's shots on the cover, seen here.